Heads up! We're working hard to be accurate – but these are unusual times, so please always check before heading out.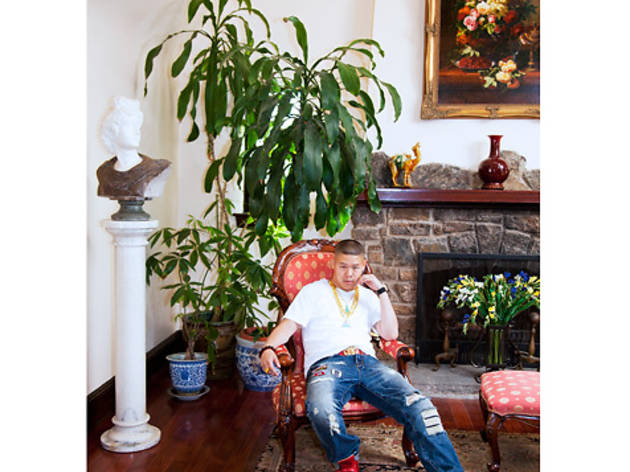 1/22
Photograph: David Rosenzweig
Streetwear designer Jon Koon is a man of many numbers: He owns three men's clothing brands, including his most recent venture, Private Stock (privatestockdenim.com), which debuted in January; Young Jeezy's urban line, 8732 (8732apparel.com); and high-end label Domenico Vacca (domenicovacca.com). His Asian-themed Queens pad (complete with a karaoke room!) houses ten fish tanks, as well as an outdoor pond with 38 fish imported from Japan; and a clothing, accessories and shoe library that could outfit a small liberal-arts college. We're talking more than 2,000 pairs of jeans, nearly 600 pairs of pants, approximately 1,000 button-down shirts, roughly 100 pairs of sneakers, 36 pairs of shoes, 50 sunglasses, 16 watches and 30 bags.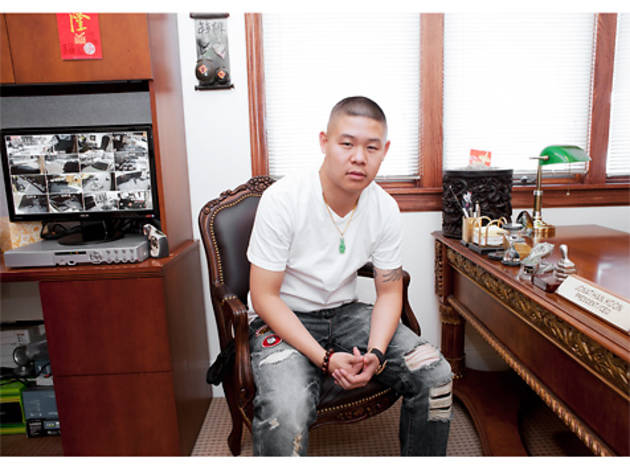 2/22
Photograph: David Rosenzweig
Don't even think about robbing Koon's fashion wealth—he has 16 infrared cameras watching over his 12 closets.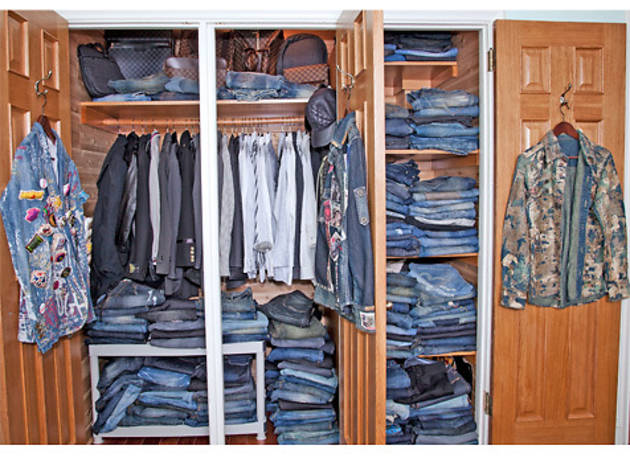 3/22
Photograph: David Rosenzweig
Koon keeps his primary, mostly-denim wardrobe in his minimalistic loft room. "I usually wear jeans I really like for a month straight," he admits. "I know that sounds dirty or crazy, but it's what I like to do." Six months later, he breaks up with the pants, stashes them in his office and moves on.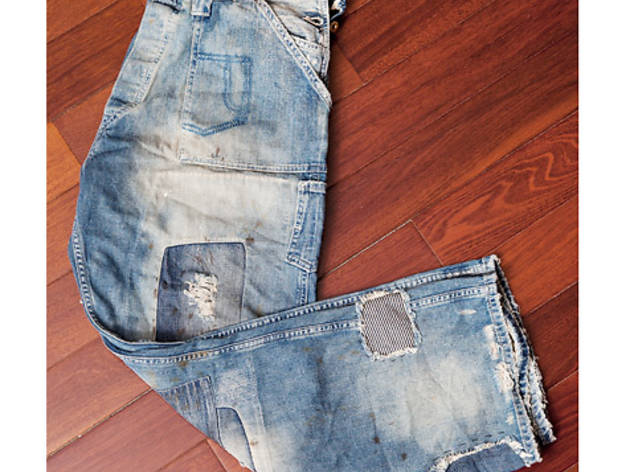 4/22
Photograph: David Rosenzweig
"As a designer, I'm into a lot of different raw finishes," says Koon, who collects denim from the '40s, '50s and '60s. "But I started my whole craze trying to mimic true vintage." This Levi's pair from 1962 is one of his favorites.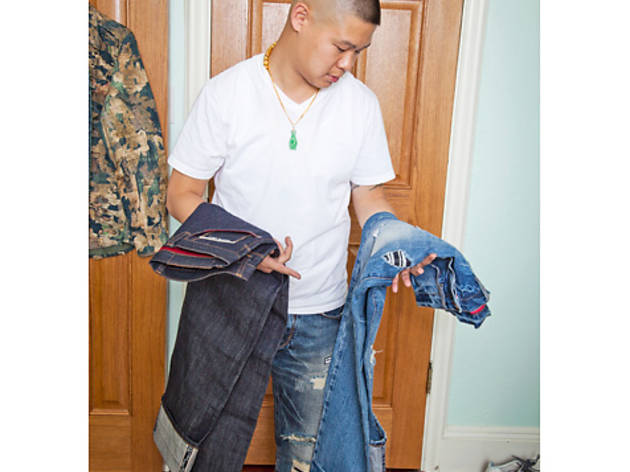 5/22
Photograph: David Rosenzweig
Though his label Private Stock is mostly raw-denim jeans, Koon prefers wearing distressed ones himself. "[My everyday style consists of] deconstructed, ripped jeans; clean woven button-down shirts; and super-cool, nonperformance sneakers," he explains.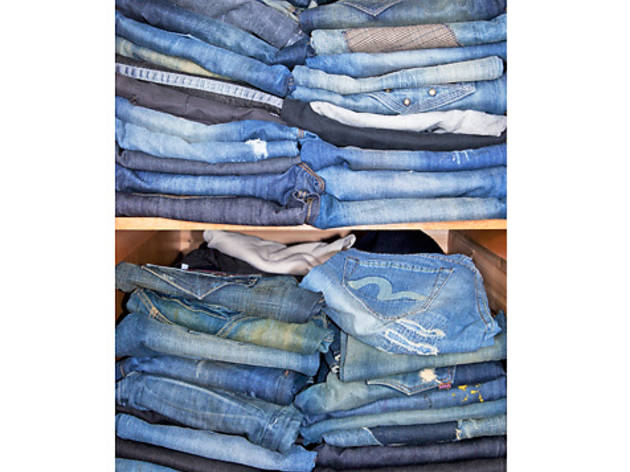 6/22
Photograph: David Rosenzweig
In his closet at home, Koon neatly folds his pants in exact thirds. "This makes the jeans as thin as possible," he explains. But at his office in Fresh Meadows, Queens, where he archives every pair he has ever owned (about 10,000), the jeans are draped over hangers, giving Koons easy access to use them for design inspiration.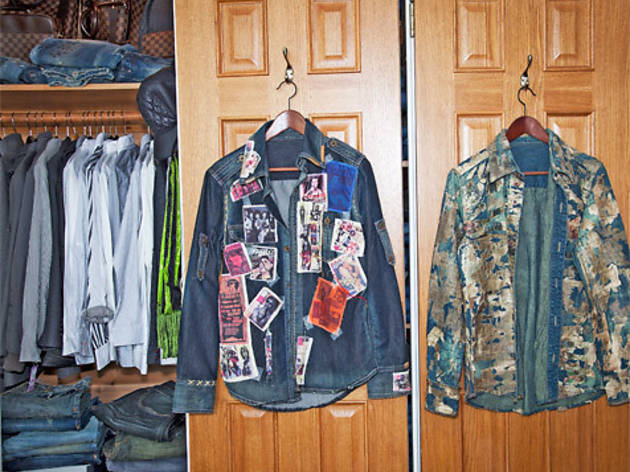 7/22
Photograph: David Rosenzweig
These denim jackets are one-of-a-kind vintage pieces that Koon treats as works of art. "I wore them each probably one time," he says, noting that he purchased them "for the sake of fashion" rather than to use as toppers.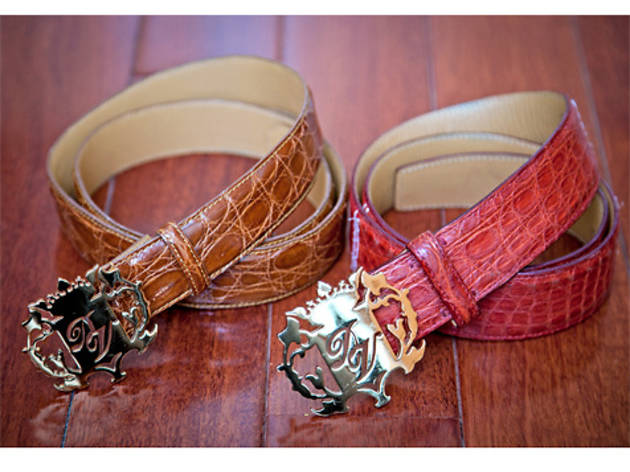 8/22
Photograph: David Rosenzweig
Koon cinches his beloved jeans with chic belts, especially alligator styles made by his business partner, Domenico Vacca (locations throughout the city; visit domenicovacca.com). "I think this Louis Vuitton thing has gone a little haywire, and it's starting to become—no disrespect—gimmicky," he says about his former predilection towards branded belts. "Alligator, regardless of the brand, is a very fine item; it's actually the most expensive skin in the world."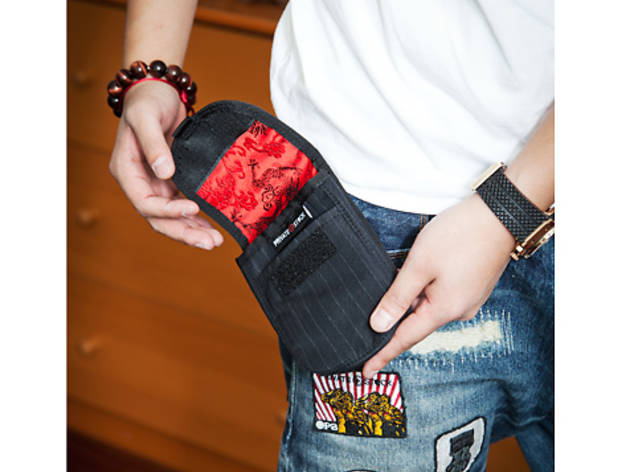 9/22
Photograph: David Rosenzweig
This small Private Stock man pouch, popular with gents in Asia, is used to hold phones, cameras and wallets so pants pockets won't bulk up. "Kanye West and Jay-Z wear it, but I started the trend," boasts Koon. "If you land in Hong Kong, 75 percent of the men will have something [like this] hanging off their waist." Though this particular bag is high-end (about $180), made with suiting fabric and silk jacquard, most of his belt-loop bags cost about $48–$98.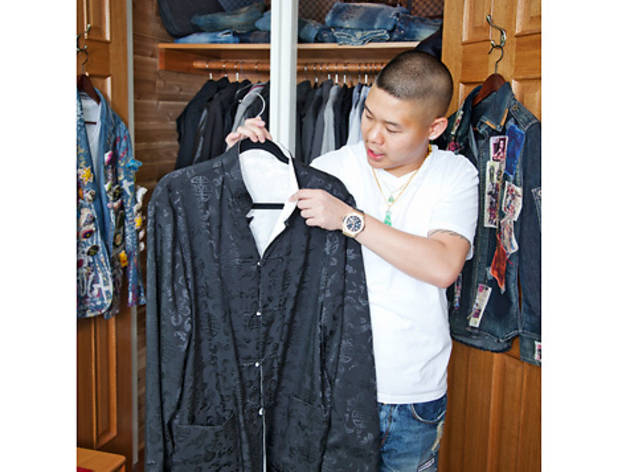 10/22
Photograph: David Rosenzweig
When Koon attends formal events, he pairs this silk jacket from China with a mandarin-collared dress shirt and jeans. "Then you have this very chic, Eastern look," he notes.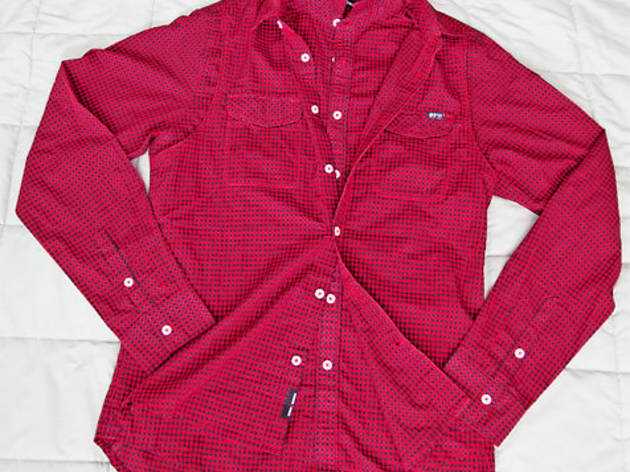 11/22
Photograph: David Rosenzweig
Koon's design philosophy is to take classic styles and add unconventional twists, like he did with this Private Stock gingham-print button-down shirt with a matching attached vest ($128). He calls the two-in-one top "subtly cool."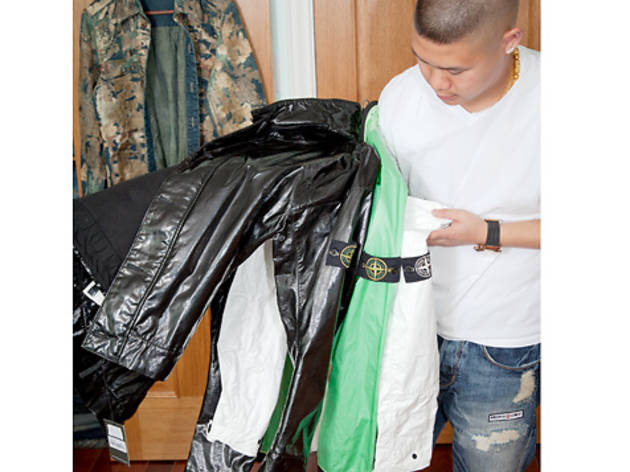 12/22
Photograph: David Rosenzweig
Another closet in the house is devoted entirely to sports jackets. "I'm a fanatic of Stone Island (stoneisland.com); I might have 60 jackets by the brand," reflects Koon. "When it comes to performance, it's the Rolls-Royce of sporting coats, and they sell for thousands of dollars [each]."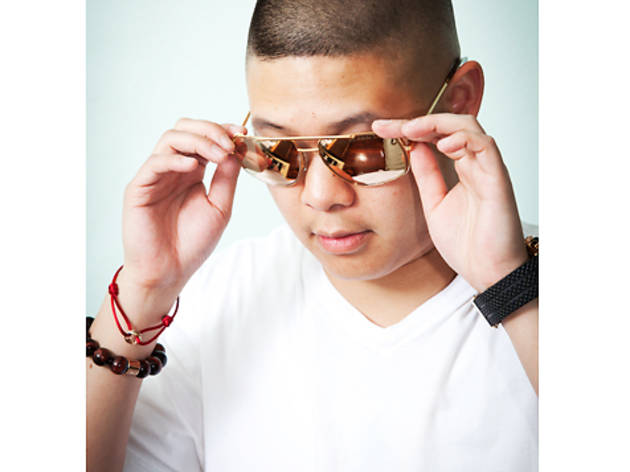 13/22
Photograph: David Rosenzweig
These rose gold flip-lens Chanel shades exemplify Koon's fetish for the yellow-toned metal. He even has gold-plated business cards. "I buy 24-karat gold because I can walk into any bank, and they have to give me cash for it," he says.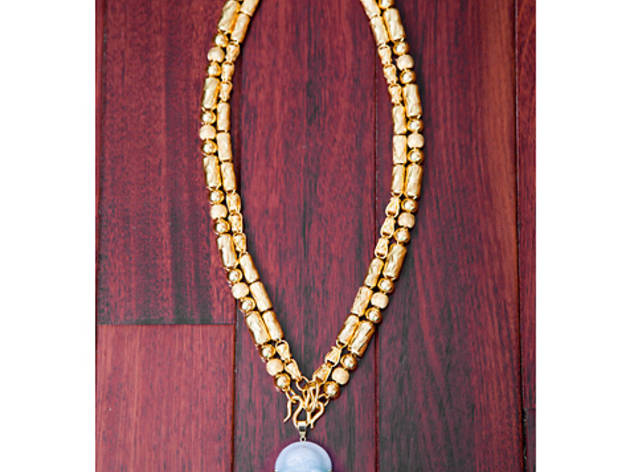 14/22
Photograph: David Rosenzweig
"He looks like a big, fat, happy guy, and happiness is always good to have around you," says Koon of this 24-karat-gold–and-jade Buddha necklace he made himself, and that he typically layers with another gold chain. "The belief about jade is that if it turns greener while you're wearing it, then your life and luck will improve," he notes. "But if it turns white, then you'd better be careful."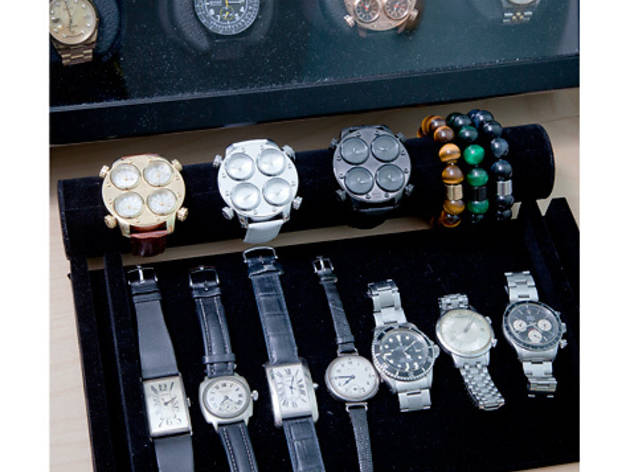 15/22
Photograph: David Rosenzweig
"Not to be obnoxious, but the watches in the front probably value over $1.5 million," says Koon. The timepieces in the case are all automatics and don't require batteries, but the real show-stealers are the seven antiques lying in the front, which date from 1925 to 1964.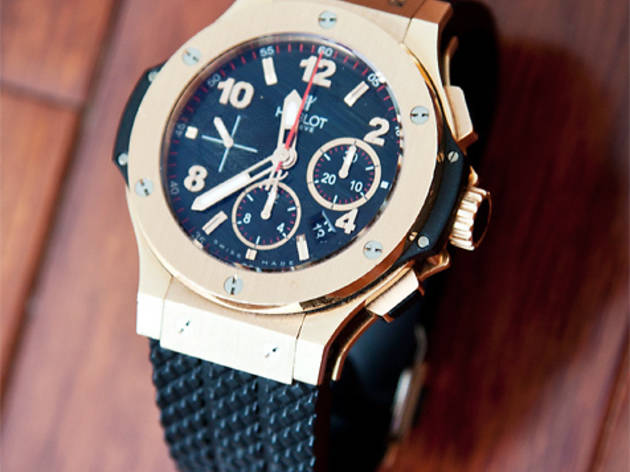 16/22
Photograph: David Rosenzweig
"It's probably the most expensive rubber-banded watch on the market," says Koon of the Hublot (hublot.com) 18-karat rose gold time-teller, which he bought for $30,000. The mechanical functions are exposed through clear glass on the underside of the face.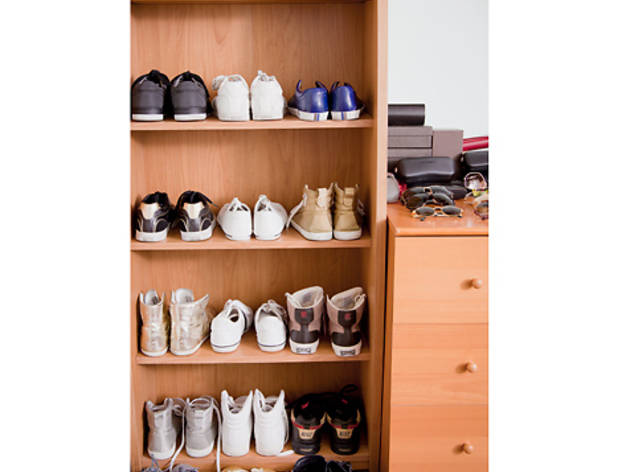 17/22
Photograph: David Rosenzweig
Sneaker-heads would flip over Koon's limited-edition pairs, including styles by Maison Martin Margiela, Louis Vuitton, Alexander McQueen (one of about 20 ever made), YSL, Clot x Converse Jack Purcell (available only in Hong Kong) and Nike (given to him by the brand's creative director).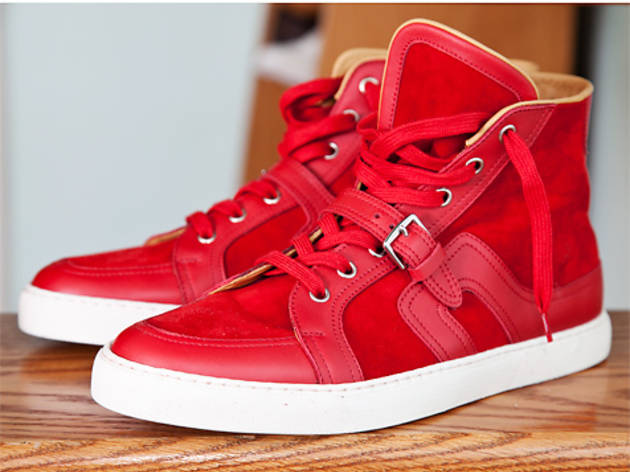 18/22
Photograph: David Rosenzweig
"I like red because it's the color for happiness and celebration in the Chinese culture," says Koon of his favorite shade. "I chose to use red as the pop color for my brand, so there's a light touch of red in almost every piece in the collection—whether it's a fabric lining or even a construction stitch." He also owns red sunglasses, sneakers (like these ruby Hermès high-tops), belts and even an iPhone holder from Cartier.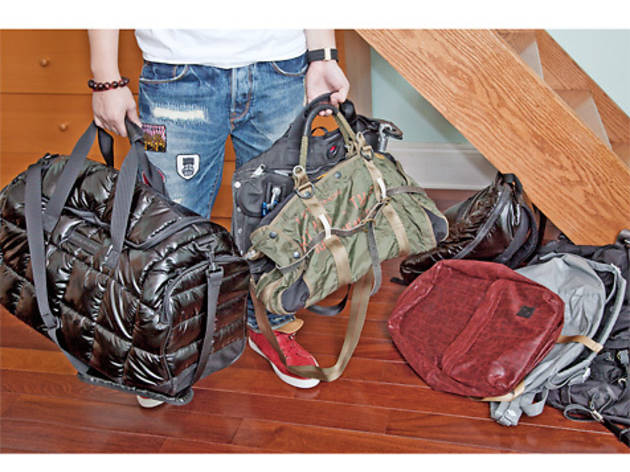 19/22
Photograph: David Rosenzweig
"You can't walk through the airport without someone saying something to you about it," says Koon of this puffy nylon-and-goosedown Private Stock duffel bag. "The inspiration behind this is being different."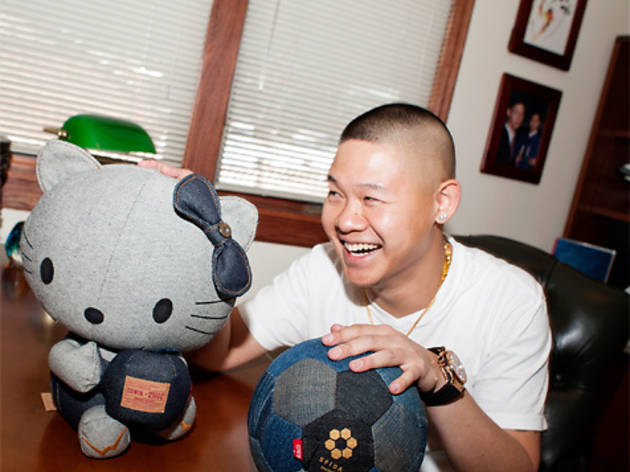 20/22
Photograph: David Rosenzweig
Denim can even be found outfitting Koon's favorite office toys, including this Hello Kitty doll made exclusively by Edwin (edwin-europe.com) and this soccer ball designed by Mikiya Kobayashi (mikiyakobayashi.com). "The ball will sell for anywhere over $1,000," he says. "I think I bought the Hello Kitty for a couple of hundred dollars."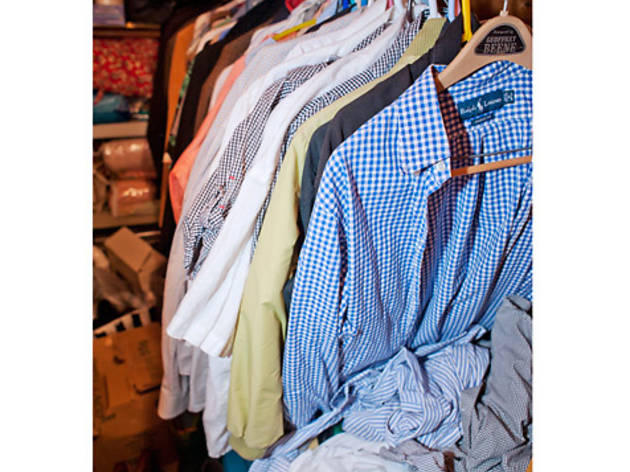 21/22
Photograph: David Rosenzweig
Koon reserves this cedar closet in his basement for all of his dirty dress shirts, and there are currently about 150 tops. "I live by myself, so I don't like to iron," he explains.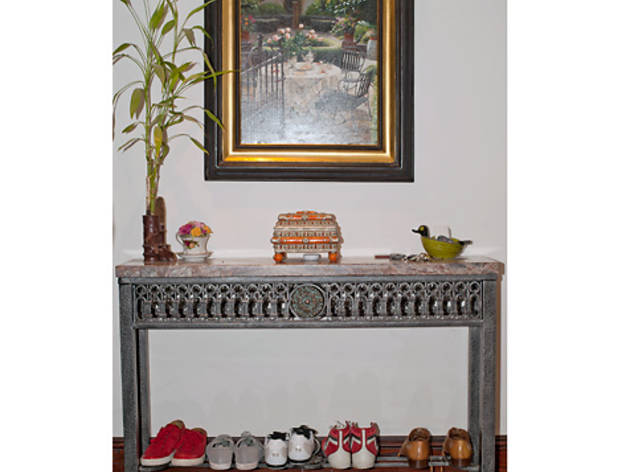 22/22
Photograph: David Rosenzweig
Koon refers to the footwear in his foyer as his "not-so-cool sneakers," despite the fact that Dolce & Gabbana, Dior Homme and Adidas Y-3 are among the labels in the mix. "I haven't worn Nikes in about five years," he notes. "I was really into Air Max [styles], and have 34 colors [stored in a front hallway cupboard]."
Closet case: Jon Koon
The denim fanatic shows us his massive jeans collection.
His favorite NYC stores
Century 21 Locations throughout the city; visit c21stores.com
"I don't buy any denim in the United States, though I might dig it out at Century 21," says Koon. "I dress down when I go and will literally stay there eight to nine hours straight."
AllSaints Spitalfields 512 Broadway between Broome and Spring Sts (646-862-1832, us.allsaints.com)
Koon admits he thinks the British retailer is quite cool. "The clothing is very tailored," he says. "While the denim is not for me, the tops are clean and crisp."
Kinokuniya 1073 Sixth Ave between 40th and 41st Sts (212-869-1703, kinokuniya.com)
"It's my favorite bookstore in NYC," gushes Koon. "It carries my stock of [Japanese-imported] fashion magazines." He keeps a stash of glossies in his office and uses them for design inspiration.
Luk Fook Jewelry & Goldsmith 185 Canal St between Mott and Mulberry Sts (212-343-3005)
"The staff comes from Hong Kong and specializes in 24-karat gold and jade," says Koon. "When I have custom pieces I want to develop, I'll go there."
You might also like
Closet case: Lisalla Montenegro
Closet case: Bianca Jade
Closet case: Alison Brod
See more in Shopping & Style