Heads up! We're working hard to be accurate – but these are unusual times, so please always check before heading out.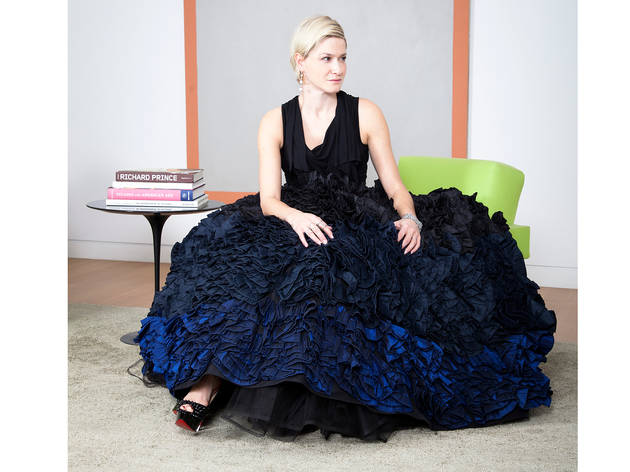 1/29
Photograph: David Rosenzweig
Julie Macklowe is something of an extreme dresser: While on a daily basis you'll find the founder of skin-care line Vbeauté (vbeaute.com) in jeans and a sweater, at night she falls on the opposite side of the spectrum, donning flamboyant ball gowns for the many fashion- and art-related galas she attends. "I go from very casual to totally not," she admits. "When I dress up, it's like a throwback to the 1800s—I go all out." Macklowe started collecting gowns at sample sales when she met her husband, real-estate developer Billy Macklowe, and began going to black-tie events (one of her first buys was this Oscar de la Renta flounced skirt, picked up at a Patti Rose sale, that she wears here with a Rick Owens draped top). "I feel like there is an underappreciation for ball gowns," she says. "You see them on the runway, but they rarely ever get worn, so there is something special and unique in getting to wear these creations; it's wearable art."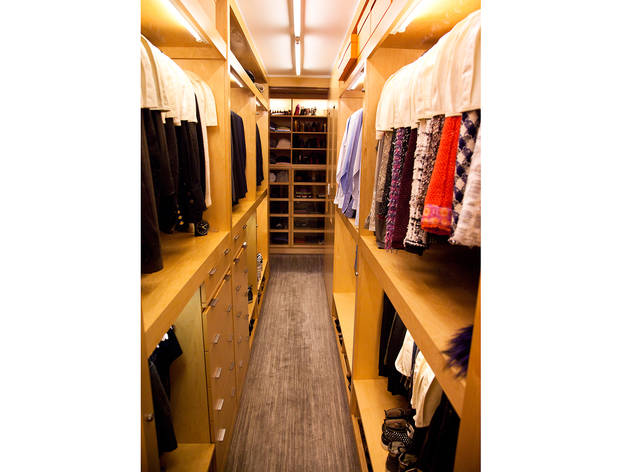 2/29
Photograph: David Rosenzweig
Shortly after purchasing their Upper East Side four-bedroom apartment in 2004, the Macklowes hired architect Dan Shannon of Moed de Armas & Shannon (mdeas.com), who had done commercial work for Billy, to gut the prewar space and make the floorplan more contemporary. As part of the project, he installed multiple built-in closets, including this long, narrow one outside the master bedroom that Macklowe shares with her husband. "It started out that we had equal space, but now, as you can tell, I've taken up about two thirds," she says. She uses the area to hang everyday staples such as skirts, pants, jackets and tops.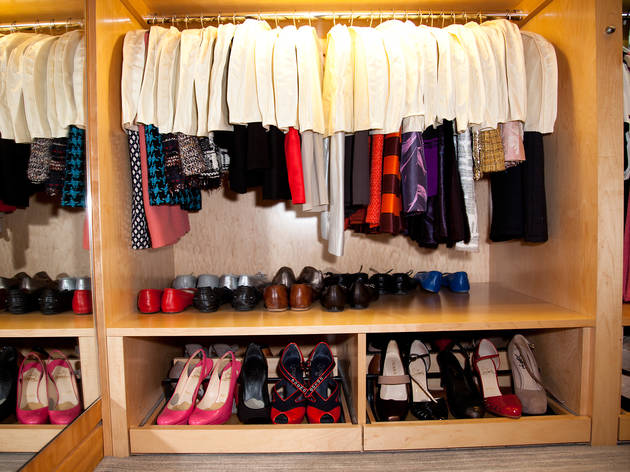 3/29
Photograph: David Rosenzweig
After seeing them in a friend's closet in Dallas, Macklowe stocked up on natural-cotton shoulder covers from the Container Store (629 Sixth Ave between 18th and 19th Sts • 725 Lexington Ave at 58th St • 212-366-4200, containerstore.com) to protect her duds from light and dust. "I thought it was genius," she recalls. She uses them to guard everything from jackets to skirts, the latter of which hang above Macklowe's everyday heels. "I love wearing skirts with thigh-high boots and a T-shirt, rock & roll style," she muses.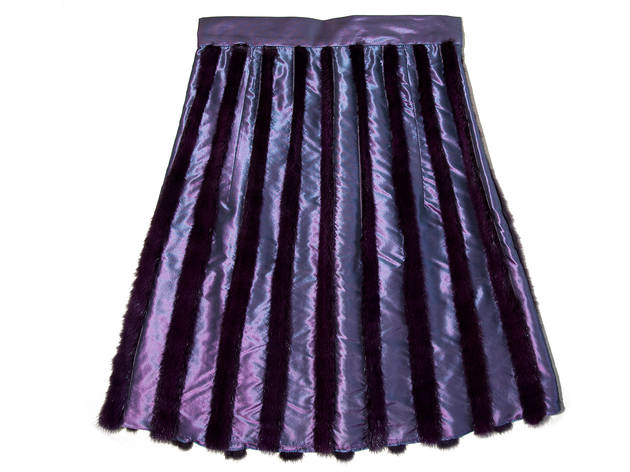 4/29
Photograph: David Rosenzweig
"I've learned to love purple since starting Vbeauté," says Macklowe, who chose the shade for her brand's packaging because it's her daughter's favorite color. "I owned very few purple items, so I've had some [custom] made." One example is this mink-detailed skirt by New York designer Zang Toi (houseoftoi.com), which she's worn out to dinner with friends.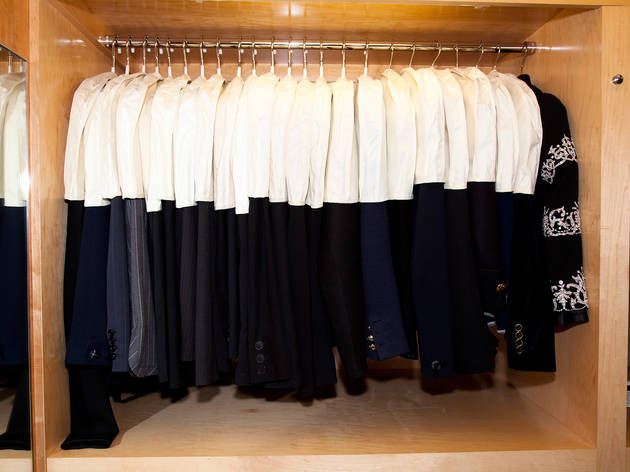 5/29
Photograph: David Rosenzweig
Before launching Vbeauté in November 2011, Macklowe was a portfolio manager at a hedge fund. "These are from my old banking days," she explains, referring to a rack full of dark blazers and suits from Dior, Chanel, Balmain and Jean Paul Gaultier. "I feel like jackets are seasonless, but this area is definitely less used." Although the dress code is decidedly more casual now that she runs her own company, Macklowe admits she'll occasionally "throw on a navy blazer with jeans and a T-shirt" when she wants to look polished.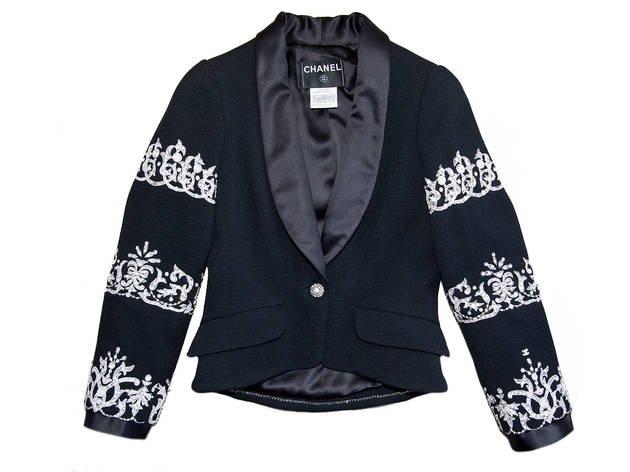 6/29
Photograph: David Rosenzweig
This crystal-embellished Chanel blazer (139 Spring St at Wooster St, 212-334-0055 • 15 E 57th St between Fifth and Madison Aves, 212-355-5050 • 737 Madison Ave at 64th St, 212-535-5505 • chanel.com), which reminds Macklowe of one of Michael Jackson's glitzy jackets, was purchased in 2006. "I noticed [Chanel] brought it back without the sequins, and I was like, Jesus I'm getting old," she jokes.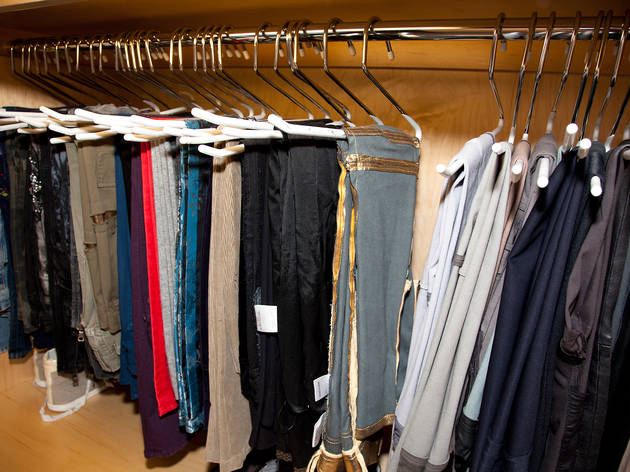 7/29
Photograph: David Rosenzweig
As another preventative measure, Macklowe hangs all of her pants inside out. "There are things I would change about this closet," she admits, citing the lighting as one of them. "It always seems to dull the clothes because it's directly on them, but you know, live and learn. My closets would be dark if I had it my way."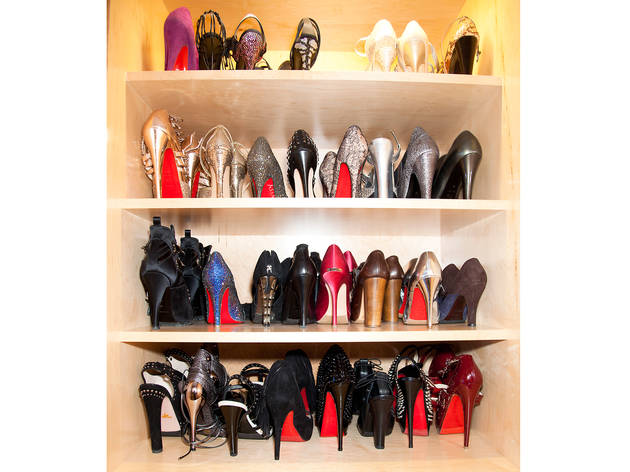 8/29
Photograph: David Rosenzweig
Macklowe reserves four shelves inside a wardrobe against the back wall for her fanciest heels. "I love platform stilettos," she says, noting that some spike up to seven inches. " 'As long as I can walk' is the measure of how high [I'll go]." Her collection includes several pairs by Christian Louboutin (965 Madison Ave between 75th and 76th Sts, 212-396-1884 • 59 Horatio St between Greenwich and Hudson Sts, 212-255-1910 • us.christianlouboutin.com), as well as cage and crystal-encrusted Yves Saint Laurent styles that were purchased at Woodbury Commons (premiumoutlets.com/woodburycommon) and date back to when Tom Ford was creative director for the brand. Regardless of how rare they are, Macklowe brings all of her shoes to Jim's Shoe Repair (50 E 59th St between Park and Madison Aves; 212-355-8259, jimsshoerepair.com) to have them resoled with protective rubber. "It also makes sure you don't slip," she notes.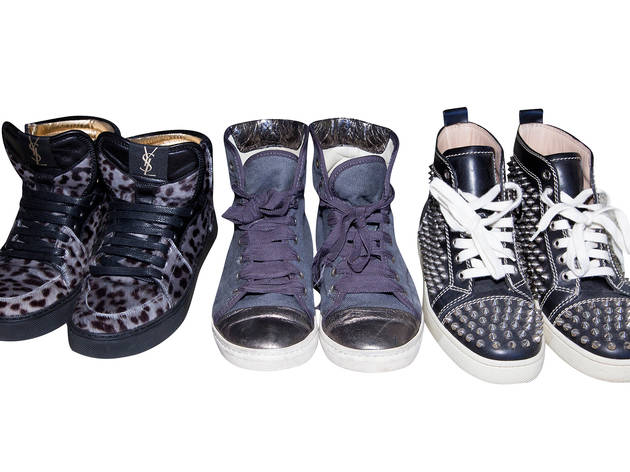 9/29
Photograph: David Rosenzweig
"I am a connoisseur of flats," declares Macklowe, referring to her assortment of haute high-tops from Yves Saint Laurent (3 E 57th St between Fifth and Madison Aves; 212-980-2970, ysl.com), Lanvin (815 Madison Ave between 68th and 69th Sts; 646-439-0381, lanvin.com) and Christian Louboutin. "I'm a New Yorker, so I love a good, cool high-top because you can walk miles [in them] every day."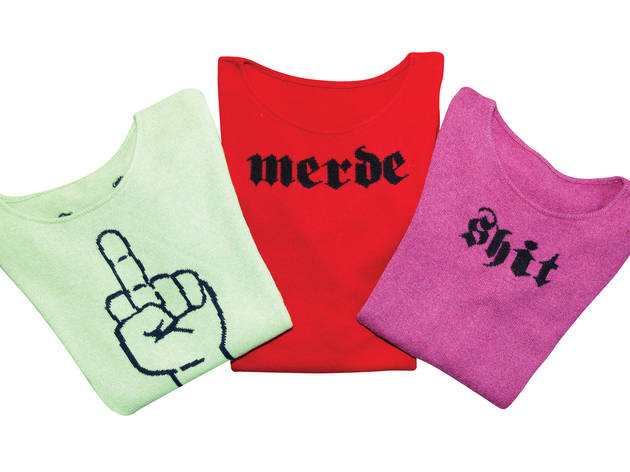 10/29
Photograph: David Rosenzweig
"I like sweaters that are a little bit controversial," says Macklowe, who stocks up on cashmere styles emblazoned with expletives from Parisian brand Lucien Pellat-Finet (lucienpellat-finet.com). "All of the waiters always want this one," she says of a top featuring a raised middle finger. "I actually worked a bonus conversation to argue for more money while wearing that sweater. Needless to say, I left to go get a portfolio with [SAC Capital hedge fund manager] Stevie Cohen after that."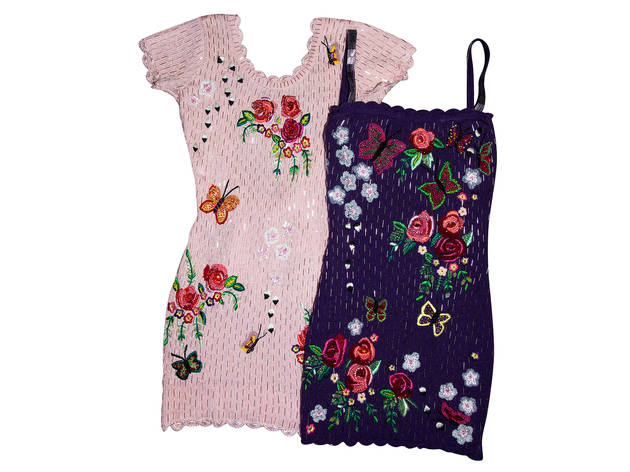 11/29
Photograph: David Rosenzweig
Macklowe is a close friend of designer Zang Toi, who often custom-makes her clothing, such as these whimsical floral frocks. "Zang and I, as he would tell you, have been dating for two years and three months," she jokes. "We met at the CFDA Awards (cfda.com), where he had on a cape with the entire NYC skyline on it, and I was like, who is this guy? It was all hand-beaded and I thought, we must be friends." The pink dress is a shorter version of a gown Macklowe wore to the 2008 Liaisons au Louvre (liaisonsaulouvre.com) gala in Paris, while the purple style features removable straps and comes with a matching throw.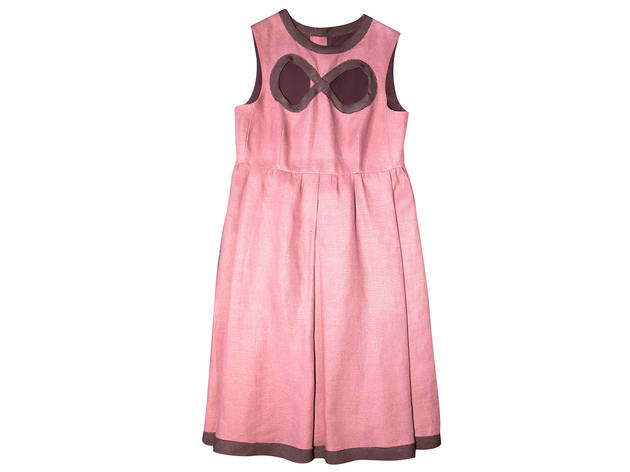 12/29
Photograph: David Rosenzweig
Not even pregnancy could stop Macklowe from donning her high-end threads: She had the original waistband in this Bottega Veneta sheath (699 Fifth Ave between 54th and 55th Sts; 212-371-5511, bottegaveneta.com) replaced with elastic while carrying her five-year-old daughter, Zoe, transforming it into a seriously chic maternity dress. "As you become older, you realize this elastic stuff is pretty genius," she quips.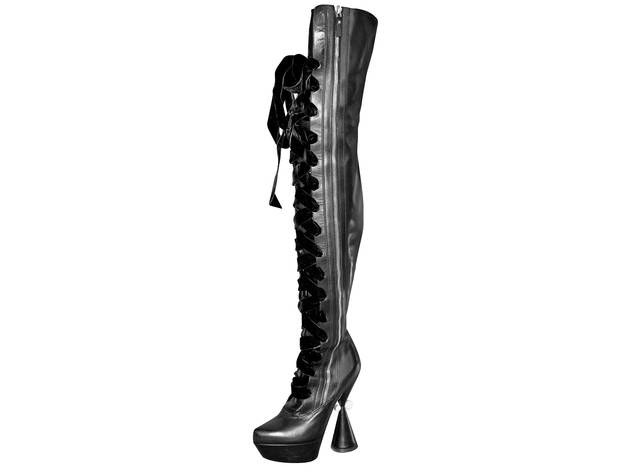 13/29
Photograph: David Rosenzweig
"I don't love tights, so I'm a big believer of wearing thigh-high boots when it gets cold because they keep your legs warm," says Macklowe, who estimates she has seven pairs of over-the-knee boots in her front-hall closet. These Louis Vuitton (1 E 57th St at Fifth Ave; 212-758-8877, louisvuitton.com) leather-and-velvet lace-ups were worn by Madonna. "I'm probably the only other person who thought to buy them," says Macklowe, who prefers donning hers with "anything short."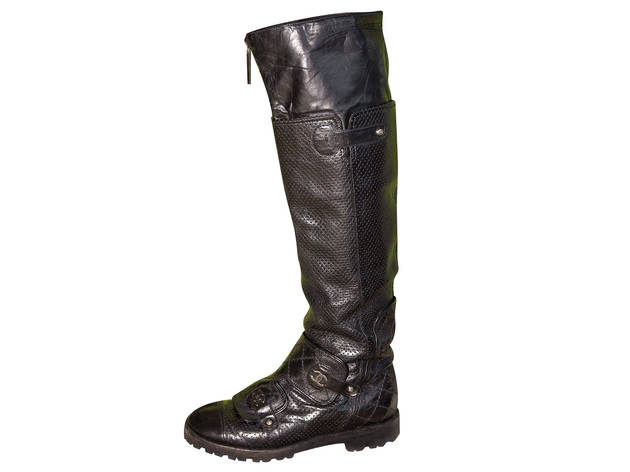 14/29
Photograph: David Rosenzweig
These Chanel motorcycle boots were separated from Macklowe for two years after she sent them to a repair shop to have them resoled. It turns out they were mistakenly brought to the Chanel boutique, which she discovered when a staffer at the store called to let her know they had them. "It's my favorite pair of boots and they are one of a kind, so I was the happiest person," she recalls.
15/29
Photograph: David Rosenzweig
A closet in a back office is dedicated to Macklowe's collection of 15 Hermès Birkin bags, which she has in various skins, sizes and colors. "I buy them straight from Paris since they are cheaper there," she reveals. "I am not a trendy handbag person. I'd rather buy one or two [purses] a year and get ones I know will last." She prefers the elusive style named after actress and singer Jane Birkin because of its versatility. "They're good for daytime or the evening, which is harder to do."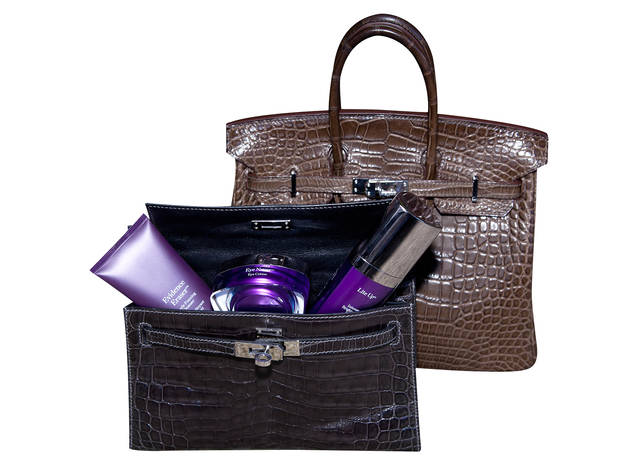 16/29
Photograph: David Rosenzweig
When Macklowe says Vbeauté has become a "night and day" affair, she isn't exaggerating: "I keep samples in my clutch when I go out in the evening to pass around," she notes. On such occasions, she'll use her Hermès Kelly Pochette, which is one of her roomiest clutches.
17/29
Photograph: David Rosenzweig
"I love Alexander McQueen skull clutches," says Macklowe of this studded evening bag. "They are great if you have to club somebody on the head."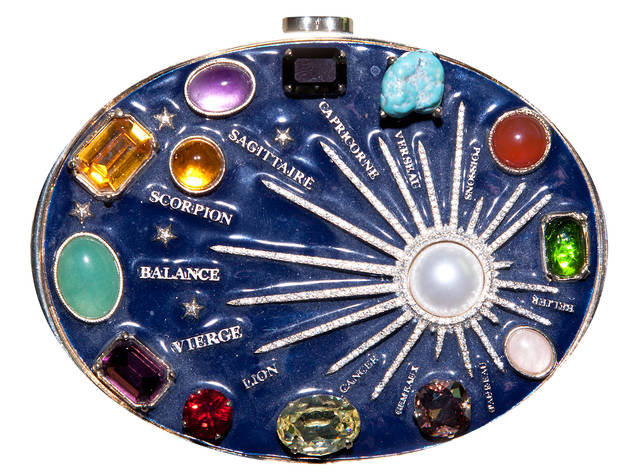 18/29
Photograph: David Rosenzweig
Part of Chanel's pre-Fall 2007 Paris–Monte Carlo collection, this enamel-covered metal clutch features all of the Zodiac signs in corresponding precious stones.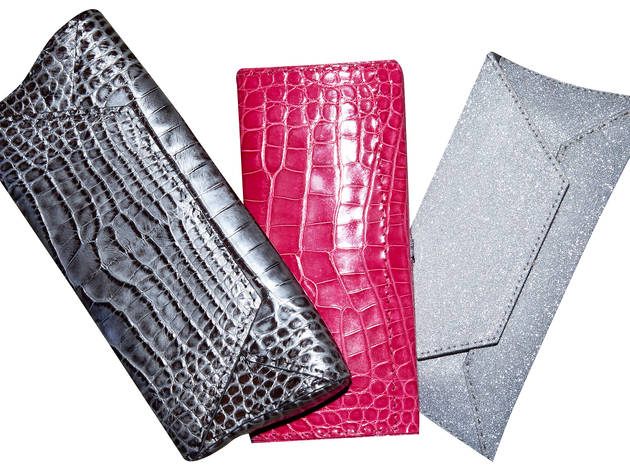 19/29
Photograph: David Rosenzweig
Ever the brand loyalist when it comes to bags, Macklowe largely sticks to VBH (940 Madison Ave between 74th and 75th Sts; 212-717-9800, vbh-luxury.com) envelope clutches for evening. "I like to use these whenever I don't have to carry too much stuff," she says. "You can't fit a lot in them, but they're just so elegant and they go with everything. They're great for when I'm traveling, too."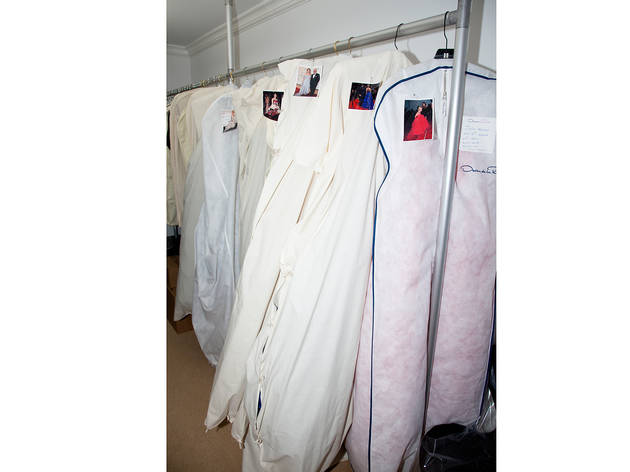 20/29
Photograph: David Rosenzweig
Through the years, Macklowe's ball-gown collection has grown so vast, it requires its own separate room. Dozens of dresses from high-end designers such as Chris Benz, Carolina Herrera and Jason Wu hang from three metal racks that span the length of the wall. Each frock is stuffed with acid-free tissue paper and kept inside a muslin garment bag. "Plastic will actually destroy the dress—it discolors the fabric," notes Macklowe, who spent a month between jobs hand-sewing breathable muslin coverings with an assistant before realizing she could buy premade zippered versions from Foster-Stephens (foster-stephens.com). To distinguish the dresses from their identical archival sheaths, Macklowe pins photographs of herself wearing the gown alongside a runway image. "It's scary but I could probably tell you every single year and date for every single dress—I know exactly the collection [it came from]," she admits. Although she normally custom-orders items directly from the designer, two notable exceptions include the voluminous red and blue Oscar de la Renta (772 Madison Ave at 66th St; 212-288-5810, oscardelarenta.com) gowns that Macklowe spotted in the store window and bought right off the rack.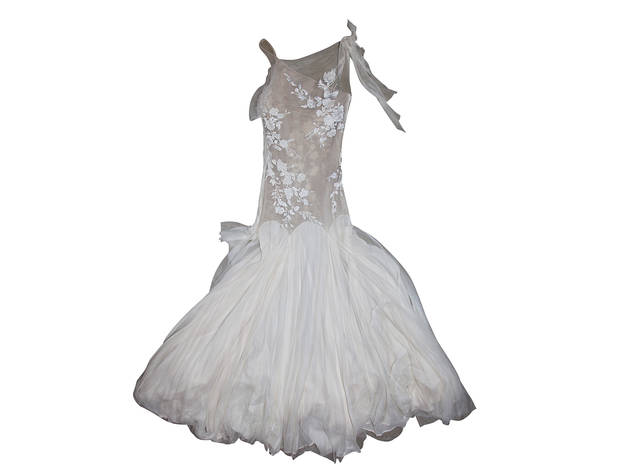 21/29
Photograph: David Rosenzweig
Macklowe is a member of the Friends of the Costume Institute at the Metropolitan Museum of Art (1000 Fifth Ave at 82nd St; 212-535-7710, metmuseum.org) and attends the fabled Met Ball annually. This Alexander McQueen sheer lace dress from Spring 2007 is one of six gowns Macklowe owns that were featured in the late British designer's exhibit last year. After seeing it on the runway, Macklowe custom-ordered the frock but passed on actually purchasing it when she discovered she was pregnant. "It was $14,000, so I thought, there is no way I'm spending that on a dress I can't even fit into," she explains. As luck would have it, she spotted the gown on Gilt Groupe (gilt.com) for $1,200 just two years later and wore it to the Costume Institute's gala over a nude bodysuit she found in London. "It was the same cut, so it looked like I had nothing on underneath," she says. "Anna Wintour looked at me like, is that girl naked?"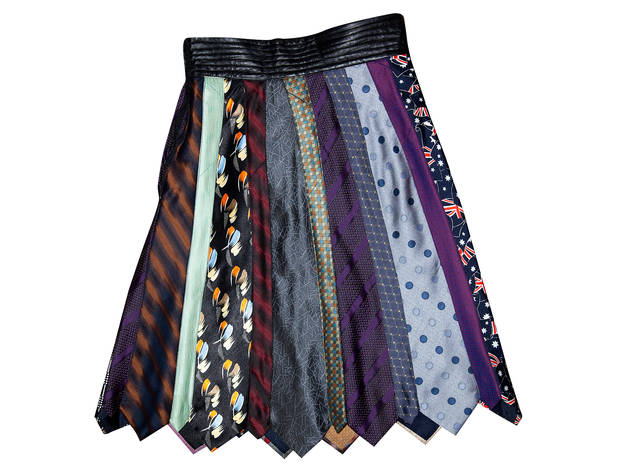 22/29
Photograph: David Rosenzweig
In 2001, Macklowe lived in Hong Kong, where she helped structure leveraged buyouts for Chase Capital Management. She had this skirt made by one of the city's famed tailors. "I wore it to my first interview at a hedge fund and I think they hired me because I had a skirt made of men's ties," she ventures.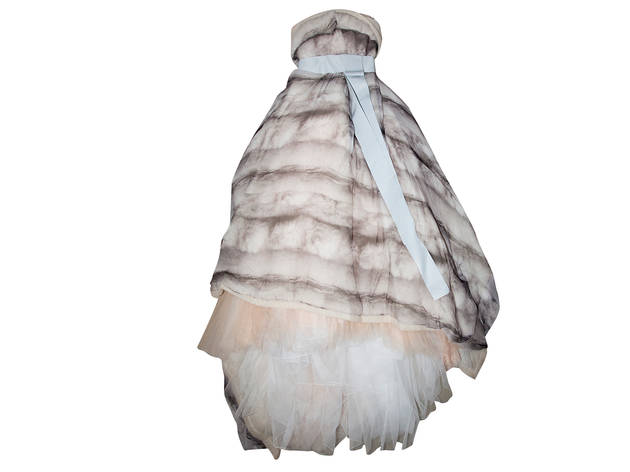 23/29
Photograph: David Rosenzweig
Macklowe wore this one-of-a-kind Dolce & Gabbana (825 Madison Ave between 68th and 69th Sts; 212-249-4100, dolcegabbana.com) chinchilla-striped mattress-pad dress to the Whitney Museum of American Art's Gala and Studio Party in 2008. "The world was ending, and I thought it was very fitting to wear a mattress pad," she recalls. "I wore it with long silver gloves because I had just read Empress Bianca, so I was sort of channeling that."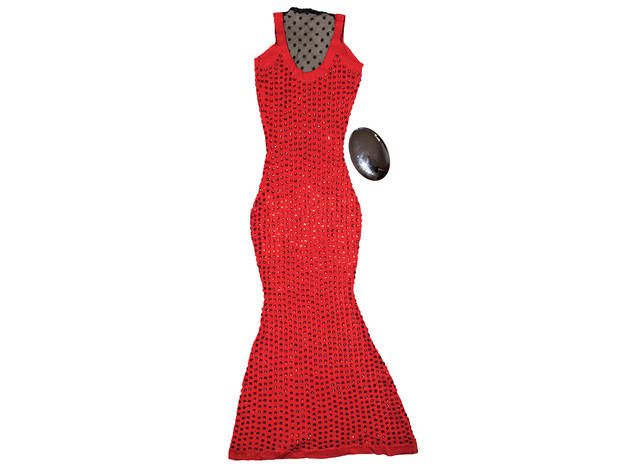 24/29
Photograph: David Rosenzweig
Another Zang Toi creation, this bejeweled knit dress is the ideal solution for black-tie affairs abroad. "You can just fold it, throw it in your suitcase and not have to worry about pressing it when you get there," she enthuses. It rests next to Vbeauté's inaugural (and best-selling) It Kit clutch of airline-approved products, which was inspired by a TSA confiscation of Macklowe's toiletries before a flight to France in 2009. "When I travel, I use it as a bag."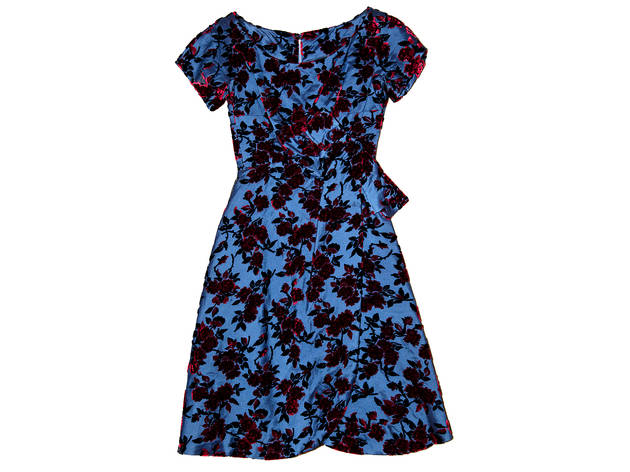 25/29
Photograph: David Rosenzweig
One of the reasons Macklowe labels her gowns with red-carpet photos is so she can easily trace the date she last wore them. "I've always had a rule that it had to be seven years before something could be [considered] vintage," she says. "Assuming I can still fit into them, I feel like I'm close to the regurgitation [for many of the dresses]." An exception to this principle is short frocks, which Macklowe says she'll re-wear often. This particular 1950s velvet-floral style was a gift from Mickey Rosmarin, owner of Houston boutique Tootsies (tootsies.com), where Macklowe has sold Vbeauté products, and it saved her in a pinch after her flight back to New York was delayed. "I had to go to Fashion Week, and I was two hours late," she says. "I happened to have that in my suitcase."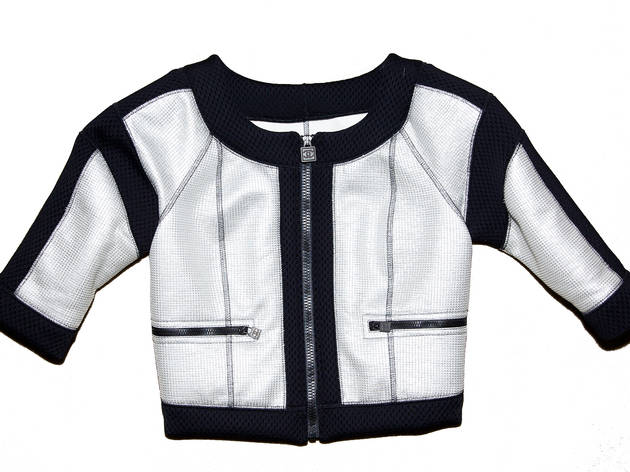 26/29
Photograph: David Rosenzweig
"I don't know if I've ever figured out when I'm supposed to wear it," laments Macklowe of this Chanel cropped scuba jacket. "I'm always confused what season it's for. It's really hot, so it's not a great piece for summer, yet it has shorter sleeves so it's not good for winter either. It's one of those impulse pieces I bought."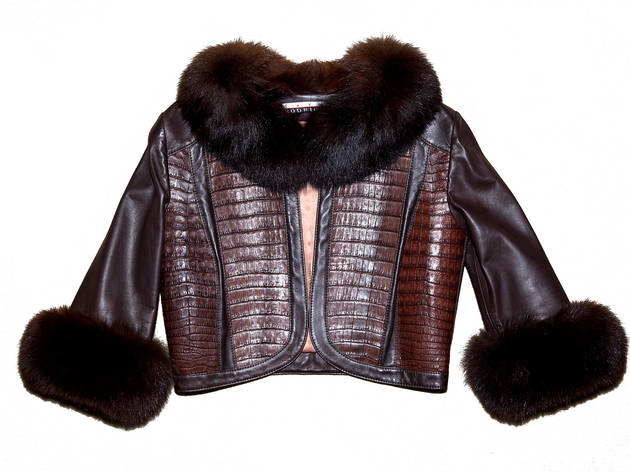 27/29
Photograph: David Rosenzweig
Local designer David Rodriguez (davidrodriguez.net) custom-made Macklowe this mink-trimmed alligator-skin jacket. "I never wear a coat [to events] unless it's February and you have to," she says. "Generally speaking, you're in and out of a car, so I really just wear shrugs; they keep you quite warm."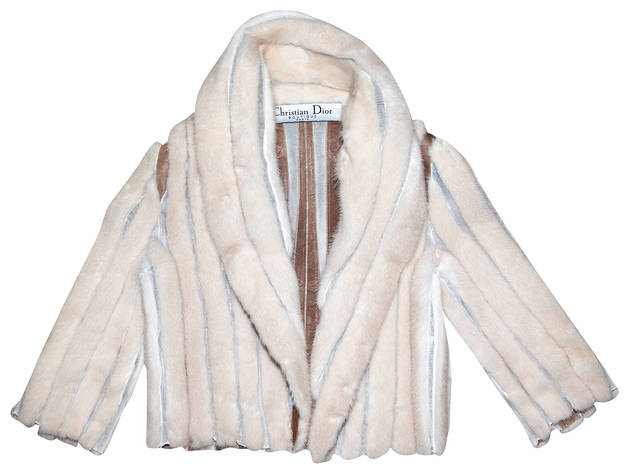 28/29
Photograph: David Rosenzweig
Macklowe purchased this Christian Dior rabbit-fur shrug at Bergdorf Goodman several years ago. "I liked the deconstructed aspect of it," she says, referring to its sheer, vertical strips.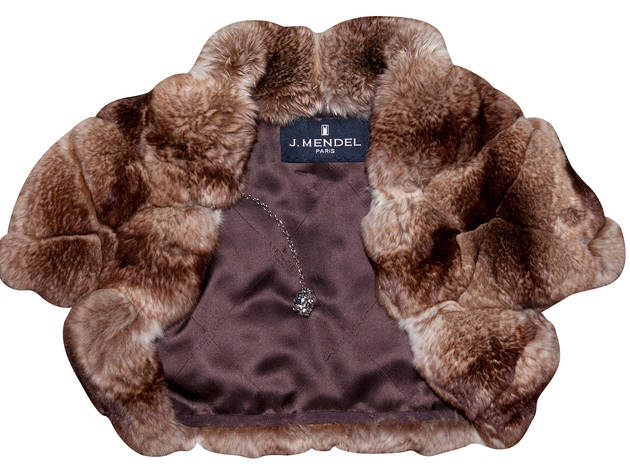 29/29
Photograph: David Rosenzweig
"I didn't love 2008, but I did like that you could get everything 90 percent off, so I did a lot of fur purchasing that year," says Macklowe, who bought this J. Mendel bolero on Gilt Groupe during the height of the financial crisis. "[Furs] were so cheap! I think this was $500, and it's mink."
Closet case: Julie Macklowe, founder of Vbeauté
Hermès Birkin bags, custom-made ball gowns and ready-to-wear runway pieces fill the beauty entrepreneur's museum-worthy closets.
Metropolitan Museum of Art
's Costume Institute ball. For such occasions, the entrepreneur collects ball gowns from high-end designers, including Oscar de la Renta,
Alexander McQueen
and
Carolina Herrera
. Her jaw-dropping closets also boast an extensive array of
Hermès
bags,
Christian Louboutin
shoes and
Chanel
blazers.
Her favorite NYC stores
Bergdorf Goodman 754 Fifth Ave at 58th St (212-753-7300, bergdorfgoodman.com)
"It has a very boutiquey feel, but you can get everything in one place," says Macklowe, who is also a fan of the legendary department store's personal shoppers (she uses Kayon Williams in the Chanel department). "I met her years ago and I think she's got great style. There's usually a piece I want—I rip a lot of stuff out of magazines—so if I see something, I'll e-mail her."

Rag & Bone Locations throughout the city; visit rag-bone.com
When it comes to causal clothing, this British-inflected label is a go-to for Macklowe. "It's just very easy to wear," she says. "I have a lot of its T-shirts, and I think the jeans are terrific."

Madame Paulette 1255 Second Ave between 65th and 66th Sts (212-838-6827, madamepaulette.com)
Macklowe admits she usually doesn't get her ball gowns dry-cleaned "unless it's a disaster, since it ruins them and isn't needed after one wearing." On the rare occasion that one requires tending, she entrusts her dresses to this high-end cleaning company. "They preserved my wedding gown, and I guess old habits die hard," she explains.
Follow Cristina Velocci on Twitter:
@cvelocci