Heads up! We're working hard to be accurate – but these are unusual times, so please always check before heading out.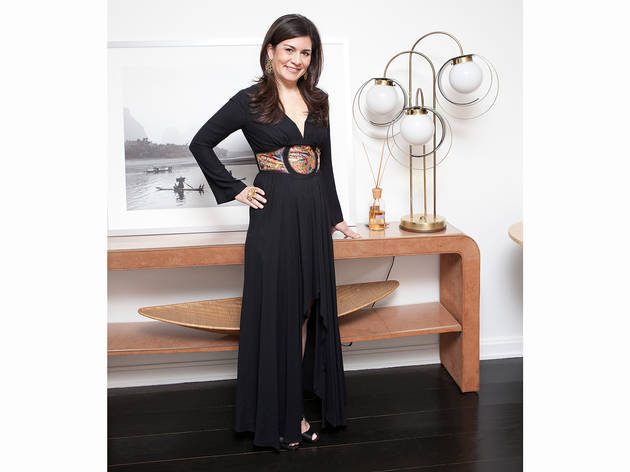 1/29
Photograph: Jessica Lin
Samantha Daniels (samanthadaniels.info) is no stranger to baggage: The former divorce attorney has been running her high-end matchmaking service, Samantha's Table (samanthastable.com), since 2000, and is responsible for more than 250 marriages. Perhaps the most tangible product of her success is her collection of rare purses from the 1960s and '70s. "I decided that when a couple hit a certain milestone—a six-month mark, they got engaged, they got married—I would reward myself by purchasing an interesting handbag," she says. "I would use any excuse to buy myself a new one, as long as the couples were happy and in love." Daniels has steadily acquired more than 300 bags, which fill an entire walk-in closet in her Upper East Side apartment. She also has five hallway closets for storing shoes, casual clothing and her equally impressive assortment of vintage coats. "I love to wear one-of-a-kind fashion, and I've always been a unique dresser," says Daniels, who hardly purchases contemporary garb. "I'm not into trends, and that's something I believe in when people are dressing for dates. They should pick something that they feel great in because [they]'ll exude confidence."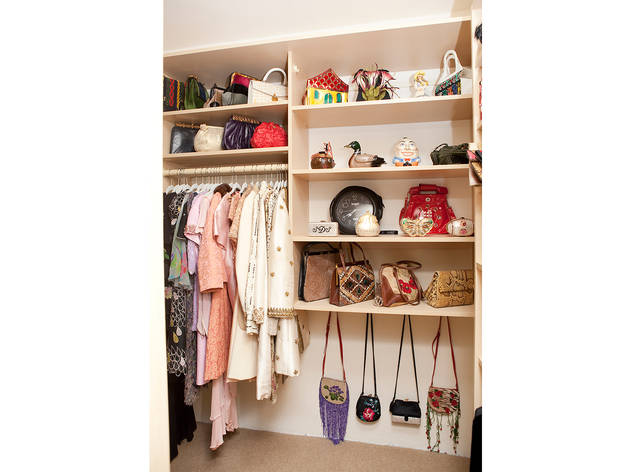 2/29
Photograph: Jessica Lin
Daniels started collecting vintage handbags about eight years ago, when she inherited her mother's extensive assortment of purses by Judith Leiber (judithleiber.com). She then began building her repertoire by attending auctions, such as Sotheby's (1334 York Ave at 72nd St; 212-606-7000, sothebys.com), and clothing expos, including the Manhattan Vintage Clothing Show (manhattanvintage.com) and Pier Antiques Show (stellashows.com). "I discovered that I really love whimsical, one-of-a-kind bags," she says. "Some people collect things and don't use them, but I actually carry [my handbags] because I want people to see them." Not one to store her pocketbooks in dust bags, Daniels hired California Closets (californiaclosets.com) to install shelving and keep everything on view, including a handful of '60s eveningwear pieces.
3/29
Photograph: Jessica Lin
To keep things organized, Daniels groups her purses according to theme. "I just feel like they belong together," she says, motioning toward a shelf of boxy gold evening bags. The assortment includes a Judith Leiber snakeskin style, an Enid Collins (enidcollins.com) wooden Night Owl pocketbook and a metal version from Italian designer Roberta di Camerino (robertadicamerino.com), one of the labels Daniels likes to collect. "[The brand] was very popular with the ladies-who-lunch crowd back in the '50s and '60s," explains Daniels. "[The designer] was famous for making doctor bags in interesting colors, so this one is unique—no one knew that she made something like this."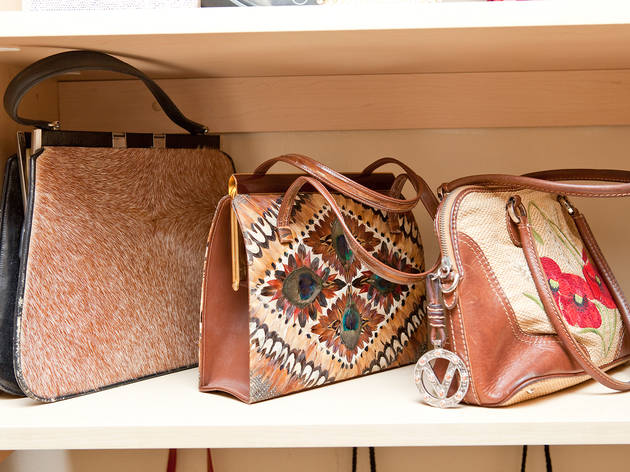 4/29
Photograph: Jessica Lin
Another shelf is devoted to textured bags, such as one fashioned from horsehair and another covered in ostrich feathers. Although it's not made from animal materials, the satchel from Valentino (746 Madison Ave at 65th St; 212-772-6969, valentino.com) fits in because of its embroidered floral detailing.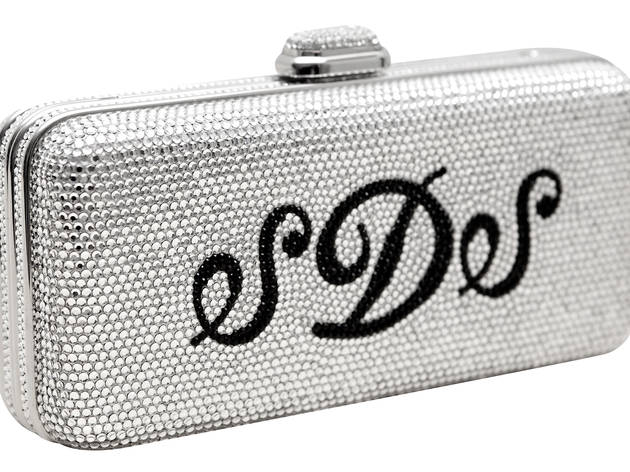 5/29
Photograph: Jessica Lin
In 2003, Daniels coproduced Miss Match, an NBC series starring Alicia Silverstone that was loosely based on Daniels's life story. "Judith Leiber's company contacted me, not knowing that I collect handbags, and asked me if I would be willing to meet with them to consider putting her bags on the television show," she recounts. When she arrived at the showroom, Daniels was gifted this custom-made clutch featuring her monogram in Swarovski crystals.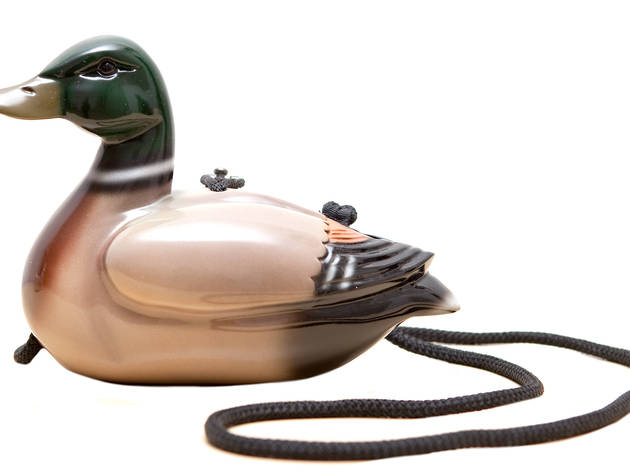 6/29
Photograph: Jessica Lin
"Growing up, whenever there was a duck around, I felt lucky, so I had to have a duck handbag," says Daniels of this auspicious Timothy Woods mallard.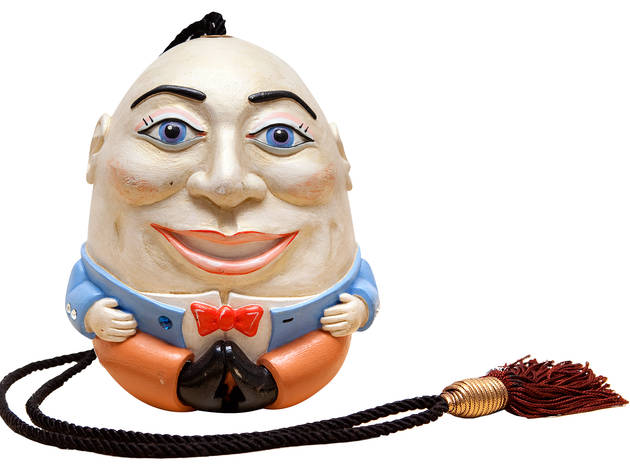 7/29
Photograph: Jessica Lin
This Humpty Dumpty evening bag was one of Daniels's first vintage purchase at auction house Doyle New York (175 E 87th St between Lexington and Third Aves; 212-427-2730, doylenewyork.com). Despite the fact that it's made from sturdy resin, the character's legendary fragility has kept her from using it. "I carried him once, but I was afraid that he would break," she admits.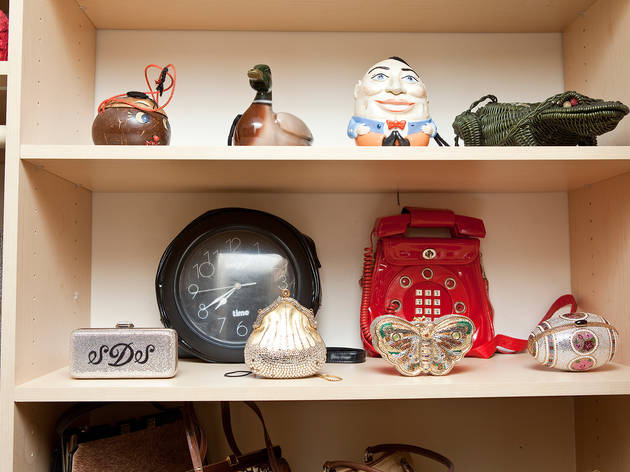 8/29
Photograph: Jessica Lin
A quartet of Judith Leiber crystal-encrusted clutches—including a butterfly and an Easter egg that belonged to her mother, and a rare Chatelaine (Leiber's original minaudière that's since been discontinued)—take center stage in Daniels's closet. Behind them rest two funky purses that are actually functional: a Baggo Time clock bag and a '70s Dallas Handbags Telephone patent-leather purse featuring a receiver handle and phone-jack wiring. On the top shelf, a wicker frog serves purely fanciful purposes. "I've carried him to the Wildlife Conservation Society's gala [at the Central Park Zoo]," she says.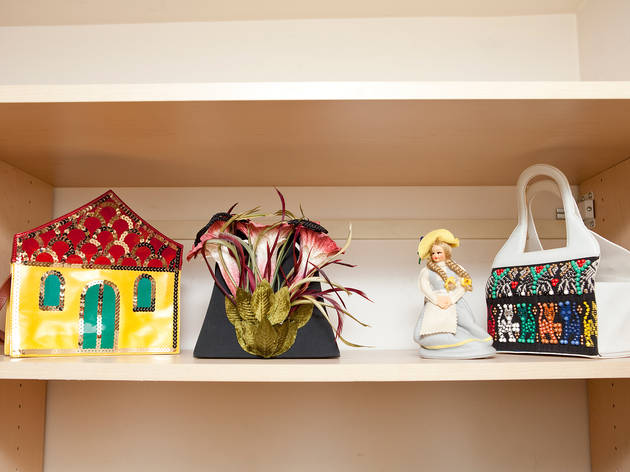 9/29
Photograph: Jessica Lin
This shelf takes on a loose nature theme, featuring a Judith Leiber beaded cat purse and a silk-flower–embellished style purchased from a street vendor. They rest beside a Moschino (401 W 14th St at Ninth Ave; 212-243-8600, moschino.com) house-shaped bag and a '60s lady figurine that has a zipper compartment in the back for stashing money.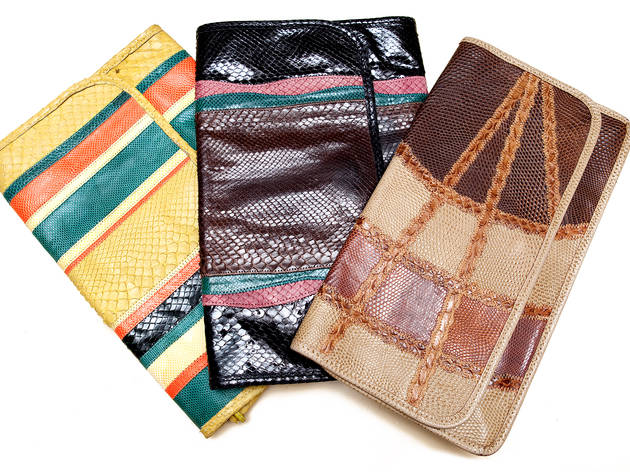 10/29
Photograph: Jessica Lin
"I'm very into clutches," says Daniels, who has an entire shelf dedicated to them and mainly stocks up on '70s versions from Carlos Falchi (carlosfalchi.com). "They have a mix of animal skins in interesting colors," she enthuses. "You can wear something simple and just by carrying them they make [your outfit] so special."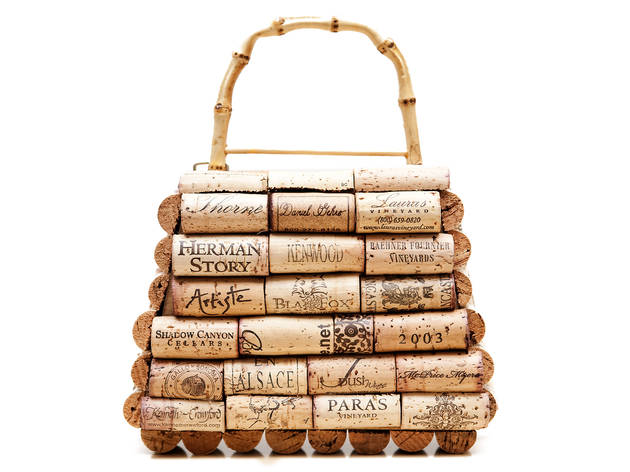 11/29
Photograph: Jessica Lin
To commemorate their first trip together to Santa Barbara, Daniels's boyfriend purchased her this quirky handbag. "It's made out of corks from all of the [area] vineyards," she explains. "I just thought it was so amazing."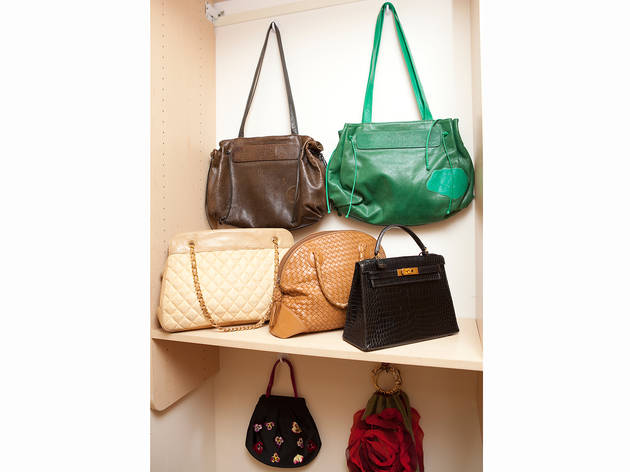 12/29
Photograph: Jessica Lin
"The great thing about California Closets is that they come with all of these notches, so you can make the shelves higher or lower [depending on the bag size]," notes Daniels, who removed several shelves to create a cubby that would accommodate her larger satchels. A pair of vintage Carlos Falchi totes hang above a quilted purse by Chanel (139 Spring St at Wooster St, 212-334-0055 •15 E 57th St between Fifth and Madison Aves, 212-355-5050  • 737 Madison Ave at 64th St, 212-535-5505 • chanel.com) and a woven style from Bottega Veneta (699 Fifth Ave between 54th and 55th Sts; 212-371-5511, bottegaveneta.com).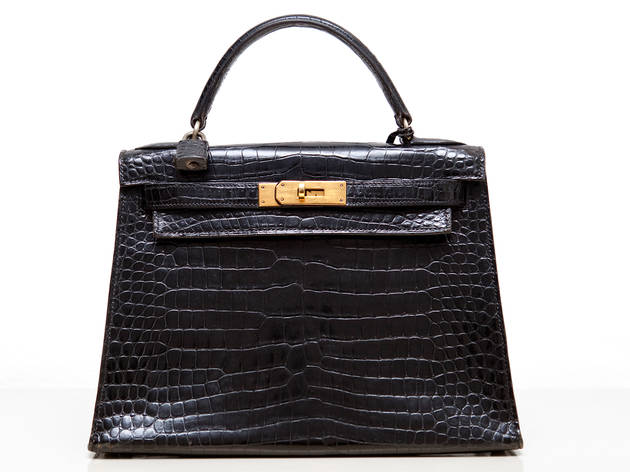 13/29
Photograph: Jessica Lin
Daniels purchased this classic Hermès (hermes.com) alligator-skin Kelly bag at a Doyle New York auction. "It's sort of the pièce de résistance of the collection," she says. "I wasn't planning on buying it, but nobody bid on it and the catalog said it was in perfect condition." Although the covetable purse was listed at a low price relative to its worth, it was still expensive by Daniels's standards. "I was shaking when I put my hand up because I was so nervous," she recalls. "It's beautiful and I love it, but it's like carrying a Hyundai on your arm."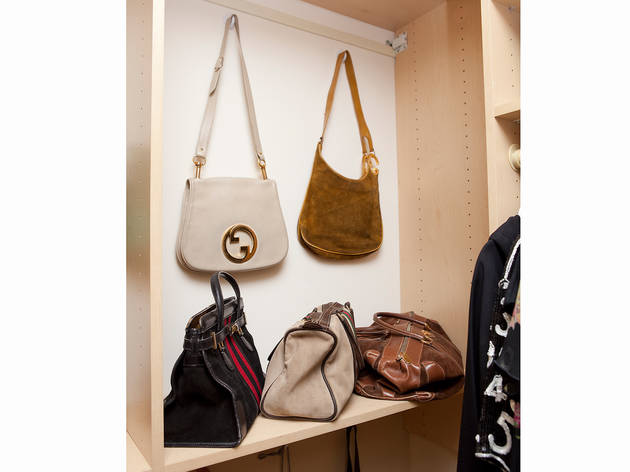 14/29
Photograph: Jessica Lin
This nook is reserved for Gucci bags from the 1960s and '70s, many of which were passed down from Daniels's mother (one satchel even has her mom's initials engraved on it). "Someone who works at the company approached me and said if they were to do a retrospective, they'd want to borrow one or two of them," she says.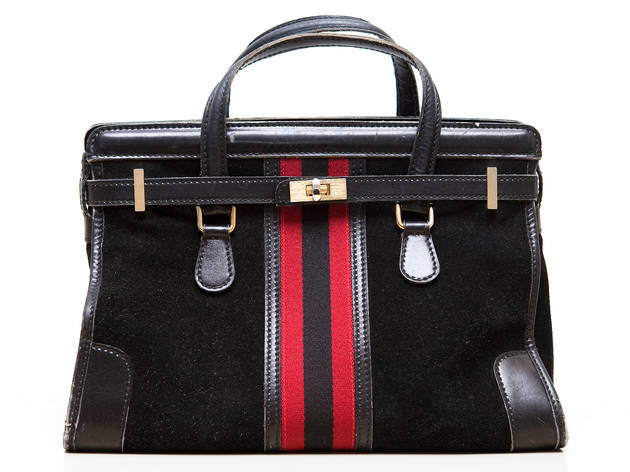 15/29
Photograph: Jessica Lin
"It looks like a Gucci Birkin," notes Daniels of this purse's resemblance to Hermès's iconic structured bag. She inherited it from her grandmother.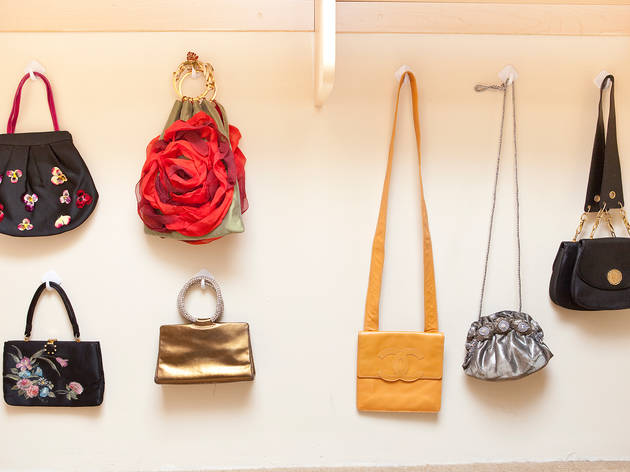 16/29
Photograph: Jessica Lin
For certain bags with longer straps or unstructured bodies, Daniels opts to hang them on adhesive wall hooks from the Container Store (629 Sixth Ave between 18th and 19th Sts • 725 Lexington Ave at 58th St • 212-366-4200, containerstore.com). "To lay them down just doesn't really do them justice," she explains. Among the chosen few are a Versace (160 Mercer St between W Houston and Prince Sts; 212-966-8111, versace.com) scalloped evening bag, a Chanel crossbody style, a Judith Leiber bracelet purse and a pair of floral-adorned pouches. "They are great for travel because they flatten," she says of the latter two.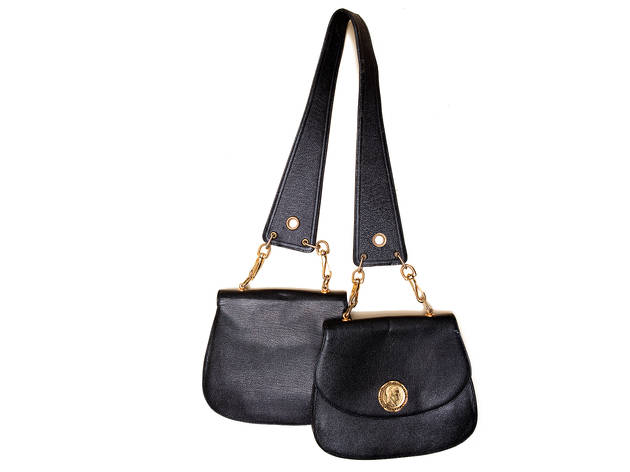 17/29
Photograph: Jessica Lin
This two-in-one '60s Koret number gets double takes when Daniels is walking down the street. "You can wear it across your body, around your neck or have one [bag] in the front and one in the back," she explains.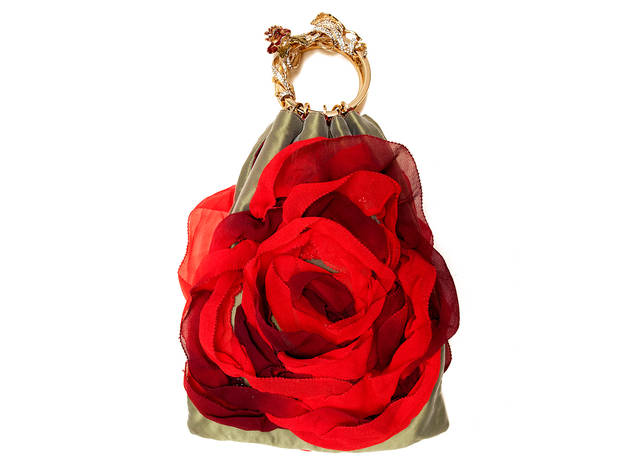 18/29
Photograph: Jessica Lin
"You actually wear it as a bracelet," notes Daniels of this Valentino rose bag, whose ornate handles double as jewelry.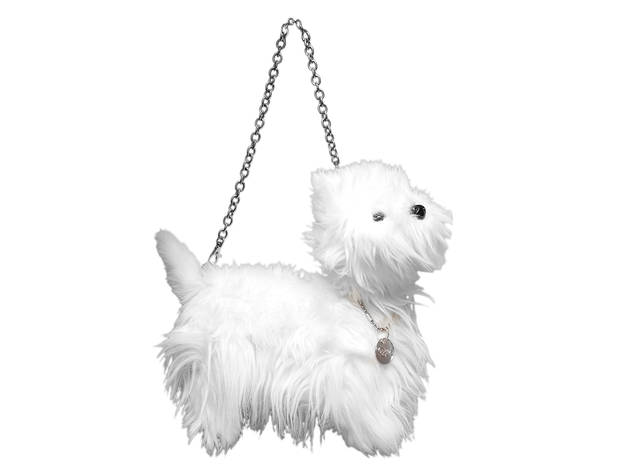 19/29
Photograph: Jessica Lin
Perhaps the only modern handbag that Daniels owns, this Fuzzy Nation (fuzzynation.com) stuffed-animal purse is from children's store Koh's Kids (311 Greenwich St at Reade St, 212-791-6915) and served as part of a Halloween costume. "I carried it inside a Hermès bag as if I were one of those spoiled-brat women who bring their dog everywhere," she says. "It looks like a bichon frise."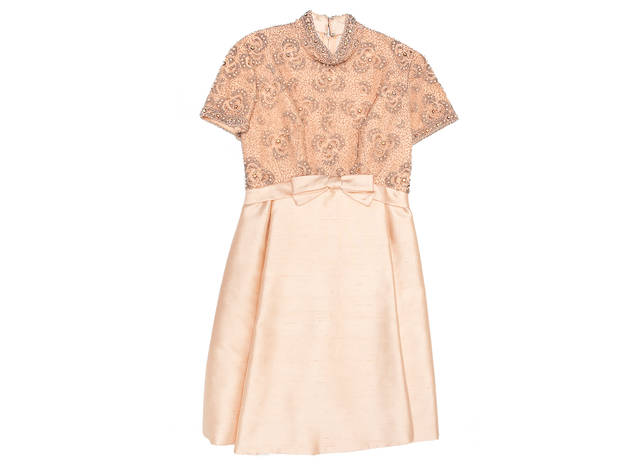 20/29
Photograph: Jessica Lin
Even when it comes to clothing, the 1960s is still Daniels's decade of choice. "The A-line [shape] fits me well, and things were made better," she explains. "When I see something like this at a vintage show, it could be $300; meanwhile at Saks it would be $3,000—beading today is just so price prohibitive." Since Daniels is heavily involved in raising money for breast-cancer research (her mother passed away from the disease), she often purchases pink garments such as this to wear to fund-raising events.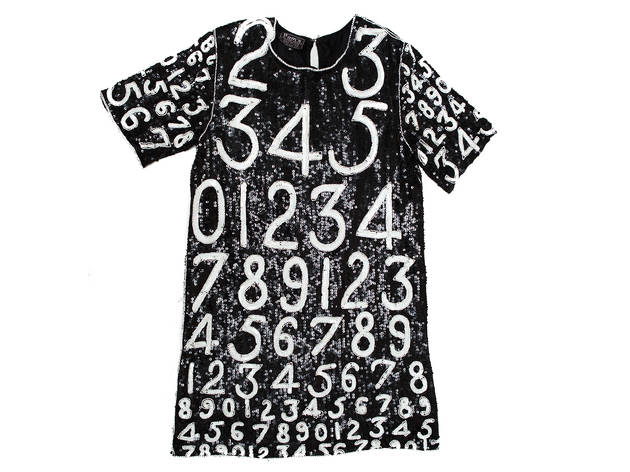 21/29
Photograph: Jessica Lin
"Sometimes I'll see something at a vintage show and think, Even if it doesn't fit me, I have to have it because it's so spectacular," admits Daniels. Such was the case with this Pam's Evening Wears sequined minidress, which luckily ended up being her size.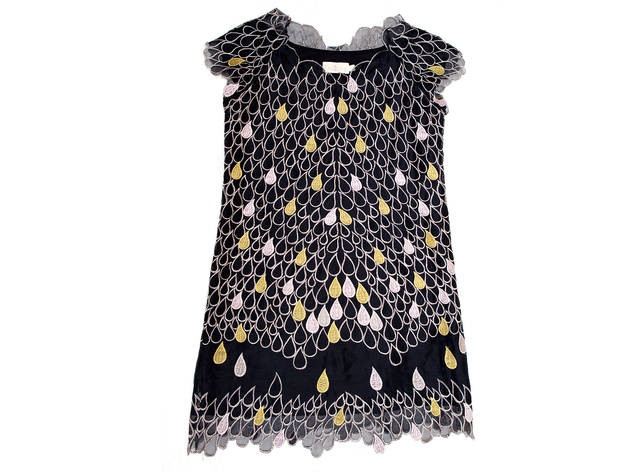 22/29
Photograph: Jessica Lin
Occasionally, Daniels will spot a unique contemporary garment on her travels, as she did with this BDBA (bdba.com) frock from Barcelona. She wore it to a real-estate-themed matchmaking event that was taped for an episode of the HGTV television show Selling New York.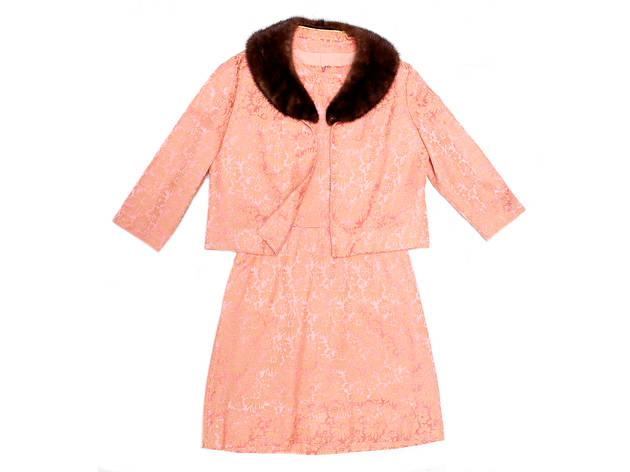 23/29
Photograph: Jessica Lin
Daniels advises wearing a frock on a first date. "Men love women in dresses," she notes. "You need to dress femininely. He wants to be with a woman, not a man—he's straight. So if you want to wear pants, pair them with a top that's feminine; otherwise you seem too tough." This '60s brocade suit with a removable fur collar is the epitome of girliness; Daniels wore it on the Today show for a Valentine's Day segment.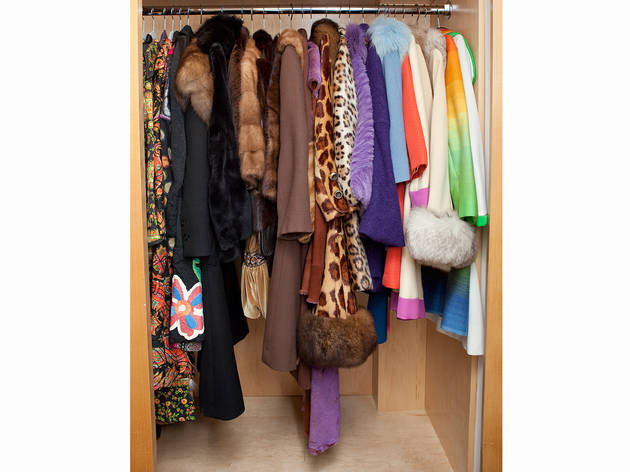 24/29
Photograph: Jessica Lin
Roughly 50 decades-old jackets fill a hallway closet outside the master bedroom. "When you live in a city like New York, sometimes you're wearing a coat all day long to get where you're going," explains Daniels of why she stocks up on unusual toppers. "I certainly don't need any more, but if I see something fabulous, I get it. I also trade them out—the great thing about vintage is that someone always wants it, so you can sell [unwanted items] on eBay (ebay.com) or through a dealer."
25/29
Photograph: Jessica Lin
This Paola Poggi peacoat is one of the few new jackets Daniels has in her collection. "I saw it at the end of the season and didn't buy it because it was expensive," she recalls. When she returned to the store the next year and inquired about the coat, she scored it for 60 percent off. "Purple is my favorite color," she says. "It's very regal."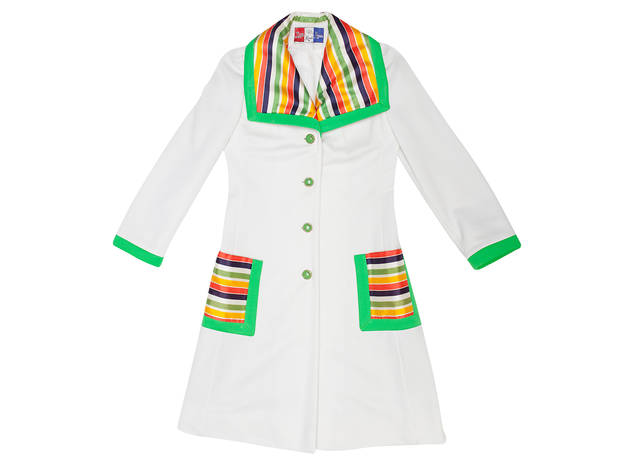 26/29
Photograph: Jessica Lin
Daniels has a handful of coats from defunct San Francisco label Lilli Ann, but this silk-detailed version from its mod 1960s Lilli Ann Knit line is one of her favorites. "It's obviously meant for the summer, but it's pretty special," she says.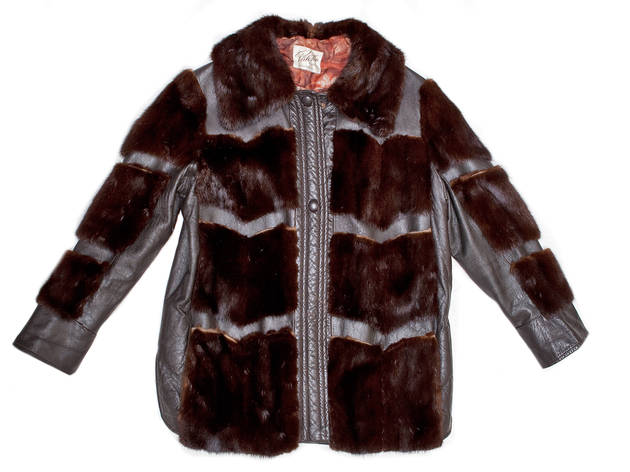 27/29
Photograph: Jessica Lin
"They sell a similar style at Gucci," notes Daniels of this Patchin Furs leather-and-mink coat that belonged to her great-aunt Blanche. "I've had to take it to the fur doctor many times because it's 60 years old, but I love it. It still has her initials inside."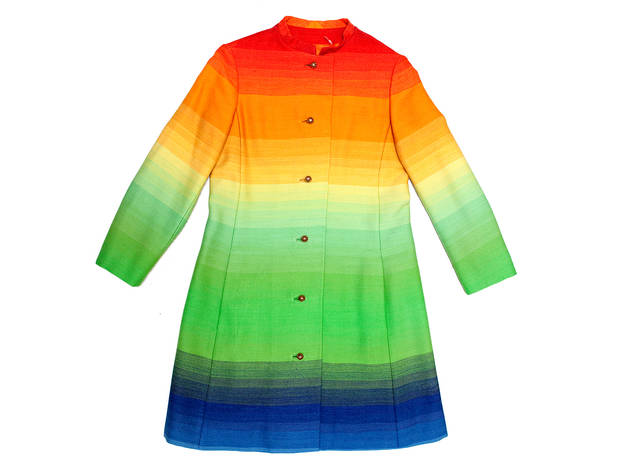 28/29
Photograph: Jessica Lin
While lots of New York women tend to dress in head-to-toe black, Daniels says they should avoid this common pitfall on a first date. "I hear constantly from men that they're not attracted to women in black," she says. "Guys want to see you in color. They think that women look older and more serious when they wear black." If you can't bring yourself to wear a full-on rainbow, like this bold '60s Courrèges (courreges.com) wool coat, Daniels suggests trying a bright accessory. "Bring a scarf or pashmina that has a pop of color—something you can throw on and brighten yourself up [with]."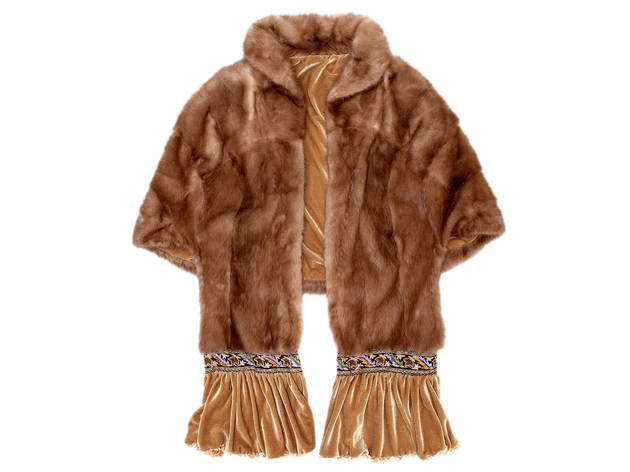 29/29
Photograph: Jessica Lin
Even though Daniels adores this reversible velvet-and-sable wrap with mother-of-pearl trim, she likely wouldn't wear it on a first date. "He doesn't need to see your best jewelry or fur coat," she cautions. "You don't want to pull out your grandmother's jewelry from the safe and go all decked out, because he's going to think you're too high maintenance."
Closet case: NYC matchmaker Samantha Daniels
NYC matchmaker Samantha Daniels of Samantha's Table reveals her vintage handbag and coat collections, and shares tips for first-date dressing.
Judith Leiber
, Gucci, Carlos Falchi and Valentino. She shops at auctions and vintage clothing shows, including the
Manhattan Vintage Clothing Show
and the
Pier Antiques Show
, for bags,
dresses
and
coats
from the 1950s through '70s.
Her favorite NYC style resources
Artbag
1130 Madison Ave at 84th St (212-744-2720, artbag.com)
"Even though I grew up in Philadelphia, my mother would bring all of her special bags up to New York," recalls Daniels of how she first learned of this specialty repair shop in high school. "They're used to handling old and delicate bags, and know how to make them look like new."
Ernest Winzer Cleaners
1828 Cedar Ave between Major Deegan Expy and 179th St, Bronx (877-946-9371, winzercleaners.com)
When it comes to caring for beaded clothing and furs, Daniels brings her more delicate items to this family-run business. "They clean all of the costumes on Broadway, so they take excellent care of formalwear," she enthuses.
Green Apple Cleaners
92 Greenwich Ave at 12th St (212-206-6236) • 8 Spruce St between Gold and Nassau Sts (212-601-9702) • 78 Seventh Ave at Berkeley Pl, Park Slope, Brooklyn (718-799-5015) • greenapplecleaners.com
Daniels entrusts this eco-friendly dry-cleaning chainlet to launder her duds from the 1960s. "It only uses natural products, so it's healthier for the clothes," she explains.
Paola Poggi
805 Lexington Ave at 62nd St (212-421-8464)
"I barely shop in contemporary stores," declares Daniels. One exception is this Italian designer's upscale clothing and accessories boutique. "She has a good eye and a lot of her pieces are one-of-a-kind." Follow Cristina Velocci on Twitter:
@cvelocci