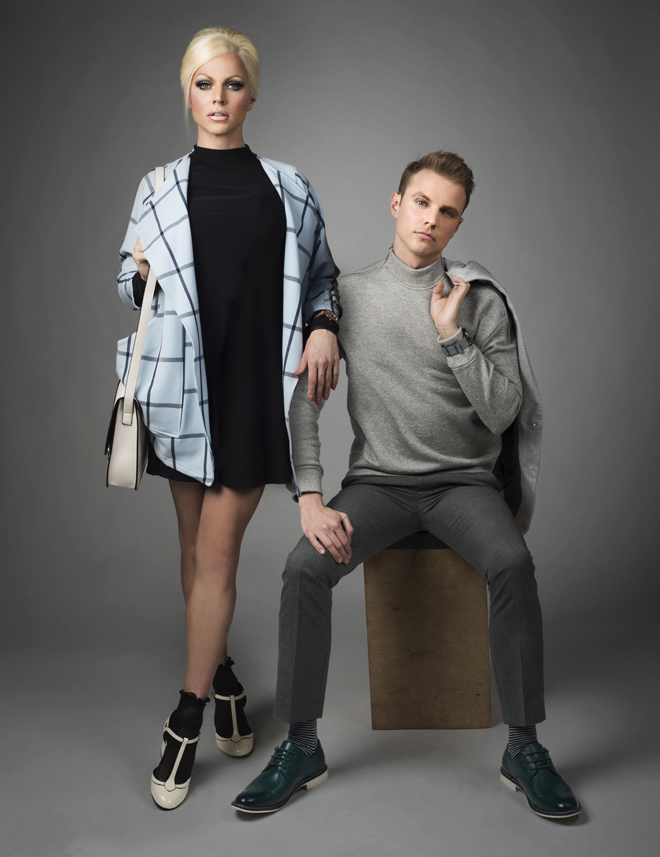 Photographer: Luke Fontana
On Courtney: River Island black turtleneck swing dress, $56; River Island light-blue check oversize waterfall coat, $130; RumbaTime Orchard Mirror watch, $45; Forever 21 Faux leather flap satchel, $25; Topshop Joyful Glitter T-bar Heels, $75.
On Shane: H&M Studio sweater, $40; Topman skinny-fit trousers, $50; Forever 21 Men cotton-blend pique blazer, $45; H&M two-pack socks, $6; RumbaTime Brooklyn watch, $95; Forever 21 Men Turquoise oxford shoes, $35.
RuPaul's Drag Race
contestant Courtney Act
(courtneyact.com)
has been a
Hell's Kitchen
resident for a few months now (she moved here from L.A.) and recently completed a successful run of gigs at the
Laurie Beechman Theater
. Fans of the reality-TV show are probably wondering: Is she, you know, a bitch? "People always say I'm actually nice and not a bitch at all," she insists, claiming she wasn't edited favorably on the series. And we didn't detect a catty vibe at all during her shoot, during which she (and her alter ego, Shane) had a ball playing dress-up. "I was giving my Julia-Roberts–meets–Taylor-Swift realness in my
Western
look," she shares. "And I love the mod looks! I don't get too dressy as a boy that often." Act's advice for trying a new trend: "Don't be afraid! I know Coco Chanel said to look in the mirror and take one thing off, but I say, 'Put all the things on!'"
Time Out New York: So, your shows here have been pretty successful.Courtney Act:
Yeah, this is the fourth time I've performed in New York. The first three runs were sold out, so we came back and did this run for a whole month. It's been great. I love New York audiences, because they're used to going to shows, and you really notice it. They laugh and applaud and do all the things that you want an audience to do. There are also a few musical-theater references in my show that the New York audiences always appreciate.
And the Drag Race fans are very loyal, right?
Yeah, and it's interesting because before
Drag Race
, I'd say that 99 percent of my audience was gay males. And since
Drag Race
, it's like 30 percent straight girls.
Drag Race
is watched by just as many women as it is by gay men. The meet-and-greets at the end of the show are about 70 percent straight girls, including young ones like the 11- and 14-year-old girls. My show isn't quite appropriate for an 11-year-old girl, because it's all about my journey of living life on the gender divide, sometimes as a girl and sometimes as a boy, and how that manifests with people I have sex with. Those girls went back to school on Monday real educated. They'll get an A in sex ed.
Reality TV isn't new for you, right? You were on Australian Idol?
Yeah, back in 2003, I went to
Australian Idol
the first day as a boy, and I got knocked out. So I went back the next day in drag and made it into the Top 12 and got a record deal and toured around Australia. But that was a good 11 years ago.
What reality show would you want to do next?
Dancing with the Stars
! I'm good friends with Chaz Bono, who was on the show. And I went with him to watch a couple of tapings, and I'm like, "These people aren't stars! I could be a star!"
Has anyone from Drag Race been on the show?
No. I want to be on, obviously in drag, but then the rehearsals would be like two men dancing together. And then a controversial moment would be one week—I could do the tango as a man with a man. That would be really good TV.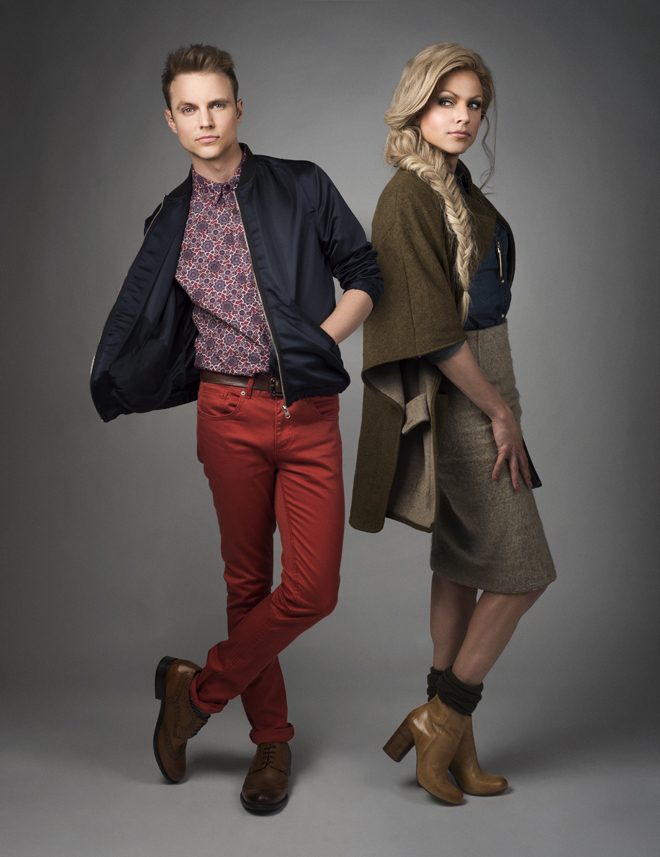 Photographer: Luke Fontana
On Courtney: Uniqlo denim, long-sleeve long shirt, $39; Zara gray tube skirt, $60; Zara dark-green/brown poncho, $169; Stella and Dot Rebel pendant necklace, $79; Hue ribbed over-the-knee socks in army green, $12; Chinese Laundry Battle Field boots, $130.
On Shane: Forever 21 Kaleidoscopic print shirt, $20; Forever 21 long-woven pants in brick, $20; H&M satin pilot jacket, $60; River Island dark-brown lace-up brogues, $70; Belt, model's own.