Heads up! We're working hard to be accurate – but these are unusual times, so please always check before heading out.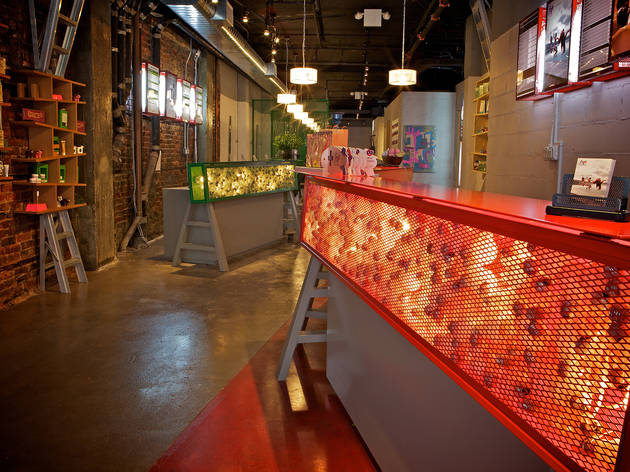 1/6
Strip: Ministry of Waxing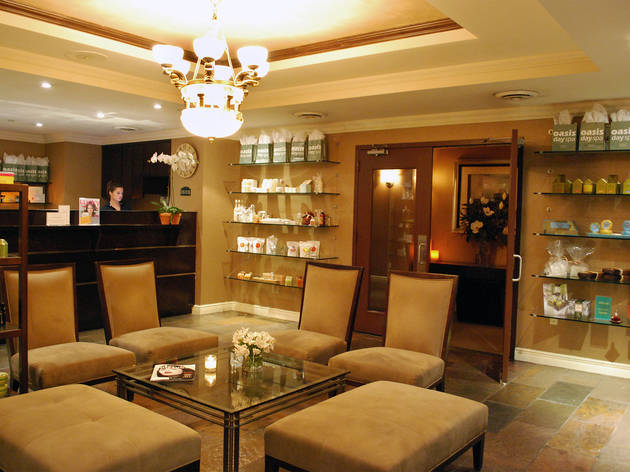 2/6
Oasis Day Spa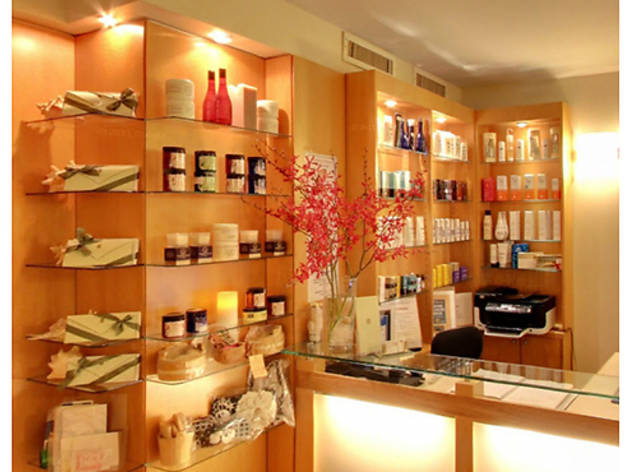 3/6
Faina European Spa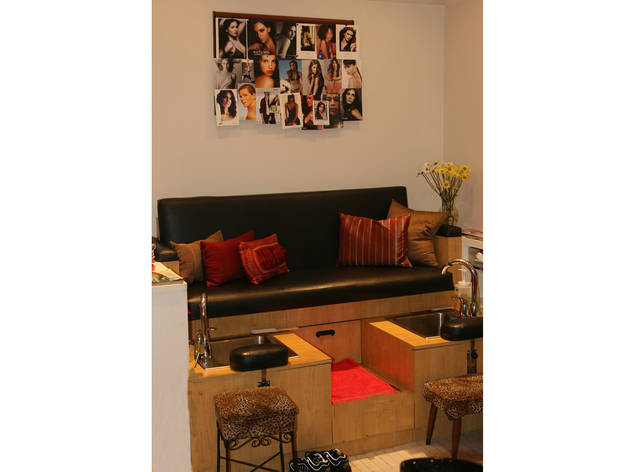 4/6
Maria Bonita Salon & Spa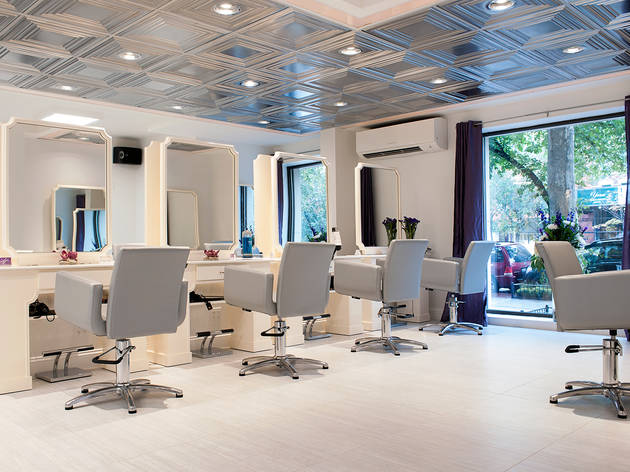 5/6
Alex Anthony Salon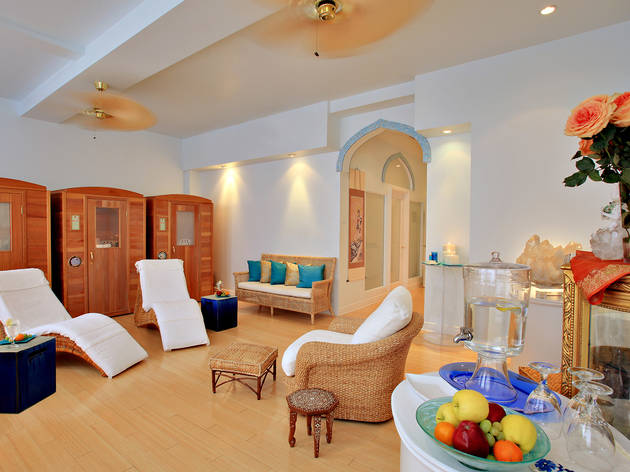 6/6
The Royal Sphatika Spa
Holiday-scented spa treatments in New York City
These holiday-scented spa treatments offered at NYC spas and salons allow you to savor the season in a stress-free manner.
Touring department-store window displays and catching holiday events aren't the only ways to enjoy Christmas in New York City. Destress while feeling festive by treating yourself to these seasonal spa services that smell like pumpkin, peppermint, chocolate, cinnamon, gingerbread and cranberry. But you'll have to act quick—spas in NYC such as Maria Bonita Salon & Spa, Alex Anthony Salon and Oasis Day Spa are offering them for a limited time only.
British Gingerbread wax at Strip: Ministry of Waxing
From the moment you enter the NYC flagship of this Singapore wax chain, the smell of gingerbread fills your nostrils—the spicy-sweet aroma wafts from burning incense candles, freshly baked cookies plated at the reception desk and scented wax bubbling in the eight treatment rooms. After you remove your clothes from the waist down and stash your belongings in an in-room wire mesh locker, your technician (we suggest Jackie Lum for a thorough job) will use an electric trimmer to cut hair evenly, then set to work defuzzing your nether regions using the aromatic hard, stripless wax. Although the process is relatively painless and you won't have to contort into any odd acrobatic positions, there's plenty to distract you from feelings of apprehension: A hip indie-rock soundtrack (Death Cab for Cutie, Foster the People) and mantras posted on the ceiling keep your mind occupied, while a gorilla-shaped foam squeeze toy alleviates stress. The limited-edition service (available through December 31) concludes with a slather of Malin + Goetz ingrown hair cream, ensuring your holidays will be bump-free. 56 Spring St between Lafayette and Mulberry Sts (212-431-1121, strip-usa.com). Women $65, men $85.—Cristina Velocci

Cinnamon brown sugar scrub at Oasis Day Spa
If winter temps have left you with dry, flaky skin, this half-hour body scrub will hit the spot. After changing into a robe and disposable undies inside the swanky locker room, you'll relax with a gratis cup of tea while your aesthetician (we recommend Hala S.) prepares a handmade concoction incorporating organic brown sugar (for exfoliation), lavender oil (for relaxation) and cinnamon (a natural anti-inflammatory). She'll use it to buff every inch of your body, including common problem areas such as heels and knees. The service concludes with a six-head Vichy shower, leaving behind smooth, soft skin with a scent reminiscent of baking holiday cookies even hours later. 1 Park Ave between 32nd and 33rd Sts (212-254-7722, oasisdayspanyc.com). 30min, $60 (normally $75). Mention TONY to receive this discount through Dec 31.—Elizabeth Denton

Cranberry Delight body scrub and massage at Faina European Spa
If you want a whiff of the holidays without being overwhelmed by festive aromas, this body combo offering will do the trick. Owner Faina Shafir, who has been running her Midtown West spa for 26 years, created this seasonal service (available through February 28) after discovering cranberries' nourishing skin benefits. Be prepared to strip down to a disposable paper thong for the first half of the treatment. Using subtly fruity Keyano Aromatics cranberry body scrub, a therapist will rub you from head to toe with the thick, coarse cream. The hydrating exfoliator contains cranberry oil, shea butter and antioxidants. After you're fully coated, rinse off in an adjacent shower and emerge with a silky-smooth dermis that's noticeably softer. Next, a different therapist performs Swedish and deep-tissue massage using Keyano Aromatics cranberry oil, a slick paraben-free serum that seeps into pores, leaving a slightly sweet lingering aroma. You can re-create the experience at home—both products are available for purchase ($22 each). 330 W 58th St between Eighth and Ninth Aves, suite 402 (212-245-6557, fainaeuropeanspa.com). 60min, $110 (normally $160). Mention TONY to receive this discount through Dec 31.—Rachel LeWinter

Hot chocolate pedicure at Maria Bonita Salon & Spa
Charming Brazilian salon Maria Bonita has translated the time-honored, cold-weather tradition of guzzling molten cocoa into a seasonal pedicure. Choose your preferred color from the selection of Essie, OPI and Risqué polishes, then settle into the two-seater bench with an English (InStyle, People) or Portuguese (Lola Magazine) glossy and a free cup of hot chocolate, surrounded by salon-branded M&Ms in Christmas colors. The pedi begins with your technician scraping your soles using an electronic foot buffer. Next, the rest of your skin from the knees down gets exfoliated with a custom-blended scrub containing Dead Sea salts, and cocoa and almond oils. Cuticles around the nail beds are trimmed before a vitamin E–rich lotion redolent of milk chocolate gets massaged into feet and calves. Finally, your tootsies will get dunked in hot-chocolate paraffin wax three times, then wrapped in cellophane and stuffed into terry-cloth booties. Once the mold is peeled off and lacquer applied, your paws will be adequately prepped for revealing holiday-party shoes. 12 Prince St between Bowery and Elizabeth St (212-431-1520, mariabonitany.com). 45min, $40.—CV

Peppermint Patty exfoliating scalp treatment at Alex Anthony Salon
With all that hair in the way, it's easy to forget that your scalp is also a part of your epidermis. This hour-long treatment (available through January 31) revitalizes that oft-neglected skin. After sipping a complimentary cup of warm apple cider or hot cocoa, you'll stretch out on a massaging chair as a stylist lathers your locks with a cooling shampoo enhanced with peppermint and tea-tree oils, followed by a vanilla-and-cinnamon–infused conditioner (both are custom-blended by the salon). Next, you'll spend ten minutes under a dryer to allow the mixture to soak in before rinsing, followed by a blowout that's included in the price. Not only will you leave with silky-soft strands, but you'll spend the rest of your evening in an olfactory halo of peppermint, vanilla and cinnamon. 10 Downing St between Bleecker and W Houston Sts (646-499-1111, alexanthonysalon.com). $100 (normally $125). Mention TONY to receive this discount through Jan 1.—Jenna Scherer

Pumpkin peel at the Royal Sphatika Spa
This exceptionally fragrant autumnal treatment takes just half an hour, making it a perfect lunchtime pick-me-up for both your senses and your environmentally weary skin. After prepping your face with a gentle cleanser from Sphatika's own skin-care line, your technician (we recommend Svetlana Kamyshin) smooths on the creamy, antioxidant-rich peel, a blend of pumpkin puree and enzymes. For the next few minutes, a mild tingling lets you know the concoction is working as it dissolves dead cells while renewing skin with vitamins A and C. Finally, your newly supple mug gets toned and moisturized, leaving you fresh-faced without a hint of redness. But be warned: You may leave with an insatiable craving for a slice of pie. 1841 Broadway at 60th St, suite 811 (212-265-5885, sphatika.com). 30mins, $75.—Carolyn Stanley