Most stylish New Yorkers 2013: Adele Berne and Mike Kuhle
The married Brooklynites and co-owners of Epaulet share a taste for luxe designer threads and vibrant pops of color.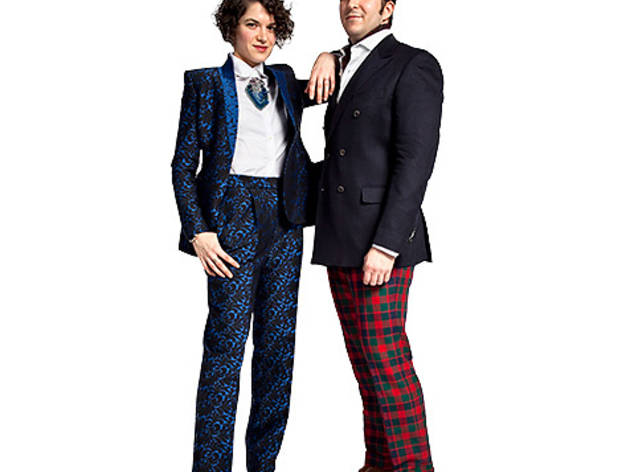 1/25
Photograph: Noffar Gat
The couple, who met through online dating site nerve.com in 2005, say they have similar ideas of personal style. "The pieces that we wear aren't too crazy, but there's usually something special about them," explains Kuhle.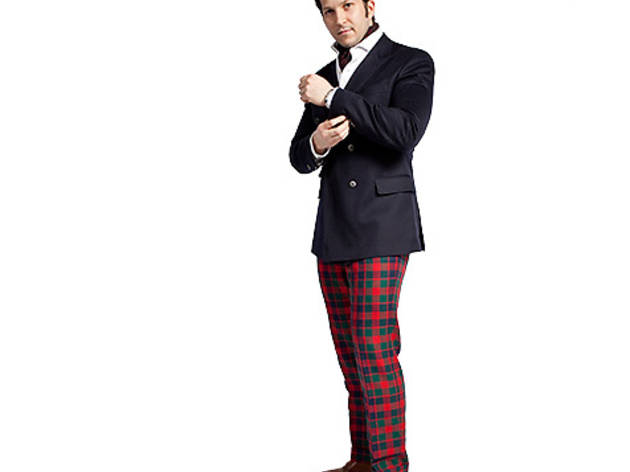 2/25
Photograph: Noffar Gat
The dapper store owner dons a cashmere double-breasted sport coat from Southwick for Michael Kuhle, Epaulet's in-house line, with an oxford dress shirt and tartan pants, also from Epaulet. "People will cross the street to ask me where I bought them," he says. "Although some people may cross the street to get away from them. You either love or hate bold trousers!"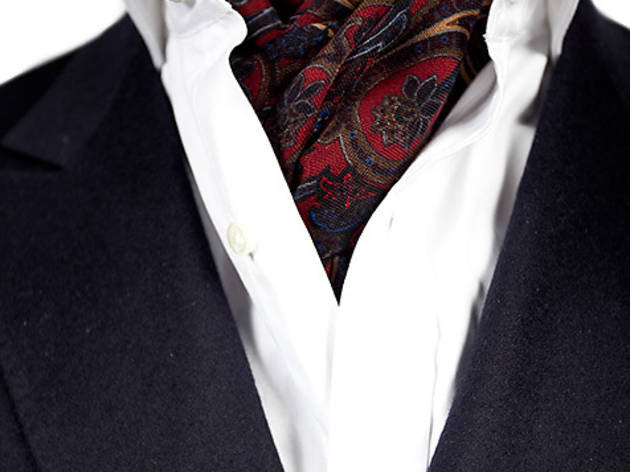 3/25
Photograph: Noffar Gat
Kuhle calls this printed wool Epaulet scarf "a dandy touch" to an otherwise basic black-and-white blazer-and-shirt combination.
4/25
Photograph: Noffar Gat
"It's a classic design that dates back more than 80 years," says Kuhle of his luxe Jaeger-LeCoultre (jaeger-lecoultre.com) watch. "I love it. I could stare at it all day."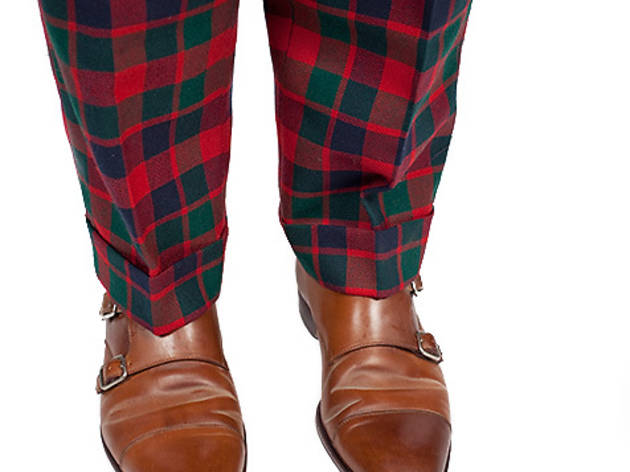 5/25
Photograph: Noffar Gat
Kuhle's Carmina (carminashoemaker.com) shoes are made from what Kuhle calls a "rare and beautiful horse leather"—a shell cordovan tanned in Chicago.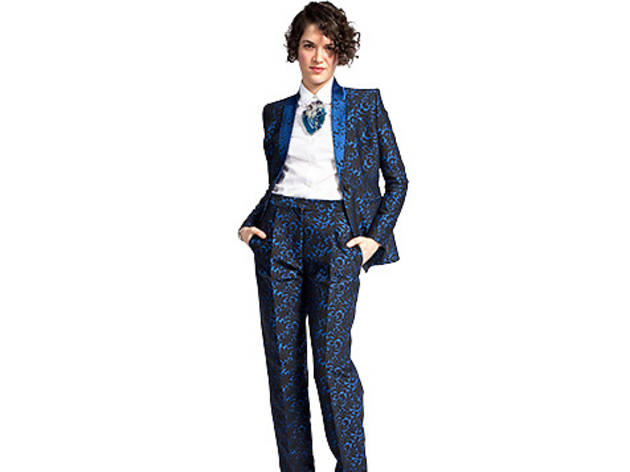 6/25
Photograph: Noffar Gat
"This reminds me of the famous Le Smoking photograph from Helmut Newton," says Berne of her bold Stella McCartney(112 Greene St between Prince and Spring Sts; 212-255-1556, stellamccartney.com) brocade suit. She layers it over a basic Epaulet button-down shirt, from the small women's collection sold in the Brooklyn store and online.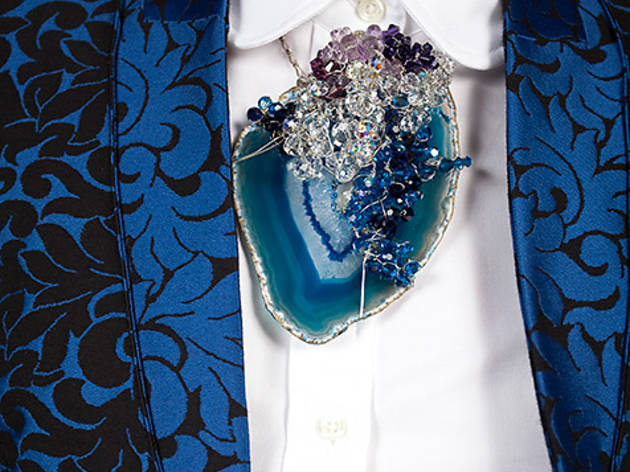 7/25
Photograph: Noffar Gat
Berne wore this custom Lush Cluster (lushcluster.smugmug.com) geode-and-crystal piece on a sash for the couple's wedding. It's made to be convertible, so she can incorporate the special item into many different looks.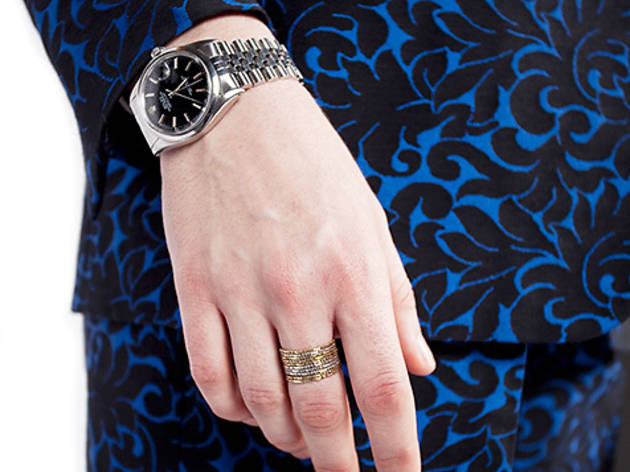 8/25
Photograph: Noffar Gat
The store owner wears a vintage Rolex (665 Fifth Ave between 52nd and 53rd Sts; 212-758-7700, rolex.com) watch, a Valentine's Day gift from her husband, and silver-and-gold Me & Ro. rings (241 Elizabeth St between E Houston and Prince Sts; 917-237-9215, meandrojewelry.com).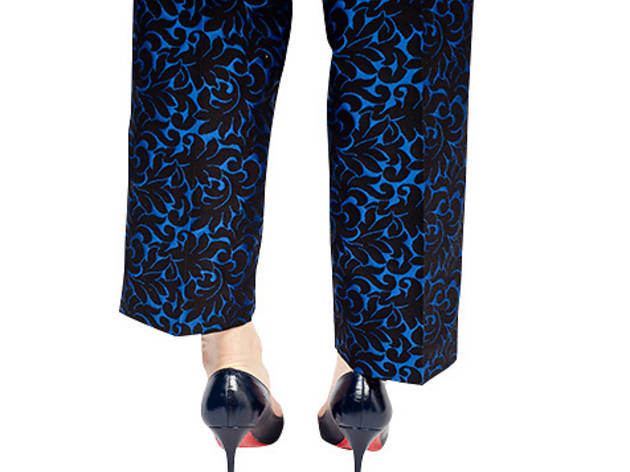 9/25
Photograph: Noffar Gat
"I have pretty large feet, and I always feel really ladylike when I put these on," says Berne of her navy Christian Louboutin(59 Horatio St between Greenwich and Hudson Sts, 212-255-1910 ● 965 Madison Ave between 75th and 76th Sts, 212-396-1884 ● christianlouboutin.com) pumps.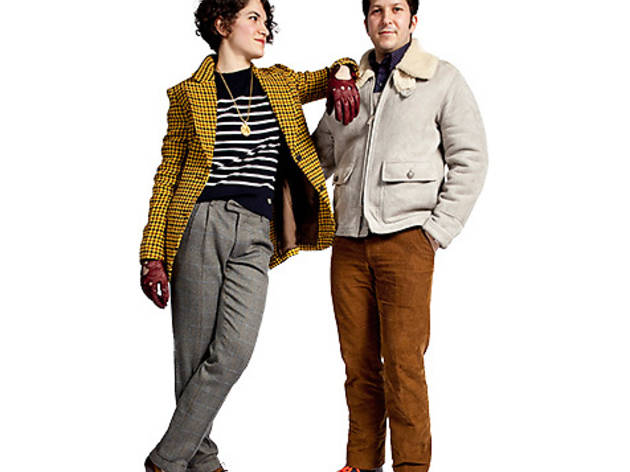 10/25
Photograph: Noffar Gat
"My husband is a creative genius," muses Berne. "I am always amazed at his talent. He sees the beauty and the potential for our Epaulet products in the most undiscovered places."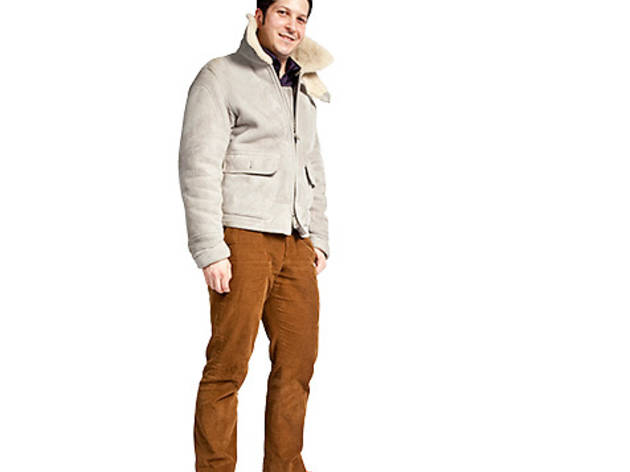 11/25
Photograph: Noffar Gat
Kuhle wasn't sure he could pull off this Ralph Lauren Purple Label(109 Prince St at Greene St, 212-625-1660 ● 867 Madison Ave at 72nd St, 212-606-2100 ● ralphlauren.com) shearling bomber jacket. "It's a little on the R. Kelly side," he jokes. "But the light color is a surprisingly easy match for many different looks, and I became really enamored with it after I dirtied it up a bit. [Epaulet] corduroys are my jeans," he says, since he doesn't own any denim.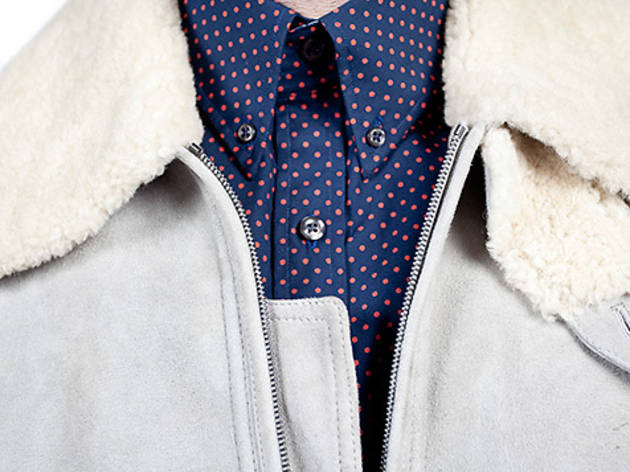 12/25
Photograph: Noffar Gat
A navy Epaulet button-up shirt with red polka dots adds polish and a pop of color to the designer's neutral jacket.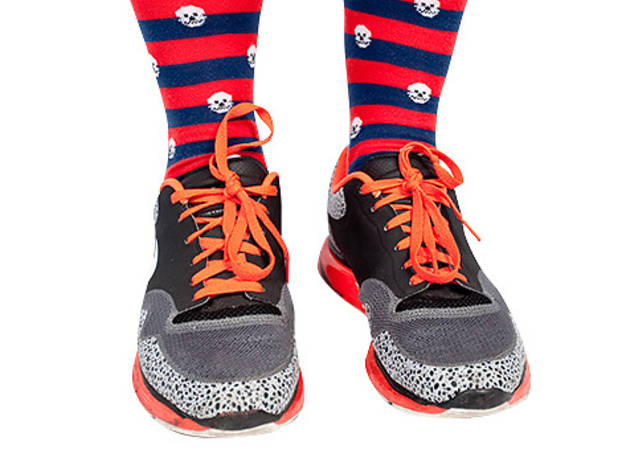 13/25
Photograph: Noffar Gat
These vibrant Nike(6 E 57th St between Fifth and Madison Aves, 212-891-6453 ● 21 Mercer St between Canal and Grand Sts, 212-226-5433 ● 156 Fifth Ave at 20th St, 212-243-8560 ● nike.com) running kicks are worn more for style than function. "I actually never go running," admits Kuhle. He pairs them with playful Corgi (corgihosiery.co.uk) socks. "I love bold socks. They're like a celebration of life," he explains.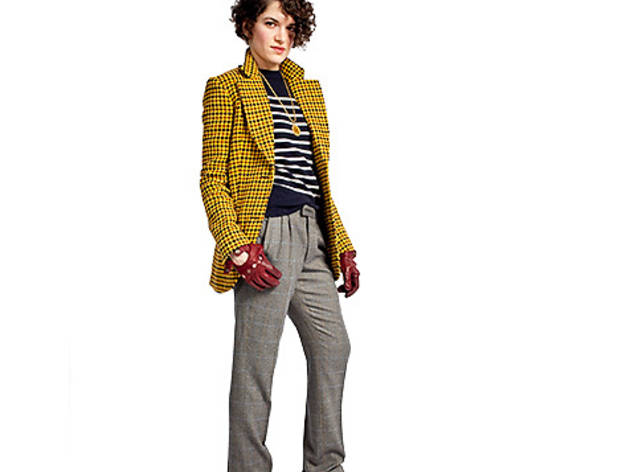 14/25
Photograph: Noffar Gat
"I love to mix prints and patterns," says Berne. Her spotted Miu Miu (100 Prince St between Greene and Mercer Sts; 212-334-5156, miumiu.com) blazer, striped Armor Lux(232 Mulberry St between Prince and Spring Sts; 917-261-5567, armorlux.com) sweater and plaid pants (a special-order Epaulet item) support her claim.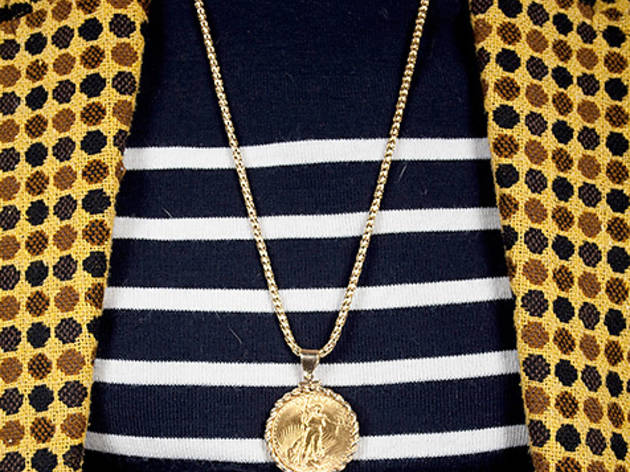 15/25
Photograph: Noffar Gat
Berne accessorizes with a necklace that once belonged to her grandmother. "She loved men and jewelry—thankfully, I inherited the latter," she jokes. "This is a solid-gold $20 coin from 1907 that she had made into a necklace."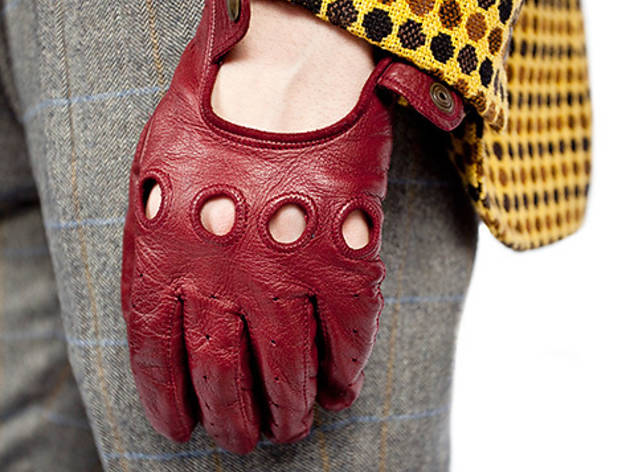 16/25
Photograph: Noffar Gat
Oxblood Paul Stuart (350 Madison Ave at 45th St; 212-682-0320, paulstuart.com) driving gloves bring out the red hue dotting Berne's yellow blazer.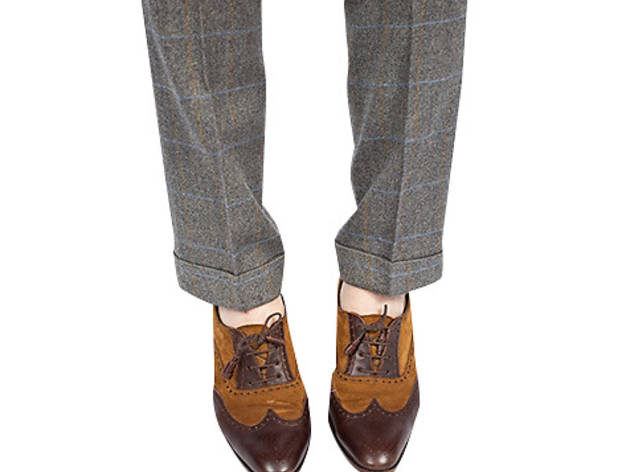 17/25
Photograph: Noffar Gat
"These were my first and definitely are my favorite pair of Carmina wing tips," says the store owner. "I have five, and the collection is growing. They are classic. Carmina has been making shoes for over 50 years."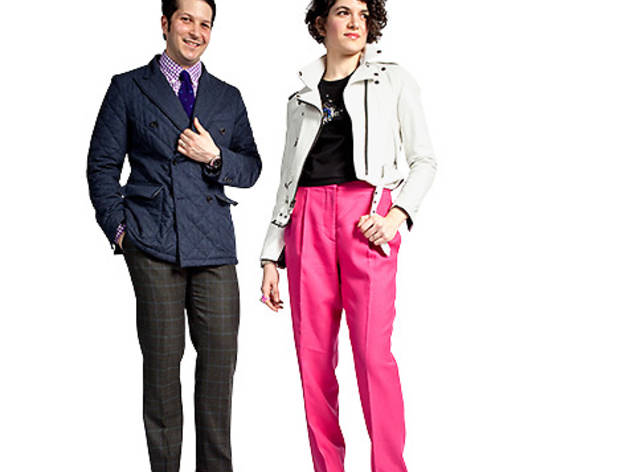 18/25
Photograph: Noffar Gat
Berne cites Katharine Hepburn as a style icon. "She was a smart, unconventional beauty who wore trousers at a time when it was not in fashion for women," Berne says. Kuhle, meanwhile, looks to David Bowie. "His style is inspirational in a thousand ways," he says.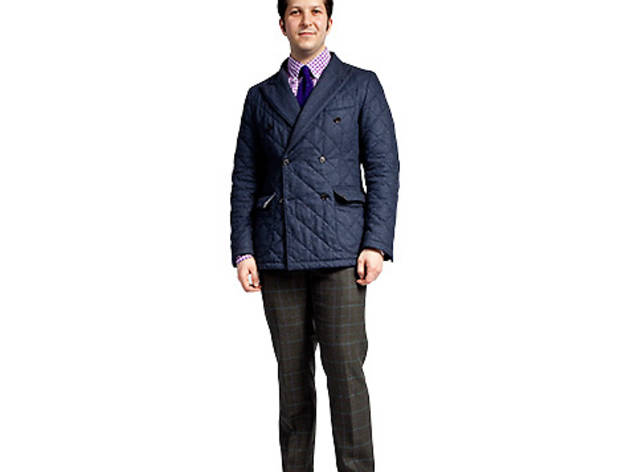 19/25
Photograph: Noffar Gat
Kuhle calls this Epaulet quilted sport coat "the best piece we've ever made," thanks to its insulated and waterproof properties. He adds wool trousers, also from the brand, to dress up the casual jacket.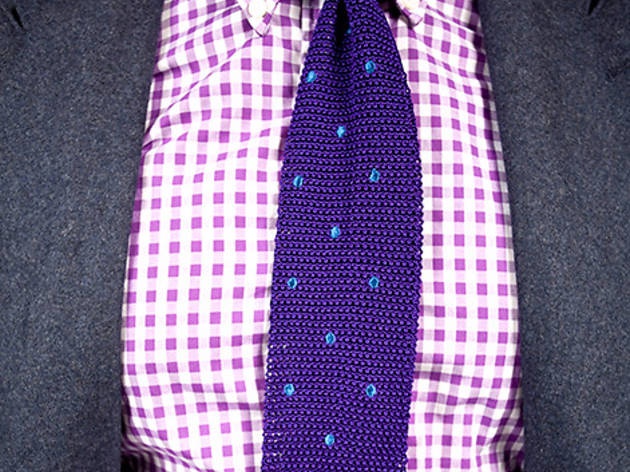 20/25
Photograph: Noffar Gat
"Purple shirts look great on most guys, and it's a way to make a statement without shouting it," explains Kuhle. This gingham Epaulet shirt is from the brand's Navy Label collection, which features more traditional dress shirts (with a fuller cut) for guys. A complementary silk knit tie in a deeper violet hue is from Brit designer Paul Stuart. A Carmina belt pulls the look together.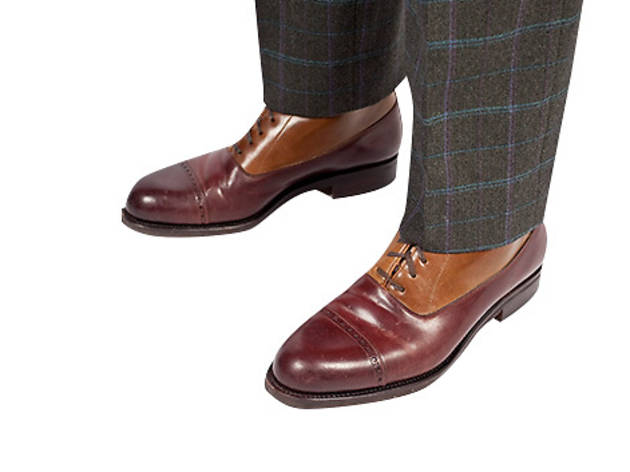 21/25
Photograph: Noffar Gat
Kuhle likes how these two-tone Carmina boots have lacing in the front, giving them a vintage vibe. "It makes them look very old-school," he notes. "These would make Nucky Thompson proud."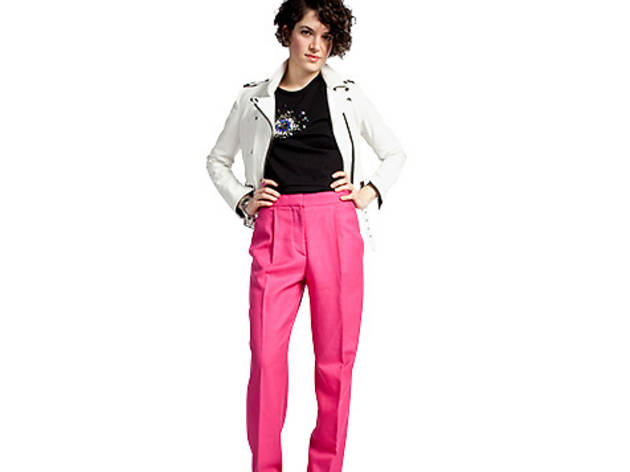 22/25
Photograph: Noffar Gat
A Schott (schottnyc.com) white leather jacket toughens up girly, pink Stella McCartney trousers. "[Schott] is the original creator of the motorcyle jacket made so famous by James Dean and the Ramones," notes Berne.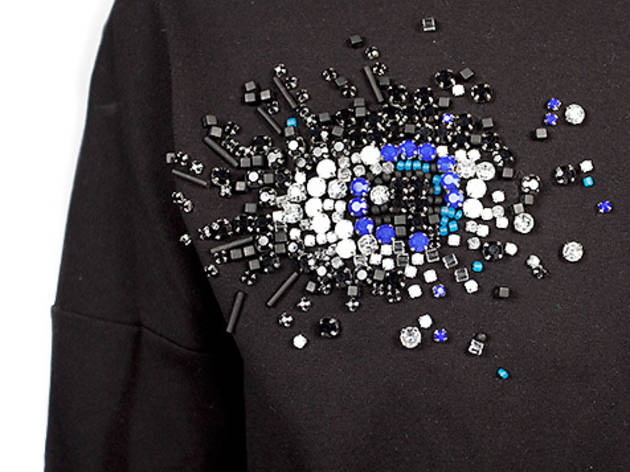 23/25
Photograph: Noffar Gat
NYC designer Phillip Lim's (115 Mercer St between Prince and Spring Sts; 212-334-1160, 31philliplim.com) black sweater is anything but basic with a sewn-on crystal burst.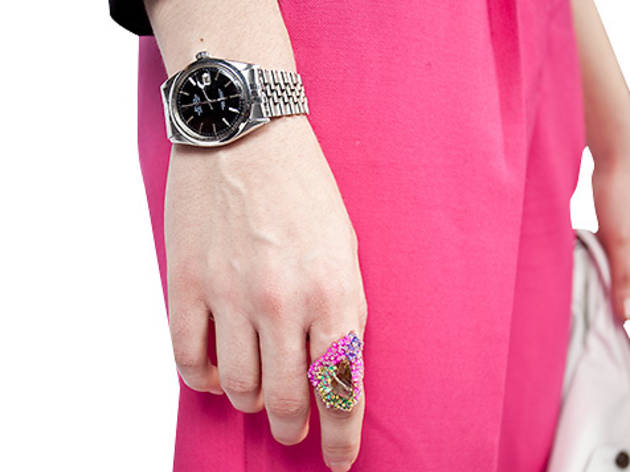 24/25
Photograph: Noffar Gat
Berne picked up this Full Bloom Beadwork (fullbloombeads.com) ring at an art fair in Florida. "The pieces are all handmade, and she uses a ton of color and geodes, which I adore," she muses.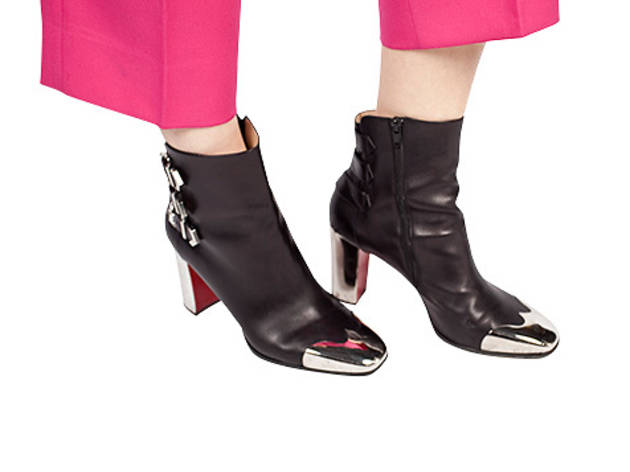 25/25
Photograph: Noffar Gat
"No one is messing with me in these steel-tipped boots," Berne says of these Christian Louboutin stunners. "My bad-assness immediately doubles when I zip these on."
Epaulet
store owners and married couple Adele Berne and Mike Kuhle prove they are some of
Time Out
's most stylish New Yorkers by mixing textures and prints to create unique looks. Kuhle likes to layer his own brand's dapper duds with those from fashion designers such as
Ralph Lauren
and Paul Stuart, and hit up
NYC indie shops
such as
Leffot
and
Grit N Glory
. Berne channels her style icon, Katharine Hepburn, with menswear-inspired clothing from
Stella McCartney
and Miu Miu.
RECOMMENDED: Most stylish New Yorkers

Adele Berne, 33, and Mike Kuhle, 36; Carroll Gardens, Brooklyn; co-owners of Epaulet(144 Orchard St between Rivington and Stanton Sts; 212-228-3626 ● 231 Smith St between Butler and Douglass Sts, Boerum Hill, Brooklyn; 718-522-3800 ● epauletnewyork.com)

Berne's personal style: "Bold and classic, a marriage of masculine and feminine. I usually let one piece do the speaking, whether it's the shoes, colorful pants or a printed jacket. I keep my accessories fairly simple to rock any look."

Kuhle's personal style: "Mod and ska with a small dose of British dandy and Italian casual."

Berne's style inspirations: "Living in New York, my staff of dapper dudes, color and polka dots."

Kuhle's style inspirations: "Michael Caine, Quadrophenia, Paul Weller, Free and Easy, the Specials, Marcello Mastroianni, the Clash, Boardwalk Empire, Godfather II, the Mighty Mighty Bosstones, Public Enemy, Gorilla Biscuits, Wu-Tang Clan, Styleforum (styleforum.net) and Tumblr (tumblr.com)."

About their store: "We sell artisanal menswear and footwear crafted exclusively in North America and Europe. We offer a sharp fit, standout style and uncompromising quality."

Berne's favorite stores: "Ninth Street Haberdashery (346 E 9th St between First and Second Aves; 917-265-8833, 9thsthaberdashery.com) is an incredible vintage clothing store where you can always find a beautiful and unique item from the pre-1950s."

Kuhle's favorite stores: "Leffot(10 Christopher St between Greenwich Ave and Waverly Pl; 212-989-4577, leffot.com) is hands down the best men's shoe store in New York City, if not the entire United States. Grit N Glory(186 Orchard St between E Houston and Stanton Sts; 212-253-2775, gritnglory.com) has great coffee, heavy-metal clothing and pomade. I bought an original photo of Axl Rose holding an enormous 1980s cell phone there. BookCourt(163 Court St between Dean and Pacific Sts, Cobble Hill, Brooklyn; 718-875-3677, bookcourt.com) is an independent bookstore that keeps it extremely real."

Berne's signature item: "Carmina (carminashoemaker.com) wing tips."

Kuhle's signature item: "Plaid trousers. I have about 20 pairs of them."

Kuhle's favorite NYC designers: "Ouigi [Theodore] from the Brooklyn Circus(150 Nevins St between Bergen and Wycoff Sts, Boerum Hill, Brooklyn; 718-858-0919, thebkcircus.com) is a brilliant guy. He looks at Americana/ivy style with a fresh eye and urbanizes it with some Brooklyn attitude."

How her style has evolved: "What I love about style is the constant evolution, but what I'm not so fond of is looking back and wondering what the heck I was wearing. I used to be a dancer and was creative through movement and wore clothing I could sweat in, with an elastic waistband. Ten years later, I now find my outlet through my shops, and I absolutely express my creativity and mood through what I wear."

How his style has evolved: "I traded out sneakers for shoes and polo shirts for dress shirts. I put more thought into how I dress and I take more pleasure from it."

Berne's favorite salon: "Joe Martino at Orlo Salon (34 Gansevoort St between Hudson St at Greenwich St; 212-242-3266, orlosalon.com) turns my insanely curly hair into something chic."

Kuhle's favorite salon: Damian's Hair Styling (417A Court St between 2nd and 3rd Pls, Carroll Gardens, Brooklyn; 718-596-6902) is an old-school barbershop run by a masterful guy from Southern Italy. He charges me $12, but I always give him $20 and tell him to keep the change because he does a great job."

Kule's favorite spa: "We go to Relaxing on Smith (289 Smith St between Sackett and Union Sts, Carroll Gardens, Brooklyn; 718-522-6288) for massages. Those people are so strong—they will absolutely kick your ass with a tui na back massage. They have good prices, too."
Follow Elizabeth Denton on Twitter: @elizabethann1