Most stylish New Yorkers 2013: Brian Mazza
Windsor Custom cofounder Brian Mazza shows how his made-to-measure suits can be dressed up or down.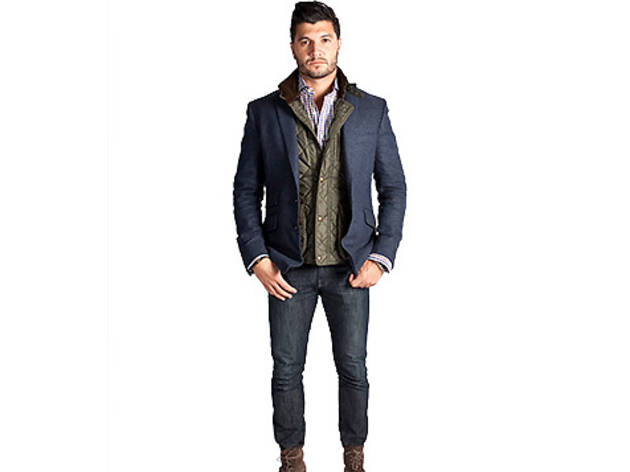 1/10
Photograph: Noffar Gat
"I have a vest in every color [to go with] all of my suits," admits Mazza, who sandwiches an army-green quilted version from Ralph Lauren(locations throughout the city; visit ralphlauren.com) between a Windsor Custom blazer and a plaid shirt from the label's spring 2013 collection. Mazza collaborated with local denim brand DL1961 (dl1961.com) to custom-make his dark-wash skinny jeans, which were subsequently produced for the line as "the Brian."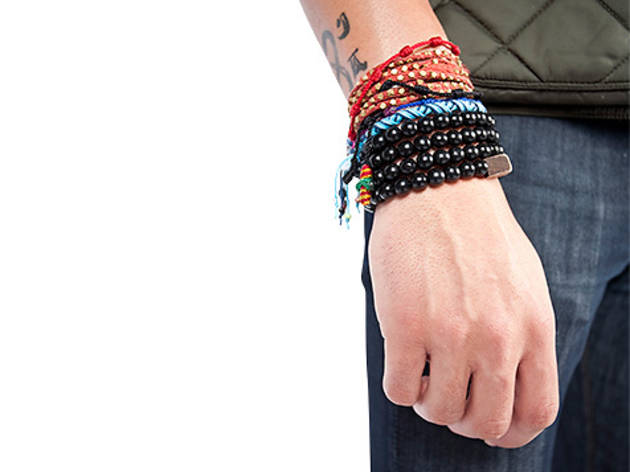 2/10
Photograph: Noffar Gat
Around his wrist, Mazza wraps a beaded necklace, picked up on a trip to Miami, alongside a studded wrap bracelet he bought at Sunset Beach, Long Island, this summer. "I feel naked without them," he says.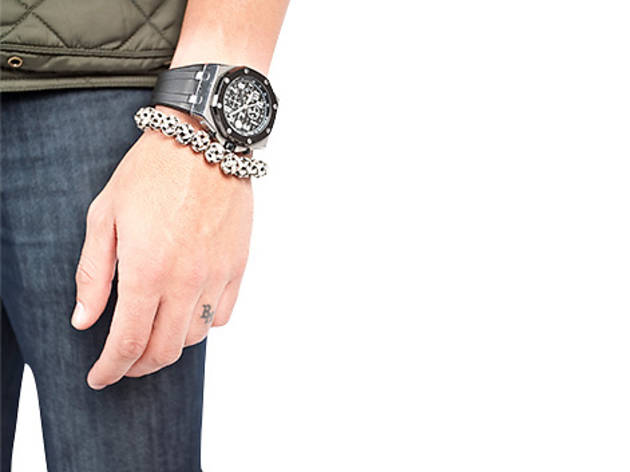 3/10
Photograph: Noffar Gat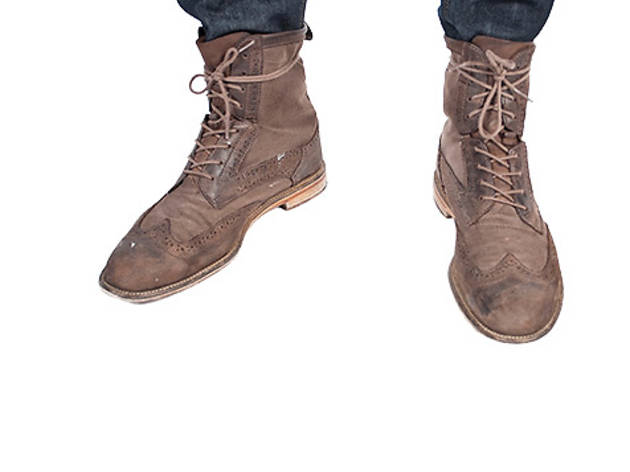 4/10
Photograph: Noffar Gat
Mazza purchased these J Shoes (jshoes.com) high-top brogues while on a business trip to Tennessee. "They go perfect with skinny jeans or chinos," he enthuses.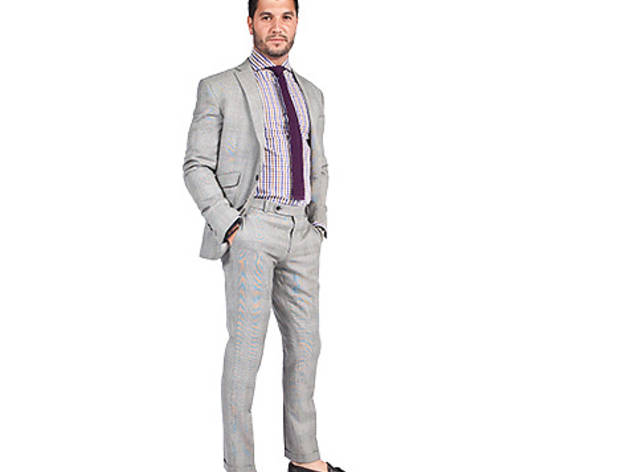 5/10
Photograph: Noffar Gat
Both the suit and plaid shirt are from Windsor Custom. "I didn't really have many gray suits, but this one has a ton of character," says Mazza of his decision to make this Glen plaid version last fall. "I also never cuff my pants, but felt it would spice things up." A skinny Ralph Lauren tie finishes off the look.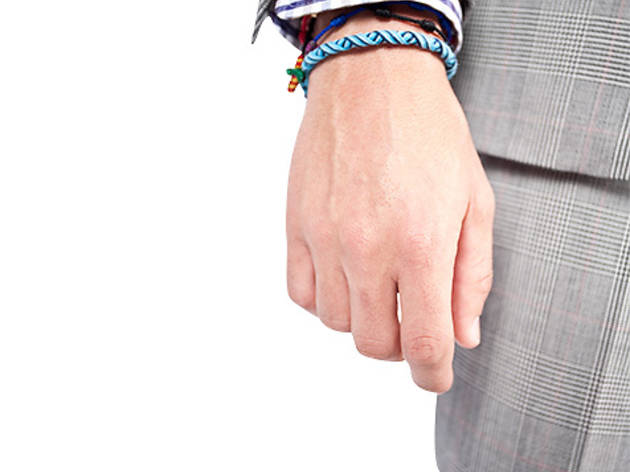 6/10
Photograph: Noffar Gat
This tricolor woven bangle serves as a "BFF bracelet that I have with my girlfriend," explains Mazza. The couple picked up matching pieces on the beach in Tulum, Mexico, at the beginning of this year.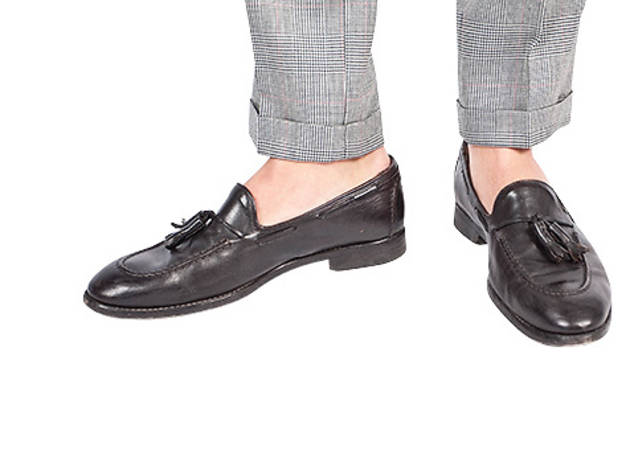 7/10
Photograph: Noffar Gat
Mazza opts to wear his Paul Smith(142 Greene St between W Houston and Prince Sts, 646-613-3060 • 108 Fifth Ave at 16th St, 212-627-9770 • paulsmith.co.uk) tassel loafers sans socks for a carefree look.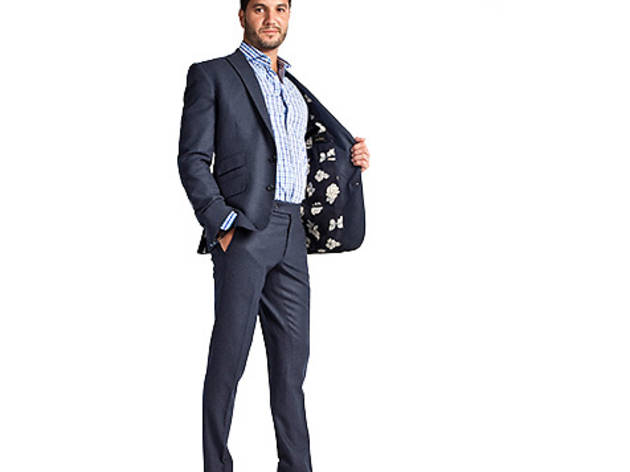 8/10
Photograph: Noffar Gat
"I thought it was the perfect touch to make a heavy winter suit a little less rugged," says Mazza of the floral lining he added to his Windsor Custom suit. The plaid shirt is another early arrival from his brand's forthcoming spring line.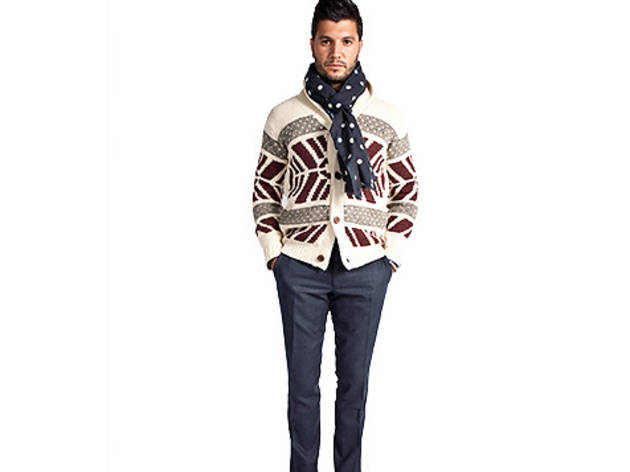 9/10
Photograph: Noffar Gat
By removing the jacket and throwing on a sweater from Topman for Nordstrom (nordstrom.com), Mazza transforms his suit into a more casual, wintry ensemble. The Meg Cohen Design(59 Thompson St between Broome and Spring Sts; 212-966-3733, megcohendesign.com) polka-dot scarf was an impulse buy. "I thought it didn't make me look too serious when I was wearing a suit and freezing," he explains.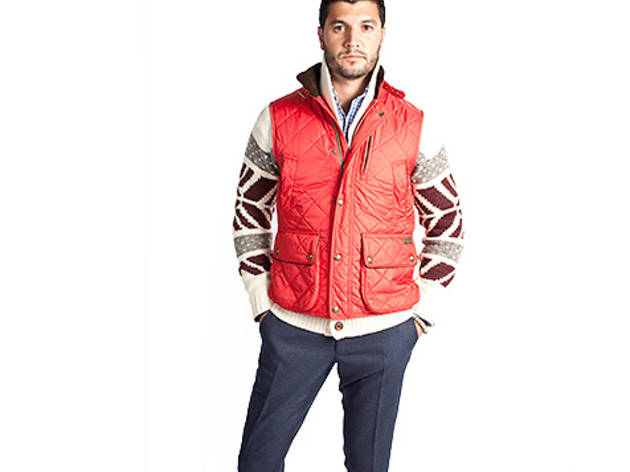 10/10
Photograph: Noffar Gat
Another Ralph Lauren quilted vest changes up Mazza's layered outfit. "It keeps you really warm and it's thin enough to go under your jacket," he says.
Windsor Custom store owner Brian Mazza proves he is one of the most stylish New Yorkers by demonstrating the versatility of his made-to-measure suits. He likes to layer them with Ralph Lauren vests and Topman sweaters, and accessorizes with dapper shoes from Paul Smith and Stubbs & Wootton.
RECOMMENDED: Most stylish New Yorkers

Brian Mazza, 28, Gramercy; co-owner of Windsor Custom(122 W 26th St between Sixth and Seventh Aves; 212-741-0628, windsorcustomnyc.com) and director of hospitality for Paige Management Group (paigegroupny.com)

His personal style: "Sophisticated yet relaxed."

His inspiration: "Ralph Lauren(ralphlauren.com) really inspires me, not only because he makes amazing clothes but his passion and eye for detail really intrigue me. He never gave up and really fought for his dream."

About his store: "Windsor Custom is more like a men's living room [than a store]. We offer Windsor Custom, where we create a product from scratch and incorporate the client's personal touch; Windsor Custom ready-to-wear, a collection we created specifically for the Dream Downtown(355 W 16th St between Eighth and Ninth Aves; 212-229-2559, dreamdowntown.com); and Westward Leaning (westwardleaning.com) sunglasses. It's the perfect place for a man to relax and hang out while getting amazing threads."

Favorite stores: "I love Jeffrey New York(449 W 14th St between Ninth and Tenth Aves; 212-206-1272, jeffreynewyork.com) because the people-watching is fantastic. I shop for my shoes and accessories there. Interior decorating is one of my favorite things to do—I designed the interior of Windsor Custom—so I like shopping for my apartment at Jonathan Adler(locations throughout the city; visit jonathanadler.com). I really understand his aesthetic and the vibe he creates, and I love his rugs and pillows. I love wearing the slippers from Stubbs & Wootton (987 Madison Ave between 76th and 77th Sts; 212-249-5200, stubbsandwootton.com) because you can either dress them up or down. They go super well with fitted jeans and a blazer, but also are perfect for a black-tie event."

Favorite salons: "Elad Bentov at Valery Joseph Salons(1044 Madison Ave between 79th and 80th Sts, 212-517-2333 • 820 Madison Ave between 68th and 69th Sts, 212-517-7377 • 957 Park Ave at 82nd St, 212-396-2781 • valeryjoseph.com) cuts my hair. I have been going to him since 2006. He's one of the best in the city; he has a ton of experience and his eye for detail is exceptional. I don't often go to spas, but I do like getting massages at the Peninsula Spa(700 Fifth Ave at 55th St, 21st floor; 212-903-3910, peninsula.com). The service and hospitality there are very inviting."

His style motto: "I wear everything with confidence and couldn't care less what you think."

Favorite NYC designer: "Michael Bastian (michaelbastiannyc.com). He nails every piece in his collection, whether it's a chilled-out look or for a black-tie event."

His New York style icon: "My father. Growing up, I used to love watching him put his looks together in the morning before work, and he used to always take me shopping on Saturdays. I still love going shopping with him whenever I get the chance. He inspired me to go for my dream, which is opening Windsor Custom."

How his style has evolved: "It has matured. Luckily, with my jobs in the restaurant and clothing industries, I am able to be really creative with what I want to wear on a daily basis."

How he describes NYC style: "It's diverse and unique. There are so many different cultures and influences, it makes us the best-dressed city in the world."

Follow Cristina Velocci on Twitter: @cvelocci