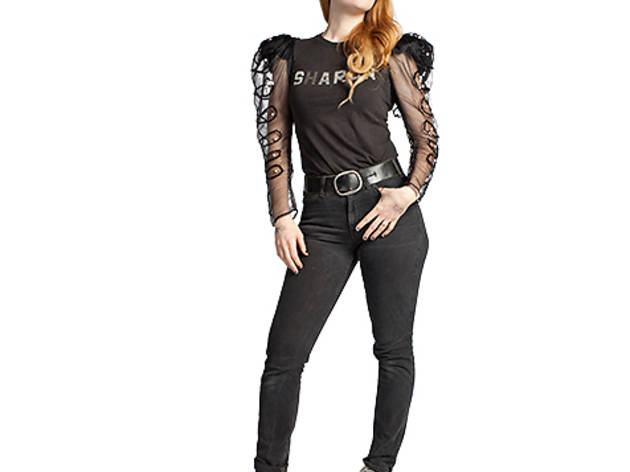 1/13
The night before her TONY shoot, Wildwood test-drove this ensemble at Fuzz (fuzznyc.tumblr.com), an underground lo-fi concert held the last Thursday of every month at Swat (59 Canal St between Allen and Orchard Sts, 646-559-0098). "Everyone told me how cool it was, so I decided to use it for the shoot," she says.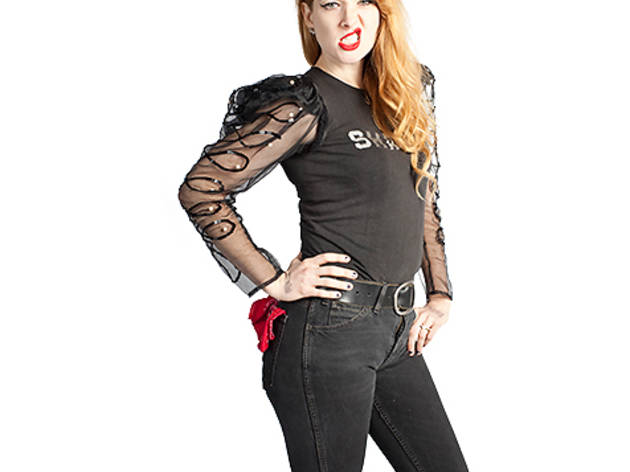 2/13
The crafty singer cut the sleeves off an old prom dress and sewed them to this vintage concert tee. "I like peplum sleeves. They make you look taller and thinner," she says of the end result. She wears the top with LVC jeans from the Levi's Store (414 W 14th St between Ninth Ave and Washington St; 212-367-2110, levisstore.com). "They're my favorite jeans because they make your butt look amazing, which doesn't mean small. I don't mind showing off my big butt—it's my best quality."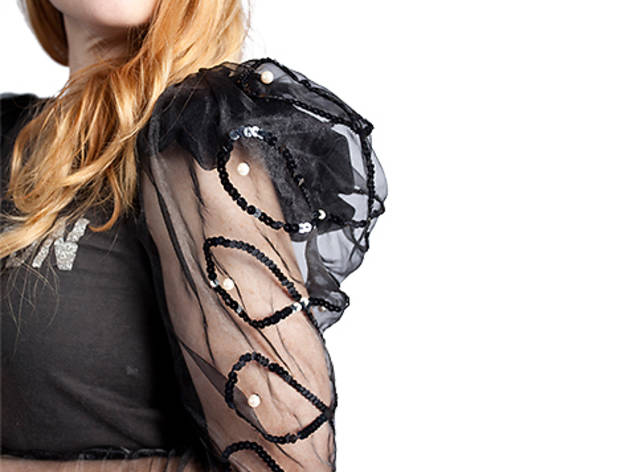 3/13
"I always used to buy 99-cent-store red lipstick, but by the end of a gig it would be all over my face and the microphone," she recalls. She changed her ways after discovering CoverGirl Outlast All-Day lip paint in Ever Red-dy (covergirl.com). "It doesn't kiss off—my boyfriend loves it," she says. "I'll never go back."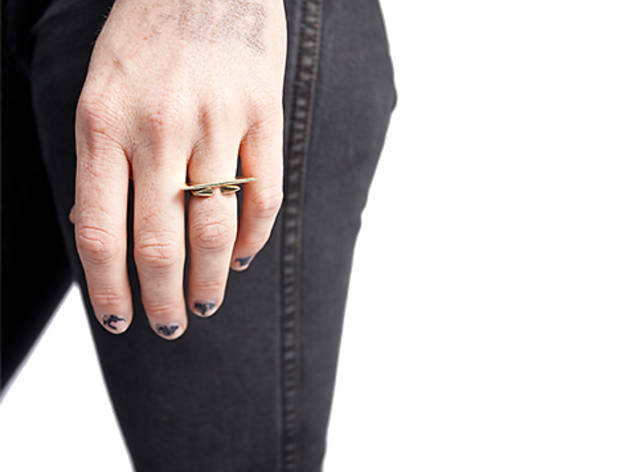 4/13
Wildwood sports two solid brass rings from Brooklyn designer Matt White, which can be purchased in a variety of designs at her store.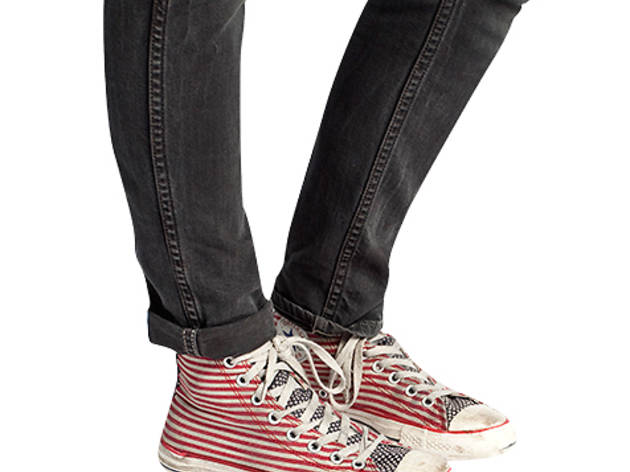 5/13
Casual Converse sneakers are a staple in Wildwood's ensembles, but this American-flag-printed design is her favorite style. "This is my second pair. I destroyed the first and I think I'm ready for my third," she says of the kicks, which she bought at David Z. (locations throughout the city; visit davidz.com).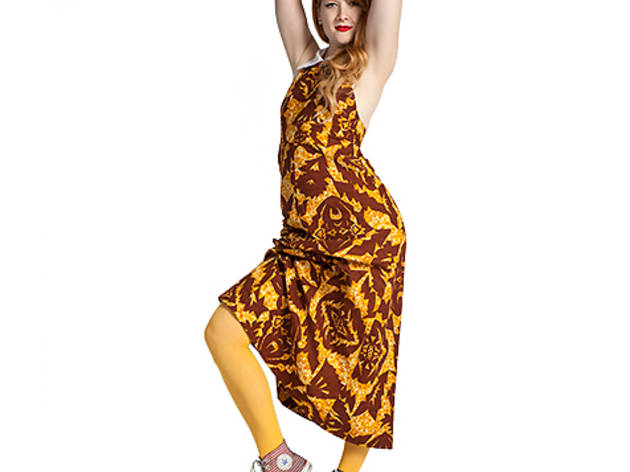 6/13
"This is my lucky dress," says Wildwood, who scored the colorful gem for $9 at a Goodwill store (goodwill.com) in her hometown of Tucson, Arizona. "I've worn it to every important music-industry meeting I've ever had." Her canary-yellow tights, a brand sold exclusively in her store, add warmth under her frock. "It's also fun when you cross your legs at a restaurant—it draws attention from onlookers," she says of the vibrant hue.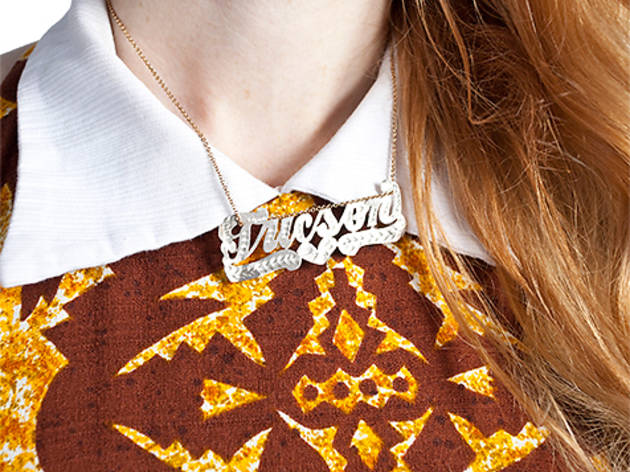 7/13
Wildwood shows love for her hometown by donning its name in a custom necklace she commissioned while in Tucson.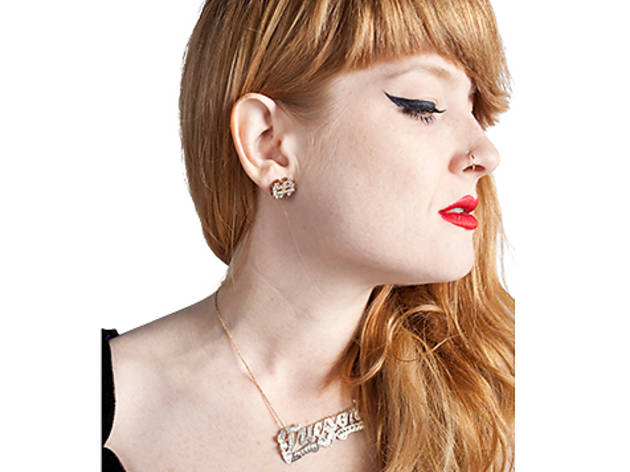 8/13
The singer creates a dramatic cat-eye using MAC's Liquid Last, insisting it's the only brand she'll wear: "It stays on for days if you don't take it off, plus it's great for the stage." Wildwood, who got her nose pierced when she was 16, doesn't wear much jewelry aside from these small, inexpensive studs, which she got "just to add a little sparkle." She buys them in sets from beauty-supply stores like Wigs and Plus (37 W 14th St at Sixth Ave; 212-675-4129, 123wigs.com).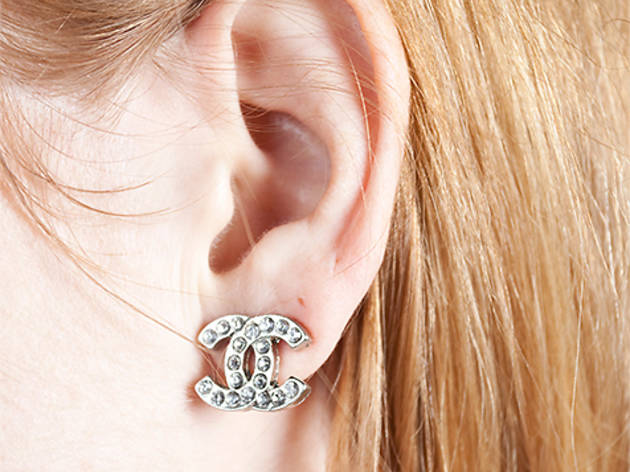 9/13
"I like to mix and match different studs," she says of this Chanel knockoff from Wigs and Plus. "It adds something creative to an outfit."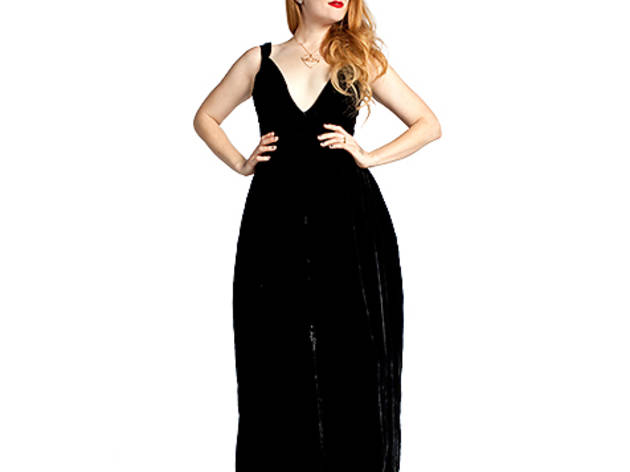 10/13
Wildwood scored this long velvet dress for $10 from Atlantis Attic (771 Metropolitan Ave between Graham Ave and Humboldt St, Williamsburg, Brooklyn; 718-218-8670), then gave it to stylist Gina Schiappacasse (ginaschiappacasse.com), who created the plunging neckline.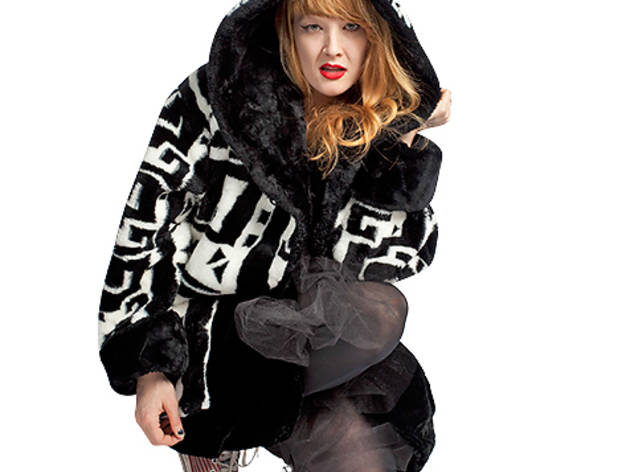 11/13
"It makes me feel very glamorous," Wildwood says of this oversize faux-fur vintage coat. You can find this and similar graphic toppers at her shop.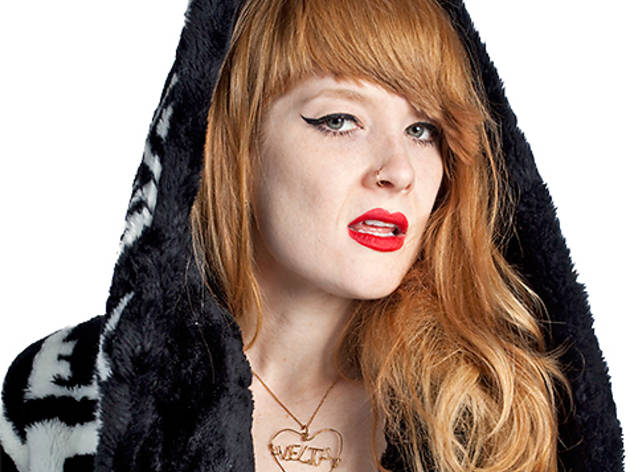 12/13
This necklace was purchased on Prince Street from a vendor who twists malleable gold wire into name pieces. "It's the name of my band," she notes. "When I wear it, people ask me what it means, and it gives me an opportunity to talk about my music."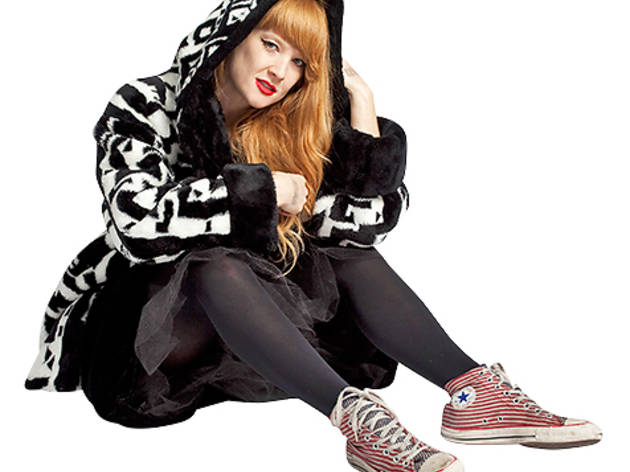 13/13
Along with her Chucks, basic black tights make it onto the performer's list of most-worn items. Her go-to brand is Spanx (spanx.com), which she says "are useful in shaping the body, but also last forever."
Most stylish New Yorkers 2013: Emmy Wildwood
Vintage store owner and singer Emmy Wildwood shows off her glamorous rock & roll style.
Tiger Blanket Records
and owner of a recently opened vintage store in
Williamsburg
. She proves she's one of the most stylish New Yorkers by curating a one-of-a-kind wardrobe with reconstructed pieces and preloved finds from
Metropolis Vintage
,
10 Ft. Single by Stella Dallas
and
Beacon's Closet
.
RECOMMENDED: Most stylish New Yorkers

Emmy Wildwood, 28; Williamsburg, Brooklyn; president and owner of Tiger Blanket Records & Vintage Boutique (421 Graham Ave between Frost and Withers Sts, Williamsburg, Brooklyn; 520-977-6913, tigerblanketrecords.com) and lead singer of rock group Velta (velta.bandcamp.com)

Her personal style: "Glam-rock Americana: beautiful tulle prom dresses mixed with torn-up concert T-shirts and leather motorcycle jackets."

Her inspirations: "I take inspiration from legends like Wanda Jackson, classic girls in rock & roll, and leading ladies from old Hollywood. I loved Marilyn Monroe as a kid and to this day wear a red lip."

About her shop: "The store stocks clothes for men and women, mostly from the '50s through the '90s. All of the dresses have a cinematic feel and all of the pieces we carry are, overall, very dramatic. You can, however, find basics with a twist, like Levi's jackets from the '70s, high-waisted Lee jeans from the '70s and '80s and killer leather motorcycle jackets."

Favorite stores: "Metropolis Vintage (43 Third Ave at 10th St; 212-358-0795, metropolisvintageonline.com), because I don't have to dig through a bunch of junk to find something I like. They also have the best selection of vintage shoes I've ever seen. 10 Ft. Single by Stella Dallas (285 North 6th St at Meeker Ave, Williamsburg, Brooklyn; 718-486-9482) is enormous and filled with great things. They know what they've got, though, so it's not always the cheapest. But if you have something vintage in mind that you're on the hunt for, they are likely to have it. Beacon's Closet (locations throughout the city; visit beaconscloset.com) is a buy, sell and trade set-up, which I love because I like to turn over what's in my wardrobe often. Once a month I pull together a bag of stuff, take it to Beacon's and trade it for a few new pieces."

Her signature items: "I always wear a red lip. If I'm wearing a dress, I'm wearing a pair of Converse. My style was born from functionality and playing live onstage. I can't worry about falling over while playing; the shows get rowdy and I can't very well stomp a distortion pedal in a pair of high heels."

Favorite NYC designer: "Michelle Garrard (styledbymg.com) creates one-of-a-kind custom studded pieces like leather clutches or denim jackets. I often wear her items onstage when playing with Velta."

Her New York style icon: "Courtney Love in her Lower East Side days, but I always borrow a style cue or two from Patti Smith."

How her style has evolved: "I've embraced my femininity more. In rock bands, you're surrounded by men and tend to adopt their low-maintenance ideology when it comes to playing onstage. But you dim your light as a beautiful lady when you do that—you gotta use what God gave you to shine."

Her favorite hairstylist: "Kelsy Osterman (kelsyosterman.com) works at Cutler Salon (465 West Broadway between W Houston and Prince Sts, 212-308-3838 • 47 W 57th St between Fifth and Sixth Aves, second floor, 212-308-3906 • cutlersalon.com) and also does freelance hair styling. She was the last person to cut my hair and did it in my store standing in the fitting room. She is incredibly creative and forward-thinking."

Favorite spa or salon: "I'm not much for getting pampered; I'm too busy. I'm a big fan of face masks at home and tweezing my eyebrows in a rearview mirror. Sometimes I treat myself to a Shellac manicure for special occasions because it lasts longer. I go to Polished (321 Graham Ave between Ainslie and Devoe Sts, Williamsburg, Brooklyn; 718-384-1100)—it's only $25 bucks for the OPI Shellac and they do a really great job."

How she describes New York style: "It's a mixing bowl and incredibly inspiring. We're in the hub of what's happening in fashion. Since this city is highly concentrated with musicians and artists, that is often reflected in everybody's personal style."

Follow Rachel LeWinter on Twitter: @Rachel_LeWinter