Most stylish New Yorkers 2013: Loriann Smoak
Condor store owner Loriann Smoak dresses in a neutral color palette and uses statement accessories to make her outfits shine.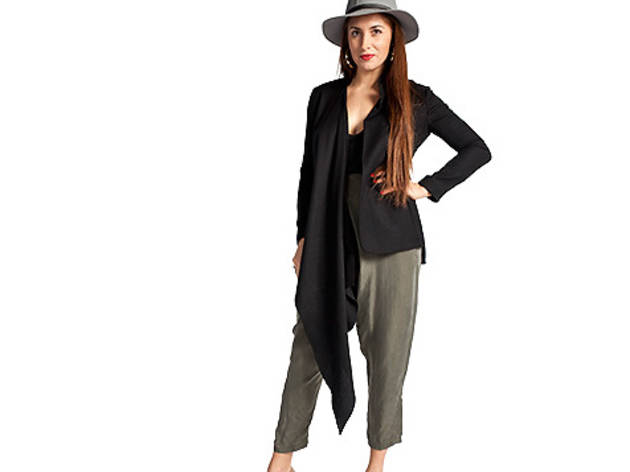 1/18
Photograph: Noffar Gat
"Less is more," insists Smoak. "Dressing should be easy and not take a lot of time." She demonstrates this effortless style in H. Fredriksson silk pants and a Harputs Own (harputsown.com) jacket, both purchased from Condor. "The jacket is one of my favorite pieces because it can be worn in a variety of ways," she notes.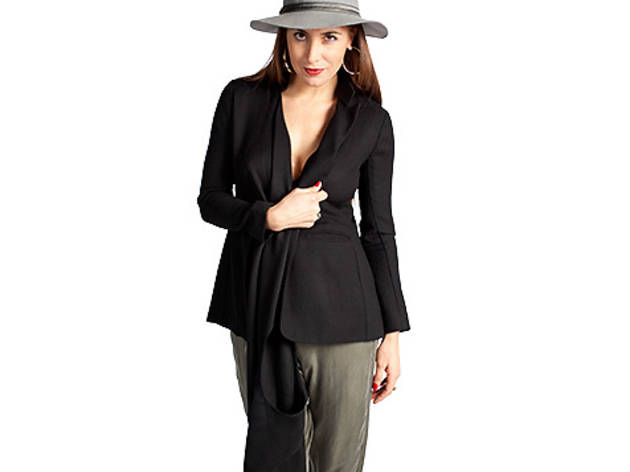 2/18
Photograph: Noffar Gat
Smoak has an affinity for hats in all shapes and sizes. "Most of the time my hair has a lot of height, so a hat feels good to me," she explains. This topper is a collaboration between Hat Attack (hatattack.com) and Theory (theory.com), purchased from a Theory store in San Francisco.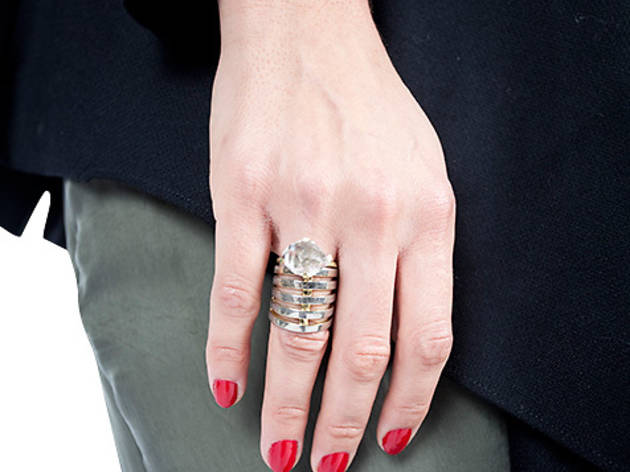 3/18
Photograph: Noffar Gat
A Roost Herkimer diamond ring and silver five-band style from Campbell (campbellcollections.com), both from Condor, sparkle next to Smoak's OPI (opi.com) Chick Flick Cherry gel nail color.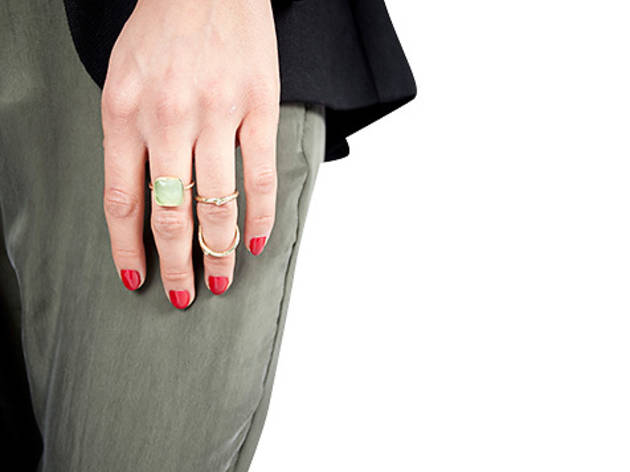 4/18
Photograph: Noffar Gat
Two more baubles Smoak picked up from her shop include this gemstone Roost ring and double-band knuckle ring by Jessica Seaton (jessicaseatondesign.com).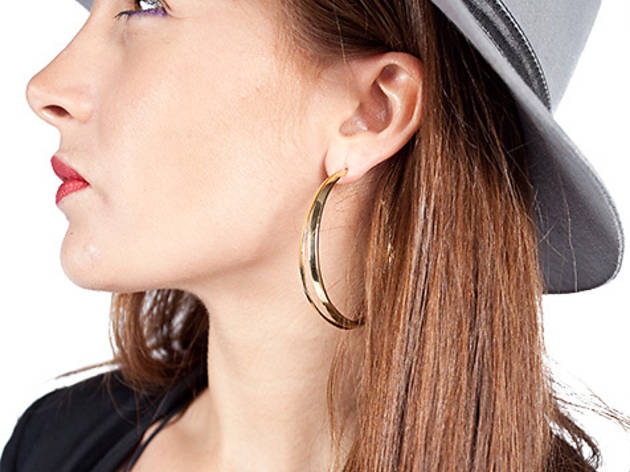 5/18
Photograph: Noffar Gat
Smoak's gold-plated Campbell hoops split in the middle, creating a modern take on a classic style. Her minimal makeup is accented with subtle pops of color. "If I wear eyeliner, it is usually purple," she says. "It is less severe on me than black or brown." She admits she's not partial to any particular brand and uses whatever she finds at the drugstore. For her lipstick, she's loyal to Chanel's Ruby Lite shade, insisting, "It stays on the longest of any lipstick."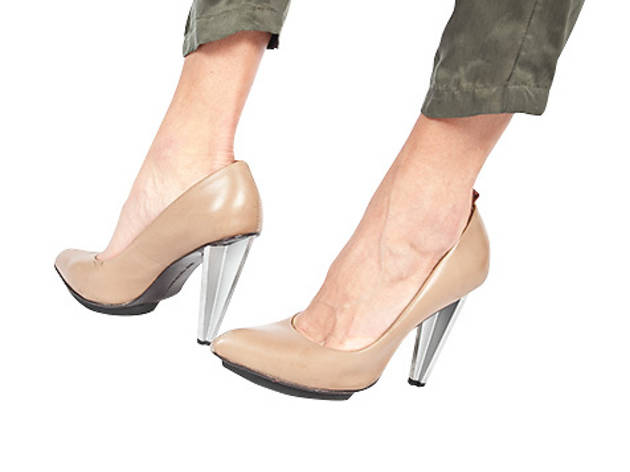 6/18
Photograph: Noffar Gat
"Living in New York, our heels get chewed up so badly," laments Smoak. But she sings the praises of these United Nude (25 Bond St between Bowery and Lafayette St; 212-420-6000, unitednude.com) kicks, which she says are indestructible. "Plus, a nude pump is essential in a wardrobe; it works with virtually everything."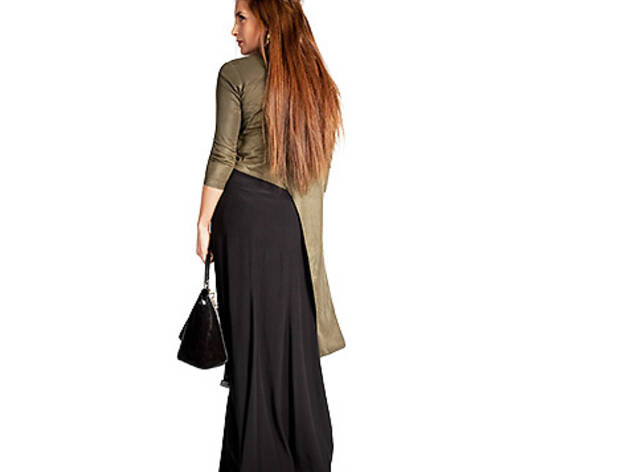 7/18
Photograph: Noffar Gat
An asymmetrical army-green jacket, purchased on a trip to Bangkok, adds interest to Smoak's ensemble of basics. Her long silk BLK DNM (237 Lafayette St between Prince and Spring Sts; 212-966-6258, blkdnmcloseup.com) skirt can easily be dressed up or down.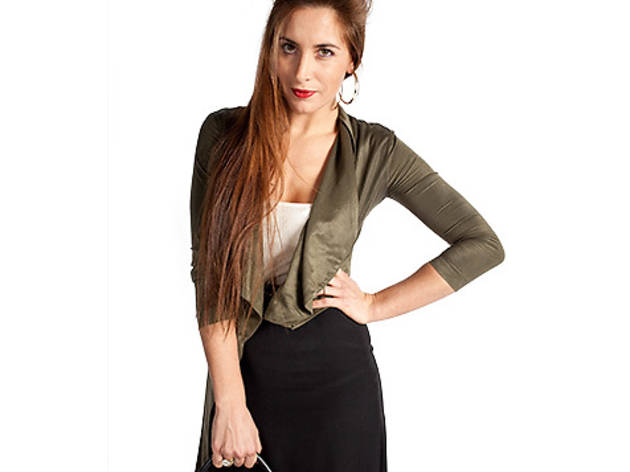 8/18
Photograph: Noffar Gat
Instead of dropping dough on the latest trends, Smoak invests in quality basics. "I want to trust my wardrobe to make me look good," she says. This Isabel Marant (469 Broome St at Greene St; 212-219-2284, isabelmarant.tm.fr) Etoile beige tank top can be worn year-round.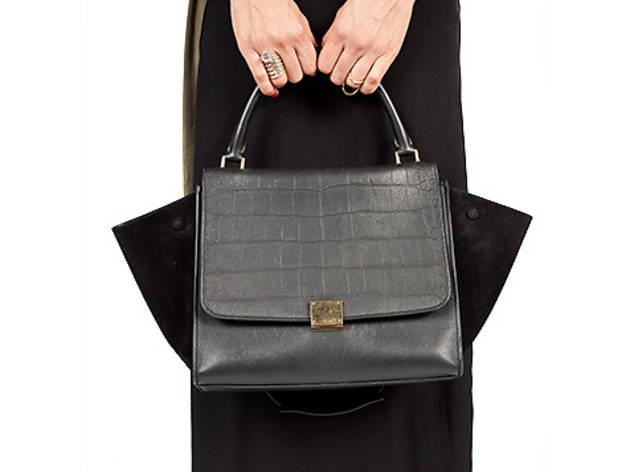 9/18
Photograph: Noffar Gat
The shop owner practices restraint when purchasing pieces for her own wardrobe and only allows herself two big splurges per year. She bought this Céline (870 Madison Ave at 71st St; 212-535-3703, celine.com) bag in Paris. "It's a great, classic bag I'll have for years," she says.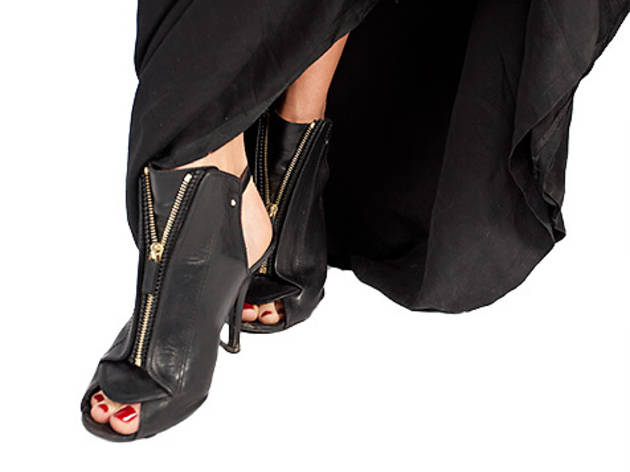 10/18
Photograph: Noffar Gat
Smoak treated herself to these Givenchy shoes from Bergdorf Goodman (754 Fifth Ave at 58th St; 212-753-7300, bergdorfgoodman.com) after her last relationship ended. "I have been wearing the heck out of them since," she says.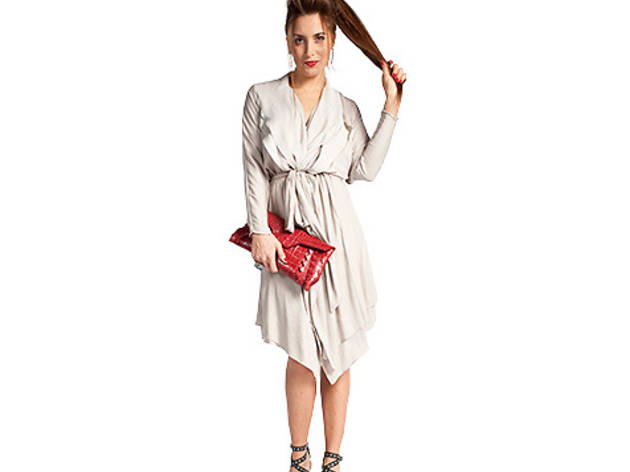 11/18
Photograph: Noffar Gat
"Versatility in how things can be worn is a big attraction for things I buy personally and for the shop," Smoak says. This Marna Ro (marna-ro.com) silk frock can be a wrap dress or worn as a layering piece.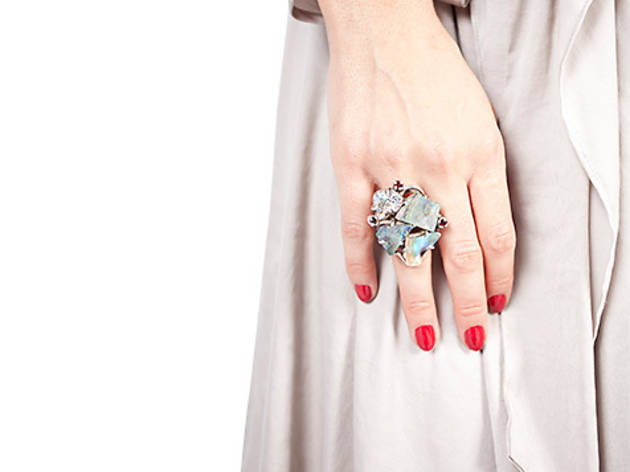 12/18
Photograph: Noffar Gat
Smoak purchased this mother of pearl-and-sterling-silver ring at the Grand Bazaar in Istanbul. "Accessories can change the mood of an outfit completely," she says about the statement-making bauble.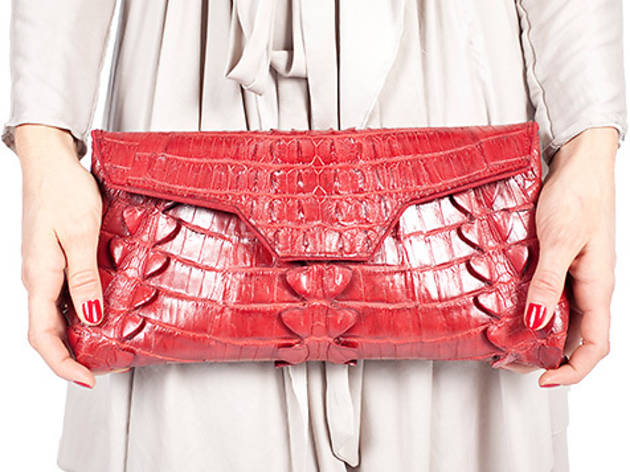 13/18
Photograph: Noffar Gat
Couture purse designer Raven Kauffman (ravenkauffman.com) designed this vegan bag. "You could never get a faux-croc clutch that looked [this real]," raves Smoak. "It is really phenomenal."
14/18
Photograph: Noffar Gat
Smoak likes these Fallon (fallonjewelry.com) earrings from local designer Dana Lorenz because they are "simple with a little edge."
15/18
Photograph: Noffar Gat
These strappy, studded Manolo Blahnik (manoloblahnik.com) heels were a high-school graduation gift from Smoak's dad. "I am glad to still be wearing them nearly 12 years later," she boasts.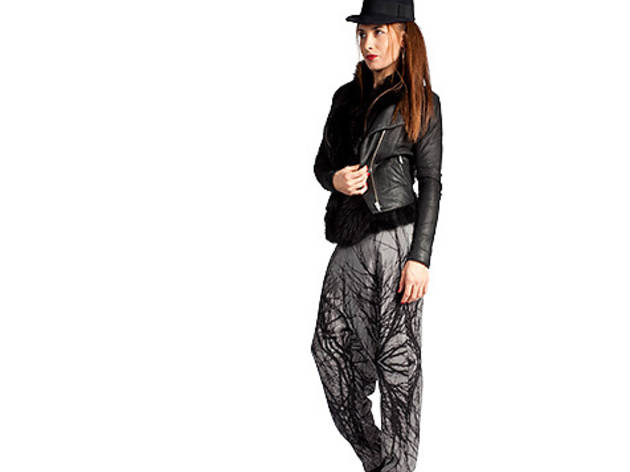 16/18
Photograph: Noffar Gat
"Owning the store has helped to refine my style. I see so many things all the time, so what truly speaks to me is more clear now," explains Smoak. Items that made the cut from her shop to her closet include this fox-fur Kymerah (kymerah.com) vest, Veda (thisisveda.com) jacket and H. Fredriksson printed pants. A Soulland (soulland.eu) hat in an unexpected shape tops off the outfit.
17/18
Photograph: Noffar Gat
Tawapa (tawapa.com) silver hoops are a subtle accessory. "I like that they are flat and virtually weightless," muses Smoak.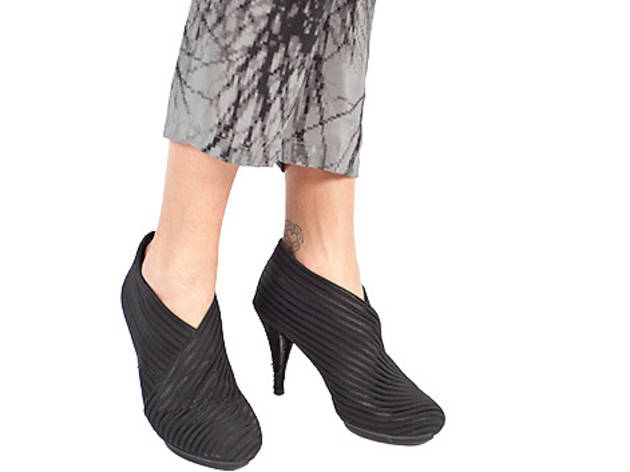 18/18
Photograph: Noffar Gat
Smoak says these United Nude booties are ideal all-weather shoes. "The elastic material makes it great for snow or rain," she notes.
Reformation
and H. Fredriksson and seasonless investment pieces from
Isabel Marant
.
RECOMMENDED: Most stylish New Yorkers
Loriann Smoak
, 29, Nolita; owner of
Condor
(259 Elizabeth St between E Houston and Prince Sts; 212-966-4280, shopcondor.com)

Her personal style:
"It's sophisticated basics with an edge. These days, I am wearing mostly neutrals. I'm all about having a uniform-like wardrobe and just creating new looks using accessories. I like things that can be worked in year-round and are not trendy."
Her inspirations:
"The natural world inspires my style, [as does] the effortlessness of well-dressed French women. I gravitate toward classic silhouettes with an air of modernity."
About her shop:
"We stock both basics and statement pieces in a variety of categories, including apparel, shoes, bags, jewelry, home, gift items and swimwear year-round. We carry local New York designers such as Jonathan Simkhai, Veda and Tome; international lines Iro and Rodebjer; jewelry lines by Vibe Harsløf, A Peace Treaty and Unearthen; shoes from Osborn, Joie and Rebecca Minkoff; and more."
Her favorite NYC stores:
"
The Reformation
(156 Ludlow St between Rivington and Stanton Sts, 646-448-4925 • 23 Howard St between Crosby and Lafayette Sts, 212-510-8455 • thereformation.com)
has great, reasonably priced dresses;
La Petite Coquette
(51 University Pl at 10th St; 212-473-2478, thelittleflirt.com)
for lingerie because they have hard-to-find sizes; and
Kathryn Amberleigh
(219 Mott St between Prince and Spring Sts, 212-842-2134 • 13 Gansevoort St between Hudson and W 4th Sts, 212-729-0488 • kathrynamberleigh.com)
for its large range of shoe styles."
Her signature items:
"You will often find me in a hat—I wear all types—or in my prescription Ray-Ban aviators. The shape just works well with my face."

Favorite NYC designer:
"H. Fredriksson
(hfredriksson.com)
is one of my favorite local lines. The designer, Helena Fredriksson, manufactures locally and carries over successful styles from previous seasons. She works heavily in silk, which is one of my favorite natural fibers. And her pieces look great on women of all shapes."

Her New York style icon:
"Jackie Kennedy in her years after the White House, when she was living in NYC. She was always put-together, but never in a way that seems like it took much effort."
How her style has evolved:
"My style becomes more refined and more conservative as time passes. I get comfortable in pieces and I end up wearing them again and again. I prefer quality to quantity at this point. I am more conscious about where and how things are manufactured. I appreciate timeless, seasonless style."
Favorite salon:
"I get my color done by Nozomi Sawa at Arte Salon
(294 Elizabeth St between E Houston and Bleecker Sts; 212-941-5932, artesalon.com).
I go for weekly blowouts in Chinatown, but I'm reluctant to give away the name because I can always walk right in and it's only $20—and I have long hair! I will give you a hint: It's on Mott Street."
Follow Rachel LeWinter on Twitter:
@Rachel_LeWinter