Most stylish New Yorkers 2013: Patricia Field
Patricia Field, the iconic redheaded designer and stylist, incorporates flamboyant statement pieces and funky accessories into her everyday wardrobe.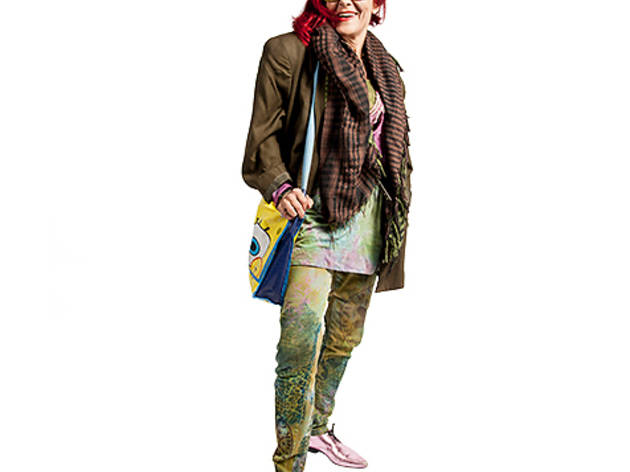 1/18
Field achieves a perfectly layered look by piling on a Thierry Mugler (mugler.com) oversize men's jacket, purchased from Ina, on top of an American Apparel tank top (locations throughout the city; visit americanapparel.com) and a hand-dyed Skar (skar.gr) T-shirt from designer Sofia Karvela. Custom hand-printed skinny pants of her own design further add color to the eccentric ensemble.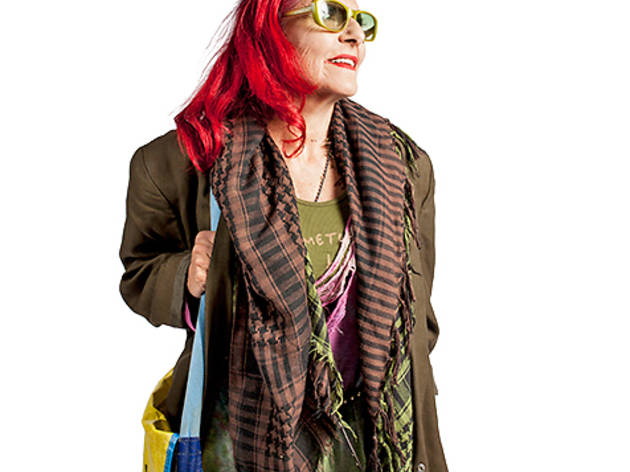 2/18
"My design concept is to match the lens with the frame," she says of her Patricia Field sunglasses. A two-tone scarf from her shop tops off the look.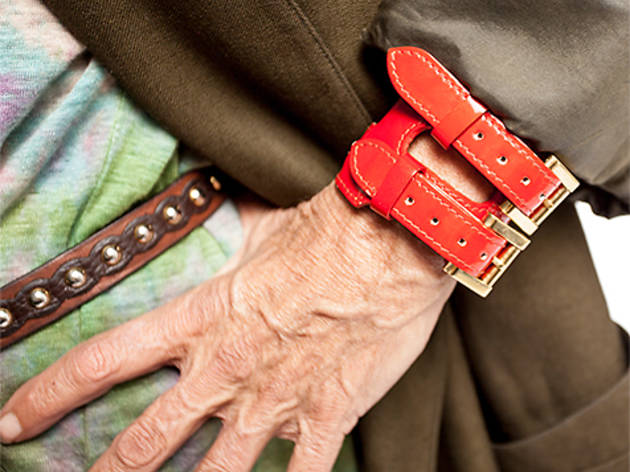 3/18
Field accessorizes with a patent-leather cuff and a vintage studded belt that she says she wears "practically every day."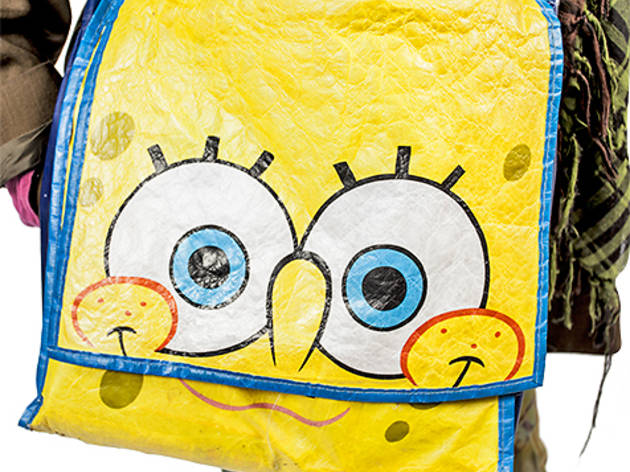 4/18
A playful SpongeBob SquarePants vinyl bag that Field picked up on a trip to Miami is the perfect carryall to tote around the city.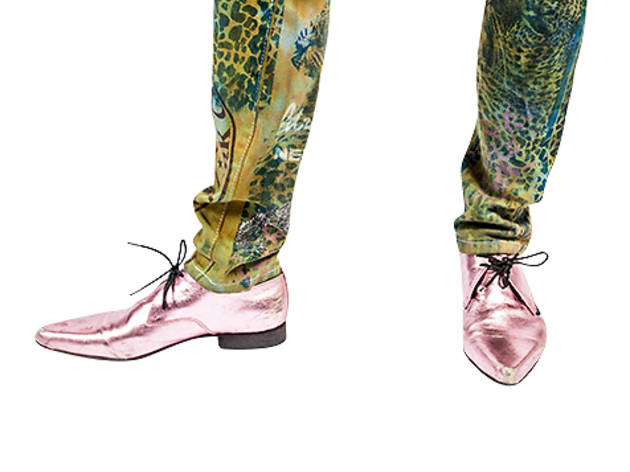 5/18
Field's patent pointy-toe Underground Originals (underground-england.co.uk/originals.php) shoes are equal parts fun and functional. "I have several of this style and find them great for everyday wear, especially to work," she says of the metallic kicks, which she purchased from Trash and Vaudeville.
6/18
Field describes this look as a great winter outfit. "As long as your chest, wrists and head are warm, you are good to go," she says. The stylist pairs an unsnapped vintage bodysuit and New Balance (newbalance.com) tank top with striped spandex David Dalrymple (daviddalrymple.tumblr.com) for House of Field jeans. Worn together, she says the ensemble is "very rock & roll."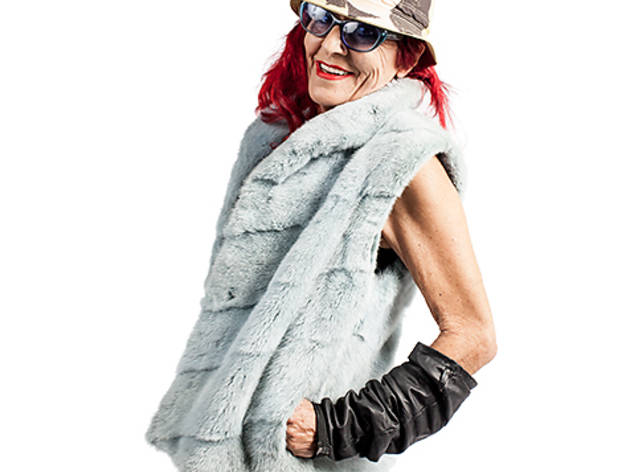 7/18
A powder-blue mink vest was a gift from friend Billy Candiloros, who purchased the piece from PK Furs (210 W 30th St between Seventh and Eighth Aves, 212-564-8560). The Patricia Field leather arm pieces are actually long gloves with zippers at the wrists. "I unzip it and remove the glove portion and wear them as arm warmers," she reveals.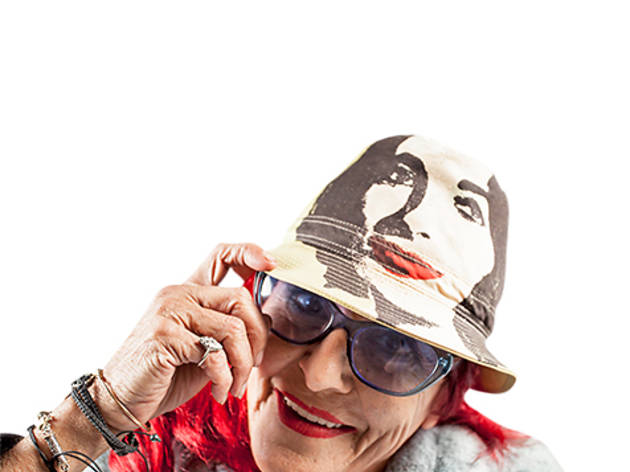 8/18
Field purchased this topper, which features an Andy Warhol design of Elizabeth Taylor, directly from London milliner Philip Treacy (philiptreacy.co.uk). A small diamond cocktail ring that the designer wears on her pinky was a college-graduation present from her mom.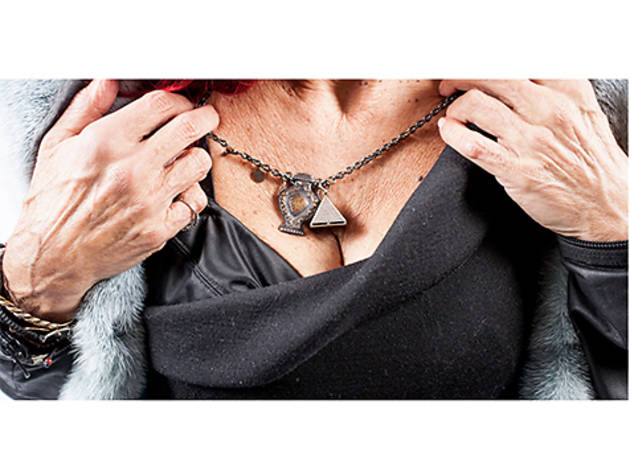 9/18
The urn and silver chain was purchased on a trip to Bodrum, Turkey. To further personalize the necklace, Field added a diamond pavé pyramid charm, which she designed and had constructed by Itay Malkin (itaymalkin.com).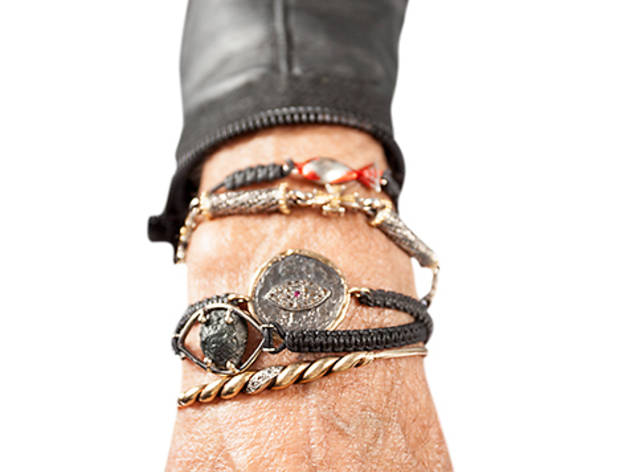 10/18
Field wears a collection of bracelets she has received as gifts over the years, including a twisted gold design from a former girlfriend, two Turkish styles from friend and singer Anna Vissi, a gold bracelet with alternating cylinders and crosses gifted by a Greek designer named Constantino and a black cord featuring a fish from Italian designers Roberto Farone Mennella and Amedeo Scognamiglio of Faraone Mennella (faraonemennella.com).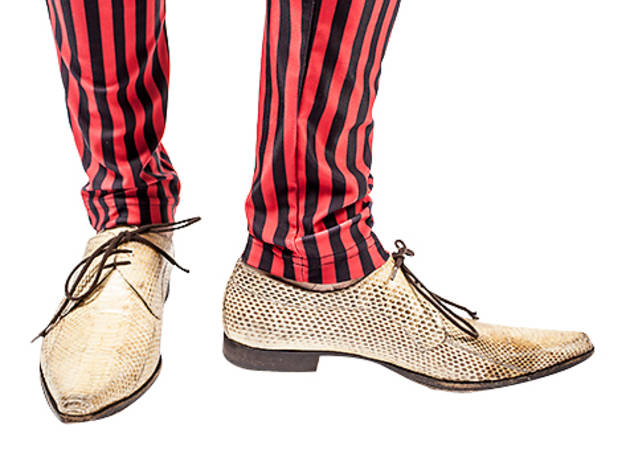 11/18
"They look and feel good," enthuses Field of her snakeskin Dolce & Gabbana(825 Madison Ave between 68th and 69th Sts; 212-249-4100, dolcegabbana.com) men's-style shoes. "I can run around the city in them day and night."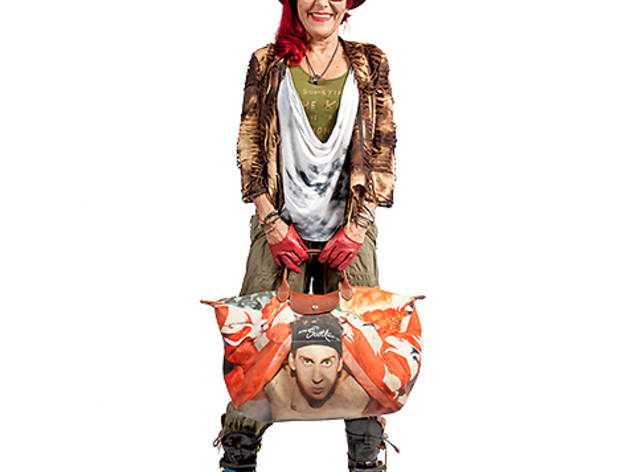 12/18
Field says she would wear this outfit to work or out for the evening. "My style of dressing can be applied for many occasions and purposes," she notes. The stylist pairs a Skar tie-dyed top and jacket with Christian Dior (21 E 57th St at Madison Ave; 212-931-2950, dior.com) military cargo pants, which were a gift from John Galliano. The bag is by Jeremy Scott (jeremyscott.com) for Longchamp (locations throughout the city; visit longchamp.com) and was purchased at Saks Fifth Avenue (611 Fifth Ave between 49th and 50th Sts; 212-753-4000, saksfifthavenue.com). "I couldn't resist," muses Field. "I love Jeremy and the bag!"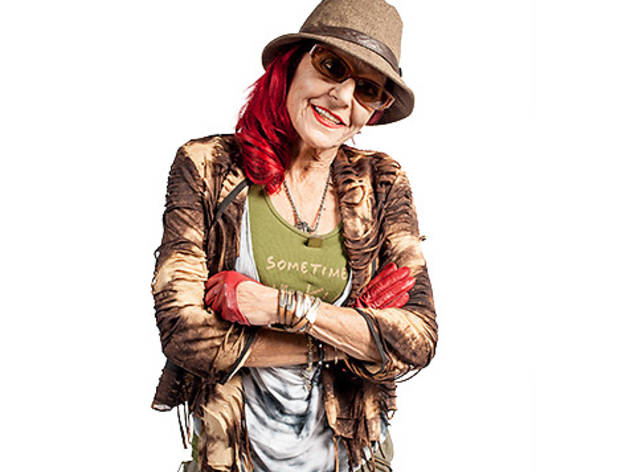 13/18
Field demonstrates it's okay to borrow pieces from the opposite gender with this Hermès (locations throughout the city; visit usa.hermes.com) topper. "Hermès is my all-around favorite men's hat designer," she states. "I have several of these hats and wear them all the time." A pair of Donna Karan (donnakaran.com) sunglasses further help shield her eyes.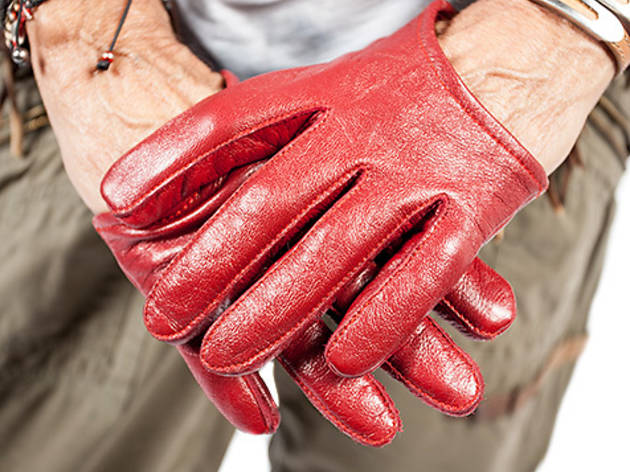 14/18
The store owner designed these "low-cut knuckle-cleavage gloves" for her shop. She wears them with a leather-and-silver wrap bracelet from Tod's (650 Madison Ave between 59th and 60th Sts; 212-644-5945, tods.com).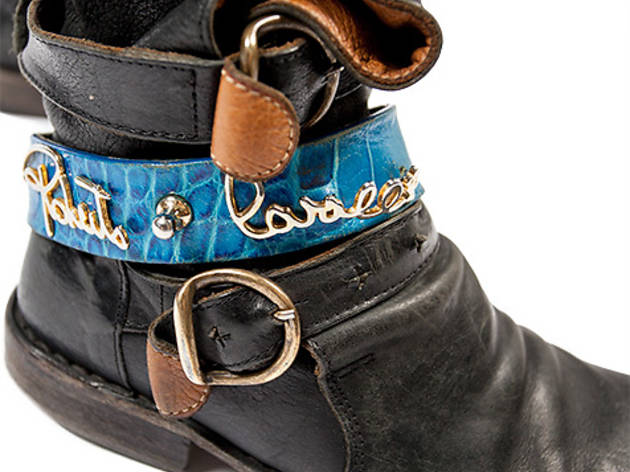 15/18
The designer adorned her Fiorentini + Baker (fiorentini-baker.com) boots with a Roberto Cavalli (robertocavalli.com) dog collar. "I bought it for my poodle, Sultana, but it was too heavy for her, so I wrapped it around my boot," she explains.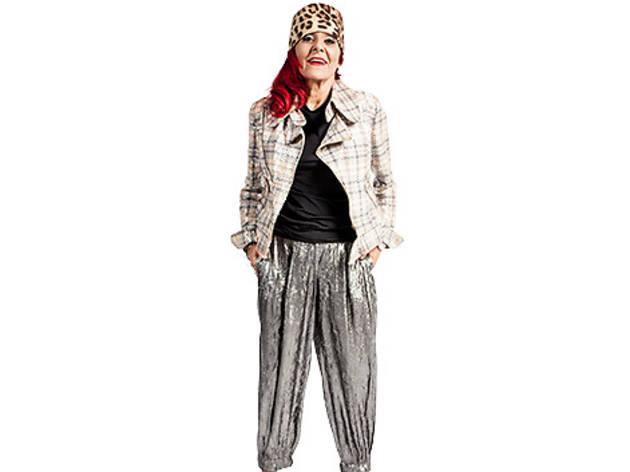 16/18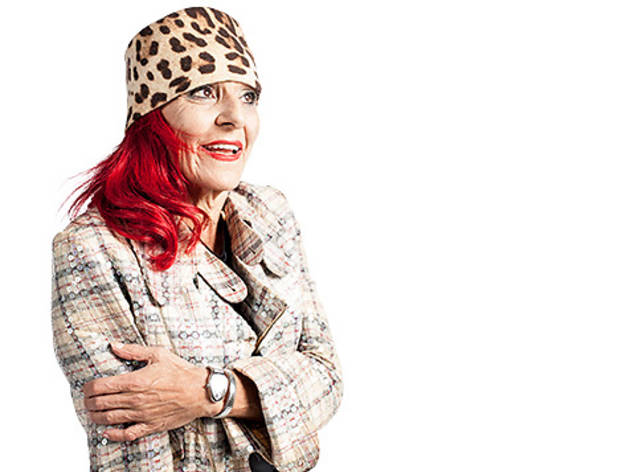 17/18
"All I remember is that it was irresistible, very expensive and I had to have it," Field recalls of this Dolce & Gabbana leopard-print knit beanie. An equally pricey Bvlgari watch (735 Fifth Ave at 57th St; 212-315-9000, us.bulgari.com) was a gift from the brand after she worked with them on a project.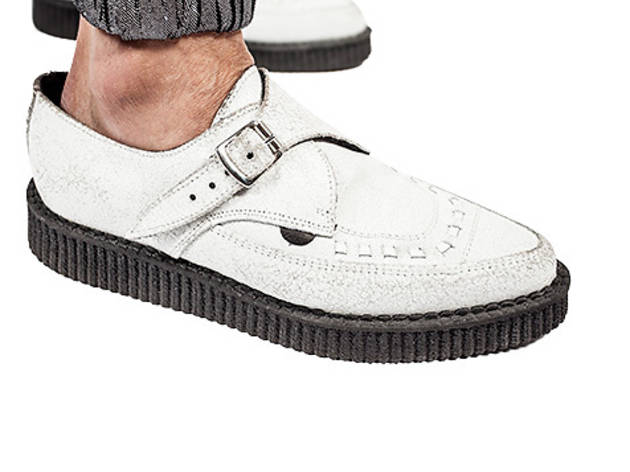 18/18
"They are great for wet weather," Field says of these white suede creepers from Trash and Vaudeville. "I also have a pair in Day-Glo-green patent leather."
Sex and the City
and
The Devil Wears Prada
, but she proves she is one of the most stylish New Yorkers by combining high-end designer threads, nameless vintage finds and custom pieces in completely unique ways. She frequents NYC shops
Century 21
and
Ina
for bargain buys and
Trash and Vaudeville
for rock & roll accoutrements.
RECOMMENDED: Most stylish New Yorkers

Patricia Field, 70, East Village; stylist and owner of Patricia Field(306 Bowery between Bleecker and E Houston Sts; 212-966-4066, patriciafield.com)

Her personal style: "I would describe my daily personal style as utilitarian, modern and imaginative, with a storytelling and rocker edge."

Her inspirations: "I'm inspired by the young, creative energy that constantly surrounds me. I'm inspired by whatever my eyes see and my brain retains as memory data. My inspiration includes, but is not limited to, fashion."

About her shop: "I would describe my store as a fashion bazaar, filled to the brim with a myriad of items—clothing, accessories—and various interesting objects, including many pieces of my personal art collection. The most unique element about my new shop is that the front half used to be my home. As such, it still retains its original design and decor and is a very personal place, unlike any other shop in existence."

Her favorite NYC stores: "Century 21(locations throughout the city; visit c21stores.com) is the best place to find a huge selection of international designers and one-of-a-kind designer samples at great, affordable prices. Ina consignment shops (locations throughout the city; visit inanyc.com): Ina Bernstein is a close friend and the originator of the consignment shop concept. She operates five stores, mostly in downtown Manhattan, each offering its own clothing and price concept. Many celebs, stylists and models consign with Ina, so the selection and condition is top of the pops. Trash and Vaudeville(4 St. Marks Pl between Second and Third Aves; 212-982-3590, trashandvaudeville.com) [is a favorite] because it's New York's premier rock headquarters since the 1970s."

Style motto: "Money can't buy you style."

Favorite NYC designers: "David and Phillipe Blond of the Blonds (theblondsnewyork.com) perfectly epitomize the fantasy of high glamour; Michael Robinson of Trivial (trivialnewyork.com) is truly one of the very best couture hat designers of our time; and Tobell von Cartier (von-nyc.com) makes extraordinary breastplates."

How her style has evolved: "My style has always had the same modern basics. I suppose I treat the stylistic trends from the decades like spices on a broiled chicken."

Favorite salon: "My hairstyle and makeup need regular maintenance, so years ago I established a small beauty salon in my shop. My hair colorist and makeup artist is Ayumi Konishi, and she has been with me since the mid-'90s, since she arrived from Japan."

How she describes New York style: "New York City is the original grand melting pot of the world. New York City style is a reflection of that."

Follow Rachel LeWinter on Twitter: @Rachel_LeWinter