Most stylish New Yorkers: Ari Seth Cohen
The Advanced Style blogger fearlessly mixes prints and patterns.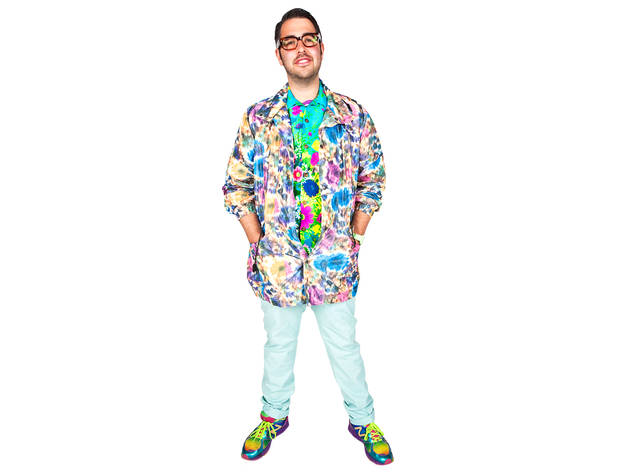 1/10
Photograph: Lauren Foy
"I especially love floral prints and go for anything neon," says Cohen, who indulges both of his weaknesses by pairing a vibrant shirt from San Diego vintage store Flashbacks Recycled Fashion with a pastel Henrik Vibskov jacket. "I got it as a gift—it was my dream jacket." Robin's-egg-blue pants from Zara(locations throughout the city; visit zara.com) balance out the busier printed pieces.
2/10
Photograph: Lauren Foy
"People comment on these New Balance sneakers wherever I go," notes Cohen. "I was recently in Europe and I wondered why everyone was staring at me, until I realized they were talking about my shoes."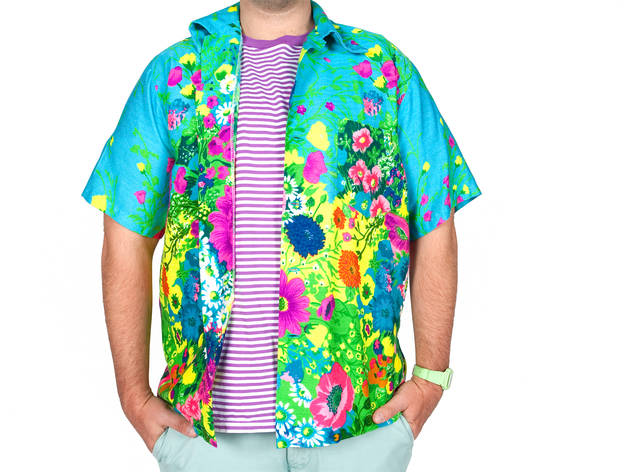 3/10
Photograph: Lauren Foy
Cohen unbuttons his shirt to reveal a Polo striped tee that his mother purchased for him during a visit to San Diego. "We went shopping at Macy's, and I got this T-shirt in three different colors," he recalls.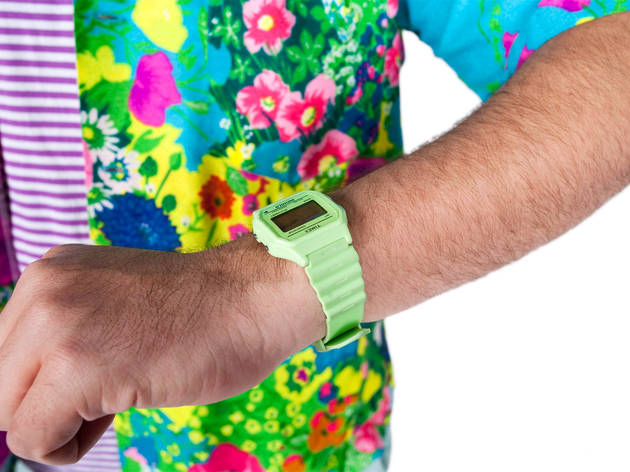 4/10
Photograph: Lauren Foy
"This is my favorite color—it reminds me of the '50s," enthuses Cohen of his pea-green time teller. "I love Timex watches; they are so simple and classic."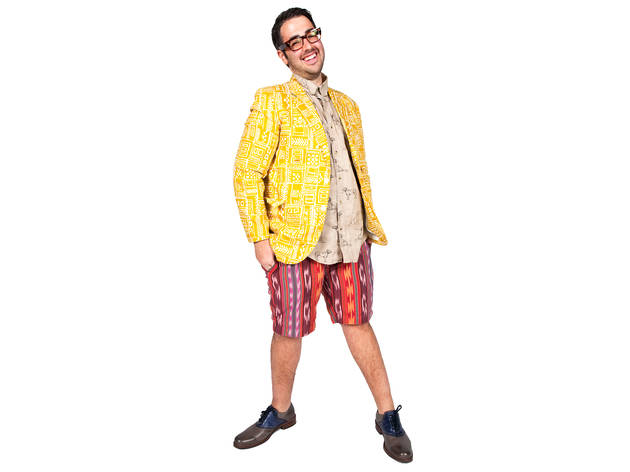 5/10
Photograph: Lauren Foy
A dog-print button-up, purchased by Cohen's friend from Seattle thrift store Value Village (valuevillage.com), adds a dose of whimsy to ikat-print Polo shorts that were a gift from his mom and a graphic-patterned Sandwich Isles blazer from Flashbacks Recycled Fashion. "I always find great jackets there," he notes.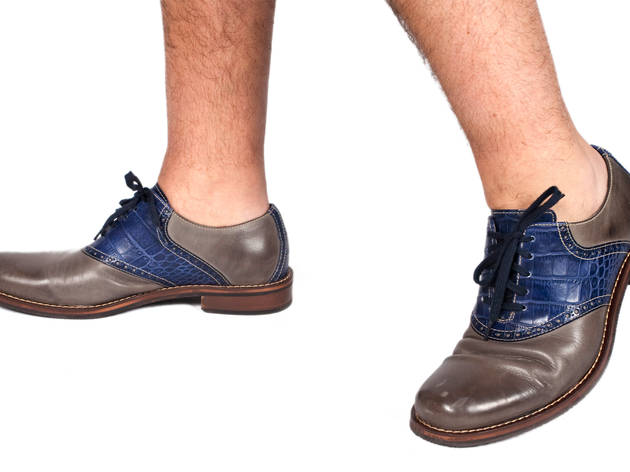 6/10
Photograph: Lauren Foy
Cohen scored these two-tone Cole Haan (colehaan.com) oxfords from the footwear brand's outlet store at Tanger Outlets (tangeroutlet.com). "I got a great deal," he boasts. "I ended up buying three pairs."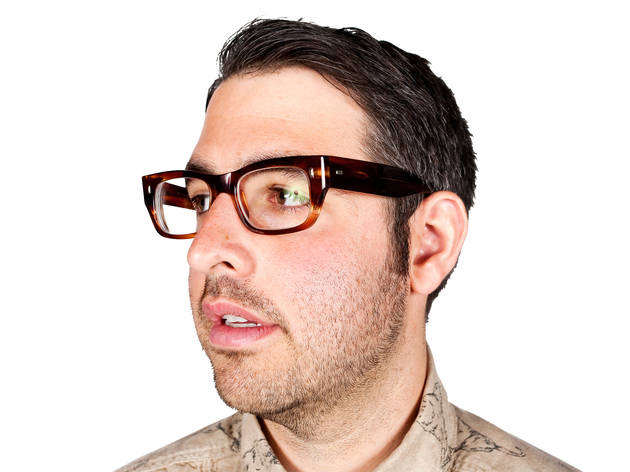 7/10
Photograph: Lauren Foy
"I love big frames, and Cutler and Gross (cutlerandgross.com) make my favorite," says Cohen, referring to his thick-framed specs.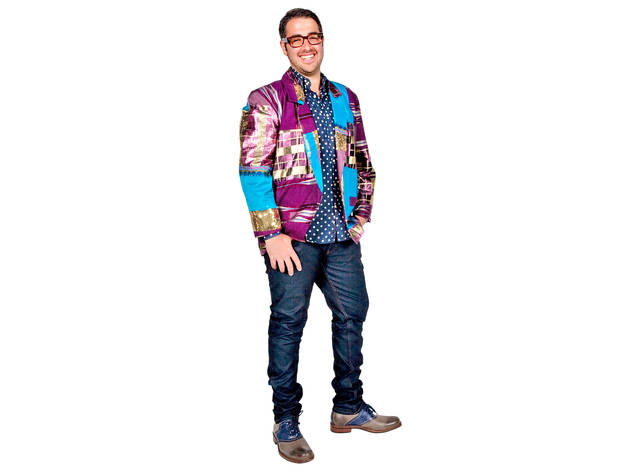 8/10
Photograph: Lauren Foy
This glitzy, patchwork jacket was a Cheap Jack's (303 Fifth Ave at 31st St; 212-777-9564, cheapjacks.com) discovery. "It's oftentimes hard to find anything sparkly and different when it comes to menswear," laments Cohen. He wears his flashy blazer with a Tommy Hilfiger polka-dot shirt from Value Village and Zara jeans.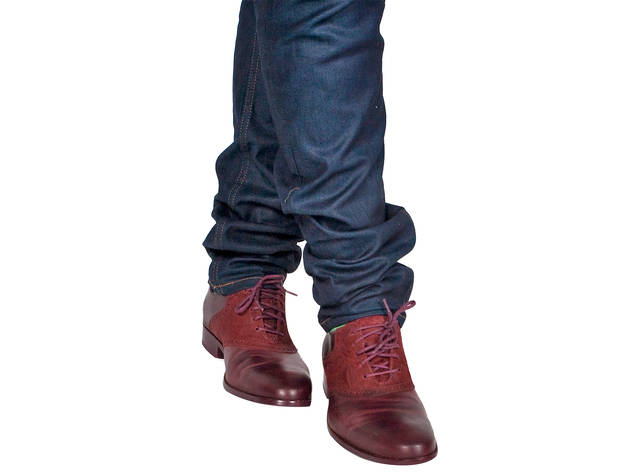 9/10
Photograph: Lauren Foy
These Cole Haan dress shoes were another bargain buy from the brand's store at Tanger Outlets.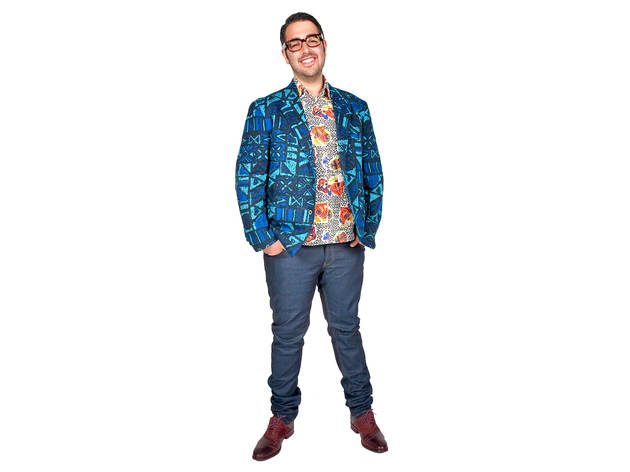 10/10
Photograph: Lauren Foy
"I love vintage jackets with bold prints," says Cohen, who purchased this particular one from Cheap Jack's. He dons it over a funky African-mask–print shirt that was a gift from a friend in Portland, Oregon.
Ari Seth Cohen, 30; photographer, "old-lady expert," Advanced Style blogger (advancedstyle.blogspot.com) and author of Advanced Style; East Village
His personal style: "A mix of Cary Grant and Quentin Crisp. I like classic style mixed with a dash of eccentricity."
His inspirations: "Wanny Di Filippo, old movies, photography, nature and older people. I like to dress up for the Advanced Style ladies and gentlemen. They put so much care into the way that they look, so it influences me to step up my game."
Favorite stores: "As a kid, I always dressed up in my grandfather's clothes—he had the best coats and hats. The thrift stores on the Upper East Side, such as the Society of Memorial Sloan-Kettering Cancer Center Thrift Shop (1440 Third Ave between 81st and 82nd Sts; 212-535-1250, mskcc.org), are filled with treasures that remind me of my grandfather's wardrobe. I used to live in Seattle and would thrift-shop almost every day. Stella Dallas (218 Thompson St between Bleecker and W 3rd Sts, 212-674-0447) has an awesome collection of grungy and quirky items at great prices. I look for plaids and colorful pants from the '70s. For more spendy options, I love Opening Ceremony(35 Howard St between Broadway and Lafayette St, 212-219-2688 • 1190–92 Broadway between 28th and 29th Sts, 646-695-5680 • openingceremony.us), which is where I go if I want something new and cool. It's hard to find menswear that is different; this is where I get my print fix. I go to Henrik Vibskov(456 Broome St between Greene and Mercer Sts; 212-219-3950, henrikvibskov.com) for inspiration. I love how the clothes are original, fun and smartly designed. Acne(10 Greene St between Canal and Grand Sts; 212-625-2828, acnestudios.com) is my favorite shop when looking for something more tailored and smart with a bit of humor. It has the best washes of denim."
His signature look: "Print on print."
Favorite designer: "My pal Kristopher Whitman [who designs the house line at Oak(28 Bond St between Bowery and Lafayette St; 212-677-1293, oaknyc.com)]. He has a great appreciation for design and clean lines, and helps me to see the beauty in simplicity."
How he describes New York style: "Free."
How his style has evolved: "I've always been very free with the way that I dress. I don't think my style has changed all that much."
Favorite spa: "The Spa at Mandarin Oriental(80 Columbus Circle at 60th St; 212-805-8800, mandarinoriental.com) if I'm feeling fancy. It has amazing views of the city and is never packed full of people. It also has these great warm oxygen pools."
You might also like
Most stylish New Yorkers: Lynn Dell Cohen
See more Most stylish New Yorkers
See more in Shopping & Style