Heads up! We're working hard to be accurate – but these are unusual times, so please always check before heading out.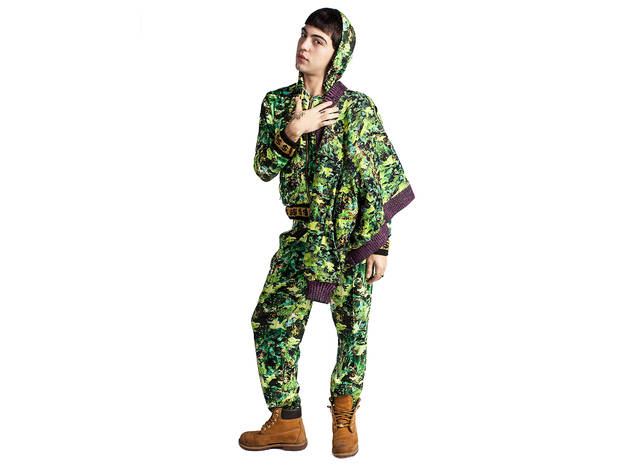 1/17
Photograph: Krista Schlueter
Mazur's friend Sakura Bready (sakurabready.com) created this print, depicting a magnified close-up of marijuana, for her thesis collection at Rhode Island School of Design (risd.edu). "When I saw it, I became obsessed," he enthuses. "I modeled it for her thesis presentation last June and have not given it back since that day."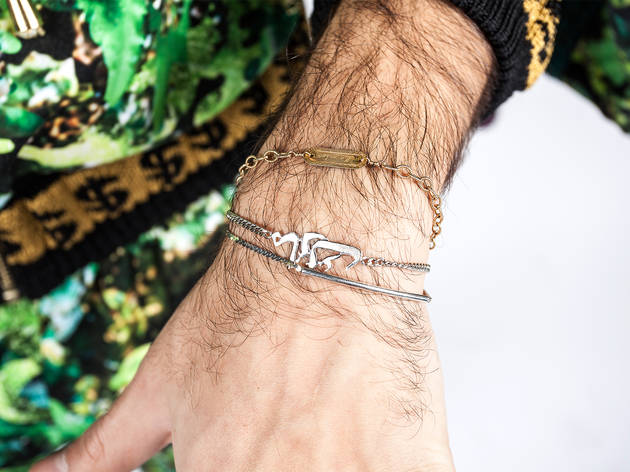 2/17
Photograph: Krista Schlueter
All three of these delicate bracelets were gifts from friends. The gold one is engraved with Mazur's DJ name, Mazurbate, while the middle style features his pal Mark's name in Arabic. The simple bar version belonged to his buddy's father.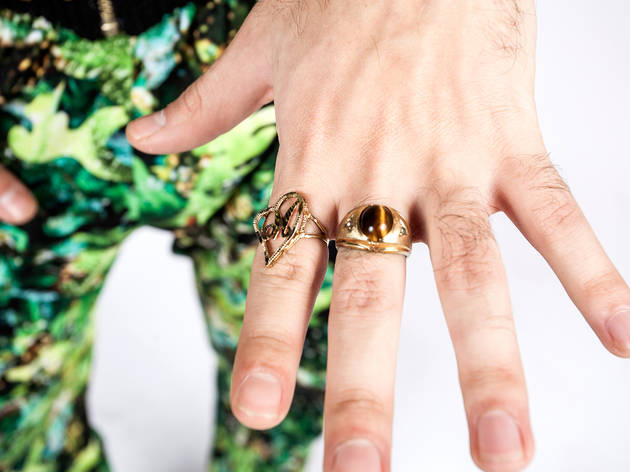 3/17
Photograph: Krista Schlueter
Mazur purchased the heart-shaped ring featuring his first and last initial at New Top Jewelry (185 Centre St between Canal and Hester Sts, 212-226-8159) as a birthday gift to himself. "It's become a part of my everyday look," he notes. His father passed down the tiger's eye ring—a family heirloom—before he died in 2007.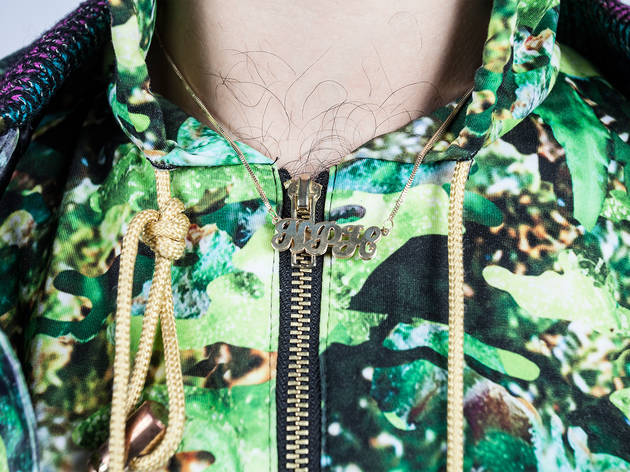 4/17
Photograph: Krista Schlueter
"NPH symbolizes the values, love and loyalty between me and my closest friends," explains Mazur of his nameplate necklace from New Top Jewelry. "It's also the name of my humble penthouse in Chinatown."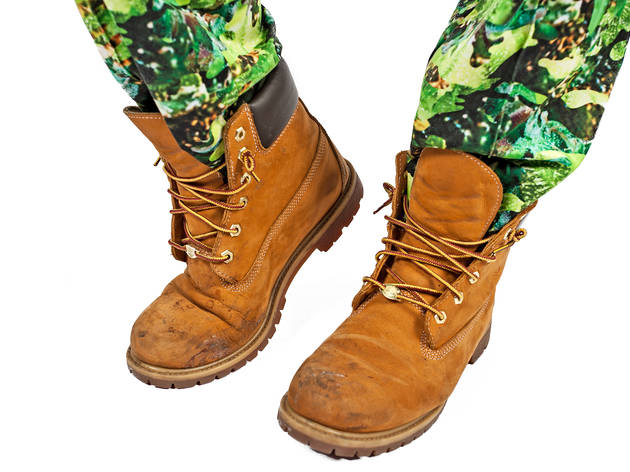 5/17
Photograph: Krista Schlueter
These knockoff Timberland boots are so convincing, Mazur thought they were real when he purchased them on eBay for just $35. He says that knowing they are fake "allows me to get them dirty and feel guilt-free."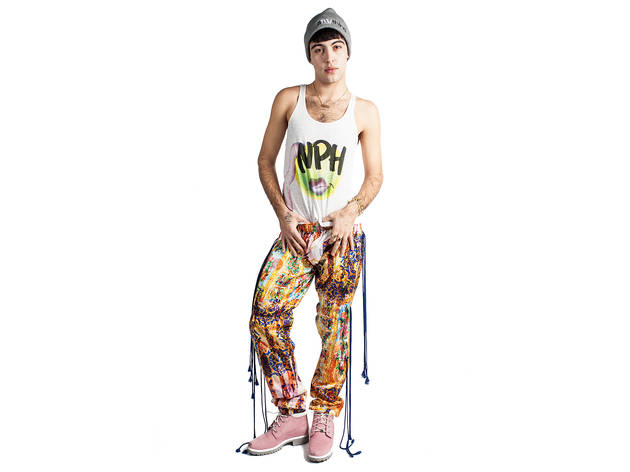 6/17
Photograph: Krista Schlueter
Mazur pairs a tank that Bready spray-painted with his insider motto with Bernhard Willhelm (bernhard-willhelm.com) printed pants. "They are comically serious because they remind me of a beautiful Baroque painting on drugs," he says. A knit beanie from aNYthing (103 Allen St at Delancey St; 646-476-8105, anewyorkthing.com) caps off the look.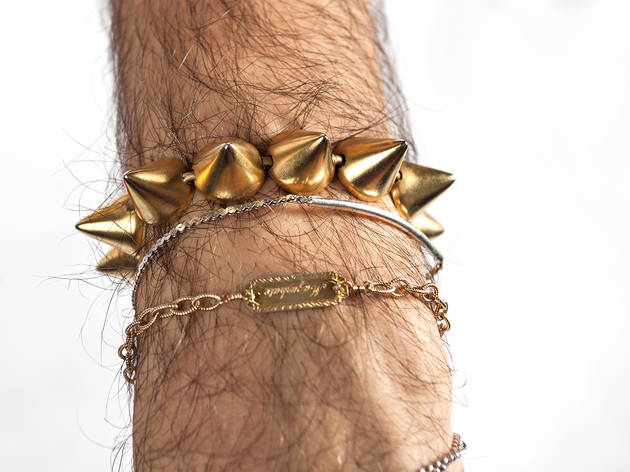 7/17
Photograph: Krista Schlueter
After longing for it for some time, Mazur finally received this Eddie Borgo (eddieborgo.com) spiked bracelet as a birthday gift.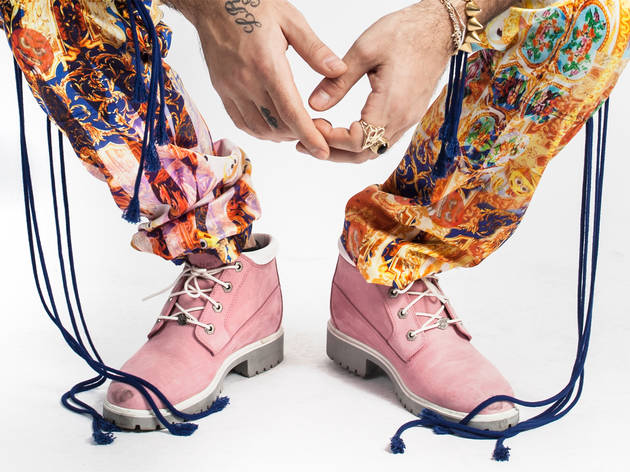 8/17
Photograph: Krista Schlueter
Since Mazur purchased these Timberland (474 Broadway between Broome and Grand Sts, 646-613-7292 • 28 W 34th St between Fifth and Sixth Aves, 212-564-5921 • timberland.com) shoes at the brand's store, he can rest assured that they're the real deal. "It's unusual to see pink construction boots made for and worn by a boy," he says.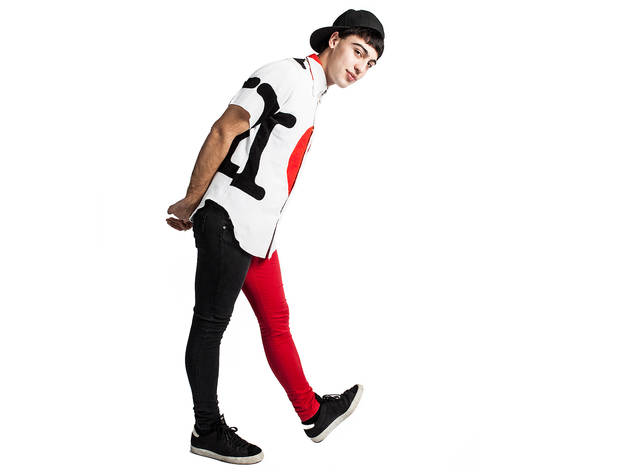 9/17
Photograph: Krista Schlueter
"This is my most New Yorky look," says Mazur of his Mark McNairy button-up shirt, which puts a new spin on the ubiquitous 'I Heart NY' tee. He scored it at an Opening Ceremony sample sale and purchased the two-tone pants at Trash & Vaudeville (4 St. Marks Pl between Second and Third Aves; 212-982-3590, trashandvaudeville.com). "Red is my favorite color, and this outfit really represents my New York pride." The Jeremy Scott (jeremyscott.com) fitted hat is from the designer's most recent collection, Arab Spring.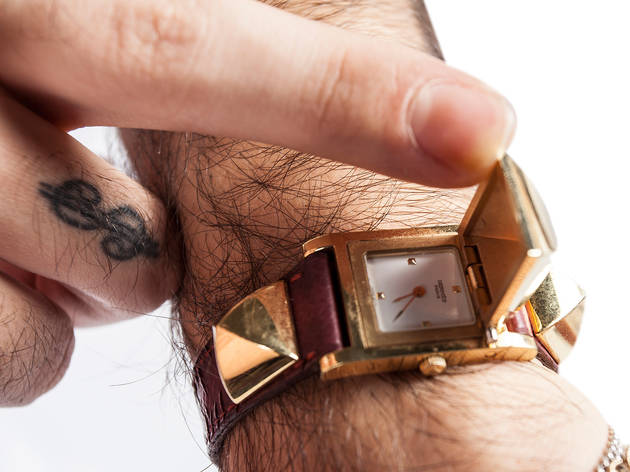 10/17
Photograph: Krista Schlueter
Mazur pined for this Hermès (locations throughout the city; visit hermes.com) watch for nearly three years before making the splurge. "I had a stylist boss who owned one in green, so I did research but never asked who made it," he recalls. "I found out every detail on the item, then promised myself that it would be my first major purchase. It has become a metaphorical trophy for me that anything can happen if you put your mind to it."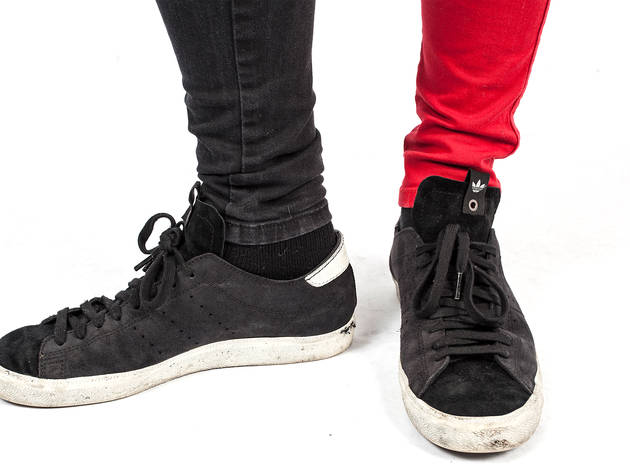 11/17
Photograph: Krista Schlueter
Adidas (locations throughout the city; visit adidas.com) gifted these suede sneakers to Mazur. "At first I despised them, thinking they were skater dude-ish," he says. "But because of laziness, I tried them out one day and something clicked. Now I wear them all the time."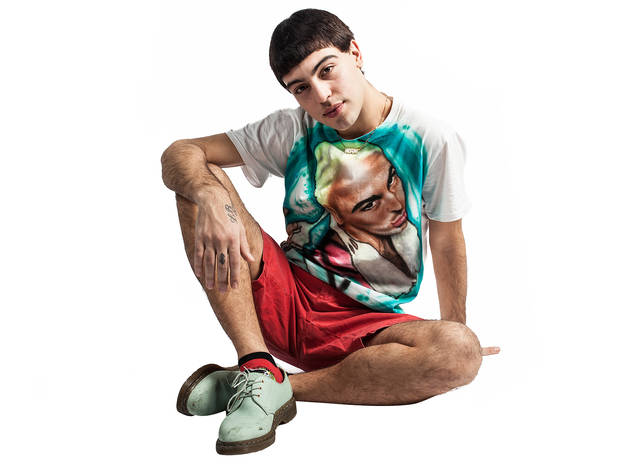 12/17
Photograph: Krista Schlueter
One of Mazur's close friends commissioned an airbrush artist to custom-create this T-shirt for him for his birthday. "She added 'Matthew' on the back as a play on a sports jersey," he notes. "It's one of the most sentimental and treasured gifts I've ever received." He pairs it with Ralph Lauren shorts that his mother purchased for him when he was 14, for a truly youthful look.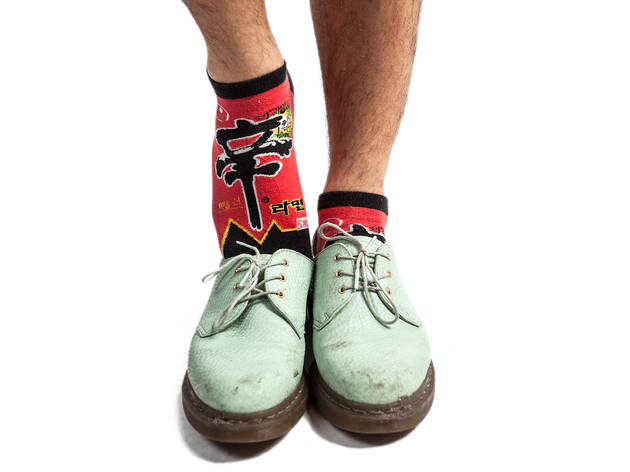 13/17
Photograph: Krista Schlueter
"I bought these Dr. Martens (148 Spring St between West Broadway and Wooster St, 212-226-8500 • 868 Broadway at 18th St, 646-449-0086 • drmartens.com) when I was going through my pastel-mint phase, inspired by the centaur girls in Fantasia and the mermaids in Peter Pan," admits Mazur. He wears them with fanciful socks printed with the logo of his favorite ramen brand, Shin Ramyun, that were a souvenir from a friend's trip to South Korea.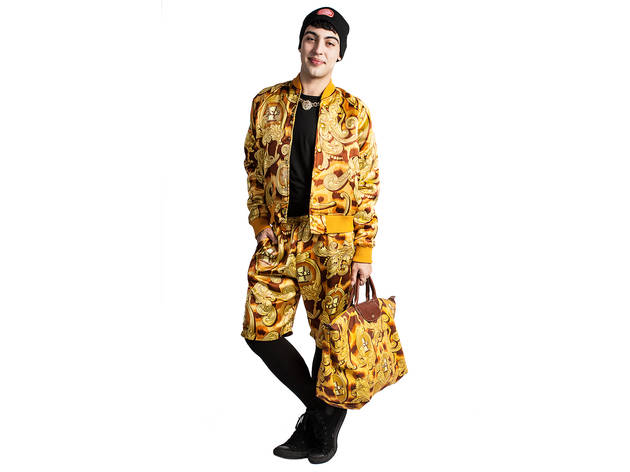 14/17
Photograph: Krista Schlueter
Mazur models a money-print look from Jeremy Scott's Arab Spring collection. "I've been captivated with his designs since the age of 12, and now I feel very lucky to say he's a dear friend," he muses. "I've never avoided too much matching—if you're trying to say something, say it loud and proud."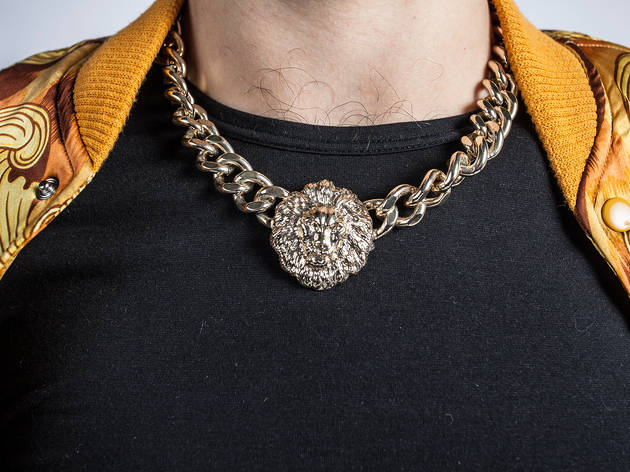 15/17
Photograph: Krista Schlueter
Mazur first spotted this Melody Ehsani (melodyehsani.com) medallion necklace on Rihanna. As luck would have it, a friend started working for the Los Angeles jewelry designer. "I got the necklace just in time for Fashion Week," he says.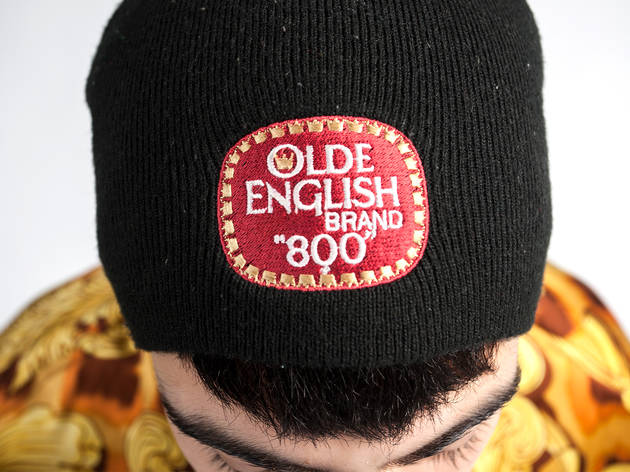 16/17
Photograph: Krista Schlueter
"People [on the street] have stopped me about this hat, thinking it's expensive, a vintage cult collection or a famous streetwear brand," says Mazur. The truth is that he purchased it for $1 at a New Jersey thrift store.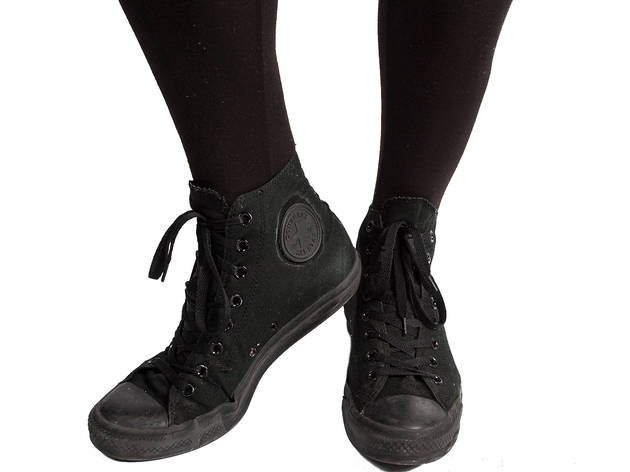 17/17
Photograph: Krista Schlueter
"I went through an intense Converse stage in high school, where I wore them to death and then threw them all out," recalls Mazur. "Later, I fell back in love with these classic sneakers." He bought this particular pair at the brand's Soho flagship (560 Broadway at Prince St; 212-966-1099, converse.com).
Most stylish New Yorkers: Matthew Mazur
DJ Matthew Mazur expresses his bold personality through head-to-toe prints and pastel footwear.
most stylish New Yorkers
by modeling his favorite boldly printed looks. Mazur shops at
Opening Ceremony
and Bess for his designer threads, and favors
Converse
and
Timberland
for footwear.
Matthew "Mazurbate" Mazur
, 22, DJ and fashion designer, Chinatown
His personal style:
"It's fun and confident. Deejaying requires more than just the set. I translate the music, crowd, venue and performance through the way I dress. Every set is different, therefore my look is intentional and represents the specifics of that night."
His inspirations:
"Highbrow vs. lowbrow, discrimination, Peru, Rihanna, John Galliano, and films by Quentin Tarantino, Pedro Almodóvar and John Waters."
Favorite stores:
"I like
Opening Ceremony
(35 Howard St between Broadway and Crosby St, 212-219-2688 • 1190–92 Broadway between 28th and 29th Sts, 646-695-5680 • openingceremony.us)
because it's like a department store without the commercial attitude. I don't go there with a single item in mind—it just always surprises me. Bess
(292 Lafayette St between E Houston and Prince Sts; 212-219-0723, bess-nyc.com)
is one of the most original stores in NYC without being pretentious and money-hungry. It carries a wide range of studded jackets, pants and boots, as well as vintage concert tees and cool knickknacks. Everything feels like it's one-of-a-kind. I get all of my skin-care needs fulfilled at the Face Shop
(136-62 39th Ave between 138th and Union Sts, Flushing, Queens; 718-888-0546 • 35 W 32nd St between Broadway and Fifth Ave, 212-967-0515 • 6B Elizabeth St between Bayard and Canal Sts, 212-608-1988 • international.thefaceshop.com/english)
while watching K-pop videos on a screen inside the store. Its masks are inexpensive and make me feel like I'm at a spa when I'm in the comfort of my own room."
Favorite salon:
"I get my hair cut by my friend Hiro Hironori at Frank's Chop Shop
(19 Essex St between Canal and Hester Sts; 212-228-7442, frankschopshop.com).
The salon is very unpretentious and just has a great vibe with great people working there. You won't leave unsatisfied, ever."
His signature accessories:
"The bracelets on my wrist. I never take them off—they act like tattoos on me, which I love."

Favorite NYC designers:
"Dana Veraldi and Kevin Tekinel of Deer Dana
(deerdana.com)
create a refreshing perspective on celebrity portraits by printing their original artwork on T-shirts. I also like Lyz Olko of Obesity and Speed
(obesityandspeed.com)
for the deconstructed details she puts on T-shirts and jeans. Her obscene and fun graphics also reflect my attitude every so often."
How he describes New York style:
"It's being confident, sexy and having personality. It's not about where you bought [your clothing] or what brand it is, it's how you make it yours. Your personality is reflected in your clothing, so if it doesn't make sense with who you are, no one will understand it—including you."

How his style has evolved:
"I wore a Catholic-school uniform for half of my life, then in high school I bought only used clothes. Now my overarching theme is not paying full price and looking for great finds on eBay
(ebay.com)
, and at vintage stores and outlets. I prefer the thrill of searching for items that define my style, rather than looking into a store window and having the look picked out for me." Follow Cristina Velocci on Twitter:
@cvelocci