New York City apartment tour: 2BR in Murray Hill
Apartment Therapy staffer Ashley Anderson uses street finds, Craigslist scores and some DIY ingenuity to make her shelter feel snug on the cheap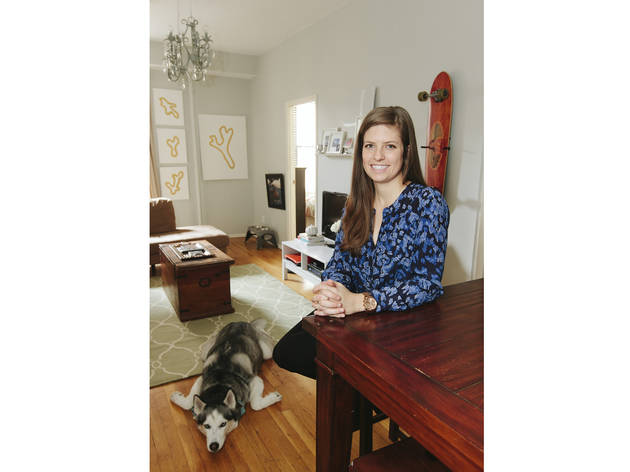 1/14
Photograph: Erica Gannett
When Ashley Anderson moved into the 525-square-foot rental she shares with her lawyer roommate, Lauren Smith, and dog, Sky, in 2011, the Austin native had a clear vision in mind. "We both are so busy at work, we wanted our place to be really calm and cozy," says Anderson, an executive assistant at home-design site Apartment Therapy (apartmenttherapy.com). The self-professed "thrifty" decorator set to work scouring Craigslist (newyork.craigslist.org) and her own neighborhood streets for promising pieces, combining a soothing neutral palette with a dash of DIY know-how. The result is a sweet, serene retreat she's happy to call home.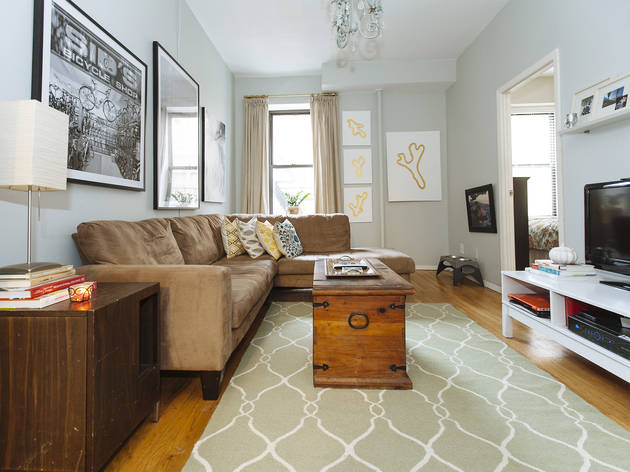 2/14
Photograph: Erica Gannett
"We wanted this room to be comfortable for our friends," says Anderson of the living space, where a Jennifer Convertibles suede sectional (locations throughout the city; visit jenniferfurniture.com) is topped with a mix of graphic throw pillows from Etsy vendor Lacey Placey (thelaceyplacey.etsy.com). Both the rustic coffee table that doubles as a storage trunk and pair of side-by-side wrought-iron chandeliers are Craigslist finds, while the patterned rug is from Home Decorators Collection (homedecorators.com). In the back corner, she hung a nature print she found on the street over Sky's dog bowl. "I wanted her to have a nice view while she's eating," says Anderson.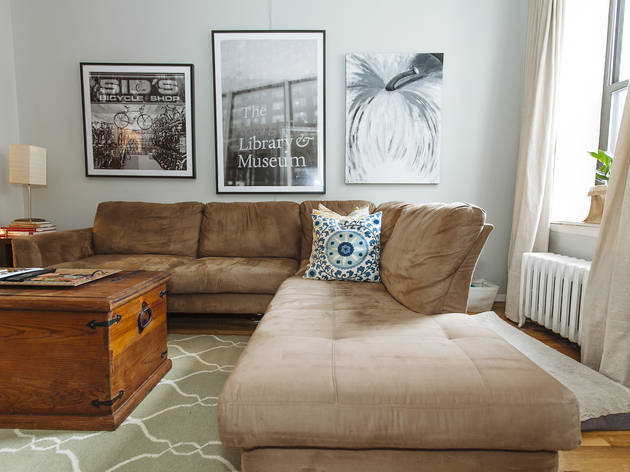 3/14
Photograph: Erica Gannett
When it came to filling the blank wall over her couch, Anderson lucked out with local street discoveries. She nabbed both of the framed black-and-white prints and the large canvas, which she repainted, from trash piles a few blocks from her apartment. "I walk Sky a couple times a day, and I just keep an eye out," she explains. "Fridays are the big trash days here in Murray Hill, so I look on Thursday nights."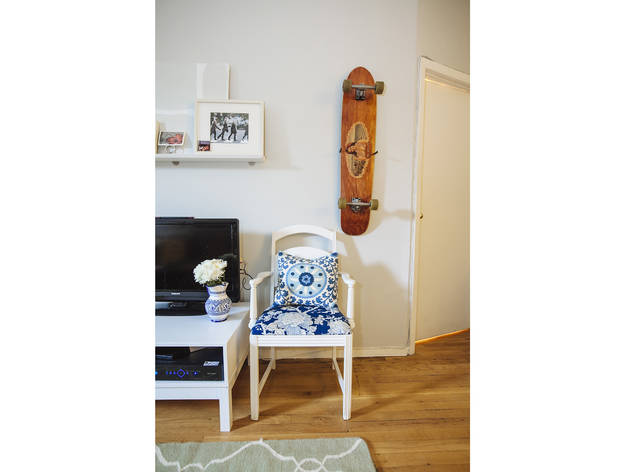 4/14
Photograph: Erica Gannett
Anderson found both the TV stand and chair on her neighborhood streets, and painted them with Rust-Oleum's Painter's Touch Semi Gloss in white (rustoleum.com). A picture ledge from the Container Store (629 Sixth Ave between 18th and 19th Sts • 725 Lexington Ave at 58th St • 212-366-4200, containerstore.com) displays favorite photos and a canvas of paint swatches she was considering for the living-room walls; she settled on Benjamin Moore's Owl Grey (benjaminmoore.com). The vintage-style skateboard was a gift from a friend and has since been retired as art. "I used to ride it in college, but it would be a little aggressive to ride a longboard in New York City," she jokes. A ceramic vase from Florida restaurant Columbia (columbiarestaurant.com), near where her grandparents live, complements the graphic upholstery of the adjacent seat.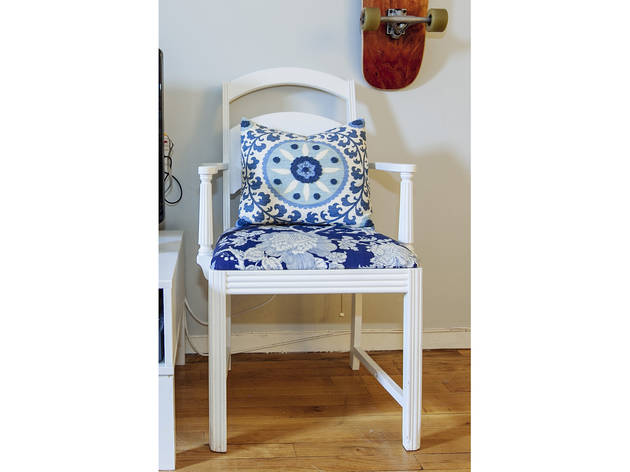 5/14
Photo: Erica Gannett
Anderson learned how to sew from her grandmother at a young age and refined that knowledge during a high-school summer job at Michigan slipcover studio On the Lounge (slipcoverstudio.com). She put her skills—and the company's fabric—to work by making a Suzani-style throw pillow and reupholstering the chair's seat. "There were three layers of really nasty fabric, so I just took it all off, put new padding in, stapled it and screwed the seat back in," she says.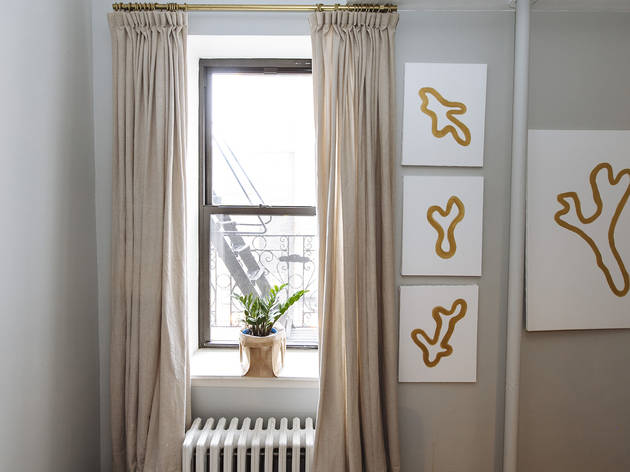 6/14
Photograph: Erica Gannett
To jazz up the living room window, Anderson added pleats to a set of Ikea curtains (1 Beard St at Otsego St, Red Hook, Brooklyn; 718-246-4532, ikea.com), and crafted a chic rod from a piece of plumber's pipe she picked up at Nuthouse Hardware and spray-painted gold. She found the adjacent canvases on the street, painted them white and decorated them with shapes inspired by Apartment Therapy's logo.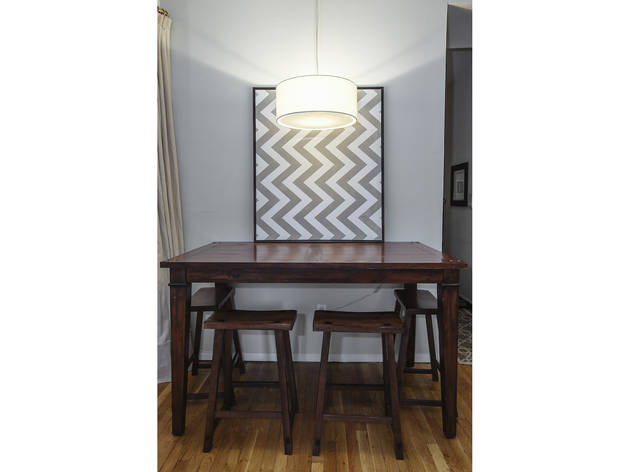 7/14
Photograph: Erica Gannett
A dining nook in the living room features a table and matching barstools nabbed on Craigslist, a pendant lamp from CB2(451 Broadway between Grand and Howard Sts, 212-219-1454 • 979 Third Ave at 58th St, 212-355-7974 • cb2.com) and a canvas Anderson painted with chevron stripes. "It's my trendy piece," she says of the artwork. "I'll probably end up painting over it. I have ADHD when it comes to my apartment."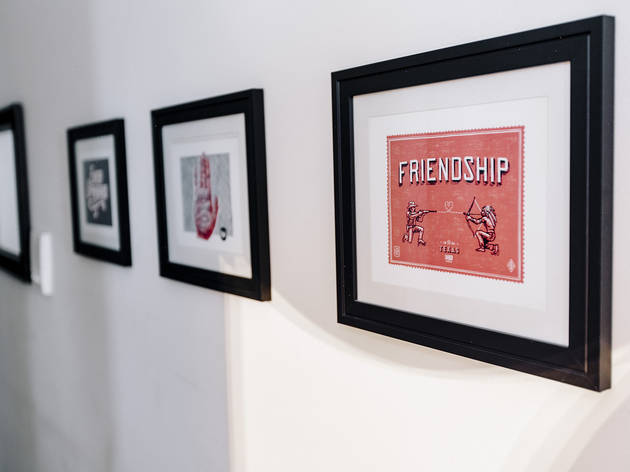 8/14
Photograph: Erica Gannett
A series of prints from the "Fifty and Fifty Project" (statemottosproject.com), a curated collection of works inspired by state mottos that exhibited last year at the Ace Hotel(20 W 29th St between Broadway and Fifth Ave; 212-679-2222, acehotel.com/newyork), lines the hallway leading to the kitchen. Anderson purchased the New York, Texas and Michigan prints off of Society6 (society6.com) as an ode to her home and current states, and the summers she spent in Sawyer.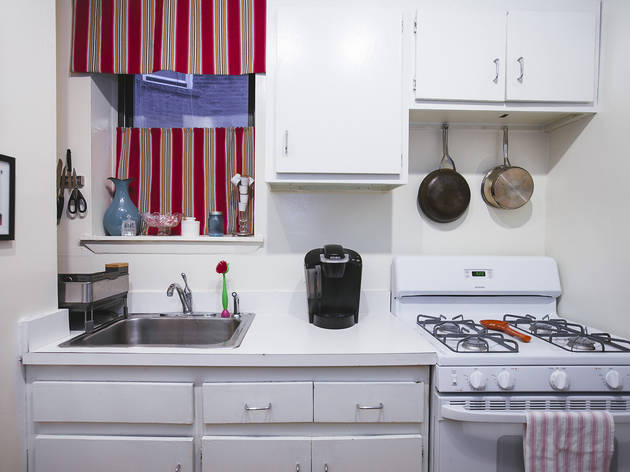 9/14
Photograph: Erica Gannett
In the kitchen, Anderson whipped up some simple blinds using fabric from On the Lounge to block a less-than-desirable view. "[There is] an ugly naked man who lives across the alley," admits Anderson. "It's cool in Friends but it's not cool when you're doing dishes and you have to look at him. I just couldn't deal with the daily assault from the nudist." For wall art, Anderson used Malden frames from Amazon (amazon.com) to display vintage-style greeting cards she bought in Waco, Texas, and a custom chicken drawing she acquired from a Will Draw for Animals fundraiser (draw.orangeyouglad.com).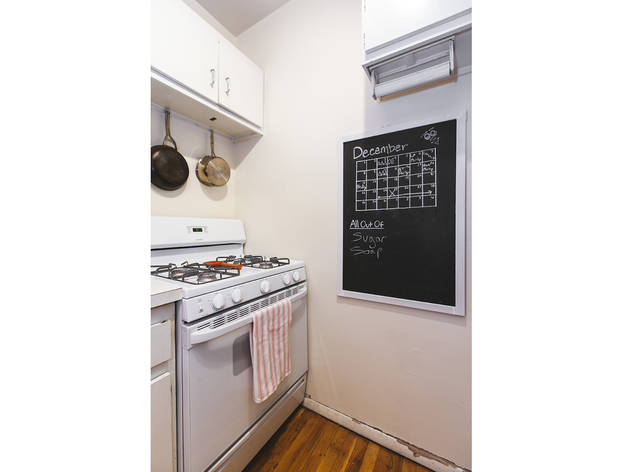 10/14
Photograph: Erica Gannett
"I'm always fixing something or painting something," says Anderson. Case in point: the broken sandwich board she found outside neighborhood restaurant Benjamin(603 Second Ave at 33rd St; 212-889-0750, benjaminny.com), and repurposed as a kitchen chalkboard by sawing off the legs and repainting the frame with Rust-Oleum Painter's Touch Semi Gloss in white. A striped Williams-Sonoma dish towel (locations throughout the city; visit williams-sonoma.com) adds a pop of color to the space.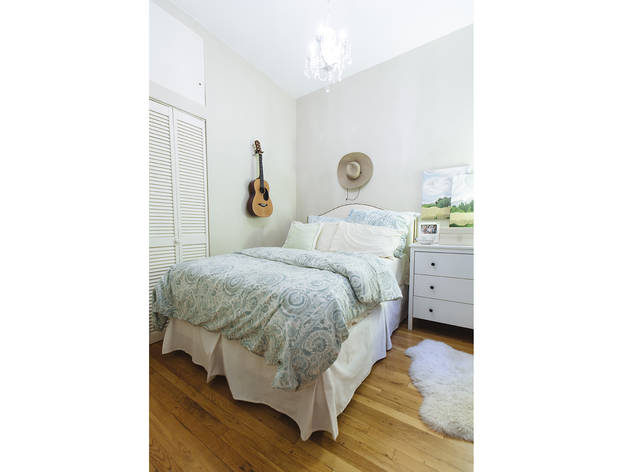 11/14
Photograph: Erica Gannett
"It's warm and cozy," says Anderson of her bedroom, featuring a Home Decorators Collection headboard, Pottery Barn bedding (1965 Broadway at 67th St, 212-579-8477 • 117 E 59th St between Lexington and Park Aves, 917-369-0050 • 100–104 Seventh Ave at 16th St, 646-336-7160 • potterybarn.com), and a dresser and rug from Ikea. For extra flourish, she hung a chandelier from Texas shop Spice Village (spicewaco.com); a beach hat purchased in Sarasota, Florida; and a guitar she found on the street (she used to play the instrument when she was younger).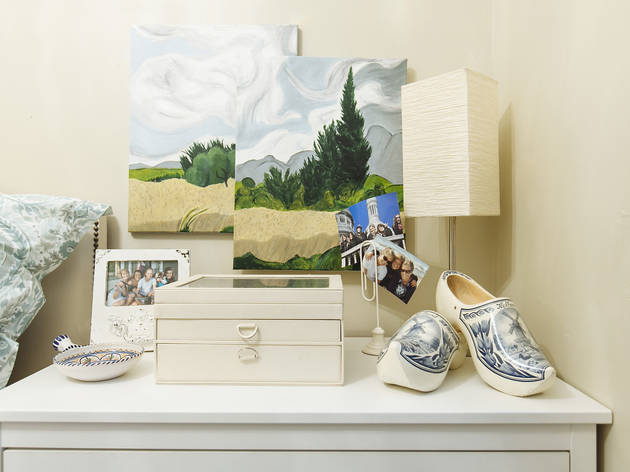 12/14
Photograph: Erica Gannett
The nightstand showcases treasures from Anderson's travels—including clogs from the Netherlands and a ceramic dish from Sarasota, Florida—along with a Container Store jewelry box, a Pottery Barn paper-clip photo holder and an Ikea lamp. Anderson painted the Van Gogh–inspired pictures hung on the wall.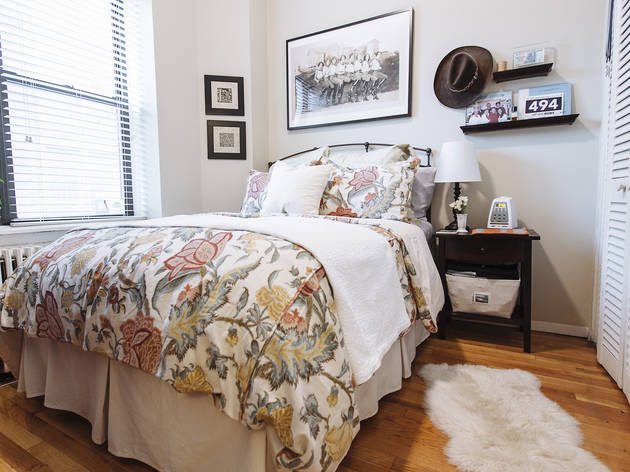 13/14
Photograph: Erica Gannett
Like Anderson, Smith chose Pottery Barn bedding and an Ikea sheepskin rug for her bedroom. After nabbing the headboard on Craigslist, she and Anderson hauled it home from the Financial District using public transportation. "If you have to carry something huge on the subway, go late at night so you don't anger everyone," counsels Anderson. The bedside table, another local street find, got a fresh coat of Rust-Oleum's Gloss Kona Brown paint to make it look brand-new. It's topped with a table lamp from Overstock (overstock.com).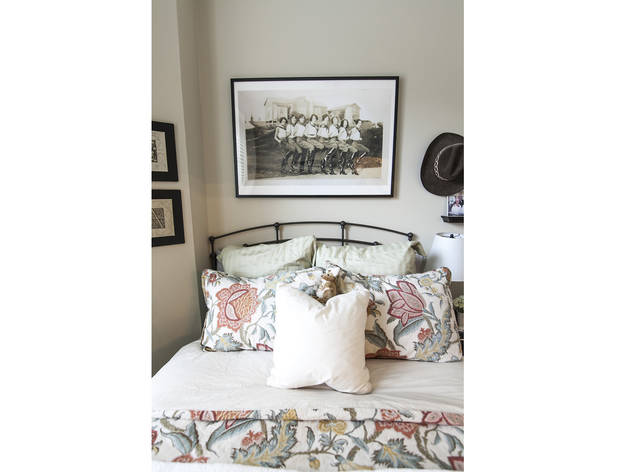 14/14
Photograph: Erica Gannett
Smith, a native of Canyon, Texas, found this cowgirl poster on Project B (projectb.com). "It has a really great assortment of old, quirky photo prints," notes Anderson. The cowboy hat is a keepsake from Smith's grandfather, who recently passed away.
Apartment Therapy staffer Ashley Anderson tapped her crafty side to give Craigslist scores and street finds new life for her Murray Hill abode. She also shops for new pieces from
CB2
,
Ikea
and
Pottery Barn
, and considers
Olde Good Things
and
Haus Interior
among her favorite NYC
home-decor stores
.
Love the look? Get it here!
Olde Good Things
Locations throughout the city; visit ogtstore.com
The Bowery location of this antique and salvaged-goods minichain is near Anderson's office, so she "wanders there whenever I can," she says. "It's perfectly curated and full of one-of-a-kind items."

Haus Interior
250 Elizabeth St between Houston and Prince Sts (212-741-0455, hausinterior.com)
Anderson hits up this homewares boutique for its selection of up-and-coming labels, such as Farmhouse Pottery (farmhousepottery.com) and Bushwick rug designer Aelfie (aelfie.com). "It's a good spot for unique gifts," she says.

Nuthouse Hardware
202 E 29th St between Second and Third Aves (212-545-1447, nuthousehardware.com)
This hardware store is Anderson's go-to spot for paint, tools and other DIY supplies. "It's open 24 hours a day, which is great because I feel like most of my projects start at 1am," she says. "It has anything you'll ever need at pretty good prices."