Heads up! We're working hard to be accurate – but these are unusual times, so please always check before heading out.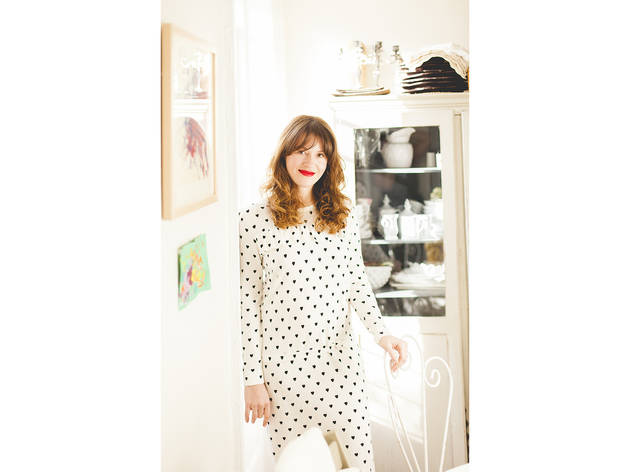 1/31
Photograph: Erica Gannett
For Elisa Lempicka, director of design for her mother Lolita Lempicka's namesake perfume label (lolitalempicka.com), the duplex she shares with her husband, Gaspard de Dreuzy, and three-and-a-half-year-old son, Honoré, serves as a homey refuge that reminds her of her native France. The Paris transplant signed the lease four years ago after falling in love with the space's private courtyard, French windows and subsequent abundance of sunlight. It didn't hurt that it's located "in my favorite part of the city," she notes. A carefully cultivated mix of antiques, family heirlooms and modern buys creates a distinctly European vibe, which Lempicka says "is exactly the goal."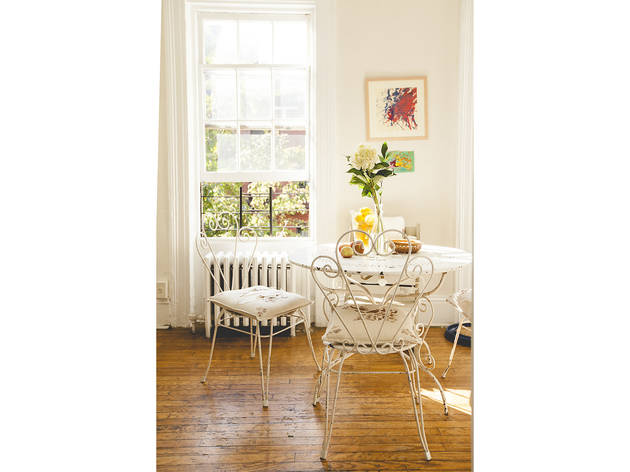 2/31
Photograph: Erica Gannett
In the kitchen's breakfast nook, Honoré's artwork hangs above a weathered wrought-iron dining set that Lempicka scored in Saint-Ouen, the famed Parisian flea-market district. "Most of my furniture comes from there," she says. "I love antiquing." In fact, when she moved to Manhattan seven-and-a-half years ago, she didn't need to go shopping for her new place. "I brought so much furniture from Paris, there was not that much [else] to buy," she admits.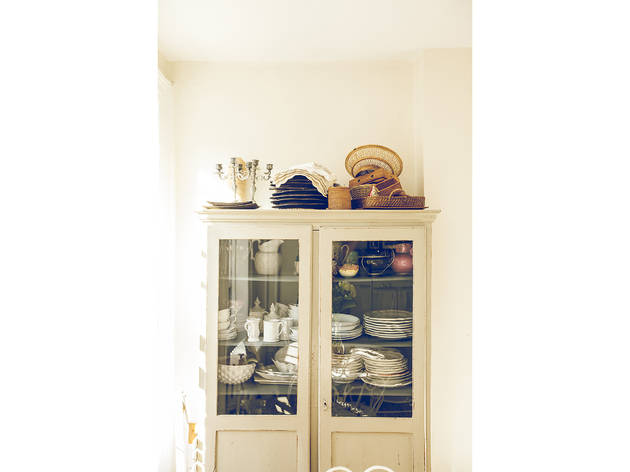 3/31
Photograph: Erica Gannett
An antique cabinet found at a store in Boulogne-sur-Mer, France, stores Lempicka's growing collection of Astier de Villatte china (astierdevillatte.com). "I'm kind of obsessed with what they're doing," she says of the Parisian glassware and ceramics brand, found stateside at ABC Carpet & Home (888 Broadway at 19th St; 212-473-3000, abchome.com).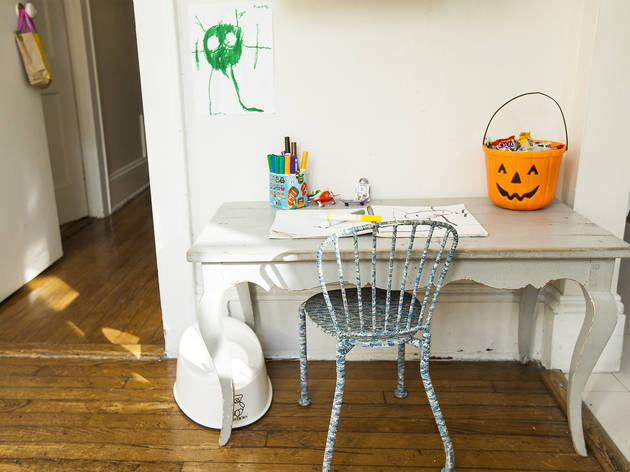 4/31
Photograph: Erica Gannett
While Lempicka cooks in the adjacent kitchen, her son likes to doodle in his own scaled-down "office." The miniature desk is a Paris flea-market find, while the chair was purchased at Yoya (636 Hudson St at Horatio St; 646-336-6844, yoyanyc.com). "It's my favorite store for kids, says Lempicka of the children's boutique. "It's so sweet."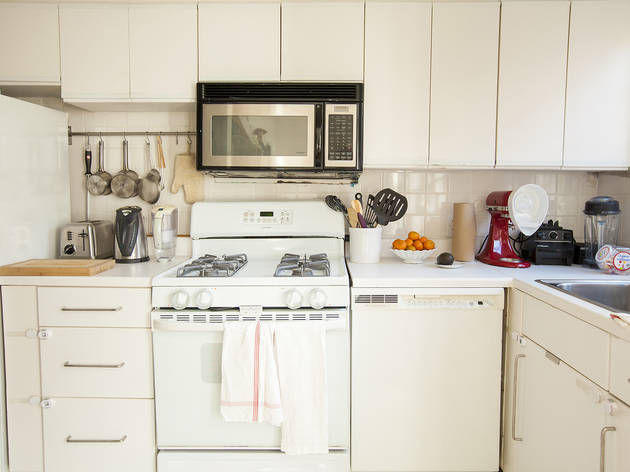 5/31
Photograph: Erica Gannett
Lempicka enjoys preparing meals for her family and frequent dinner-party guests in her kitchen. "I cook very simple food but you have to make it look fancy and elegant," she says.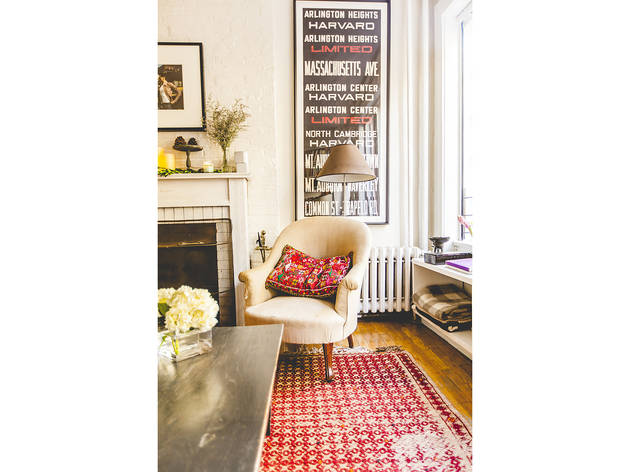 6/31
Photograph: Erica Gannett
The living room faces a private courtyard and boasts an eclectic mix of antiques Lempicka has picked up through the years. "They [create] an atmosphere and make your place more cozy and vivid," she says of the time-worn treasures. Her diverse finds include a coffee table and armchair scored at Parisian flea markets, a vintage floor lamp purchased in Palm Springs, a throw pillow from Marrakesh and an old Boston subway poster she picked up at New York's Pier Antique Show (pierantiqueshow.com). "It's an original," she notes. "I'm kind of annoyed—you can see it everywhere now—but I really like the graphics."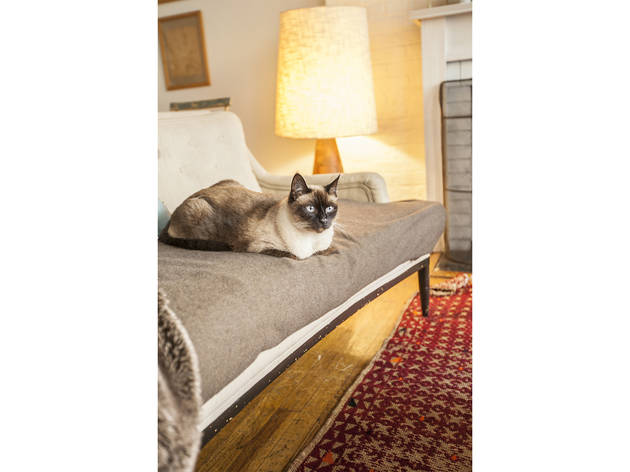 7/31
Photograph: Erica Gannett
The family feline, Pussycat, lounges on a midcentury-modern sofa Lempicka discovered at the Pier Antique Show during her first year in New York. "I really work by heart, so anything that gives me a lot of signals, I know it's the right piece," she says. She chose the living-room rug from John Derian for its "warm color and Moroccan feel."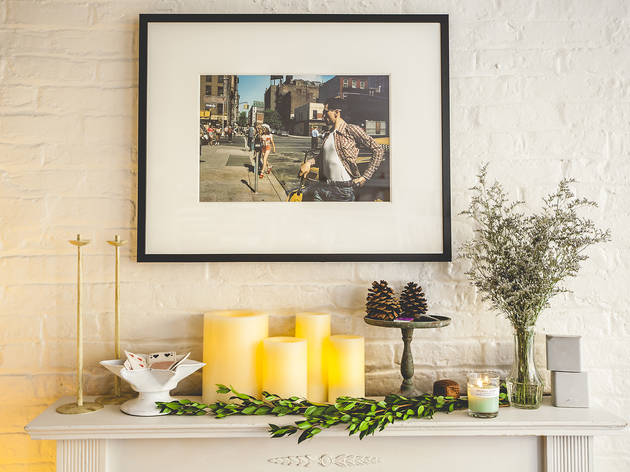 8/31
Photograph: Erica Gannett
Lempicka picked up the fireplace mantle at the biannual Brimfield Antique and Collectibles Show (brimfield.com) in Massachusetts after learning about the popular event from former boss—and fellow vintage aficionado—Betsey Johnson (Lempicka served as the brand's creative director of accessories before rejoining her family's label in 2008). "Because of her, I discovered all the good places," she says. An Astier de Villatte ceramic bowl, flameless candles from Restoration Hardware (935 Broadway at 22nd St; 212-260-9479, restorationhardware.com) and Lempicka's favorite scented candle, Toumbac from A.P.C. (267 W 4th St at Perry St; 212 755 2523, apc.fr), rest atop the ledge. The framed photograph, taken by New York photojournalist Steve Schapiro (steveschapiro.com), is from A. Galerie (a-galerie.fr) in Paris.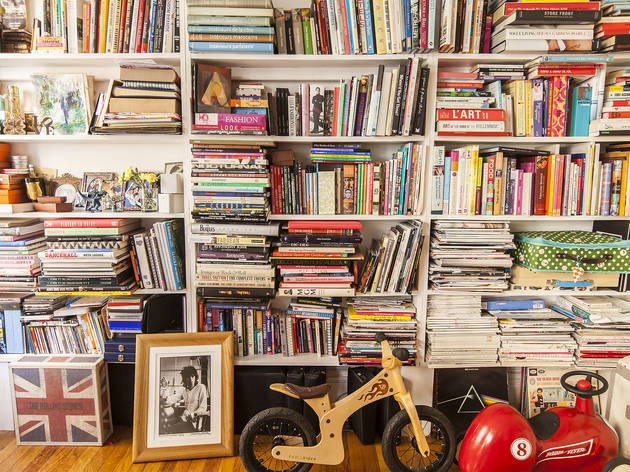 9/31
Photograph: Erica Gannett
Floor-to-ceiling bookshelves that are original to the apartment span one wall of the living room, and house a "growing and growing" collection of travel, fashion, and design tomes and magazines. "It's super mixed," says Lempicka. "There's not a true order." A Henry Diltz shot of Keith Richards from the Morrison Hotel Gallery sits at the library's base.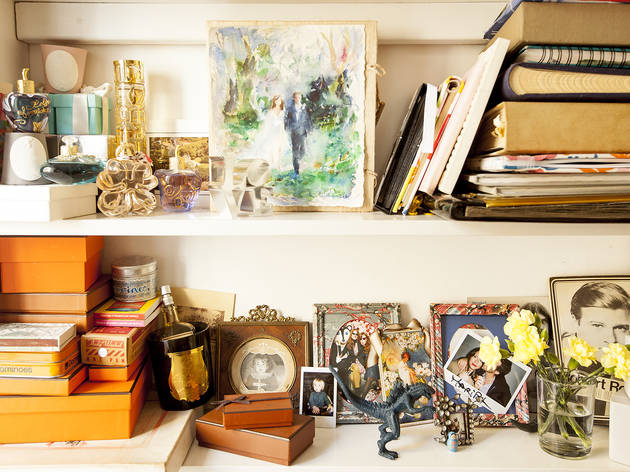 10/31
Photograph: Erica Gannett
Lolita Lempicka's fanciful fragrance bottles—including the label's newest scent, Elle L'Aime (80ml $100, at neimanmarcus.com)—are displayed amid mementos and photos on the bookshelf. "It's like my little shrine," says Lempicka. "It's a true family. They really go well together." The watercolor was a gift from artist friend Michel Charrier (michelcharrier.typepad.com), and depicts Lempicka and De Dreuzy on their wedding day.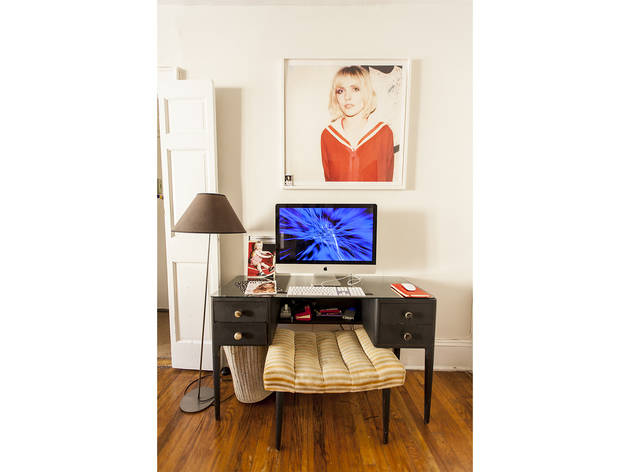 11/31
Photograph: Erica Gannett
Famed French artist and stylist Maripol (maripolitan.com) snapped this Polaroid print of Debbie Harry, which hangs above a midcentury-modern desk and tufted bench from Showplace Antique + Design Center(40 W 25th St between Broadway and Sixth Ave, 212-633-6063, nyshowplace.com). "I was introduced to her before I moved to New York," says Lempicka of Maripol. "She's like a second mama to me."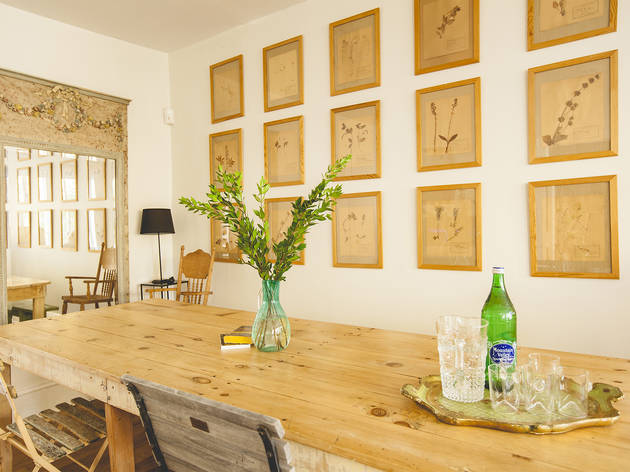 12/31
Photograph: Erica Gannett
"I've always been attracted to a simple country aesthetic," says Lempicka, referring to the rustic dining table that she purchased from Moon River Chattel(62 Grand St between Kent and Wythe Aves, Williamsburg, Brooklyn; 718-388-1121, moonriverchattel.com). Lempicka found the collection of herb prints at a Parisian flea market and fell in love with their "really simple" beauty. The antique wall mirror is a hand-me-down from her parents.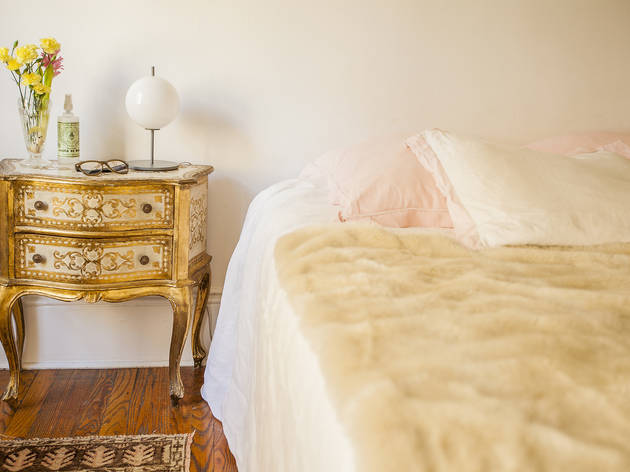 13/31
Photograph: Erica Gannett
In the master bedroom, a plush faux-fur throw from Restoration Hardware tops antique French linens that Lempicka sourced through her aunt, who collects them. Lempicka swears her husband doesn't mind the pale-pink shams. "I'm the boss for the bedding," she jokes. She found the rug and side table at Rachel Ashwell Shabby Chic Couture (83 Wooster St between Broome and Spring Sts; 212-334-3500, rachelashwellshabbychiccouture.com), and the modern light fixture at ABC Carpet & Home.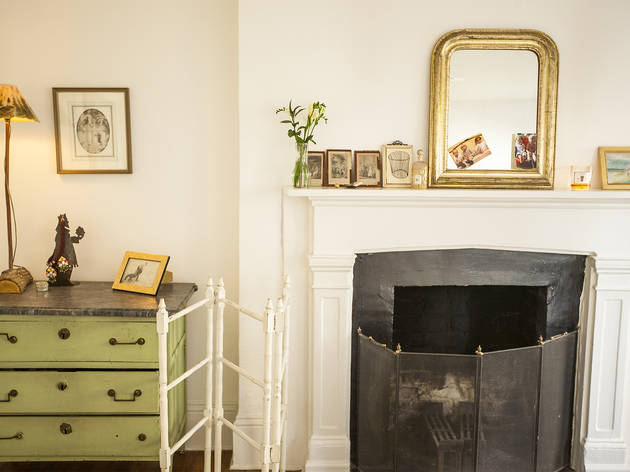 14/31
Photograph: Erica Gannett
The couple use the working bedroom fireplace every winter. "It's great—Duraflame is the best," exclaims Lempicka. The king-shaped candle holder, mirror, chest of drawers and framed print all once belonged to her husband's parents, while the whimsical table lamp was a wedding gift from Charrier.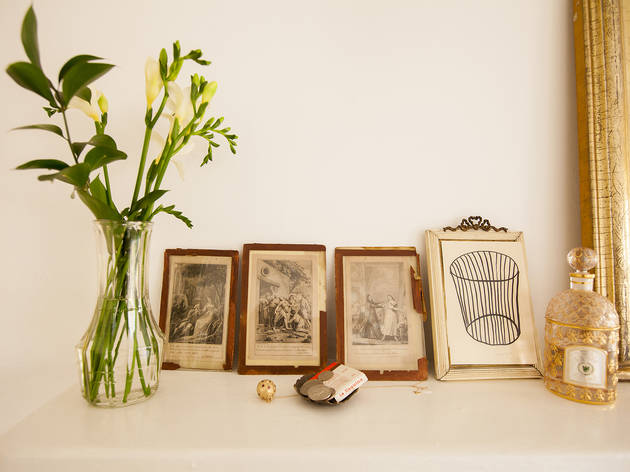 15/31
Photograph: Erica Gannett
The bedroom mantle showcases a collection of miniature prints Lempicka picked up in Paris' Saint Ouen markets; an empty bottle of her favorite Guerlain scent, L'eau de Cologne Imperiale; and an example of the simple flower arrangements found throughout her home. "I go to the deli every day [to buy them]," says Lempicka, who frequents Abingdon Market (1 Abingdon Sq at Bleecker St, 212-243-2449) for the fresh blooms. "I try to stay on a really small budget. You don't need too much to make it really nice."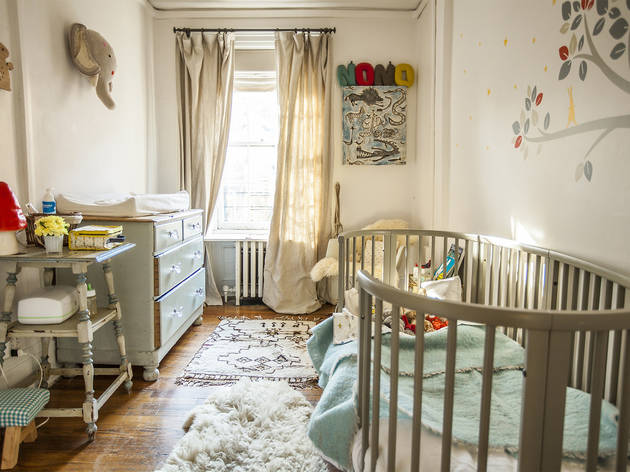 16/31
Photograph: Erica Gannett
A blend of chic, sophisticated pieces and kid-friendly touches in Honoré's room please both mom and child alike. Case in point: A soft lambskin rug purchased from a Union Square Greenmarket vendor (Union Sq West between 15th and 17th Sts; 212-788-7476, grownyc.org; Mon, Wed, Fri, Sat 8am–6pm) rests beside a chic Moroccan style brought home from Marrakesh. The Stokke convertible crib bed (stokke.com) sits in front of a statement-making wall decal from Fawn & Forest (fawnandforest.com). "[Installing it] was a process—like a puzzle," says Lempicka. "It took two or three weeks to finish."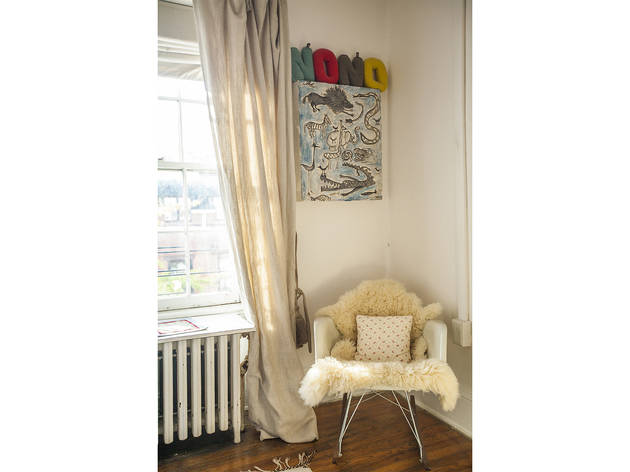 17/31
Photograph: Erica Gannett
Another well-placed sheepskin rug—this one a gift from a French friend—makes a fiberglass Eames chair from L.A.'s Modernica (modernica.net) the ideal nook for reading bedtime stories. French artist Philippe Berry created the whimsical zoo-animal painting, while the rose-print pillow and plush letters that spell out Honoré's nickname are from Parisian children's boutique Bonton (bonton.fr).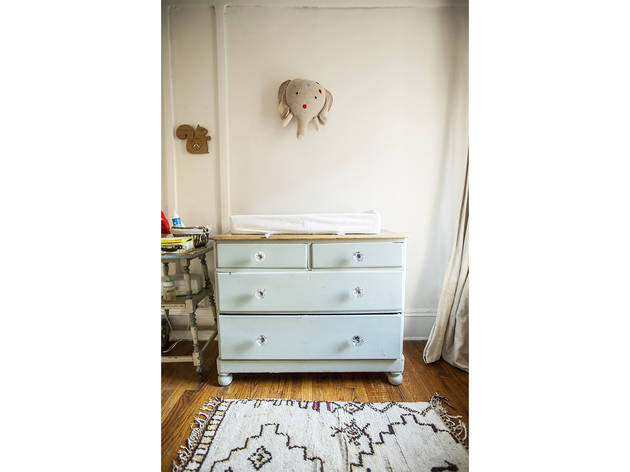 18/31
Photograph: Erica Gannett
This Swedish antique dresser once belonged to Lempicka's sister, and got a fresh coat of Farrow & Ball's Light Blue paint (locations throughout city; visit us.farrow-ball.com) before Lempicka repurposed it for her son's room. An Anne-Claire Petit (anneclairepetit.nl) crochet elephant bust from ABC Carpet & Home and a wood squirrel clock from Fawn & Forest provide whimsical touches to the wall, while the decidedly adult side table is from a Paris antique market.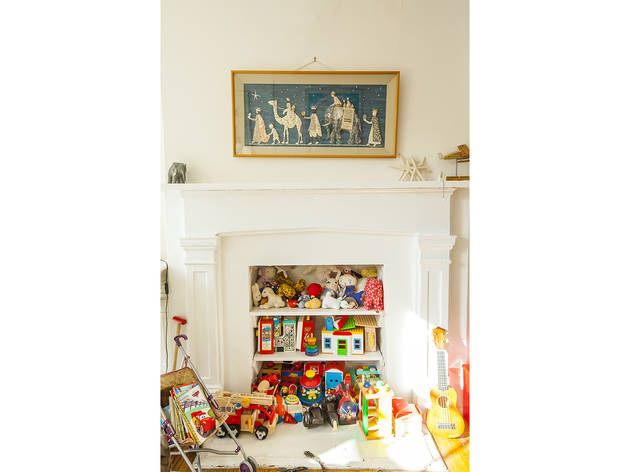 19/31
Photograph: Erica Gannett
Lempicka had shelves installed in the third bedroom's out-of-use fireplace to house her son's arsenal of toys. "It doesn't look like this when he's playing in here," she says. A multimedia collage depicting the Three Wise Kings, which De Dreuzy "has had since he was born," hangs above the mantel.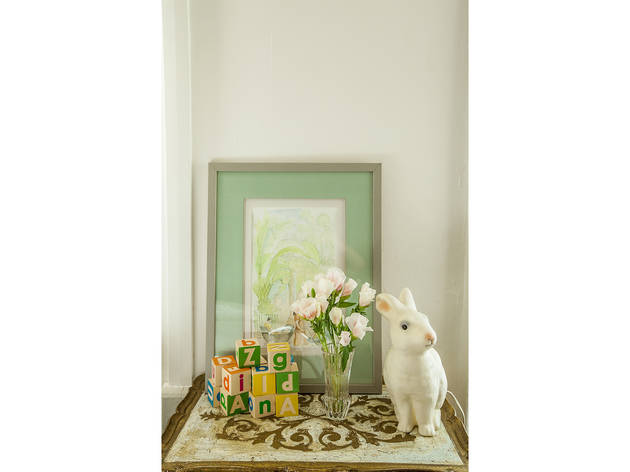 20/31
Photograph: Erica Gannett
A Rachel Ashwell Shabby Chic Couture table displays a cheery playroom vignette, comprising a ceramic bunny lamp from Bonpoint (bonpoint.com) in Paris, a painting by Lempicka's father-in-law and building blocks from the family's favorite toy store, Kidding Around(60 W 15th St between Fifth and Sixth Aves; 212-645-6337, kiddingaround.us).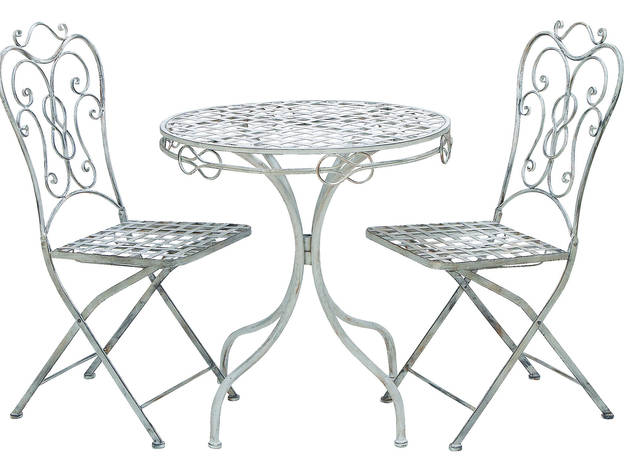 21/31
SPIN THIS STYLEWoodland Imports vintage outdoor set, $239, at wayfair.com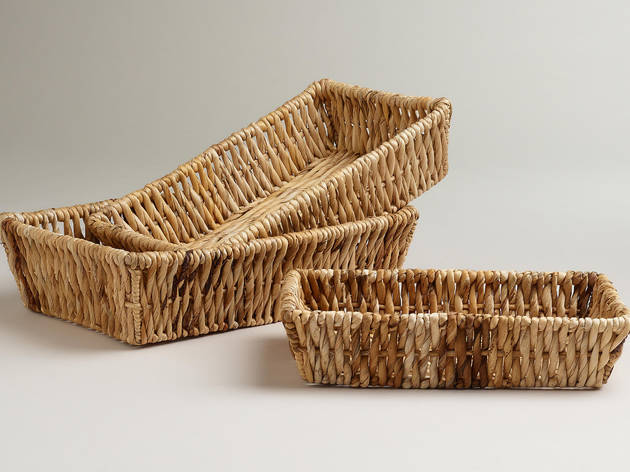 22/31
SPIN THIS STYLECost Plus World Market Jacqueline rectangle trays, $20–$35 each, at worldmarket.com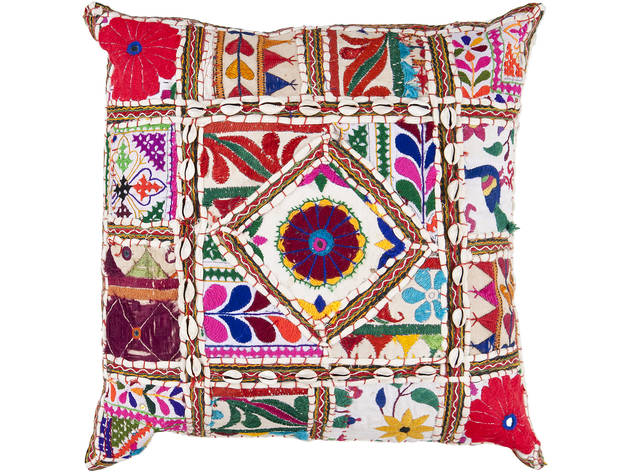 23/31
SPIN THIS STYLESurya patchwork pillow, $70, at zincdoor.com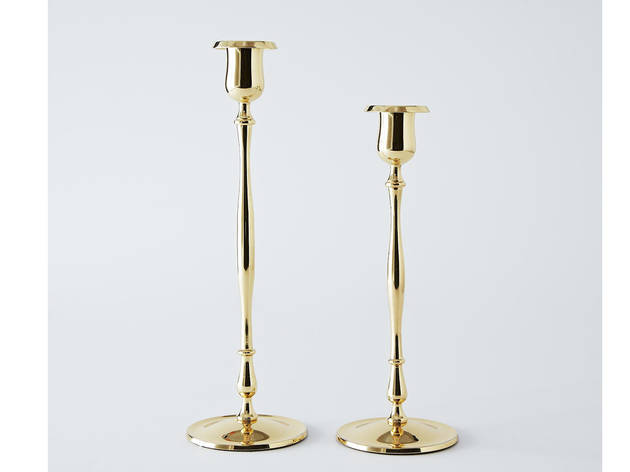 24/31
Photo: James Ransom
SPIN THIS STYLEBrass & Silver Traditions slim candlesticks, $50–$55 each, at food52.com/provisions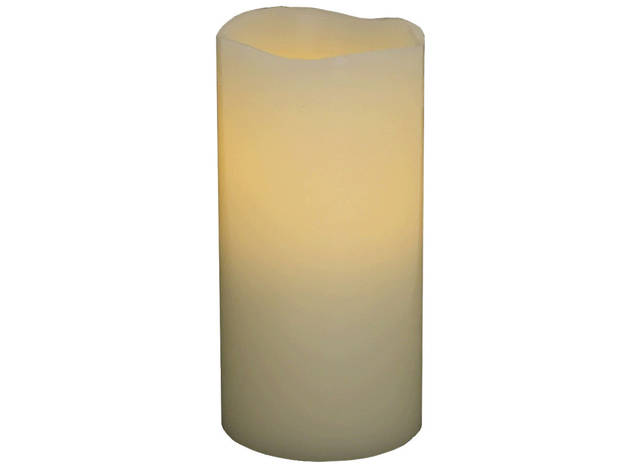 25/31
SPIN THIS STYLEPacific Accents 3" x 6" melted-top flameless candle, $14, at qvc.com
26/31
SPIN THIS STYLE Dezo Hoffmann Keith Richards framed chromogenic print, $285, at rockpaperphoto.com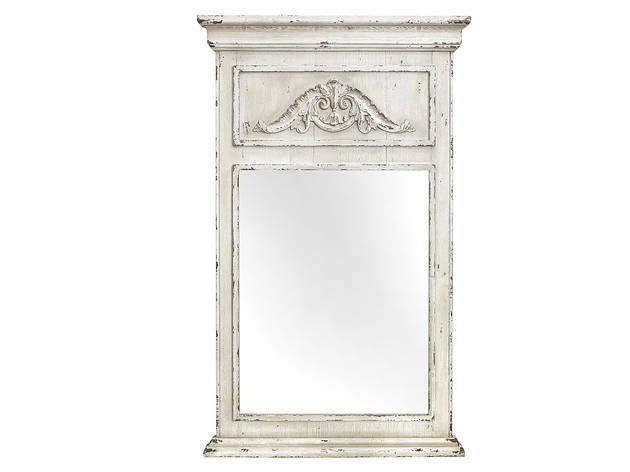 27/31
SPIN THIS STYLEPier 1 Imports Ivory Trumeau mirror, $149, at Pier 1 Imports, locations throughout the city; visit pier1.com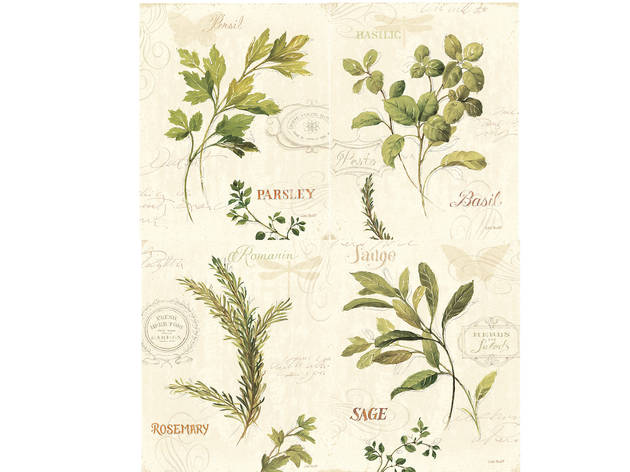 28/31
SPIN THIS STYLELisa Audit Aromatique 8" x 10" prints, $13 each, at art.com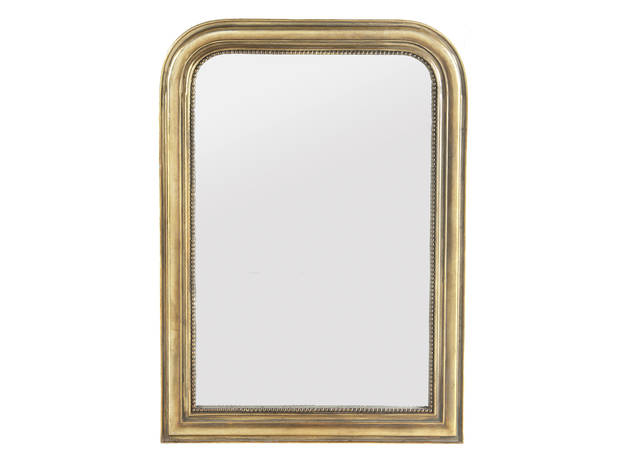 29/31
SPIN THIS STYLEWisteria French gilt mirror, $299, at wisteria.com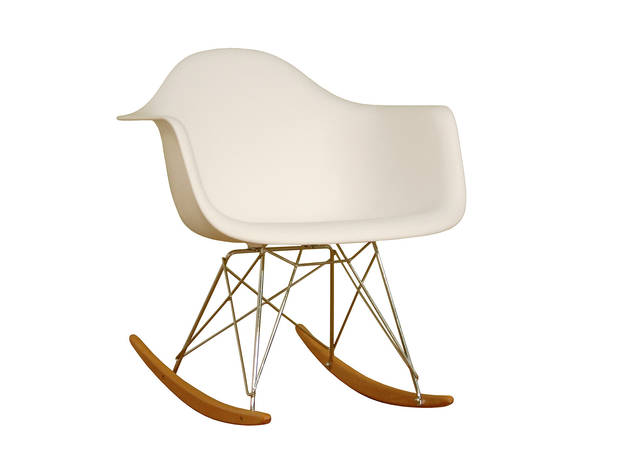 30/31
SPIN THIS STYLEWholesale Interiors accent chair, $169, at bellacor.com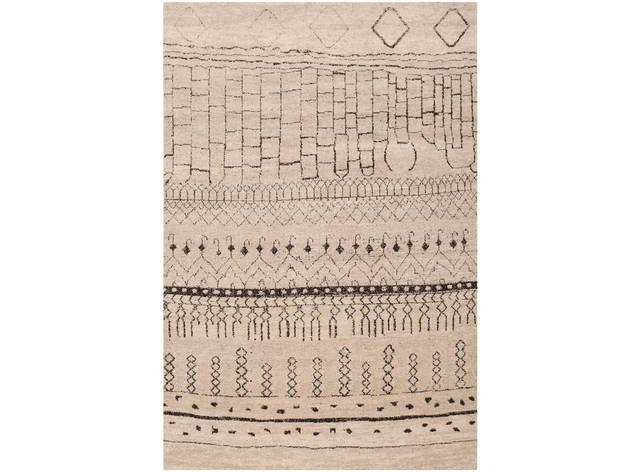 31/31
SPIN THIS STYLESafavieh Tunisia loomed 4" x 6" rug, $120, at zincdoor.com
New York City apartment tour: 3BR in the West Village
Elisa Lempicka, creative director of perfume label Lolita Lempicka, uses Parisian flea-market finds and family heirlooms to create an abode reminiscent of her European upbringing
Lolita Lempicka creative director Elisa Lempicka infuses her West Village duplex with her European heritage by filling it with furniture from Parisian flea markets and various family members. She mixes in newer pieces from NYC stores such as ABC Carpet & Home, Moon River Chattel and John Derian that match her rustic sensibility.
Love the look? Get it here!
John Derian
6 E 2nd St between Bowery and Second Ave
(212-677-3917, johnderian.com)
Lempicka relies on this irreverent yet elegant boutique for everything from Astier de Villatte candles to rare North African rugs. "It has a really small but well-edited selection," she says. "I love the atmosphere—it's really a European feel. There's always a twist of something a little bit funny, or a touch of New York."
Melet Mercantile
84 Wooster St between Broome and Spring Sts
(212-925-8353, meletmercantile.com)
"I really like the selection of vintage books and it has some great photographs," says Lempicka of the constantly refreshed, appointment-only vintage showroom. During the summer, she hits up the store's seasonal Montauk location to check out retro surfboards and antique vinyls.
The Morrison Hotel Gallery
124 Prince St between Greene and Wooster Sts
(212-941-8770, morrisonhotelgallery.com)
"I'm really into this kind of rock-music photography from the '70s," says Lempicka of the Soho gallery, specializing in fine prints of iconic artists. "It's really my thing." In addition to purchasing pieces for her own collection, she's scooped up portraits of the Doors and Crosby, Stills, Nash & Young for her father.