Heads up! We're working hard to be accurate – but these are unusual times, so please always check before heading out.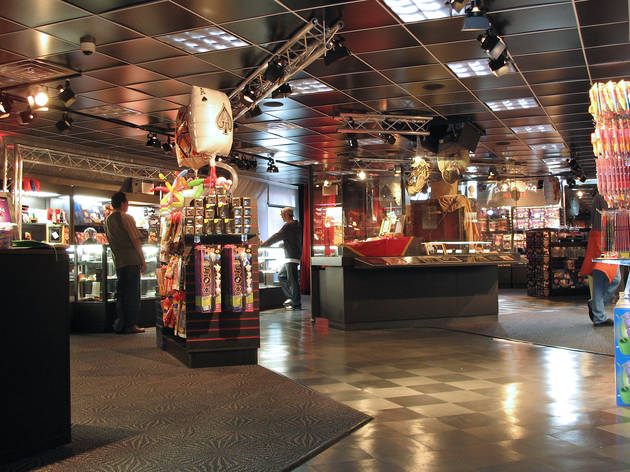 1/3
Fantasma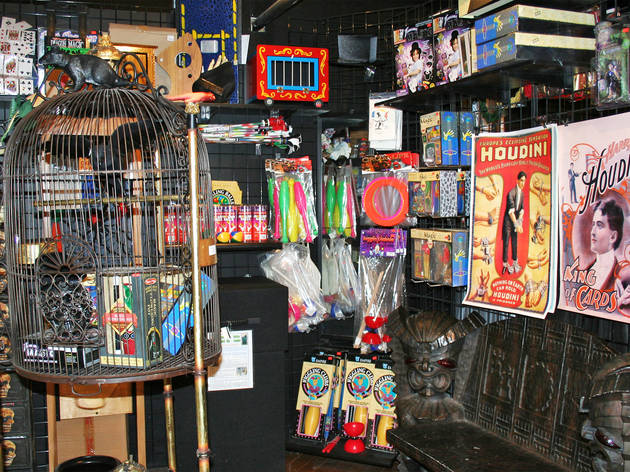 2/3
New York Costumes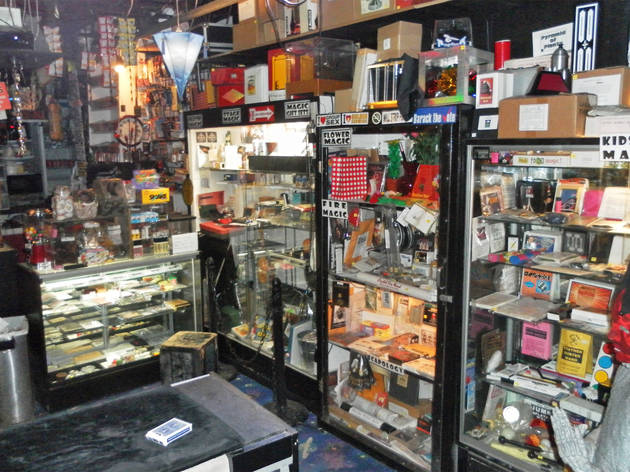 3/3
Rogue Magic & Funshop
NYC's best magic shops
Commemorate Harry Houdini's birthday on Saturday 24 by frequenting one of these enchanting stores.
Stop by this massive, 13,000-square-foot store and you'll probably see magician and store associate Tricky Henry manning the magic counter—as he puzzles patrons with card and coin tricks. Though Abracadabra is a go-to spot for costumes and novelty items, magic merchandise is a major draw. Noteworthy buys include the Gecko by Jim Rosenbaum ($70)—a popular gadget used for making objects disappear—and Andrew Mayne's Levitator DVD ($40), which gives step-by-step instructions for defying gravity. Shelved next to a smattering of toys is The Original Tarbell Lessons in Magic ($80), a book of 60 tricks mastered by magician Harlan Tarbell in the 1920s that is still widely referenced today. Pros can invest in a classic Mismade stage box ($800) that tricks onlookers into thinking someone's body has been sliced into several pieces, or simply rent the prop ($250) for the weekend. 19 W 21st St between Fifth and Sixth Aves (212-627-5194, abracadabrasuperstore.com)
RECOMMENDED: Best places for shopping in NYC
Fantasma
As one of the world's leading manufacturers of magic accessories, Fantasma stocks its midtown shop with a combination of its own products and those made by other big-name magic companies, such as Trickmasters and Marvel. The fervor this company has for magic is obvious by the center display at its retail outpost—an enclosed glass case filled with a trove of Houdini's original props, including a pair of the magician's handcuffs and the straightjacket he famously freed himself from. While those artifacts alone keep the store abuzz with visitors, there's much more here than nostalgic kitsch. More than 300 tricks—including making small objects disappear into a box—can be accomplished with Fantasma's signature Legends of Magic kit ($60), while Schylling wands ($10) illuminate and play music at the touch of a button. Customers are frequently treated to demos by legendary coin magician David Roth, who gladly shows off tricks featured in his DVD, Ultimate Coin Magic ($35). Accented with hand-painted dove breakaway boxes ($200) and a cage for its unofficial mascot, Rambo the rabbit, the bright space is frequented by magician Ed Alonzo, better known to '80s babies as Saved by the Bell's trickster restaurateur, Max. 421 Seventh Ave at 33rd St (212-244-3633, fantasmamagic.com)
New York Costumes
Tucked away in the basement of this costume megastore is a small section dedicated to all things magical. Specializing in accoutrements best suited for beginners, the enclave hawks the latest playing cards, including a Bicycle deck embossed with steampunk designs ($10). Patrons get a kick out of Empire Magic kits that create the illusion of a needle going through a balloon ($16), and Morris Costumes coloring books which, at the wave of a hand, mysteriously go from having blank pages to ones filled with pictures ($13). For more daring tricksters, Disecto devices that will convince audiences you chopped off your hand ($70) and Theatre Effects combustible flash papers ($11) are also available. Magic fans can scoop up posters picturing Henry Kellar's famous levitation trick ($16), or pick up a pair of crisp white magician's gloves ($8) on the main floor. 104 Fourth Ave between 11th and 12th Sts (212-673-4546, newyorkcostumes.com)
Rogue Magic & Funshop
After several years of doing impromptu performances on street corners and selling magic tricks out of his backpack, self-taught magician Roger "Rogue" Quan unloaded his knowledge and trickery into this small storefront. Jardonnet flammable wallets ($40–$200) and a torch that transforms to a single red rose ($15) are among the pyro-themed offerings. Popular tricks, such as making a card rise from the center of its deck, go for $30. Alongside fellow tristate-area magicians, Quan hosts a magic show in the shop every Saturday (9–11pm; advance tickets $10, $12 at the door). For the same price, adults can attend the monthly Freaky Friday (9pm, call for schedule) performance, which combines geek magic, such as shoving nails up one's nose, with racy jokes. 85-08 Queens Blvd at Grand Ave, Elmhurst, Queens (718-505-0316)
Tannen's Magic
Open since 1925, this Herald Square haunt gets bragging rights for being the city's oldest magic emporium. Instead of the gaudy lights and neon signage you'd expect from a place known for over-the-top trickery, you'll encounter a dimly lit shop situated in an unassuming office building. Playing cards ($3–$100), didactic DVD sets ($15–$190) and accessories ($25–$400) abound at Tannen's, where tricks are performed and sold daily. For $140, staffers will teach budding magicians the F1 Nitro trick, in which a card is made to vanish from its deck and suddenly appear in a wallet. Equally thrilling is the ParaPad ($95)—a pocket-sized notebook that helps its owner read minds. Professional magicians like Dani Daortiz often host lectures ($35) and workshops ($100), while novices frequently snatch up Michael Ammar's Easy to Master Card Miracles DVD ($35). Notable alums of Tannen's weeklong summer camp ($1,295), held each year outside Philadelphia, include actor Adrien Brody and master illusionist David Blaine. 45 W 34th St between Sixth and Seventh Aves, suite 608 (212-929-4500, tannens.com)
Related
See more of New York's best shops