Heads up! We're working hard to be accurate – but these are unusual times, so please always check before heading out.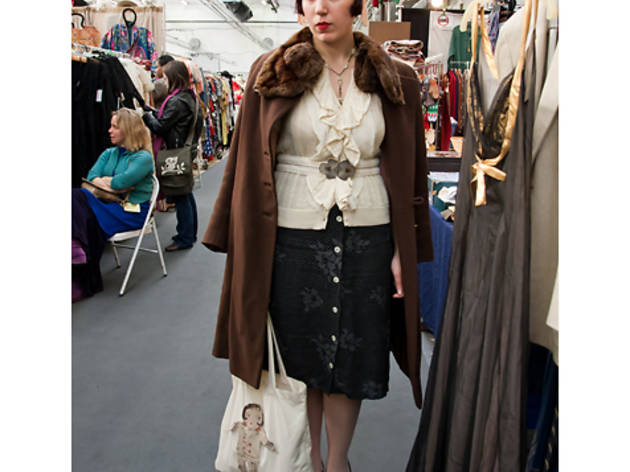 1/44
Photograph: Jakob Layman
streetfashion1Monique Garofalo, 22; student; Bay Ridge, Brooklyn Garofalo has been perfecting her '20s look for quite some time now. "When I was little I saw pictures of flappers, and I said I wanted to be that when I grew up," she explains. "Growing up here, you always see really well-dressed people. I remember just seeing really cool-looking people and wishing one day I would be cool like them." Mission accomplished.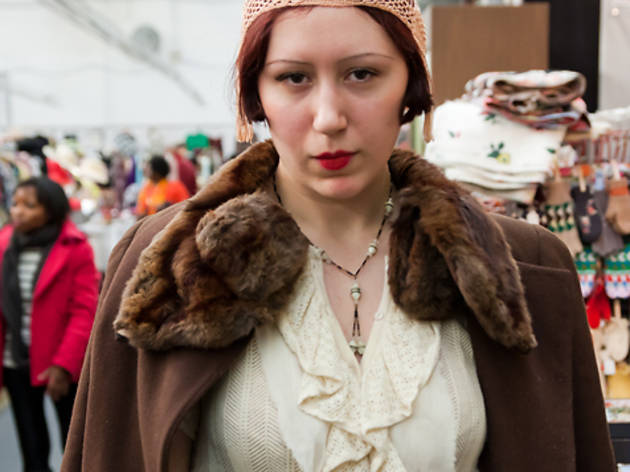 2/44
Photograph: Jakob Layman
streetfashion2Garofolo scored both her shirt and belt at Anna Sui (113 Greene Street between Prince and Spring Sts; 212-941-8406, annasui.com), where she works part-time. She picked up her coat at Cobblestones (314 E 9th St between First and Second Aves; 212-673-5372) and has been wearing it over everything this winter.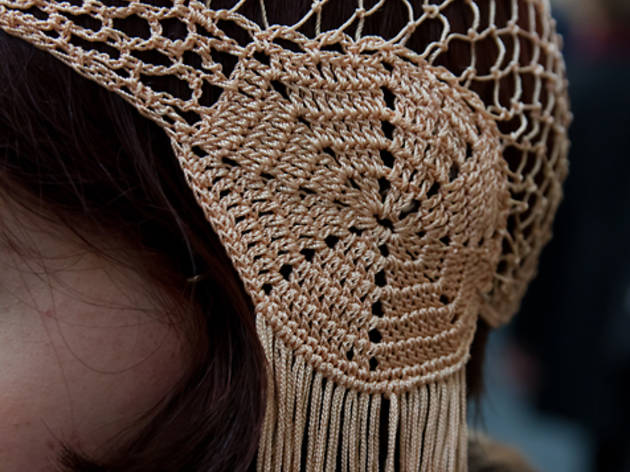 3/44
Photograph: Jakob Layman
streetfashion3Her bob is the perfect hairstyle on which to place her mint-condition '20s headpiece, a beloved find after coveting a friend's similar cap for a year. "It was never worn," she says of the lacy hat. "It still has the 'made in France' tag inside. I haven't taken it off, even though people keep saying, 'You have a tag.'"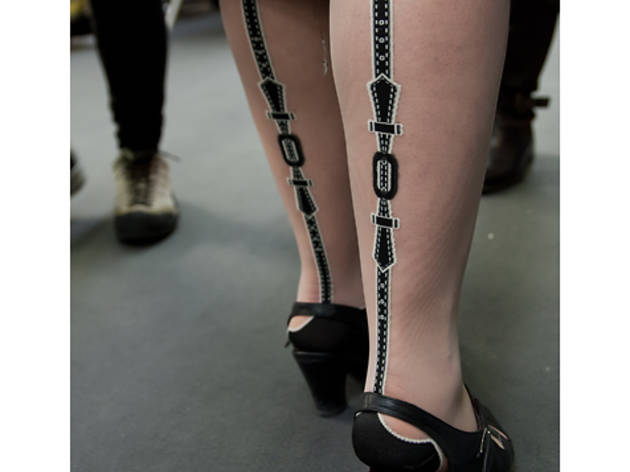 4/44
Photograph: Jakob Layman
streetfashion4Her cream-colored stockings evoke a vintage feel with the detailed black lace etching that runs down the back. They were a gift that a friend snagged at discount spot Century 21 (locations throughout the city; visit c21stores.com).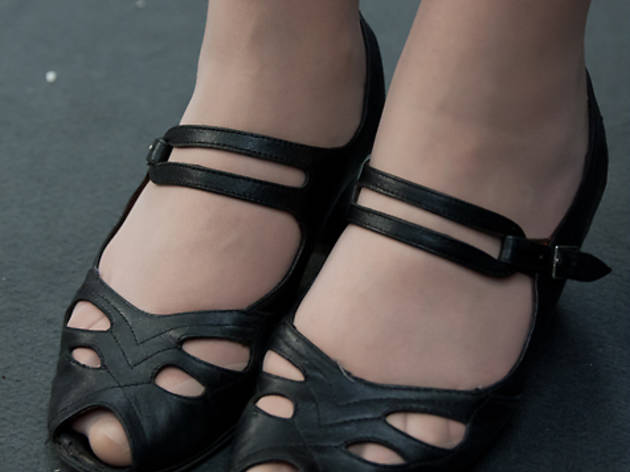 5/44
Photograph: Jakob Layman
streetfashion5Can't find the vintage shoes you're looking for? Garofolo suggests you turn to Re-mix (remixvintageshoes.com), where they reproduce classic styles from the '20s through the '50s (and where she got these cut-out gems).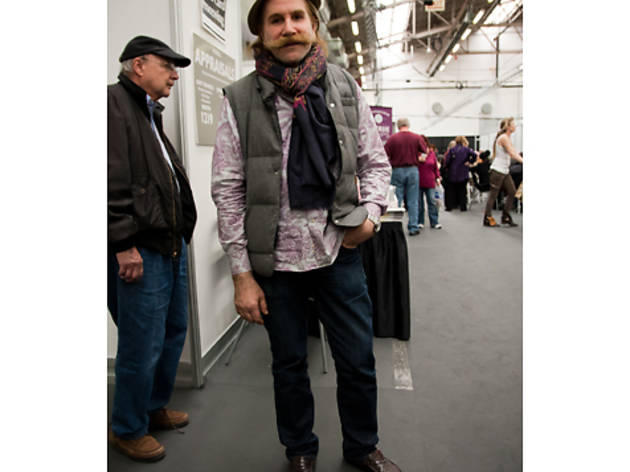 6/44
Photograph: Jakob Layman
streetfashion6ZeZe, 63, flower-shop owner, Chelsea When we happened across ZeZe thumbing through some metal placards, it was his mustache that caught our eye. After all, facial hair is as important to a man's look as a shirt or cap. His whiskers have graced his face for more than 35 years now, and he has no plans of shaving.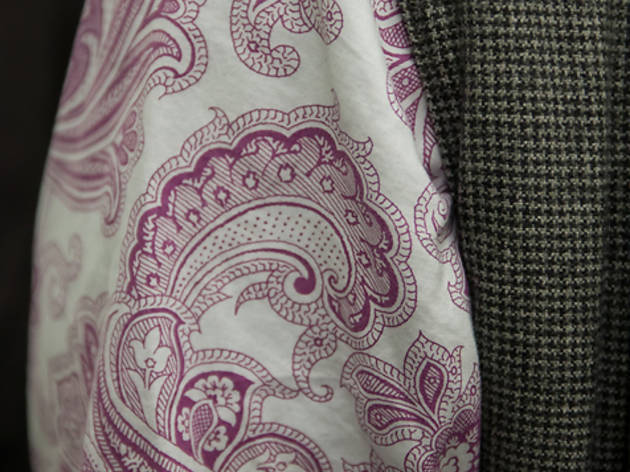 7/44
Photograph: Jakob Layman
streetfashion7His paisley shirt is by Etro (etro.it). He's not shy about wearing color in his everyday outfits. "I do like patterns," he says. His substantial Brunello Cucinelli vest (379 Bleecker Street between Charles and Perry Sts; 212-627-9202, brunellocucinelli.it) is more about function than fashion; ZeZe says he dresses for comfort more than anything else.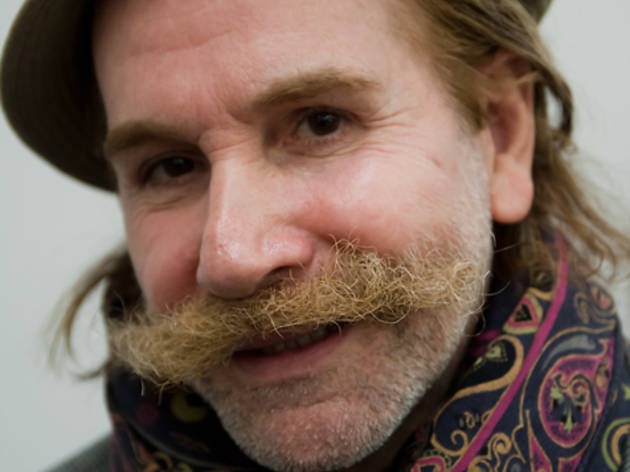 8/44
Photograph: Jakob Layman
streetfashion8It's only his cap that saves him from sporting an exclusively Italian ensemble. The topper is quite French, which can only mean quite Herms (hermes.com).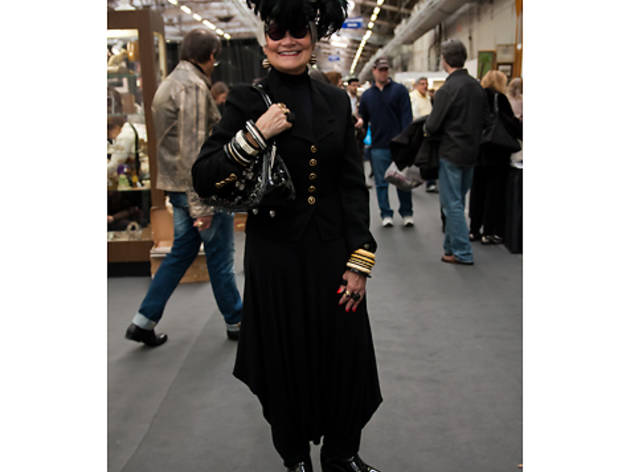 9/44
Photograph: Jakob Layman
streetfashion9Jean, 61, fashion blogger (idiosyncraticfashionistas.com), East Village The antique show was almost like a reunion of our Most Stylish subjects: Jean was one of three style icons we ran into. Her dark cinch-waist coat is from a vintage shop in Colorado, while her roomy pants are the easiest option for a gal on the go. "Big harem pants. They travel really well. You pack them and they don't wrinkle," she explains.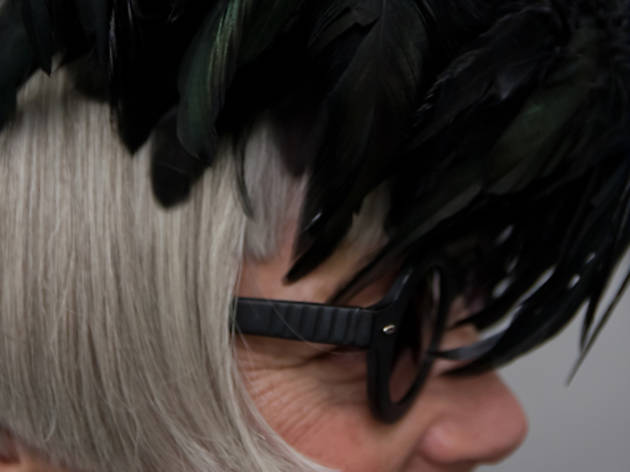 10/44
Photograph: Jakob Layman
streetfashion10She dons a raven- and cock-feathered headpiece from the '40s, a purchase from this very antique show two years prior (stellashows.com).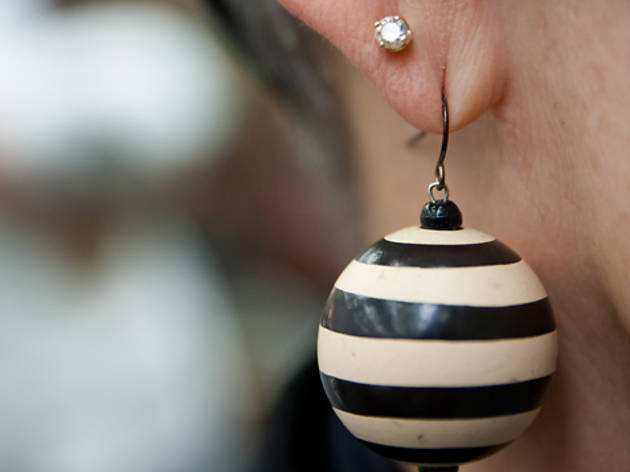 11/44
Photograph: Jakob Layman
streetfashion11Her Tim Burtonesque globe earrings are by Japanese designer Ayaka Nishi (ayakanishi.com).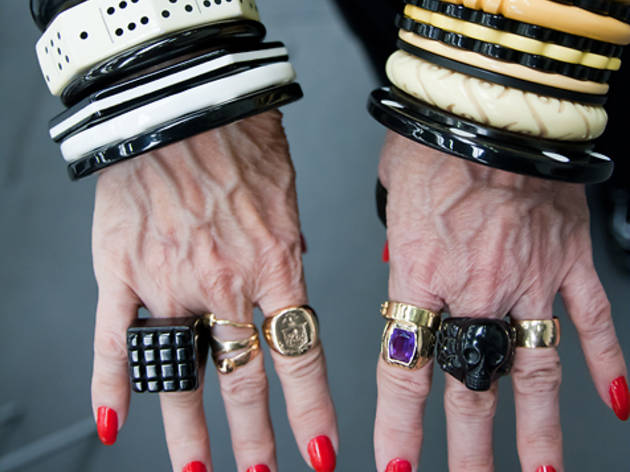 12/44
Photograph: Jakob Layman
streetfashion12Her bracelets (on average, her wrists support about two dozen) are vintage Bakelite from the '30s and '40s. Bakelite (or polyoxybenzylmethylenglycolanhydride) is an early plastic that was originally used in the industrial world, but became popular with jewelry designers due to its light weight. It also lends itself well to certain fashionistas who prefer to layer.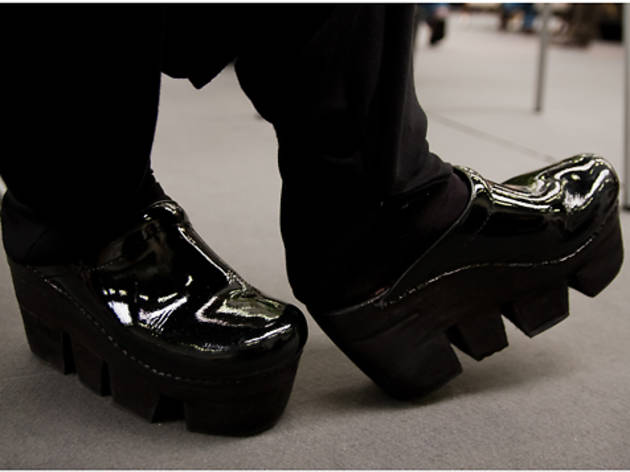 13/44
Photograph: Jakob Layman
streetfashion13Jean had her Dansko clogs (dansko.com) customized by a cobbler in the East Village. See more of Jean's vintage goth style in our Most Stylish slide show.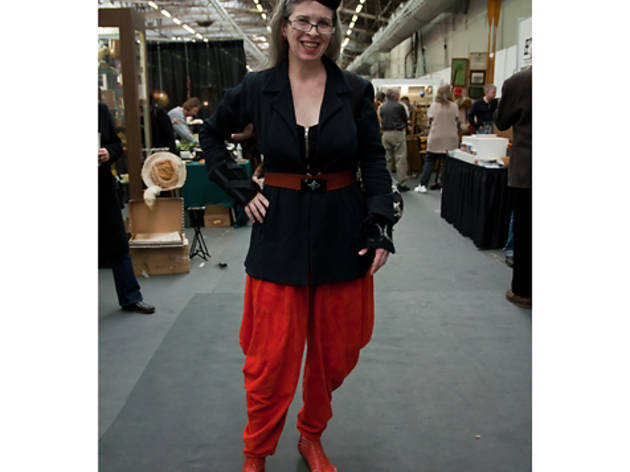 14/44
Photograph: Jakob Layman
streetfashion14Valerie, "woman of a certain age," fashion blogger (idiosyncraticfashionistas.com), Midtown East Where would Jean be without her fellow blogger and partner in crime, Valerie? Another Most Stylish pick, the fashionista says dressing for comfort really means dressing for how you feel. "It's not a matter of sweatpants," she says. "It's a matter of matching your mood." It appears her mood today could most aptly be described in three words: Casual, crimson and Calcutta.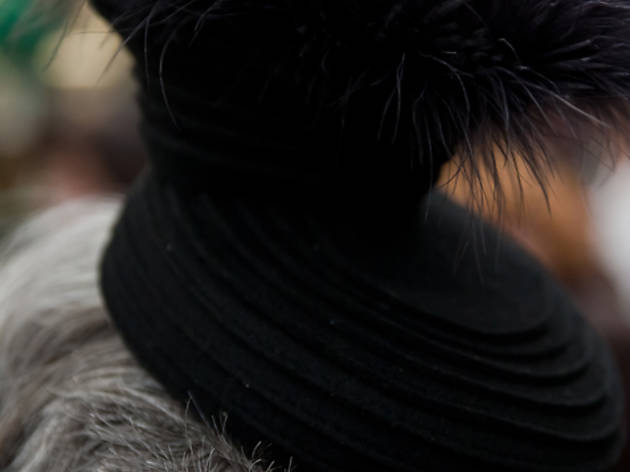 15/44
Photograph: Jakob Layman
streetfashion15Valerie's cap may not be from the '40s, but therein lies the inspiration. "Not a vintage hat, but it is modeled after a vintage hat," she says of this dramatic piece, created by Ignatius Hats (ignatiushats.com).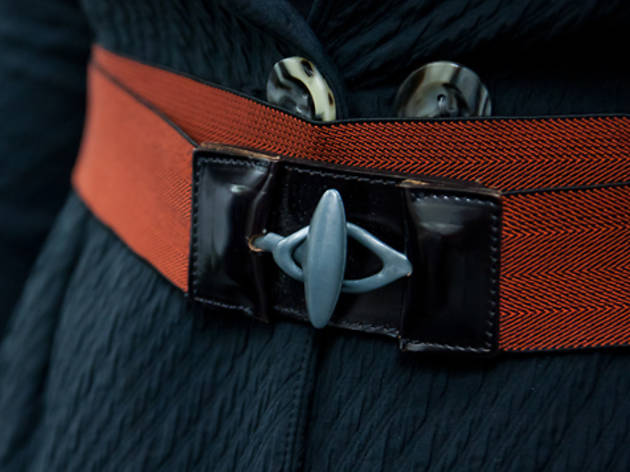 16/44
Photograph: Jakob Layman
streetfashion16She ties her Jill McGowan cotton coat (jillmcgowan.com) at the waist with a vintage Issey Miyake belt (isseymiyake.com).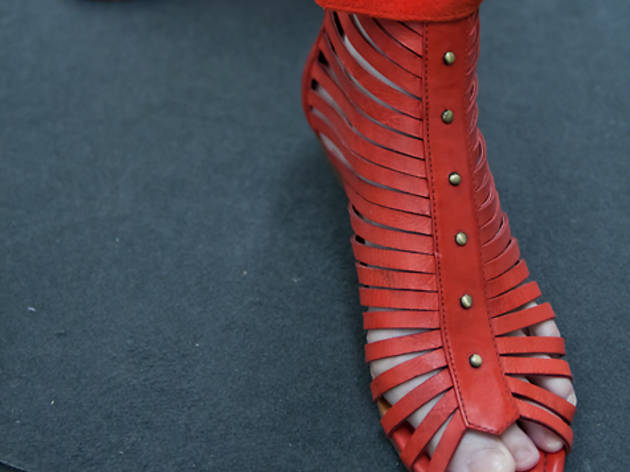 17/44
Photograph: Jakob Layman
streetfashion17Her ruby slippers are from Ripe (1126 Third Ave between 65th and 66th Sts; 212-517-5055, ripeshoes.com), on the Upper East Side. The Asian-inspired footwear matches her lips and her hips: Her soft parachute pants are a bright, look-at-me red. "They are great big harem pants from the '80s; I got them from a secondhand shop," she says. "They are very big, so however fat I get, it won't matter." See more of Valerie's vibrant style in the Idiosyncratic Fashionistas slideshow.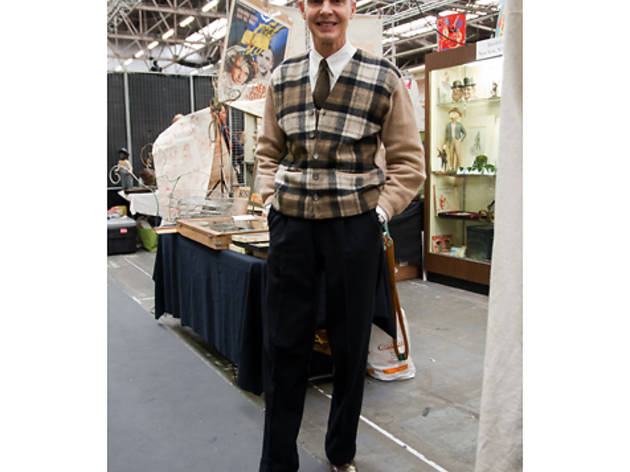 18/44
Photograph: Jakob Layman
streetfashion18Robert Bryan, 52, retired men's fashion editor of The New York Times magazine It's no wonder that this dapper gentleman has an impressive wardrobe: It's due to the spoils of his former position. "I used to get a whole bunch of stuff for free. What can I say? I have closets full." He managed to bag some loot at the antique show, but this time he had to pay.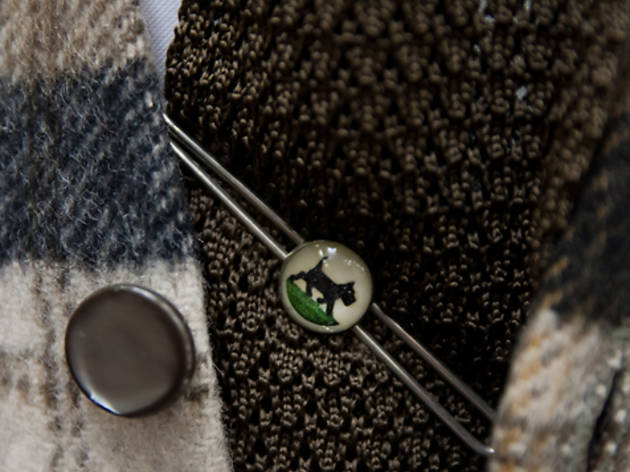 19/44
Photograph: Jakob Layman
streetfashion19Bryan "can't possibly remember" where he picked up his tie clip but is certain the era is 1930s. His mesh neckwear adds an air of casualness to his attire, although he acknowledges that casual was not his intent today. "Crazy old people dress up for this thing," he admits.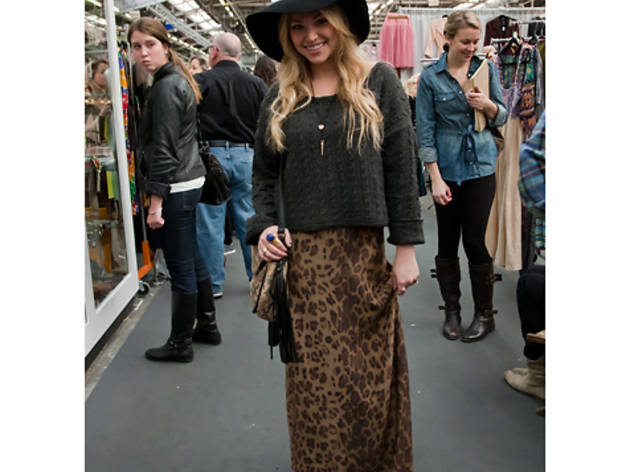 20/44
Photograph: Jakob Layman
streetfashion20Lauren Steinger, 26, fashion blogger (diaryofafashionaddict.com) and designer, Murray Hill When we met Steinger, we learned that she has not one but two jobs in the fashion industry. She designs uniforms for high-end restaurants and clubs by day, and works on her style blog at night. "The hospitality industry is very conservative," she says. "I have this love of shopping and flea markets, vintage and street style, so my blog is a way to satisfy my other side." She sports a trendy cropped sweater from online shop Nasty Gal (shopnastygal.com).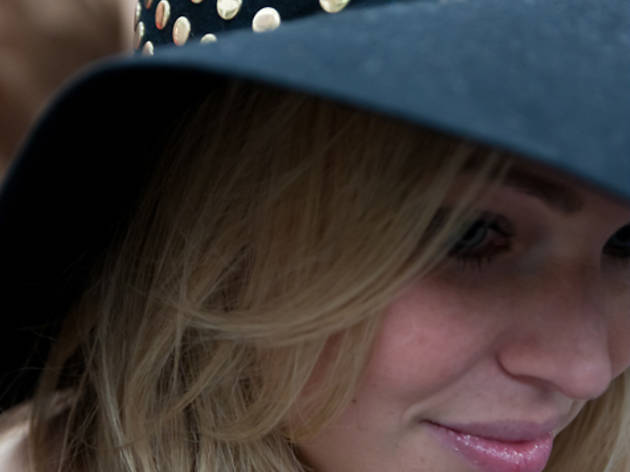 21/44
Photograph: Jakob Layman
streetfashion21Steinger picked up her floppy hat with metallic studs moments earlier at the booth for Gypsy Nation Vintage, which also runs a booth at Artist & Fleas (70 North 7th Street between Kent and Wythe Aves, Williamsburg, Brooklyn; gypsynationvintage.com). "I blog about them all the time," Steinger gushes. "They have the best pieces."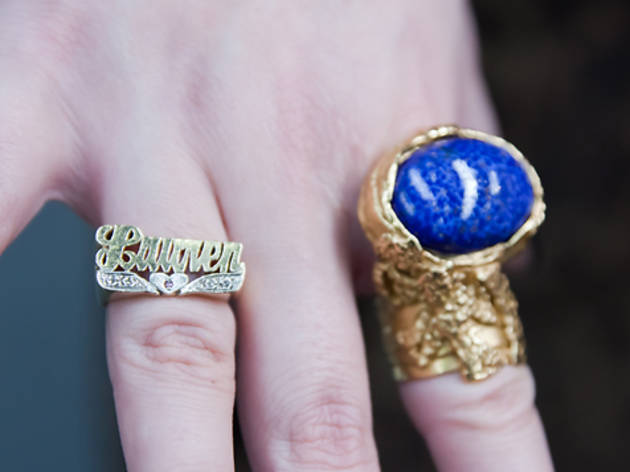 22/44
Photograph: Jakob Layman
streetfashion22"The more rings the better," says Steinger. Today she is wearing Alexis Bittar (alexisbittar.com), Yves Saint Laurent (ysl.com) and other vintage finds.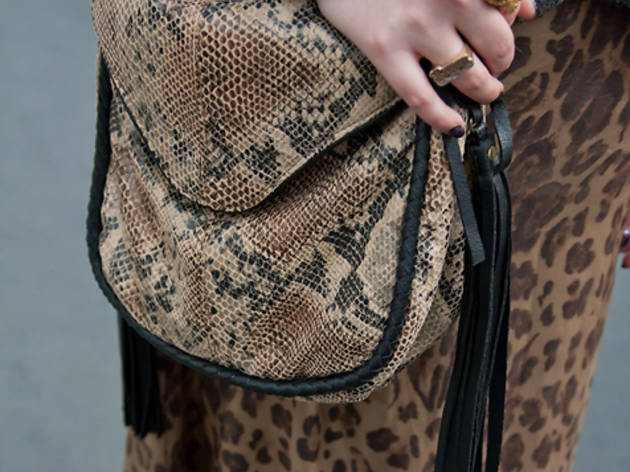 23/44
Photograph: Jakob Layman
streetfashion23Slung over her shoulder is a snakeskin vintage bag to hold all her flea-market finds.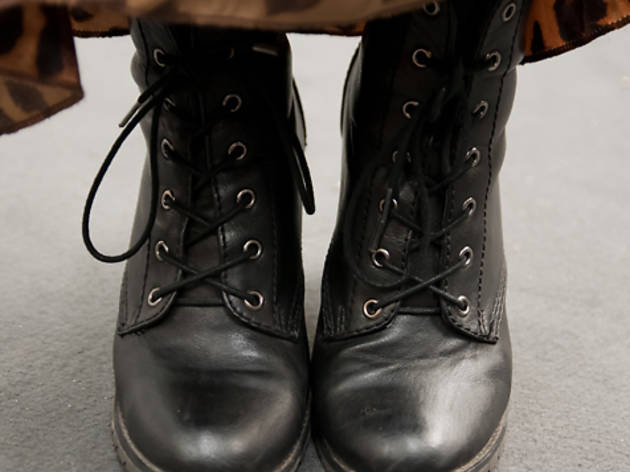 24/44
Photograph: Jakob Layman
streetfashion24Steinger calls her Forever 21 combat-inspired boots (forever21.com) "little, comfortable shoes to walk around in at a crazy event like this." They're nearly covered by her floor-length leopard-print dress from Blue Moon (vintagebluemoon.com). "I had a craving for spring maxi dresses today," she explains.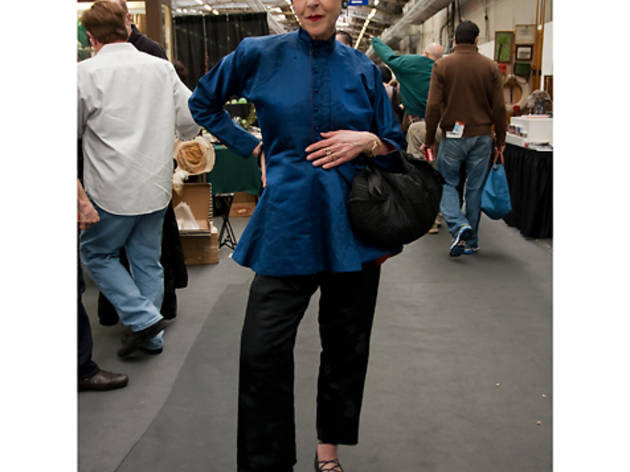 25/44
Photograph: Jakob Layman
streetfashion25Tziporah Salamon, 60, stylist and performance artist, Upper West Side "I teach women how to dress," says Salamon, the third Most Stylish New Yorker we spotted at the event. She picks up pieces everywhere she goes and holds on to the stuff that works. "Nothing comes from the same place," she says. "That's too easy, sweetheart."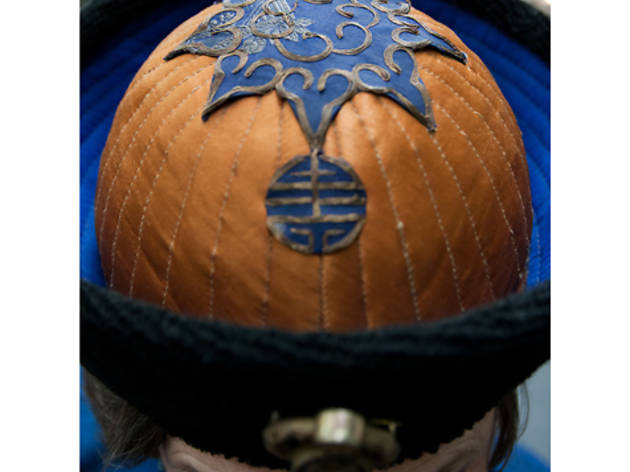 26/44
Photograph: Jakob Layman
streetfashion26Salamon's patterned hat is Chinese. "Next week is China week in New York, and vendors come from all over to sell their stuff," she explains. "I got it there [in a previous year]." She added a pin purchased years ago at this very antique show to mirror the pattern on the brim.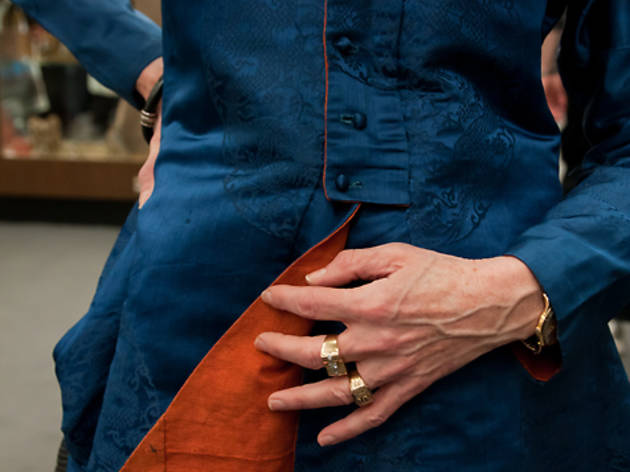 27/44
Photograph: Jakob Layman
streetfashion27The Asian theme continues with her turquoise- and tangerine-lined jacket from Melet Mercantile (84 Wooster St at Spring St; 212-925-8353). It's Chinese, early '20s, and her newest and most treasured purchase. "I will probably wear this every day this week, because I love it," she admits. "It feels like a dream, it fits like a dream. It's divine."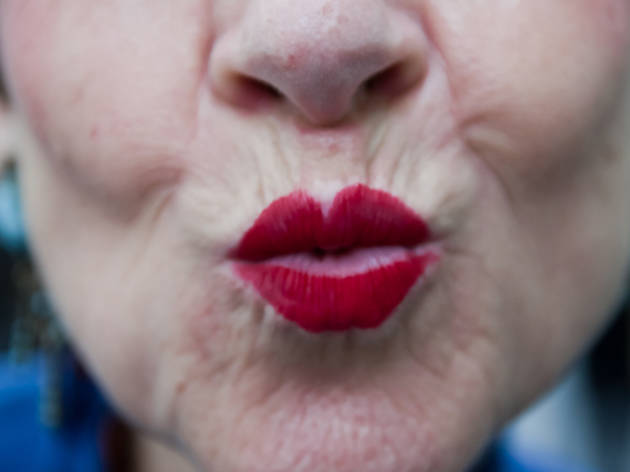 28/44
Photograph: Jakob Layman
streetfashion28Salamon postulates about her signature lips. "Ever since I started wearing lipstick, which is when I was 29, I've never not worn this color," she says of her MAC lip hue, Ruby Ruse (maccosmetics.com). "Once you know red lips you never do anything else. Everybody who is well dressed knows that," Salamon says. "All the elegant women throughout history always wore red." So she's never worn another shade? "One time I remember I was wearing coral; it was summer," she muses. "Within an hour I went back to the house to get the red."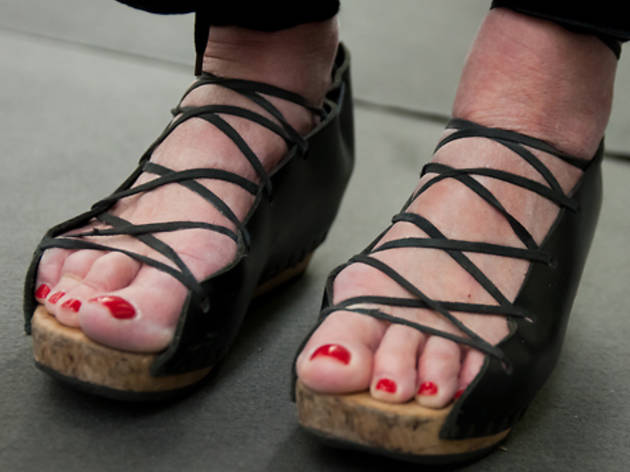 29/44
Photograph: Jakob Layman
streetfashion29Her thick-soled shoes deviate from her Eastern-inspired look. She nabbed them at Lilith (227 Mulberry St between Prince and Spring Sts; 212-925-0080) in Nolita. Check out an entire slide show of Salamon's looks in our collection of Most Stylish New Yorkers.
30/44
Photograph: Jakob Layman
streetfashion30Lisa Lozano, 34; installation artist; Fort Greene, Brooklyn We found Lozano dressed in black, as so many New Yorkers are, but learned that more vibrant hues are not out of the question. "One of my inspirations is early Coco Chanel, so I do a lot of black and whites and a primary color," she says. "Right now, I'm going through a coral and turquoise phase---those are my colors that I will pop with [black and white]." She picked up her belted culottes in New Orleans, while her tailored coat is by BCBG (bcbg.com), and her top is from Urban Outfitters (urbanoutfitters.com).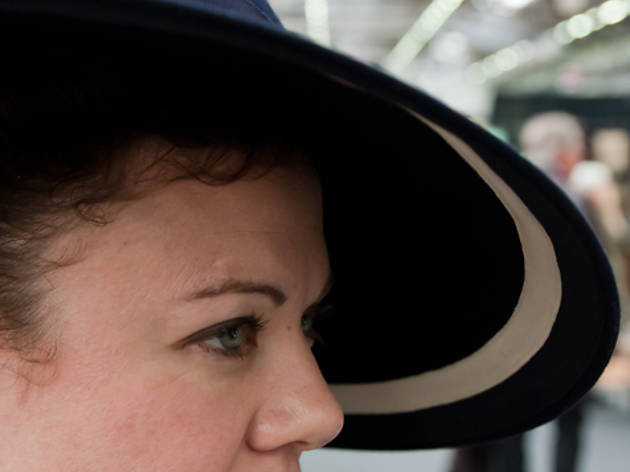 31/44
Photograph: Jakob Layman
streetfashion31Her stylish '40s hat was a new, thrifty addition to her attire. "I bought it here today for $12," she confides. Tossing it on instead of carrying it, the cap immediately gave her look context---but Lozano says she isn't loyal to one period of dress. "I'll be [wearing clothes from the] '20s one day, '40s the next day---and I can also do 1970s heroin hippie."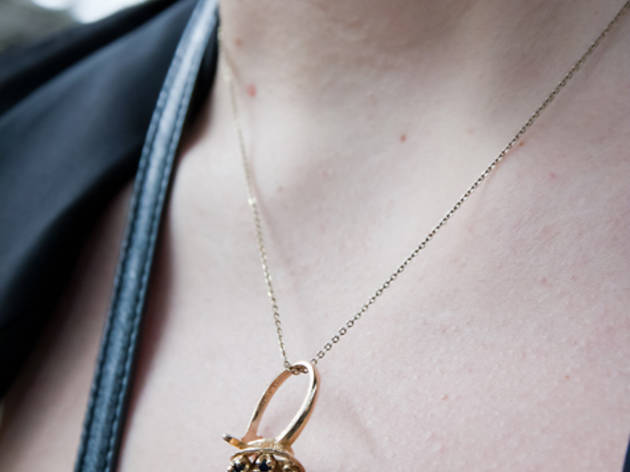 32/44
Photograph: Jakob Layman
streetfashion32A gold ring dangles from a chain around her neck. It belonged to her grandmother, and she never takes it off, regardless of what era she is dressing from.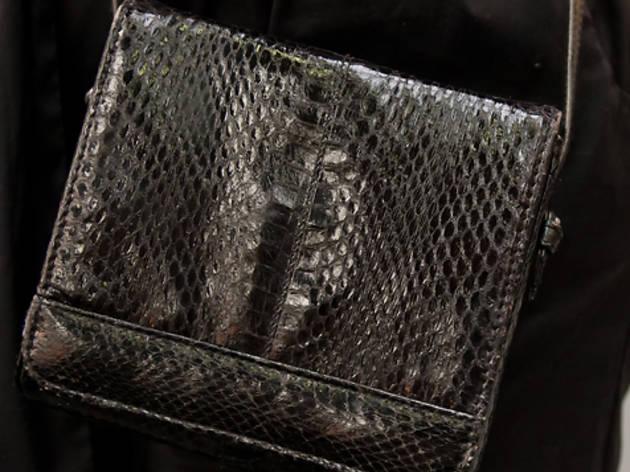 33/44
Photograph: Jakob Layman
streetfashion33She scooped up her rectangular purse at the Salvation Army (salvationarmyusa.com).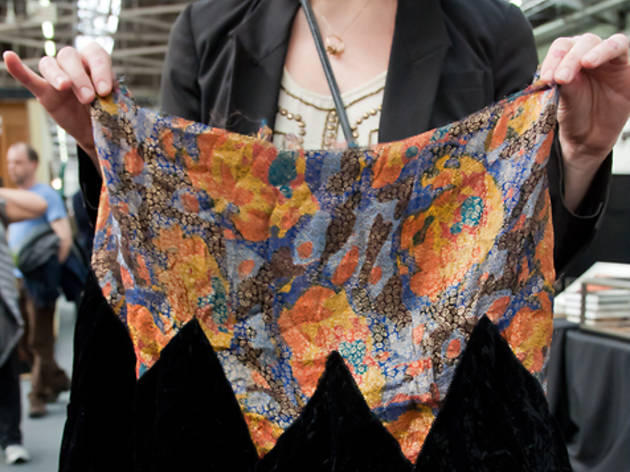 34/44
Photograph: Jakob Layman
streetfashion34jpgLozano plans to repurpose this swatch of fabric. "It used to be part of a 1920s gown," she says of the patterned scrap. "I bought it for $10 and I'm going to repair it and actually add it on to another [dress]."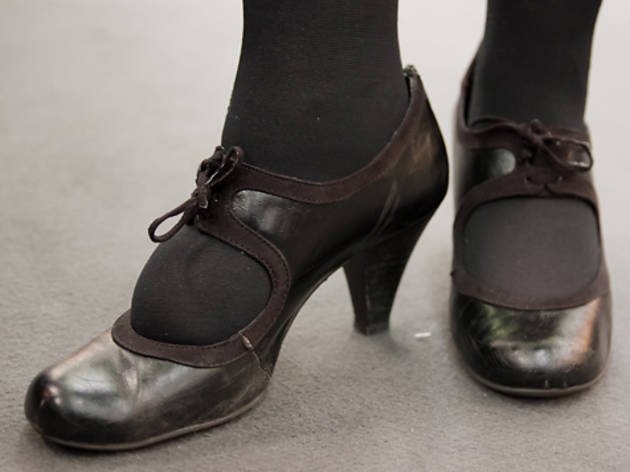 35/44
Photograph: Jakob Layman
streetfashion35jpgDepression-era heels from Barneys Co-op (barneys.com/co-op) add a nostalgic factor.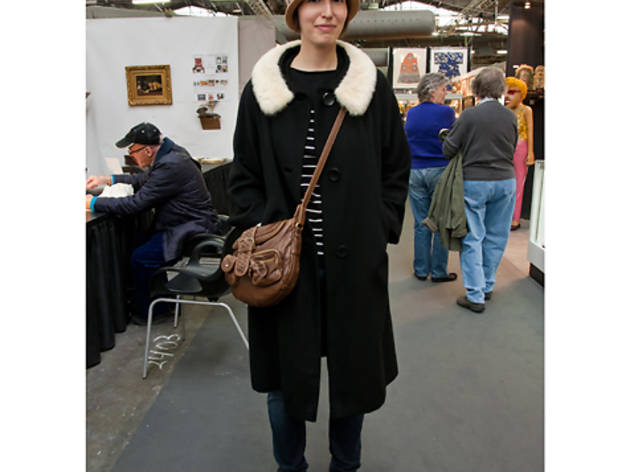 36/44
Photograph: Jakob Layman
streetfashion36Anne McCullen, 30, housewife, Stuyvesant Town McCullen's durable coat could be called a family heirloom. "It was my husband's grandmother's. I don't know where she got it. I just picked it up when I went home for Christmas," she says. She scored her striped sailor top at Uniqlo (546 Broadway between Prince and Spring Sts; 917-237-8811, uniqlo.com), and her jeans are by 7 for All Mankind (7forallmankind.com).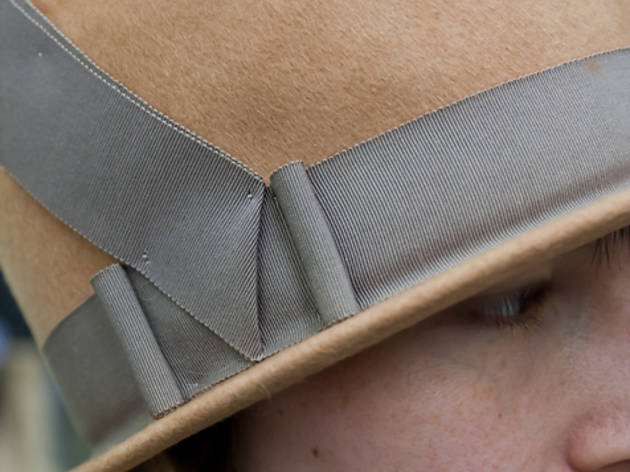 37/44
Photograph: Jakob Layman
streetfashion37We were drawn to McCullen by her cloche hat that seemed to perfectly complement her '30s cropped 'do, which was actually by chance. "I bought the hat here," she says. "I'm just wearing it because I don't have a bag to put it in." An effortless accessory to complete her smart, clean look.
38/44
Photograph: Jakob Layman
streetfashion38Beyond her wedding ring, the only piece of jewelry she wears is a jade bracelet. "My mother is Thai, so it is something I have to wear all the time. If I ever get into an accident or something, this is supposed to break before my bones do," she explains.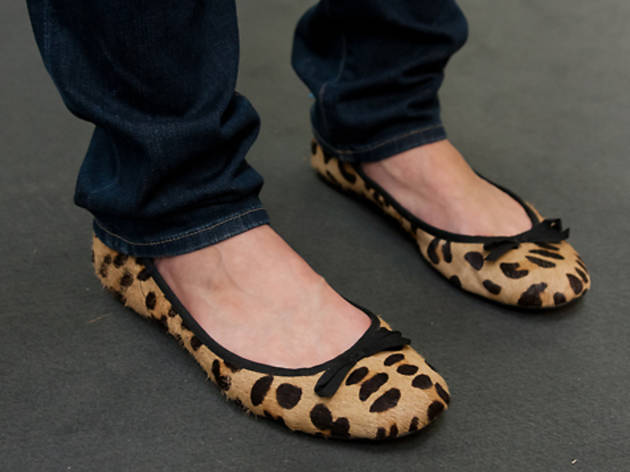 39/44
Photograph: Jakob Layman
streetfashion39She makes her outfit pop with leopard flats from Topshop (478 Broadway between Broome and Grand Sts; 212-966-9555, topshop.com) that have become the trend among ladies unwilling to negotiate seven-inch heels. "I love heels. I have tons of them, but I never wear them," says McCullen.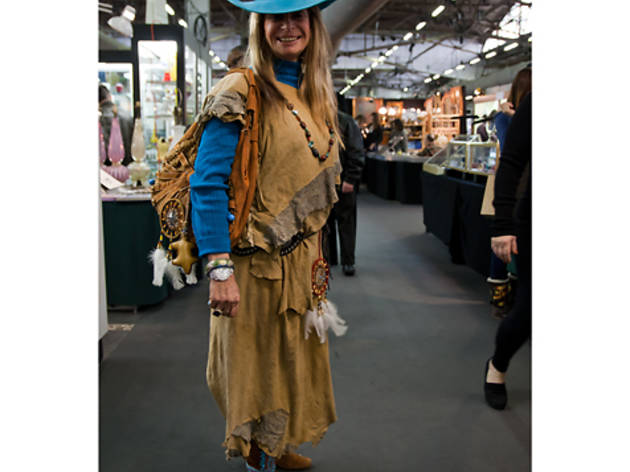 40/44
Photograph: Jakob Layman
streetfashion40Priscilla Glassman, 72, antiques dealer; Great Neck, Long Island Glassman says her outfit came together from a box where she keeps her favorite pieces. "Wherever I go I pick up things," she says. The starting point today was deciding on a color scheme---clearly turquoise is today's hue.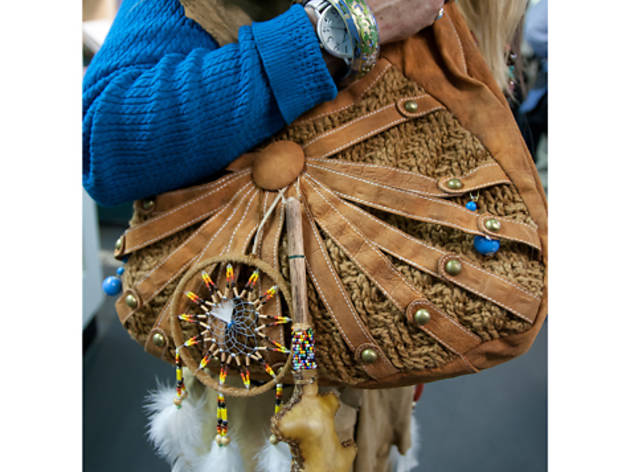 41/44
Photograph: Jakob Layman
streetfashion41She picked up her tan bag in North Dakota and added details to it herself. "I put the bag together. I am very creative, but no one wants to pay me," says the underappreciated fashionista.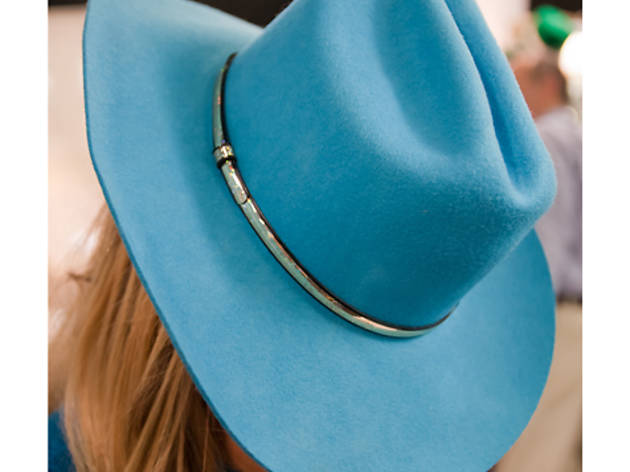 42/44
Photograph: Jakob Layman
streetfashion42Her bright-blue cowboy hat is from a flea market on Long Island that operates every Thursday (Baldwin Antiques Center, 906 Merrick Rd between Central and Harrison Aves, Baldwin, L.I.; 516-867-9842).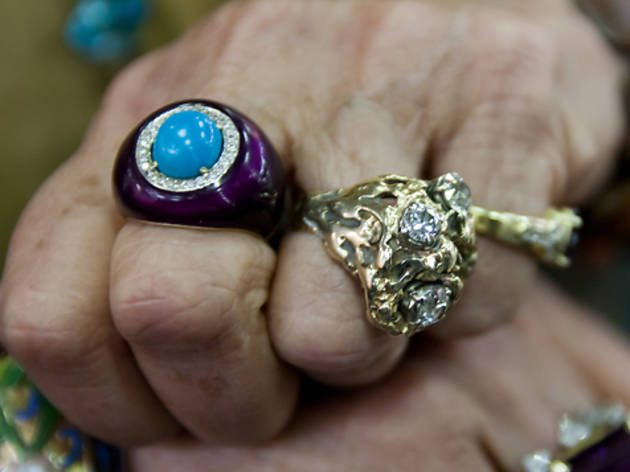 43/44
Photograph: Jakob Layman
streetfashion43Glassman's hands are a true testament to her practice of picking things up along the way: "One ring is from Brazil, one is from Turkey---I was there last year---and one is from my ex-husband."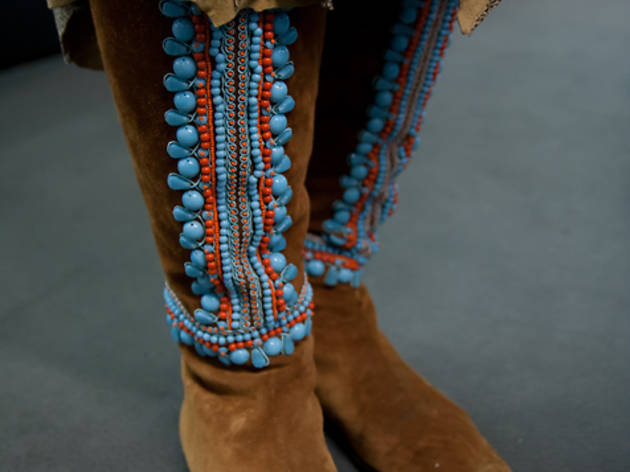 44/44
Photograph: Jakob Layman
streetfashion44She says that today's beaded, suede footwear inspired her entire ensemble. "The boots come from Great Neck. I love my boots. I love my boots," Glassman says. "I only wear them on certain days, because if it rains I can't wear them."
Street fashion: The Pier Antiques Show