Heads up! We're working hard to be accurate – but these are unusual times, so please always check before heading out.
1/10
Best new application Lazybones who hate how long it takes to slather on sunscreen will flip for this foaming version, which is not only fun to use but also gets you sufficiently coated in no time. A small dollop of the lightweight mousse can cover a wide swath of skin and quickly disintegrates for easy, even spreading. The nonsticky formula is also loaded with hyaluronic acid, leaving skin feeling hydrated and smooth even though the lotion dries matte. Vichy Capital Soleil lightweight foaming lotion SPF 50, $29, at Duane Reade, locations throughout the city; visit duanereade.com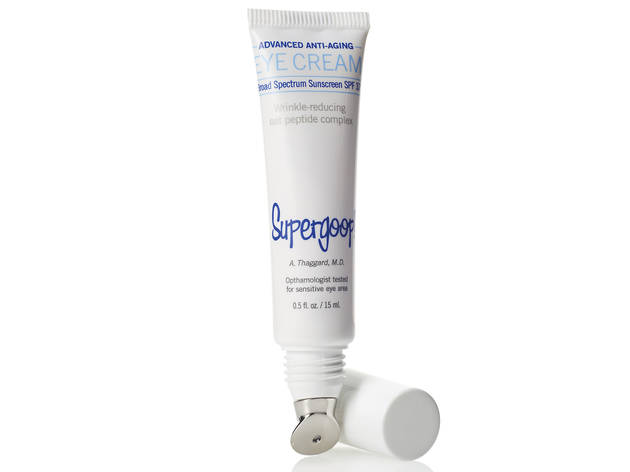 2/10
Best for eyes Since the skin around your peepers is extremely thin and delicate, it makes the area particularly vulnerable to aging and sun damage. This antioxidant-infused eye cream helps combat both issues, relying on natural oat peptides to boost collagen production and zinc oxide to block the sun's harmful rays. The angled metal tip not only makes it easy to massage in the scentless moisturizer, it also provides a cooling sensation that helps reduce eye puffiness and feels refreshing on a hot day. Supergoop! SPF 37 Advanced Anti-Aging Eye Cream, $45, at nordstrom.com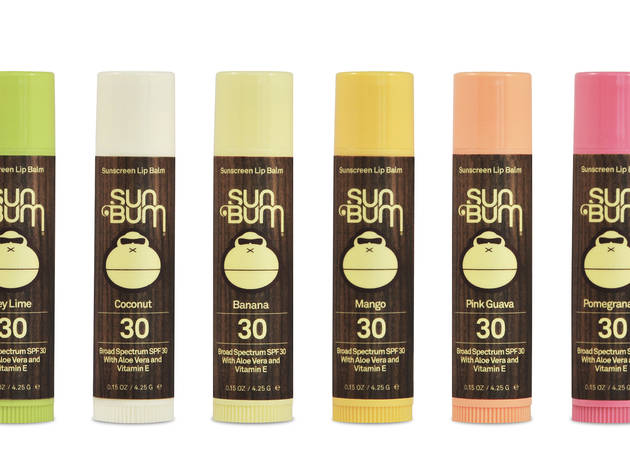 3/10
Best for lips After finding success with its original banana SPF lip balm, Florida sun-care company Sun Bum expands the range to include five more tropical scents: coconut, mango, pink guava, key lime and pomegranate. But the fruity fragrances are no mere aroma: Immediately after swiping on the buttery salve, you'll be left with a slightly sweet taste in your mouth—not to mention a soft pucker, thanks to vitamin E, aloe and cocoa butter. We also love that the products have been tested and approved by the Skin Cancer Foundation (skincancer.org). Sun Bum Flavored lip balms SPF 30+, $4 each, at trustthebum.com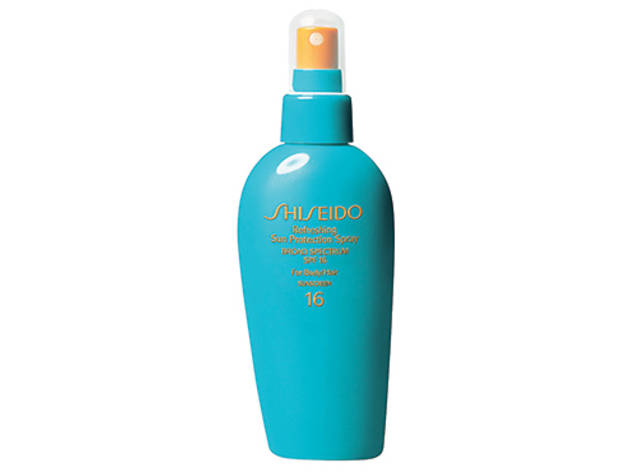 4/10
Best for hair Anyone who's suffered from a burn along their part (and the resulting dandrufflike peeling) can vouch for the importance of using sunscreen on your head. This triple-purpose spray—which can be applied to the body, hair and scalp—makes it easy to shield strands from UVA and UVB rays without having to spring for a separate product. Pump a few spritzes from roots to ends before coating the rest of your bod. The fast-drying formula won't weigh down your locks or make them feel greasy. Shiseido Refreshing Sun Protection Spray for Body & Hair Broad Spectrum SPF 16, $30, at Macy's, 151 W 34th St between Sixth and Seventh Aves (212-695-4400, macys.com)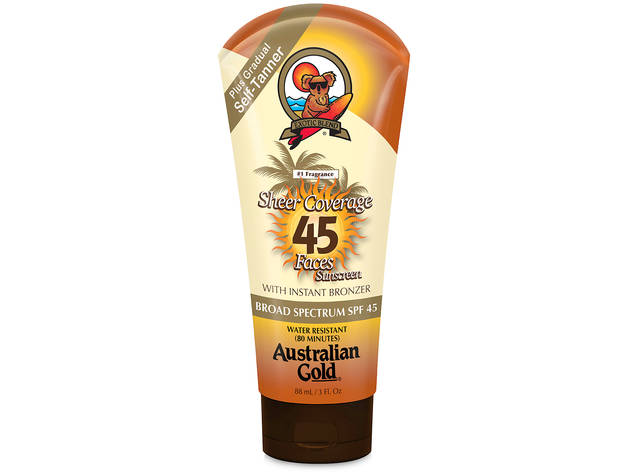 5/10
Best bronzer You no longer have to be embarrassed to show your pasty skin at the beach, thanks to this sunscreen featuring built-in self-tanner. A blend of natural caramel and walnut-seed extract provides safe color that develops just a few minutes post–application. Although the bubble-gum-scented cream is designed for the face, we'll be using the silky moisturizer all over our bodies for an even glow. Australian Gold SPF 45 Sheer Coverage Faces with Self Tanner, $10, at Walgreens, locations throughout the city; visit walgreens.com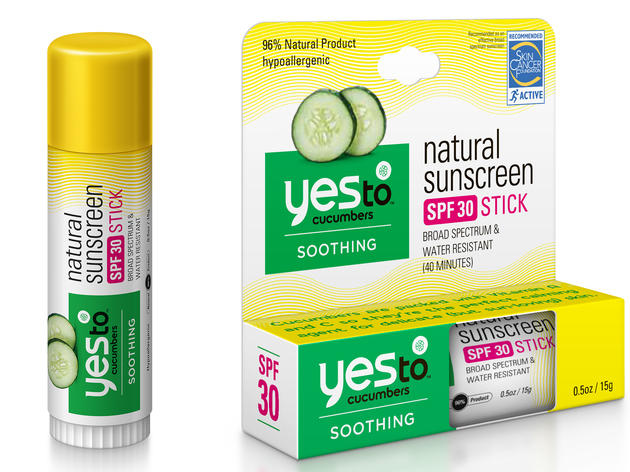 6/10
Best stick This nourishing solid sunscreen has often-missed spots, such as ears, eyelids and the area beneath bathing-suit straps, covered in one easy swipe. Plus, it won't take up much room in your beach bag and you'll never have to worry about spillage. Yes to Cucumbers natural sunscreen SPF 30 stick, $9, at target.com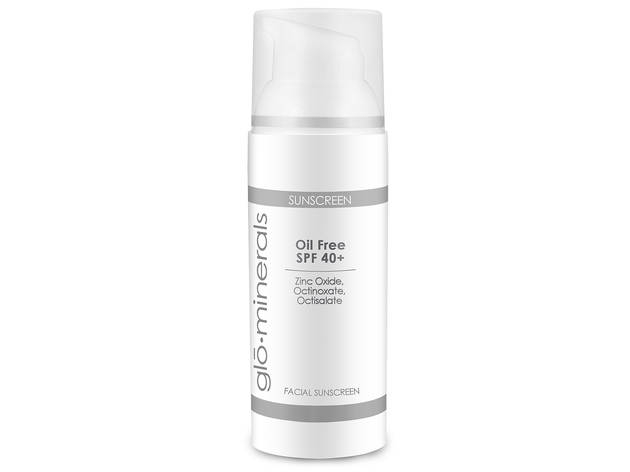 7/10
Best for everyday use Even if the only sun you'll be getting this summer is through your office window, it's still important to protect the one area guaranteed to be exposed: your face. Swap your current daytime moisturizer for this SPF-laden version, which doesn't smell or feel like typical sunscreen. The scentless cream is packed with vitamins B5 and E, and sinks in effortlessly for a dewy complexion. Glo • minerals Oil Free SPF 40+ Facial Sunscreen, $30, at Skin Spa New York, 55 W 21st St between Fifth and Sixth Aves, fourth floor (212-620-0033)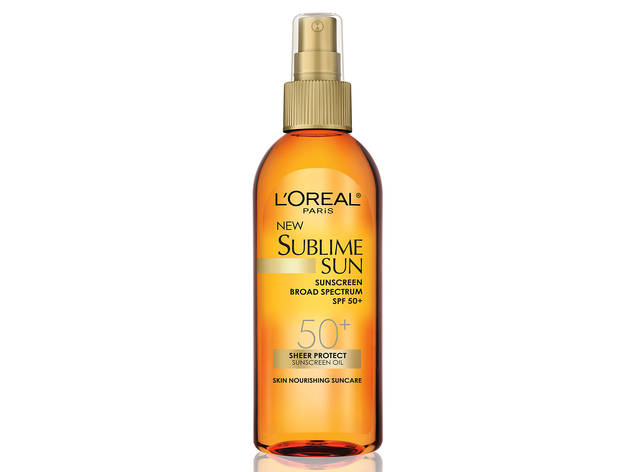 8/10
Best spray Sprays are undoubtedly the fastest and least strenuous way to apply sunblock, but far-reaching aerosols often end up landing on more than their intended target. This pump-generated clear mist is much easier to control and delivers glamazon skin with an intensely hydrating mix of argan, shea, grape-seed and sunflower oils. L'Oréal Paris Sublime Sun Sheer Protect Sunscreen Oil SPF 50+, $11, at CVS, locations throughout the city; visit cvs.com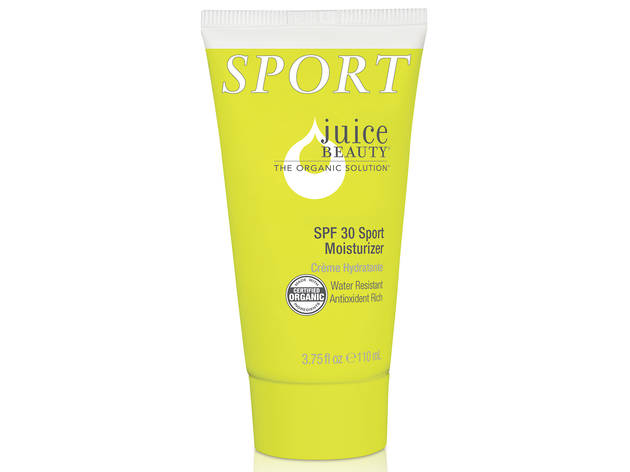 9/10
Best organic option Many sunscreens contain harmful properties such as oxybenzone—an alarming fact, considering our skin largely absorbs what we put on it. California company Juice Beauty offers a healthy, chemical-free alternative that's made with certified-organic ingredients, such as jojoba and sunflower oil, and relies on nutrient-rich white grape juice as a base rather than water. The rich, herbaceous cream appears tinted in the tube but disappears without a trace once you rub it in. It's also water-resistant for up to 80 minutes, making it ideal for active, outdoorsy types. Juice Beauty SPF 30 Sport Moisturizer, $16, at Whole Foods Market, locations throughout the city; visit wholefoodsmarket.com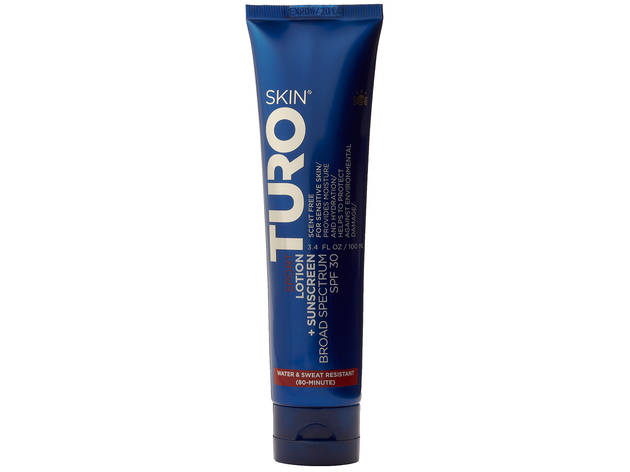 10/10
Best guy-friendly blocker Although sunscreens are generally gender neutral, this fragrance-free version will certainly appeal to dudes who don't want to smell like a coconut. Founded by Michigan board-certified plastic surgeon Dr. John Renucci, Turo Skin offers products that cater to men's more sensitive epidermises. To wit, this water-resistant (up to 80 minutes) lotion includes algae and licorice extracts, which boast antiaging and anti-inflammatory properties, respectively. It also effortlessly melts into skin without leaving any residue, making it more likely that product-averse guys will use it. Turo Skin Sport Lotion + Sunscreen Broad Spectrum SPF 30, $35, at Ellen C. Gendler, M.D., 1035 Fifth Ave between 84th and 85th Sts (212-288-8222)
Test drive: Best new sunscreens and SPF products for summer 2013
These new sunscreens and SPF products will keep every inch of you protected from the sun all summer long.
If you plan on hitting one of New York City's beaches or swimming pools this summer, you need to be prepared with adequate sun protection. We tested the newest crop of sunscreens to hit the market in 2013 and found the best SPF options for all body parts and lifestyles. Find our top picks at NYC stores such as Whole Foods Market, Target and Macy's.
Follow Cristina Velocci on Twitter: @cvelocci