The Hot Seat: Trey Anastasio
The Phish guitarist is super busy, but makes time to talk to a nerdy fan.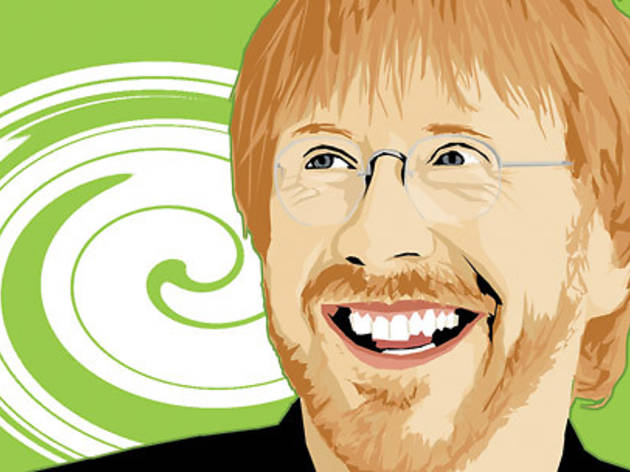 After almost five years in retirement, veteran jam band Phish came back in March of this year to play sold-out shows from sea to shining sea. To many a hater's chagrin, not only has Phish resurfaced live, but the quartet has a new studio album, Joy, and Festival 8, an upcoming three-day festival in Indio, California, centering on Halloween. TONY talked to the band's guitarist on the phone about his show this week with the New York Philharmonic and the vagaries of product placement.
RECOMMENDED: Full list of Hot Seat interviews
My dad worked at the Rocky Mountain News, and the music writer took me to Red Rocks in eighth grade to a Phish show, and I've seen some 30 shows since.
Oh, cool. Then you can have an eighth-grade son and take him.
So I'm kind of a nerd about Phish.
Welcome to the club.
So even though I'd rather ask about that version of "Icculus" I just caught at the Hartford show, how about this gig with the Philharmonic?
You've got to have your act together when you play with these orchestras, because they really only practice a couple of times before each show. So I'm finishing up practicing on my own and finishing up the last bits with my collaborator Don Hart. He's doing the last touches of the last stuff we're going to do there. So we've been on the phone a lot talking through this thing. But I'm really excited.
And he's the guy you did "Time Turns Elastic" with? So you're gonna play that and other Phish songs?
Yeah. It's been a slow process, which started about seven years ago, when I played with the Vermont Youth Orchestra. I orchestrated "Guyute" with the conductor of the Vermont Youth Orchestra. So that took about four months of really hard work to get that going. And then we performed that a few shows, but my dream was to have a repertoire of performable pieces with an orchestra that really worked and to have the music be challenging—not like a pops concert. The problem with a pops concert is that, in general, the musicians in an orchestra don't feel like they're being challenged or respected to the level of their talent. It's like window dressing. The goal was not to do that. I want it to be a valid night of interesting music.
Are we going to get a 45-minute "You Enjoy Myself" or what?
No, but you are gonna get a "YEM," and that's what we've been working on for the past few months. It'll be 13 minutes or something.
But are there going to be some vocals?
There will be some vocals, yeah. My goal was to get the five or six big or major pieces together. I think we may have accomplished that goal, because by the time we get to Carnegie Hall we've got "First Tube," "Guyute," "Divided Sky," "Time Turns Elastic" and "You Enjoy Myself." And we did it in Baltimore with Marin Alsop and it went really well. So that was great. And then the idea is that once you have that core of the bigger tunes, you can then—bit by bit—keep generating a repertoire of the other ones. So we did a couple songs in Baltimore like "Brian and Robert" and "Let Me Lie." You can add those songs. So my dream is to take this thing on the road, like a Phish kind of thing where you do two nights in two different towns and play different material.
Oh, really?
[Laughs] Yeah, that's the goal, and it's taken eight years to get there, but we're really close now. If you really look at it, it's been quite a long process, because there was the Youth Orchestra and that was played at Carnegie Hall with Vermont Youth Orchestra. And there was the orchestra at Bonnaroo where a couple other pieces were fleshed out for that performance. "Pebbles and Marbles," you know? At the Ryman [Auditorium in Nashville] we did it, and that was a real step forward, because we were getting the electric guitar to really work. And then Baltimore was the first time I felt like it really became cohesive.
So you'd want to do that and also Phish?
Yeah, Phish is... Yeah. I'm having so much fun right now. We're really having a good time. We want to keep playing as much as possible. This is kind of something to do in between Phish shows. [Laughs] I've always loved the idea of having an option. I don't go to much other music. Occasionally I'll go to another concert in the city, but I go Lincoln Center and see the Philharmonic all the time. I'm a big fan. My wife and I go and we get dinner and we'll go a number of times. It's my favorite thing to do, I just absolutely love it, so I can't believe I'm going to have the opportunity to play with these guys. I'm really pretty nervous about it. I'm their biggest fan, you know?
Nervous like I was nervous talking to you on the phone?
Yeah, even going to the rehearsal is going to be a huge thrill.
So Phish is back for a long time?
Definitely. For as long as we can do it.
Do you have a fall tour mapped out?
Yeah, we mapped out most of the rest of the year. I can't tell you where, but we do have a plan for a New Year's show. The next thing we're thinking about is that Festival 8.
I waited for 36 hours in traffic for the last Phish festival, at Coventry [in Vermont]. Do I win a medal?
Oh my God. May I put this forth, sir: The first conversation that came up for Festival 8 was about traffic. We felt like we had always spent a lot of time and effort talking about how we could make people comfortable. That was a huge part of the reason we picked the spot that we picked. They have great traffic flow. There should not be a traffic problem. That was the number-one concern. You can call me back the day after the festival to report. Coventry was just a nightmare, so I apologize for that.
I still enjoyed myself. I was crying because you were retiring and my girlfriend told me to get it together.
Well, ya know. Today's a new day.
The other thing I wanted to ask you about Festival 8 is the hilarious FAQs on the website. Who wrote those?
[Laughs] The way those things usually go is everybody talks on the phone and will chime in and come up with funny ideas. It was kind of being written as it went along. So it ends up being a fluid idea...you know what I mean?
So can I get a clue on the album that you'll be covering in full at the Festival?
[Laughs a lot] Yes, I think I know what it is.
That's the only clue I'm gonna get, isn't it?
The only clue I can give you is that it's an album I truly love. I can't wait. That's kind of a boring clue. My wife gives me a hard time all the time because I like everything. I like too much. Saying it's an album that I like doesn't really narrow it down very much.
No, it doesn't at all, but I can't blame you. You've got to have the element of surprise.
She wants me to predict my prejudices.
Is there any music you don't like right now?
There's one guy I can't stand but I'm not gonna tell you who it is. [Laughs]
Oh, come on!
I'm not. I don't want to get into it. I like strange things.
Do you listen to a lot of pop music?
I really liked MGMT when that record came out. I like Band of Horses, you know, [Singing] "I could sleep, I could sleeeeeep." That song really got inside me for a while. I was listening to Panda Bear.
Oh yeah, man. He's the best.
I couldn't stop listening to that record for, like, five days. I had it on my headphones...that "Comfy in Nautica"?
Yeah, man. Are you familiar with his band Animal Collective?
I didn't even know who it was! I heard one of the songs, maybe on Pandora or something, and I bought the album and I really liked it. I would be cooking in the kitchen and listening to "Comfy in Nautica." Really weird and layered.
You should check out Animal Collective. They're really creative...big Deadheads.
Really? Wow. I found it kind of to be a little Eno circa 1973. I just like the sensibility of it. That Band of Horses record really lodged itself in my ear for about a week. That "Ode to LRC" and all that. [Singing] "In the logbook of the LRC..." [Laughs]
Wow.
I'm always looking for a new band to fall in love with. I went through an MGMT thing for a while there. You heard that record, right? I love discovering new stuff. Oh, you know who I was listening to for, like, another week? It usually lasts like a week with me. Todd Snider. You ever listen to him? I'd never heard of him till somebody mentioned his name. I got two of his records. Peace Queer? I couldn't stop listening to that one for a while...like Panda Bear. So you've heard of Todd Snider?
Yeah.
People have heard of him? These things are all news to me.
Publicist: Hi, you guys have about ten more minutes.
No, we're good. I could talk all day.
Don't give me any ideas.
Oh, you know who else I've been listening to? M. Ward.
Oh, yeah he's all right.
Transfiguration of Vincent? I didn't fall in love with that. I was trying to fall in love with that. That's pretty much it. I was crackin up driving down the road listening to... "Will Rogers never said he met a man he'd never like!"
Yeah, so you should get that new Animal Collective. It's called Merriweather Post Pavilion. Which is the name of the venue you guys just played in Maryland.
I will, I'll get it right after we hang up. Well, if you're talking to those guys, tell them I said hi and I really like the record.
So your new record, Joy. I keep getting caught on the Clif Bar line in "Stealing Time from the Faulty Plan."
Yeah, it goes, "Got a blank space where my mind should be / Got a Clif Bar and some cold green tea."
Is that a product placement?
I wish! If Clif Bar wants to give me some money for saying that, I'll take it.
The only reason I asked that question was to get this in print so that Clif Bars will send me a case.
There was a period a little while ago where I wasn't eating anything but Clif Bars. I think that line actually really comes from Tom [Marshall, who writes Phish's lyrics] working in a cubicle at Prudential for the last few years. [Laughs] I went through a period for a couple months there, but I can't keep eating them. I stopped. Unless they're gonna give me some money and then I'll start again,
Speaking of food, does it make you smile that there are millions of grandmas around the country eating Phish Food and have no idea who you guys are?
What makes me smile is that we actually designed the flavor. They asked us if we wanted to make a flavor and then Ben and Jerry shipped out these Styrofoam tubs of dry-iced-packed, white unlabeled pints of various kinds of ice cream. And we got to smoosh all the stuff together and pick the flavor that we wanted with [Ben & Jerry's cofounder] Ben [Cohen], who came out for some shows. And he was so much fun. Ben & Jerry's would advise us—like, we almost put raspberry in it, too. Fish [Jon Fishman, Phish's drummer] wanted raspberry in it. It was too much; it was almost vile. So they didn't let the raspberry stay in it. It was supposed to be rocky road with no nuts. And then the marshmallow thing was really cool because we got to go into the factory and watch them design the marshmallow. They had this special machine with a pole that tested the density of the marshmallow by poking a hole into it. It's very scientific. That's not just any old marshmallow in there. It's special marshmallow.
Yeah, I haven't had it in a few years.
It's a PMS food. Right? [Laughs]
This is a nerd question: It was hard for people to get tickets to the shows this last time around. Is there any hope of Doniac Schvice coming back and tickets by mail? Old-school style? Or are we all Internet now?
I can't honestly answer that question right now except to say that, other than traffic, that's the question that's being given the most time. How can we improve the ticket situation? You know, obviously with the scalpers and the Ticketmaster and all that stuff, it's a big issue these days. I haven't heard anything about going back to that old system.
All right, that's just one fan's point of view. Old school.
Well, it's tough because the venues have contracts with the ticketing companies. And that's what happened to Pearl Jam. You can't play in a lot of venues, and it's gone a lot further since they got into that whole deal. I think we're doing a pretty good job, though.
Yeah, I think it will get a little less hectic. I think everybody wanted to come to these shows.
Including me. They had to tear me off the stage.
Trey Anastasio plays with the New York Philharmonic at Carnegie Hall Sat 12. Joy is out now, and Festival 8 takes place in Indio, CA, Oct 30, 31 and Nov 1.
You might also like
See more Hot Seat
See more in Music