Heads up! We're working hard to be accurate – but these are unusual times, so please always check before heading out.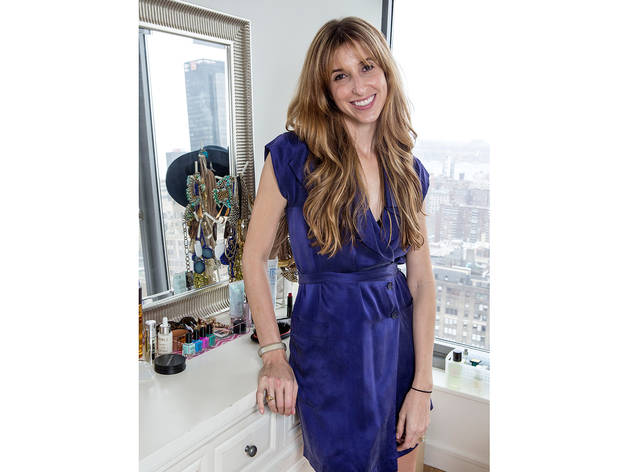 1/25
Photograph: Caroline Voagen Nelson
One might expect the head of a beauty start-up to have products bursting from every nook and cranny at home, but Birchbox (birchbox.com) cofounder Katia Beauchamp's uncluttered Chelsea apartment is an exercise in restraint. "I'm good at spring cleaning," she concedes. "[At work,] there's new stuff coming in weekly and I'm swapping out monthly. But I try not to take home a lot—there are 100 people in our office and a lot of girls who want it." Much like the beauty-sample subscription service she launched with Hayley Barna in 2010, Beauchamp's personal stash places an emphasis on items from lesser-known, independently run brands—although she admits she'll always have a soft spot for luxe goods. "In high school, I had a friend who was more advanced [beautywise] and she introduced me to [prestige] cosmetics—she had Chanel nail polish when we were 16 years old," the native Texan recalls. "We had this teeny-tiny boutique that was the only place [in El Paso] that sold everything from Nars and Fresh to Kiehl's, and I would just hang out there. That's when I developed a taste for finer beauty."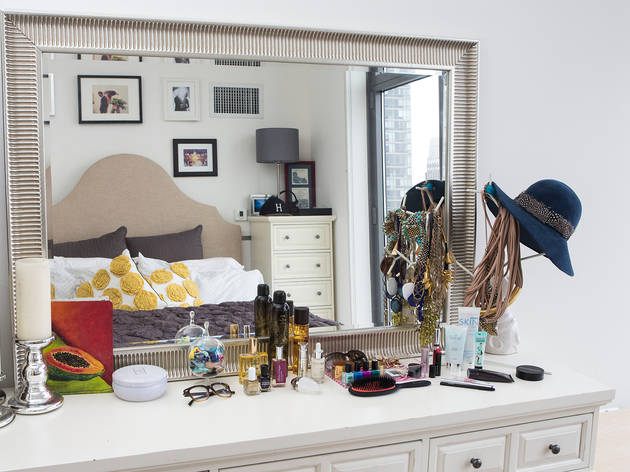 2/25
Photograph: Caroline Voagen Nelson
Floor-to-ceiling windows make Beauchamp's bedroom ideal for applying cosmetics. "You want to put your makeup on where the light's good," she says. Only items in her daily rotation get neatly displayed on her dresser from Pier 1 Imports (locations throughout the city; visit pier1.com), while excess inventory is stashed under the bathroom sink. "I try to keep it simple because if there are too many things that you have to pull out of the drawer, you're never going to use them," she explains. Having a curated collection of products within easy reach also allows her to streamline her morning routine. "I'm always running [around] and trying to get ready in ten minutes."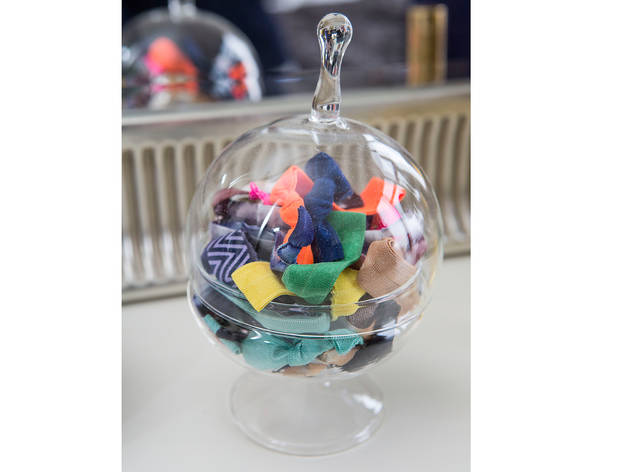 3/25
Photograph: Caroline Voagen Nelson
Beauchamp first came across Twistband (thetwistband.com) at Harvard Business School when she spotted one of its elastic-trim hair ties around the wrist of a fellow classmate. She then cold e-mailed founder Jessica Frandson to land one of Birchbox's inaugural brand partners. "We feel like we started together in a weird way because we've worked with them since we were both really tiny," she muses. Through the years, Beauchamp has amassed quite an assortment of the colorful elastics, and she keeps them organized in a glass container created by Twistband (15 hair ties with stand $48). "[At Birchbox,] we all wear them for every single thing we do to our hair because they're more comfortable. Plus, they look like friendship bracelets."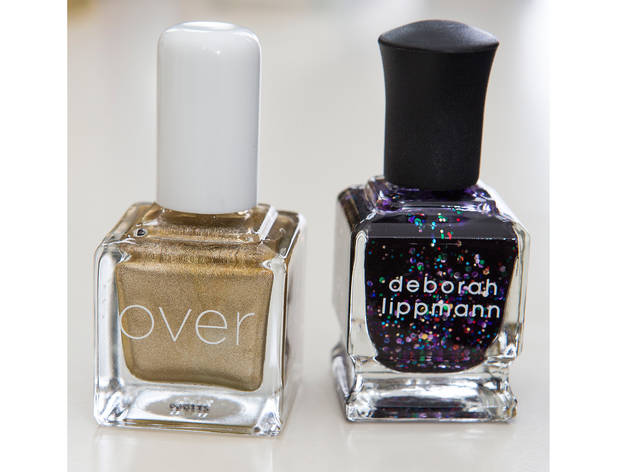 4/25
Photograph: Caroline Voagen Nelson
"I love doing my nails but I really hate chips," says Beauchamp, who often defaults to sheer nude polishes such as Essie Marshmallow and Fed Up that better conceal cracks. On the rare occasions she can maintain her manicure, Beauchamp reaches for bolder lacquers from TenOverTen ($18 at TenOverTen, 119 W 56th St between Sixth and Seventh Aves, 212-767-1010 • 112 Reade St between Church St and West Broadway, 212-406-1010 • tenoverten.com) and Deborah Lippmann ($17, lippmanncollection.com). "It's perfect for those 'I'm about to be in a video shoot!' moments," she enthuses of the fast-drying formula from the former brand. She likes the latter for its "fun, thick glitter formats that have this great texture and don't feel juvenile." When wearing more pigmented varnishes, Beauchamp employs an ombré trick she learned from a coworker: "Choose another color and paint them just at the tips [to cover imperfections,]" she advises. "You can use a sponge or make it a little messy—it looks cute and then you get [to keep] your manicure a little longer."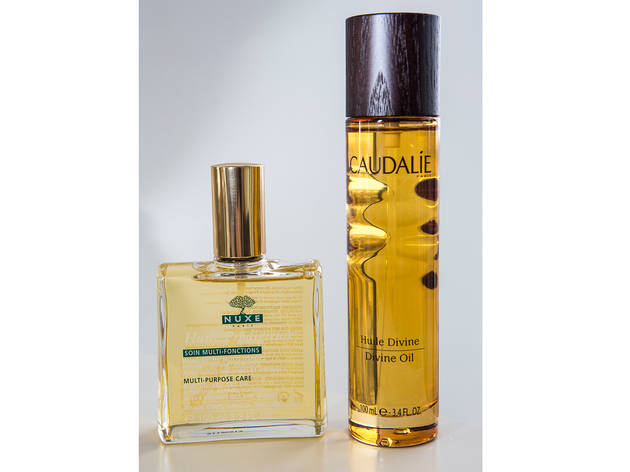 5/25
Photograph: Caroline Voagen Nelson
While on her honeymoon in Europe, Beauchamp discovered French pharmacy brand Nuxe and its best-selling body oil, Huile Prodigieuse ($45, us.nuxe.com). "I bought all of this stuff to take with me to the beach and I just thought the product quality was really wonderful," she recalls. She has since become a fan of all manner of dry oils, including Caudalie's spray-on version Huile Divine ($49 at Caudalie, 315 Bleecker St at Grove St; 212-308-3552, us.caudalie.com). "It's like a moisturizer but it soaks in and lasts longer," she says. "Sometimes I will use an oil if I'm traveling since it protects your skin—it hydrates but it also acts as a repellent. When I'm done, I just rake my fingers through my hair [for shine]."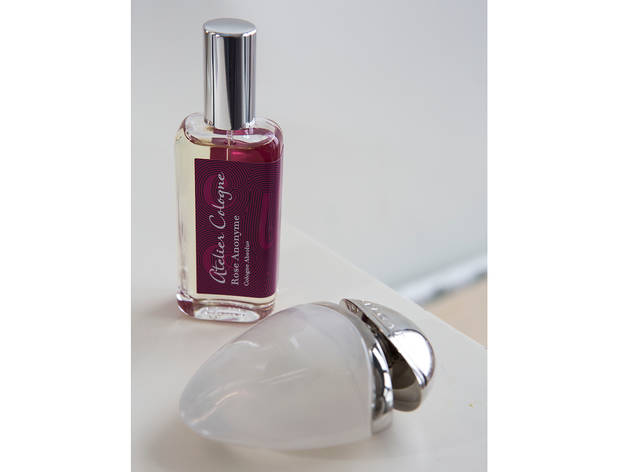 6/25
Photograph: Caroline Voagen Nelson
Not one to have a signature scent, Beauchamp claims she uses a different perfume every day. "I change it with my outfits," she notes. "You don't always want to smell a certain way—if you're going out at night and eating dinner it's very different than if you have a meeting. Fragrance can be a fun way of expressing yourself." Two that are currently in the rotation: Rose Anonyme from Atelier Cologne (30ml, $75 at 247 Elizabeth St between E Houston and Prince Sts; 212-256-0909, ateliercologne.com) and Bulgari Jewel Charm Omnia Crystalline ($47, us.bulgari.com). "It's very clean and nonintrusive," she describes of the latter. "[The bottle] feels like an accessory for your dresser."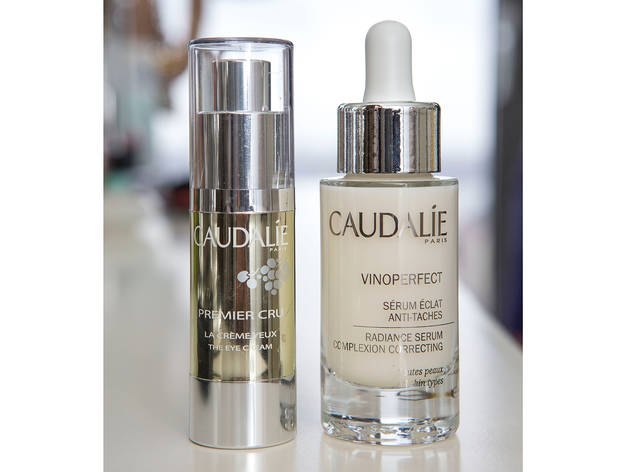 7/25
Photograph: Caroline Voagen Nelson
"Caudalie is one of my absolute favorite skin-care brands," declares Beauchamp, who consistently uses the winecentric French company's Premier Cru eye cream ($98) and Vinoperfect Radiance serum ($79). "I have really dry skin, and a water-based serum like that really absorbs well," she says. "It's a bit counterintuitive: You'd think that you'd want something more heavy or oil-based [for dry skin] but water is the first thing you actually need."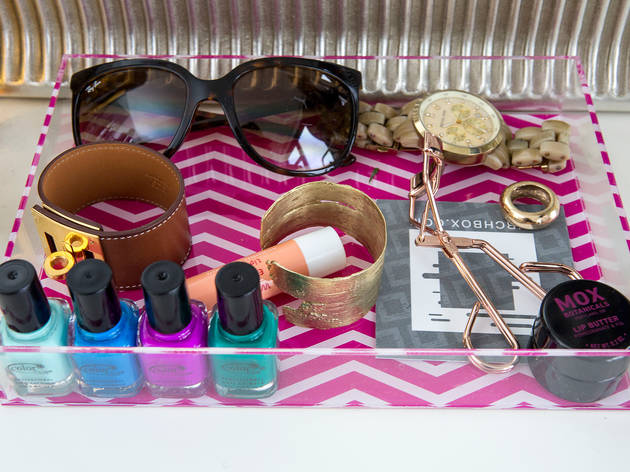 8/25
Photograph: Caroline Voagen Nelson
This chevron-print Lucite tray was originally created by Birchbox as a gift for customers who spend $75 or more in its online shop. Beauchamp uses hers as an eye-catching dumping ground for accessories, including an enamel-and-gold watch from Michael Kors (locations throughout the city; visit michaelkors.com), cuffs from Hermes (691 Madison Ave at 62nd St, 212-751-3181 • 15 Broad St between Exchange Pl and Wall St • 212-785-3030 • usa.hermes.com) and Anthropologie (locations throughout the city; visit anthropologie.com) that were both birthday gifts, a pair of tortoiseshell Ray-Ban (ray-ban.com) sunglasses and a ring purchased at Israeli jewelry store Eli Halili (250 Mott St between E Houston and Prince Sts; 212-941-7979, elihalili.com). "I got it because I liked that it looked like a doughnut," she jokes of the bulbous bauble. A Tweezerman rose-gold eyelash curler ($20, tweezerman.com), vibrant Color Club nail polishes ($8 each, shopcolorclub.com) and lip balms from Weleda ($6, usa.weleda.com) and Mox Botanicals ($16, moxbotanicals.com) also have their place. "I have [salves] stored everywhere," says Beauchamp. "Inside all of my purses and in every drawer, there's at least one."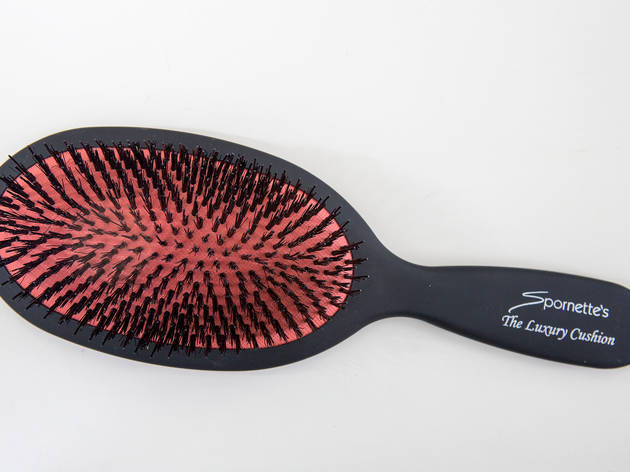 9/25
Photograph: Caroline Voagen Nelson
"It's a great mix of hard and soft bristles, so I feel like it breaks my hair less," enthuses Beauchamp of her Spornette Luxury Cushion brush ($24, spornette.com). "I also use it to tease my hair out when I want to make a really big bun. The closeness of the bristles are able to separate and pull your hair down."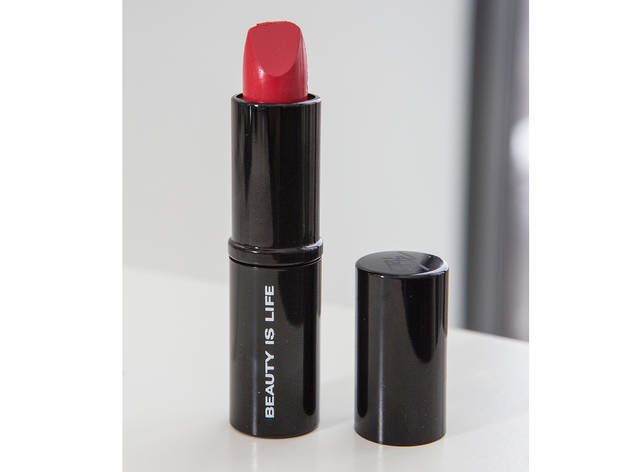 10/25
Photograph: Caroline Voagen Nelson
This Beauty Is Life lipstick in Royal ($28 at Barneys New York, 660 Madison Ave at 61st St; 212-826-8900, barneys.com) was the beginning of Beauchamp's experimentation with bold lip colors. "Red lipsticks can be intimidating but this one is a little bit more of an orangey red and it still feels playful—it's just something you want to smile in," she says. "I don't wear red lipstick every day but there are times when I love it because you can run out of your apartment and still look very done."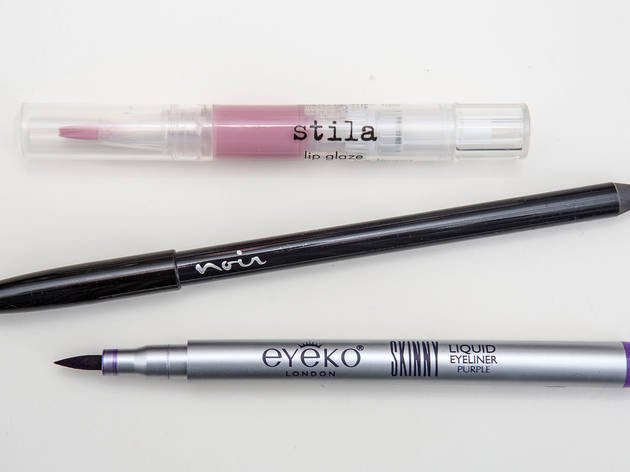 11/25
Photograph: Caroline Voagen Nelson
Everyday eyeliners and a Stila Lip Glaze pink gloss ($22, stilacosmetics.com) are artfully arranged on Beauchamp's bureau. "It's like a marker, so you can use it easily," she swears of Eyeko's Skinny liquid eyeliner ($16 at Sephora, locations throughout the city; visit sephora.com). "You can create something super subtle that looks like it's just your lashline or you can build and do a very playful look." For a matte application, she grabs Noir kohl eyeliner ($15, noircosmetics.com).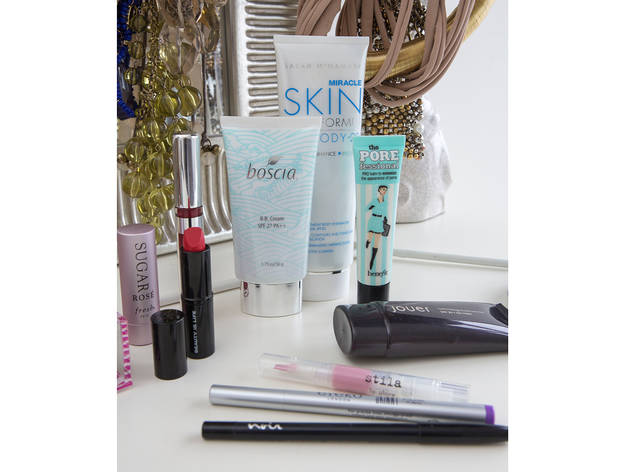 12/25
Photograph: Caroline Voagen Nelson
Although Beauchamp will alternate between using Boscia B.B. Cream SPF 27 PA++ ($38, bosciaskincare.com) and Jouer Luminizing Moisture Tint ($38, jouercosmetics.com), depending on her desired coverage, both products boast luminizing properties. "It's basically glitter but it makes you look like you're so awake and radiant and healthy," she says. On days when she needs to be camera-ready, she'll layer either item over Benefit Porefessional face primer ($30 at Benefit, 454 West Broadway between W Houston and Prince Sts, 212-769-1111 • 1301 Third Ave between 74th and 75th Sts, 212-288-4728 • benefitcosmetics.com). "It feels so bizarre—it's very tacky but it dries matte—and it reduces the appearance of pores," she explains. For flawless-looking bare legs, Beauchamp slathers on Miracle Skin Transformer Body SPF 20 ($34, shop.miracleskintransformer.com). "It deposits a little bit of makeup on your skin; I don't mess around with any other concealer anymore."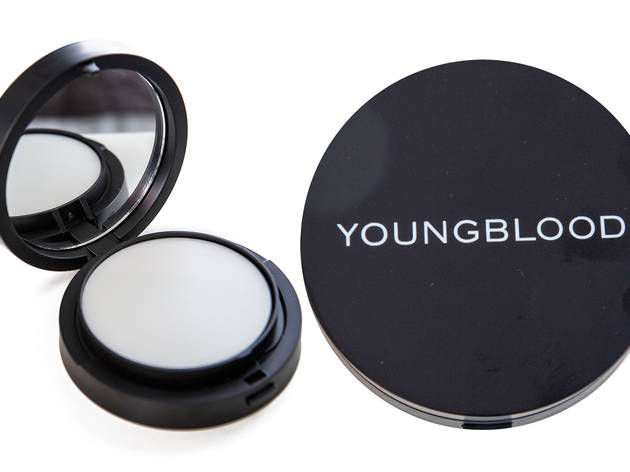 13/25
Photograph: Caroline Voagen Nelson
It may look like solid perfume, but this Youngblood Anti-Shine Mattifier compact ($36, ybskin.com) is actually a skin primer. "You have to use it with a sponge," says Beauchamp, who applies it using a Beautyblender (beautyblender.net) when she needs to appear shine-free on camera. "It makes you feel professional."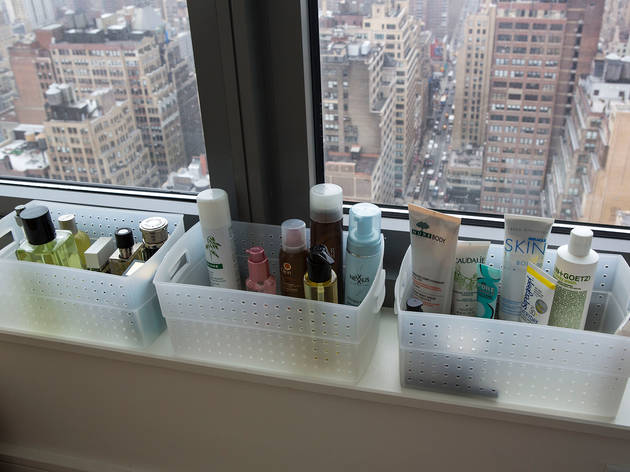 14/25
Photograph: Caroline Voagen Nelson
A trio of plastic bins from the Container Store (629 Sixth Ave between 18th and 19th Sts, 212-366-4200 • 725 Lexington Ave at 58th St, 212-366-4200 • containerstore.com) hold more fragrances, hair-care and skin-care products, respectively. "Hair is my thing," admits Beauchamp, who says that particular vessel is usually the closest to being at capacity. Right now, it's filled with dry shampoos from Oscar Blandi ($25 at Oscar Blandi Salon, 545 Madison Ave at 55th St, second floor; 212-421-9800, oscarblandi.com) and Klorane ($18, kloraneusa.com), as well as Kérastase Cristalliste Lumiere Liquide ($42, kerastase-usa.com) and Shu Uemura Essence Absolue ($68, shuuemuraartofhair-usa.com) hair oils. "I use them when my hair is wet [as a detangler] and to keep it less frizzy while it's drying," she says. "I'll use a blow dryer just on my bangs, but then I let [my hair] air dry."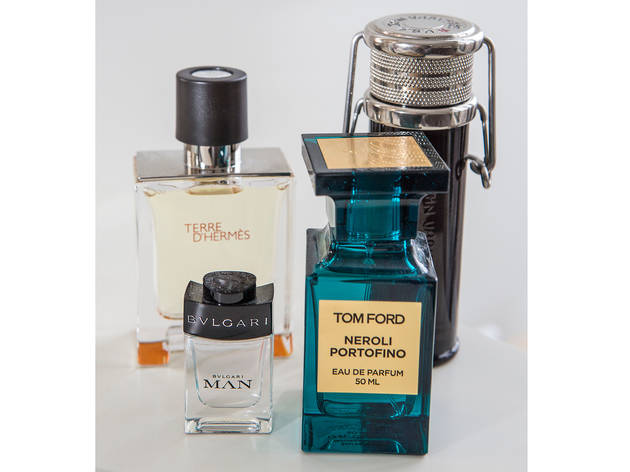 15/25
Photograph: Caroline Voagen Nelson
Even Beauchamp's husband, Greg, has his own impressive beauty arsenal: His cologne collection includes John Varvatos Star U.S.A. ($70 at John Varvatos, 122 Spring St at Greene St, 212-965-0700 • 315 Bowery at Bleecker St, 212-358-0315 • johnvarvatos.com), Hermes Terre d'Hermes ($79) and a sample of Bulgari Man from his Birchbox Man (birchbox.com/men) subscription. Beauchamp has had a harder time getting him to integrate Tom Ford's Neroli Portofino eau de parfum ($205, nordstrom.com) into the lineup. "It's gender neutral but my husband is not convinced," she says.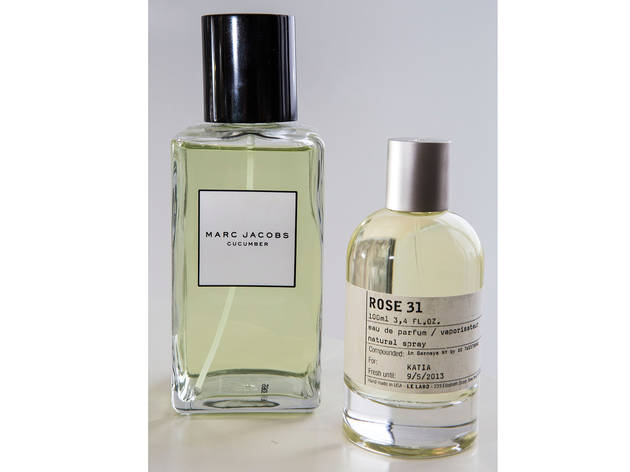 16/25
Photograph: Caroline Voagen Nelson
"This was my first fragrance in business school, so I've had it for a really long time but I can't leave it," says Beauchamp of her bottle of Marc Jacobs Cucumber Splash, which has since been discontinued. "It smells very summery and I like the way it looks." A more recent acquisition is Le Labo Rose 31 ($145 at Le Labo, 233 Elizabeth St between Houston and Prince Sts; 212-219-2230, lelabofragrances.com), which is mixed in the store and printed with a personalized label.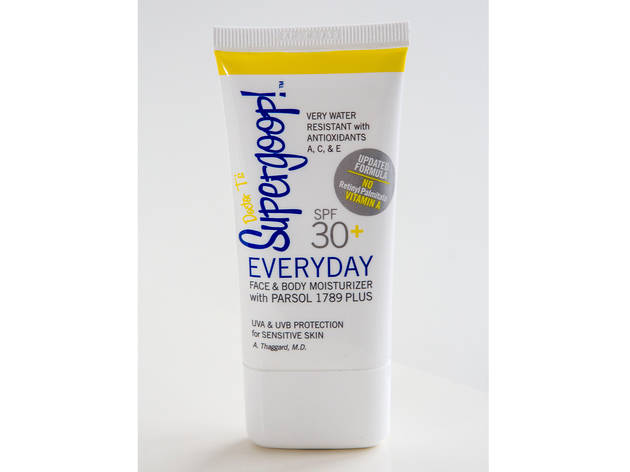 17/25
Photograph: Caroline Voagen Nelson
Beauchamp may be friends with Supergoop founder Holly Thaggard, but she's personally a fan of the line's SPF 30+ Everyday UV Face and Body moisturizer ($15, supergoop.com). "It's a much more powerful sunscreen but it also doesn't turn your skin white," she says.
18/25
Photograph: Caroline Voagen Nelson
"The bathroom is where I do more of the normal skin-care stuff," says Beauchamp, who keeps more skin, body and hair care tucked away on designated shelves inside the medicine cabinet, as well as occasional items such as face masks, contact solution and nail polish remover.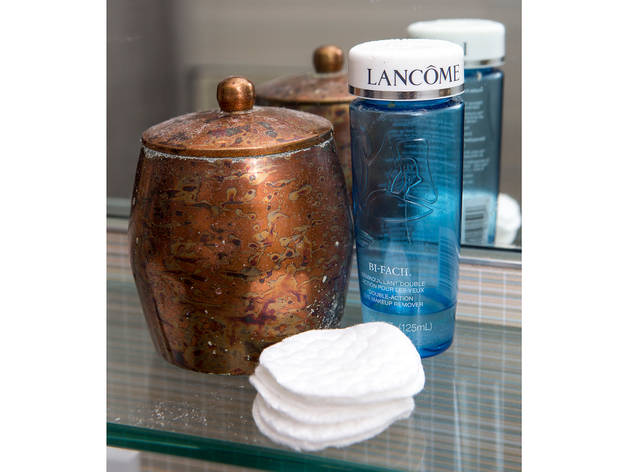 19/25
Photograph: Caroline Voagen Nelson
One of the few items Beauchamp owns from a mass-market brand, this Lancome Bi-Facil eye-makeup remover ($28, lancome.com) is a bathroom staple. "It takes everything off without drying the skin around your eyes and you don't have to rub, rub, rub—it really wipes off easily," she gushes. The almost-kicked bottle sits beside a copper canister from Target (locations throughout the city; visit target.com), used to store circular cotton pads. "I've been thinking [Birchbox] should make fun colored ones," she says.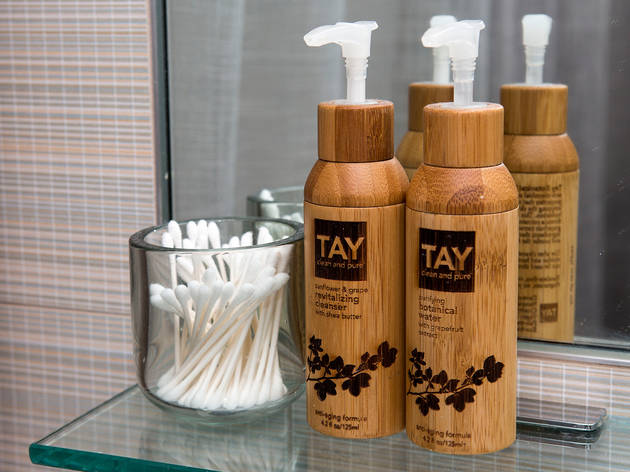 20/25
Photograph: Caroline Voagen Nelson
The bamboo packaging of Tay's Sunflower & Grape Revitalizing Cleanser and Purifying Botanical Water ($28 each, tayeveryday.com) doubles as sinkside decor. "It's a cream-based face wash, so it won't strip you of your natural oils," says Beauchamp, adding that the alcohol-free toner is also nondrying. The duo rests beside a glass vessel from Ikea (1 Beard St at Otsego St, Red Hook, Brooklyn; 718-246-4532, ikea.com) filled with cotton swabs.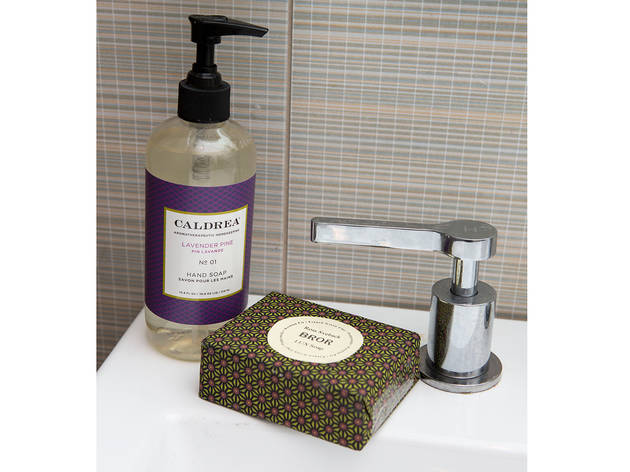 21/25
Photograph: Caroline Voagen Nelson
You won't find ordinary cleansers on Beauchamp's bathroom sink: A bar of Ross Sveback Lux soap ($16, rosssveback.com), wrapped in Japanese paper whose print references a vintage kimono textile, flanks a bottle of Caldrea Lavender Pine liquid hand soap ($11, caldrea.com). "I've tried all of [Caldrea's] scents and this one smells clean without being soapy," she says.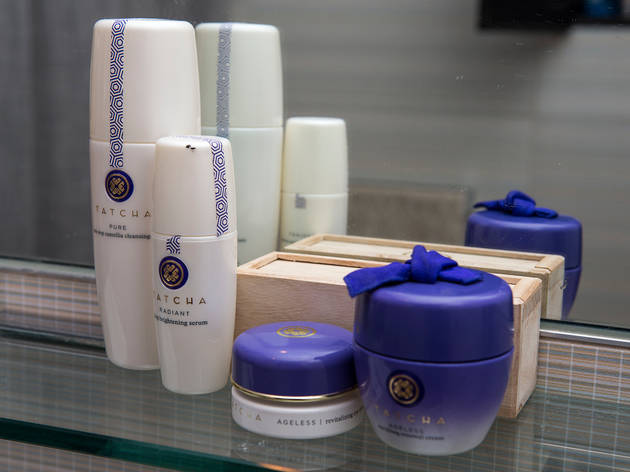 22/25
Photograph: Caroline Voagen Nelson
Beauchamp is constantly testing products from potential brand partners, such as this collection from high-end geisha-inspired skin-care line Tatcha (tatcha.com). Her favorite item is the Ageless Revitalizing eye cream ($135). "It's the heaviest, most amazing eye cream ever, and there's a crystal you massage it in with," she enthuses. "Hopefully we'll sell [the label] soon."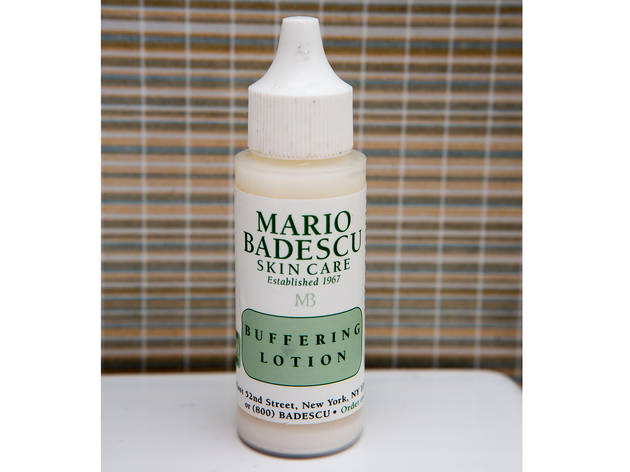 23/25
Photograph: Caroline Voagen Nelson
For treating occasional breakouts, Beauchamp favors Mario Badescu Buffering Lotion ($17 at Mario Badescu, 320 E 52nd St between First and Second Aves; 212-223-3728 mariobadescu.com). "You can put it all over [your face] if you're having a real breakout or directly on [the zit] and it really absorbs into your skin," she says. "I find it to be like a miracle."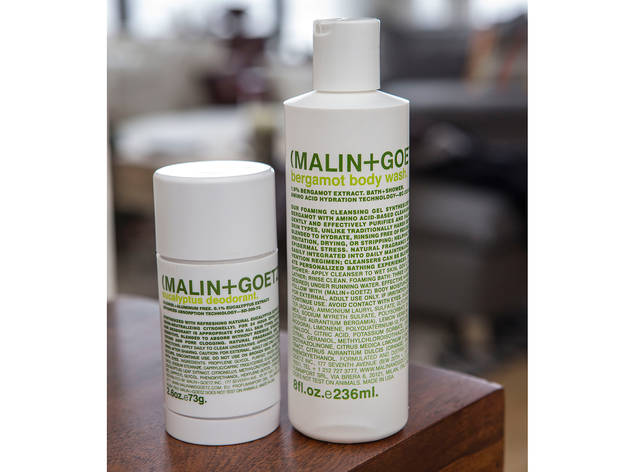 24/25
Photograph: Caroline Voagen Nelson
After learning about the potential link between antiperspirants containing aluminum and breast cancer, Beauchamp switched from using mass-market brands to the all-natural Eucalyptus deodorant from Malin + Goetz ($18 at Malin + Goetz, 177 Seventh Ave between 20th and 21st Sts, 212-727-3777 • 455 Amsterdam Ave at 82nd St, 212-799-1200 • malinandgoetz.com). She also adores the New York apothecary's Bergamot body wash ($18). "It smells incredible."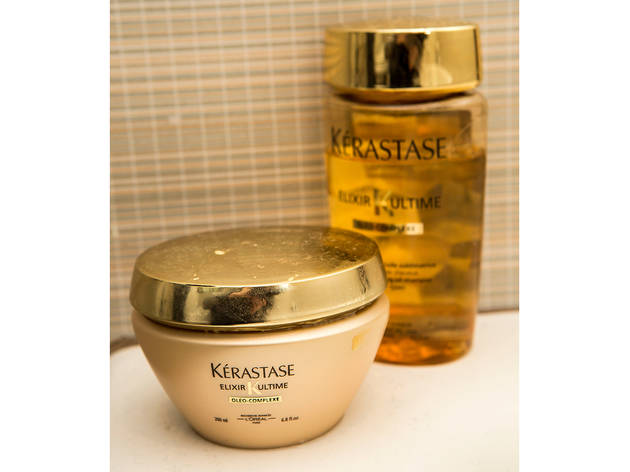 25/25
Photograph: Caroline Voagen Nelson
"Greg has a fair amount of stuff—he even has his own shampoo and he believes that it's his," says Beauchamp. "I actually don't want him to use mine because I have really nice shampoos, so he can he use his [own products]." She lathers her hair with Kérastase Bain Elixr Ultime shampoo ($42) and Masque Elixir Ultime deep conditioner ($65), which she loves for its sophisticated scent. "The shampoo really cleans, but it doesn't strip my hair in a harsh way," she notes. "The conditioner goes a long way—it is really a mask, and I use about a tablespoon to give my hair some major hydration and shine."
Vanity tour: Birchbox cofounder Katia Beauchamp
Birchbox cofounder Katia Beauchamp reveals her pared-down beauty storage, featuring products from independent brands.
Caudalie
,
TenOverTen
and
Benefit
.
Her favorite NYC beauty resources
Aesop Locations throughout the city; visit aesop.com
"I don't do that much shopping outside of Birchbox, but I do a lot of perusing," admits Beauchamp, who often browses at this Australian skin-care chain. "I think its very on-brand and cool, and I love the line."

Dennis Gross M.D. Dermatology 900 Fifth Ave at 71st St (212-725-4555, dgskincare.com)
"I really want to go to Dr. Gross and get a proper diagnosis," says Beauchamp. "He's a dermatologist who has an amazing and serious skin-care line, so I'd like to see him."

Fancie Nail & Beauty Spa Inc. 196 Seventh Ave between 21st and 22nd Sts (212-206-7988, fanciespa.com)
"I swear the damn manicure lasts a week without chipping," marvels Beauchamp of her favorite no-frills nail salon. "I asked them what they do [differently] and they said, 'We just don't use old nail polish.' But there must be some other voodoo magic in there."

Jeff Chastain Parlour 29 W 17th St between Fifth and Sixth Aves, fifth floor (347-204-7100, jeffchastainparlour.com)
Beauchamp gets her hair cut by Chastain, who runs this intimate salon in an office building and has tended to the heads of IMG and Ford models. "It's the only thing I keep up with regularly," she says. "He will never do something that won't look good on you. He's very artistic."

Isabelle Bellis 60 E 66th St between Second and Third Aves, penthouse (212-966-3262, isabellebellis.com)
Beauchamp is constantly trying out different facials, but cites the one she had from this epidermologist as memorable. "She's this amazing French woman who is all about stimulating circulation," she enthuses. "She doesn't use specific products—it's more about massage."
Follow Cristina Velocci on Twitter: @cvelocci