Apartment tour: 2BR in Cobble Hill, Brooklyn
Vintage-clothing buyer Keira Chatman fills her cheerful, nature-inflected abode with street finds and Craigslist treasures.
1/21
Photograph: Virginia Rollison
As the owner and founder of online vintage retailer bklynQueens (shop.bklynqueens.com), Keira Chatman spends her days scouring thrift stores and Craigslist for hidden treasures. Her converted two-bedroom rental on the first floor of a brownstone, packed with antique knickknacks and furniture salvaged from the street, is proof of her keen eye. The Ohio native moved into the 800-square-foot space three years ago and was so excited to decorate, she knocked it out in one month. "The apartment is so me," says Chatman. "That's why I never want to leave this place."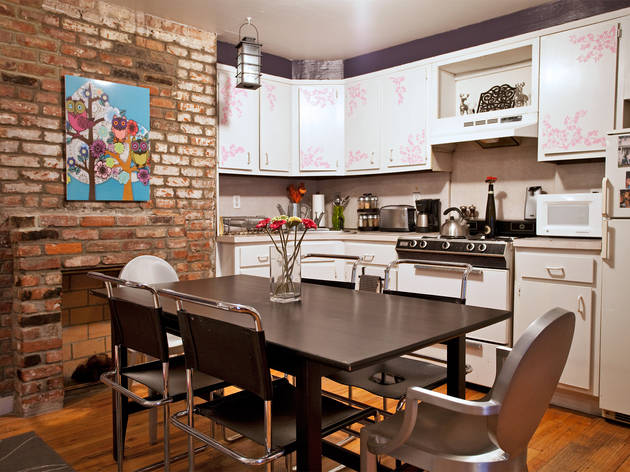 2/21
Photograph: Virginia Rollison
A frequent cook, Chatman jazzed up her kitchen cabinets with a floral stencil she purchased on eBay (ebay.com). "It was pretty easy," she says of hand-painting the climbing vine designs. "It took me about an hour [to do them all]." Nabbing a six-seat dining set turned out to be just as effortless: Chatman scored the table on clearance at Ikea (1 Beard St at Otsego St, Red Hook, Brooklyn; 718-246-4532, ikea.com) and discovered all of the chairs on her street—four of them right in front of her doorstep. To hang the Ikea print over her nonfunctional fireplace, Chatman had to drill a hole in the brick wall—a task she calls "not easy."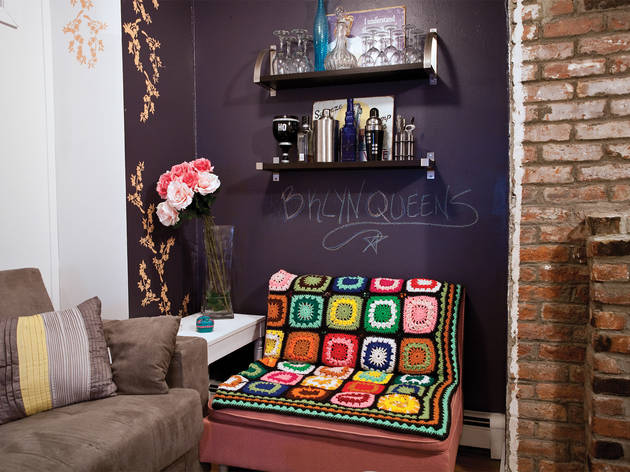 3/21
Photograph: Virginia Rollison
With a small budget and a long list of items she needed to furnish her new place, Chatman sought out bargains on Craigslist, where she found her living room couch and salmon-colored chair. She then added vivid accessories, such as a color-blocked pillow from Bed Bath & Beyond (locations throughout the city; visit bedbathandbeyond.com) and a bright knit throw picked up at Ohio Thrift (ohiothriftinc.com) in her hometown. "I really prefer vintage furniture and I dislike orchestrated living room sets," says Chatman of her decorating approach. "I like to buy individual pieces and make them fit."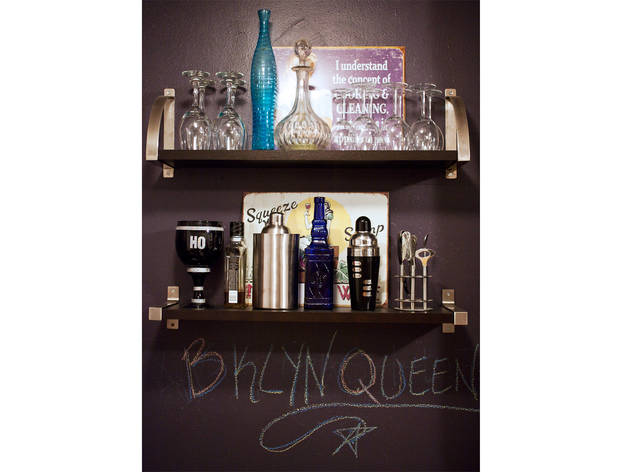 4/21
Photograph: Virginia Rollison
Chatman mounted Ikea shelves to display her barware and vintage decanters from Unique Thrift. Cheeky retro housewife prints purchased from a Soho street vendor are propped up behind the glasses for a whimsical touch, while a wall transformed by Rust-Oleum Specialty Chalk Board paint (rustoleum.com) serves as a canvas for doodles.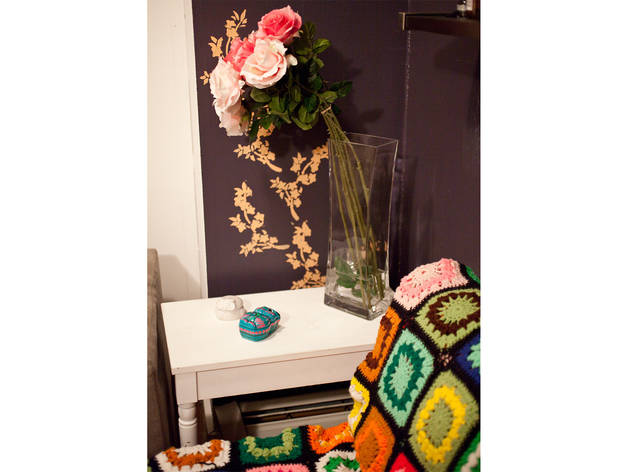 5/21
Photograph: Virginia Rollison
To liven up her living room walls, Chatman applied the same stencil she used on her kitchen cabinets. An Ikea vase filled with faux flowers, a turquoise trinket box from Belize and an owl-shaped one from Urban Outfitters (locations throughout the city; urbanoutfitters.com) provide further decorative flair. Chatman discovered the side table on the curb and gave it a makeover with sleek white paint. "I always have my eyes open," she says of her street-scavenging success. "If I see something, I get inspired and think of what I can do to make it my own."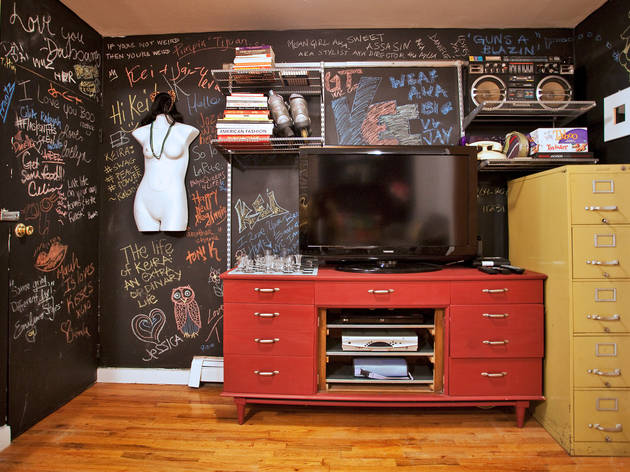 6/21
Photograph: Virginia Rollison
Chatman filled a living room nook with her two biggest splurges: a flatscreen TV and a deep-red cabinet from Furnish Green (1261 Broadway between 31st and 32nd Sts, suite 505; 917-583-9051, furnishgreen.com). The Craigslist-sourced yellow filing cabinet, chosen for its bright hue and industrial feel, stores spare towels and sheets.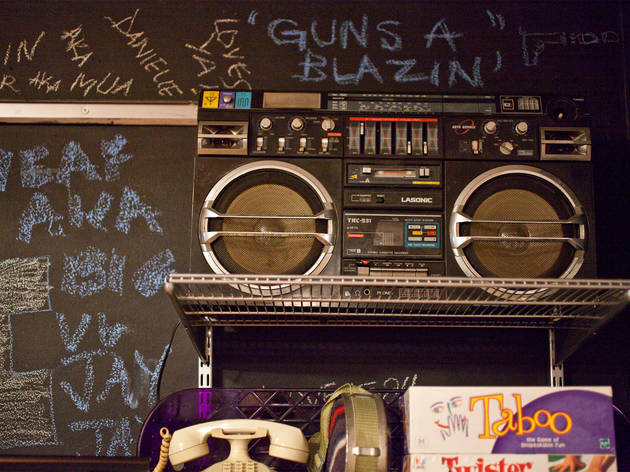 7/21
Photograph: Virginia Rollison
One of Chatman's favorite street finds is this nonfunctioning, old-school boom box. "I just picked it up and kept on moving," she says with a laugh. The surrounding chalkboard surface also provides ever-changing decor: "Every time somebody comes over, they sign the wall," she notes.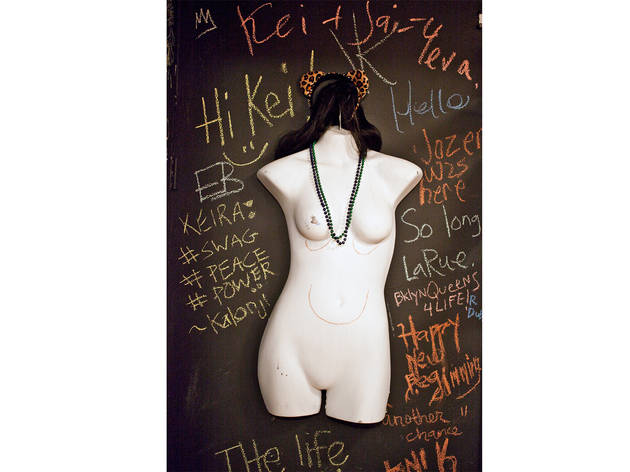 8/21
Photograph: Virginia Rollison
Chatman found this dress form at a garage sale in her native Ohio and gave it a fresh coat of white paint. "There's always some sort of craft going on here," she says. "It always smells like paint!" Nowadays, she uses the mannequin to display various highlights from her costume collection, including beads from a college Mardi Gras party, leopard ears she once used on a photo shoot and a wig that was part of a '70s getup she donned a few years back. "My friends always play dress-up with those things when they come over," she says.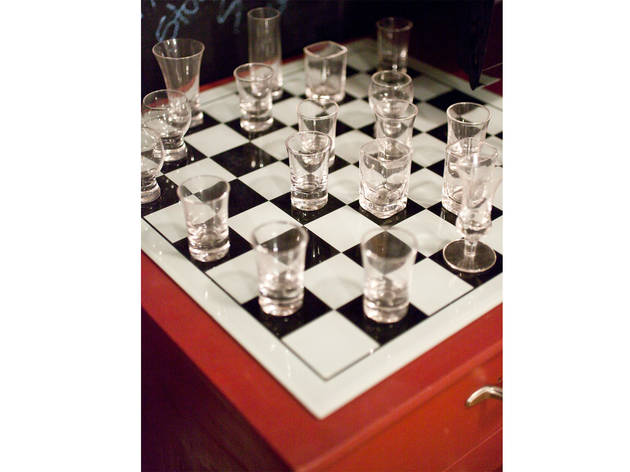 9/21
Photograph: Virginia Rollison
A pre-owned chessboard shot-glass set, nabbed for $5 at a Brooklyn Goodwill (258 Livingston St between Bond St and Elm Pl, Downtown Brooklyn; 718-923-9037, goodwill.org), is as functional as it is eye-catching. "There's a lot of pregaming that goes on here, so my friends and I use it all the time," she says. "We've played chess [with it] a couple of times, but it of course involves alcohol."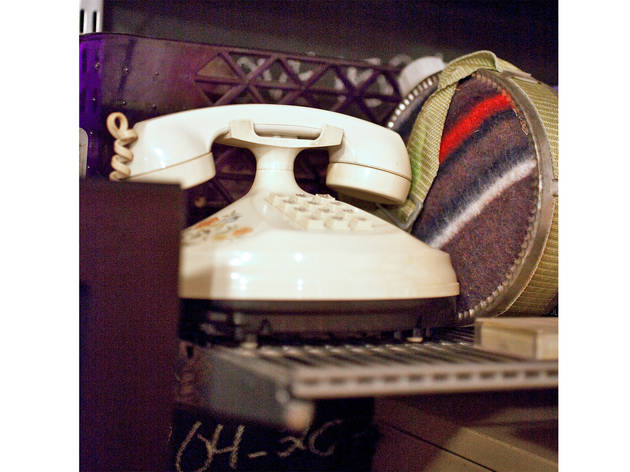 10/21
Photograph: Virginia Rollison
"That's the actual phone I use," admits Chatman of the vintage model she bought for $3 at an Ohio flea market.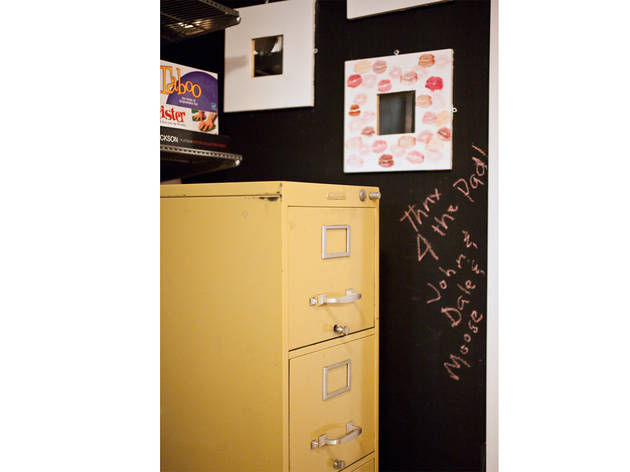 11/21
Photograph: Virginia Rollison
The lip prints on Chatman's Ikea mirror are a perfect example of the sort of spontaneous, DIY decoration she likes best. "I put on a bunch of lipsticks one day and went to town," she explains. "I'm always looking for empty wall space and saying, 'Okay, what can I do here?' "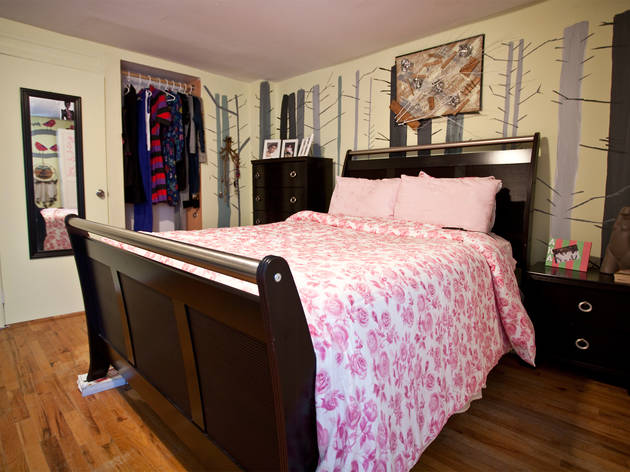 12/21
Photograph: Virginia Rollison
"Yellow just makes me happy," enthuses Chatman, who chose to coat her bedroom walls in Benjamin Moore's Jasper Yellow paint. "I feel like even if it's not sunny, it feels sunny—and the sun really motivates me to get up and move!" Her Ikea rose-print bedding was also selected for its cheerful hue. "Since I work from home, I really wanted to make the house colorful and visually stimulating," she explains.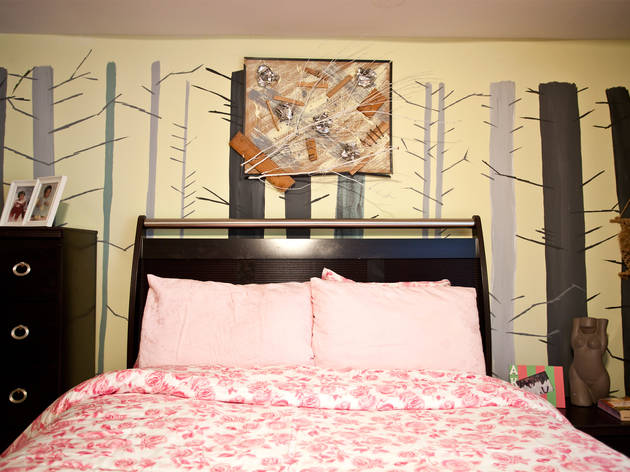 13/21
Photograph: Virginia Rollison
One of the first projects Chatman undertook after moving in was transforming a bare bedroom wall into a grove of hand-painted trees. "I thought that bringing in nature would make the space [feel] more cozy," she says. The abstract artwork above the bed, composed of aluminum foil and wood chips salvaged from the street, is another one of her creations.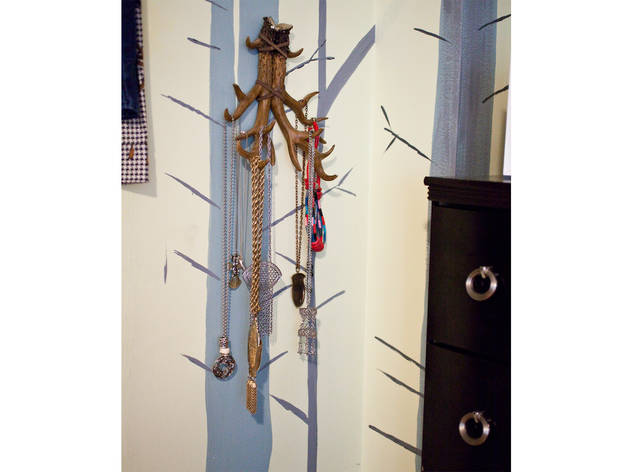 14/21
Photograph: Virginia Rollison
A branch-style jewelry hook from Urban Outfitters displays some of Chatman's vintage necklaces.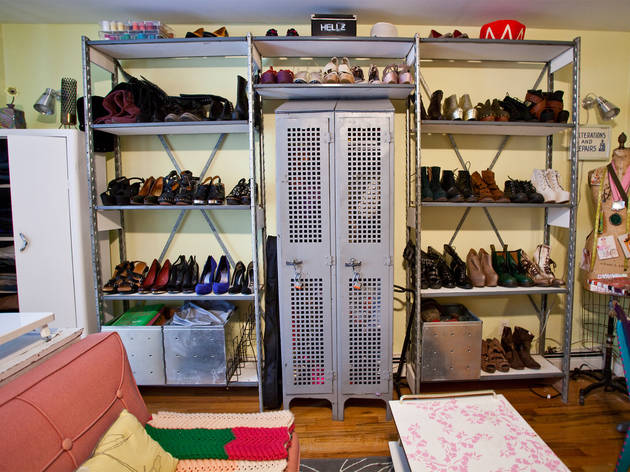 15/21
Photograph: Virginia Rollison
To make up for the lack of storage space, Chatman stalked Craigslist for an open shelving system to display her shoes and a 1920s locker for her burgeoning vintage-clothes collection. "Everybody always says my bedroom feels like a store," she says.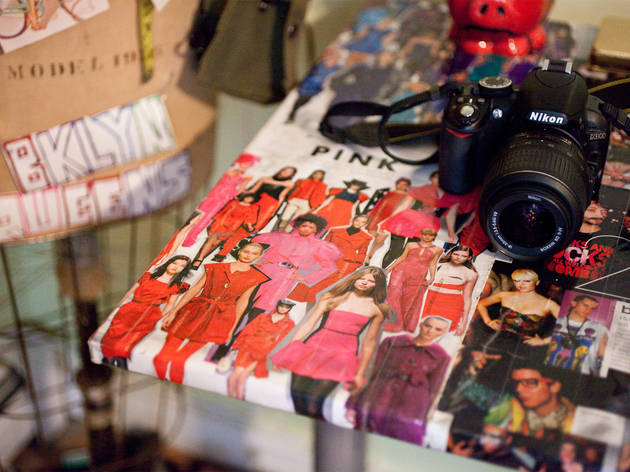 16/21
Photograph: Virginia Rollison
Since a balcony off of her bedroom provides ample natural light, Chatman does most of her work in her sleeping quarters. But the desk, which a former tenant had left behind, wasn't in such sunny shape when Chatman discovered it. "It was a big eyesore, but I needed a desk," she explains. "So I tore out pages from a spread in WWD and covered the top with photos, using clear packing tape to secure them down."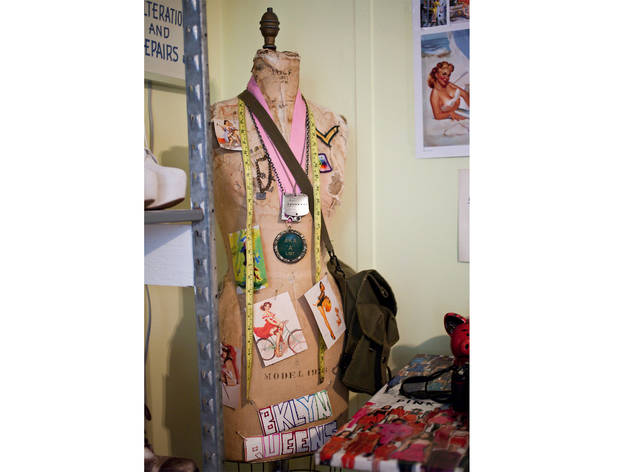 17/21
Photograph: Virginia Rollison
A vintage dress form that Chatman spotted on the street now serves as a mannequin for her online boutique's product shots. She decorates it with Girl Scout patches she earned as a child; a medal from her sorority, Alpha Kappa Alpha, for making the dean's list at the University of Akron; and various images of pinup girls.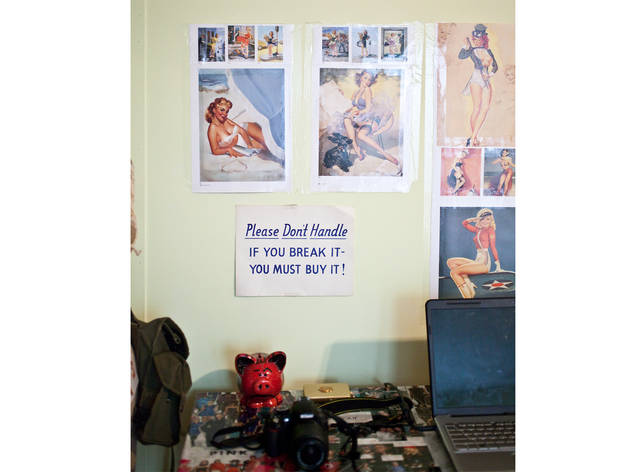 18/21
Photograph: Virginia Rollison
"I just really like pinup girls," says Chatman, referring to the illustrations she tore out of the book The Great American Pin-Up and mounted above her desk. "They're vintage and go along with my whole style." She purchased the "Please don't handle" sign at Brownstone Treasures (220 Court St between Baltic and Warren Sts, Cobble Hill, Brooklyn; 718-237-1838, brownstonetreasures.com).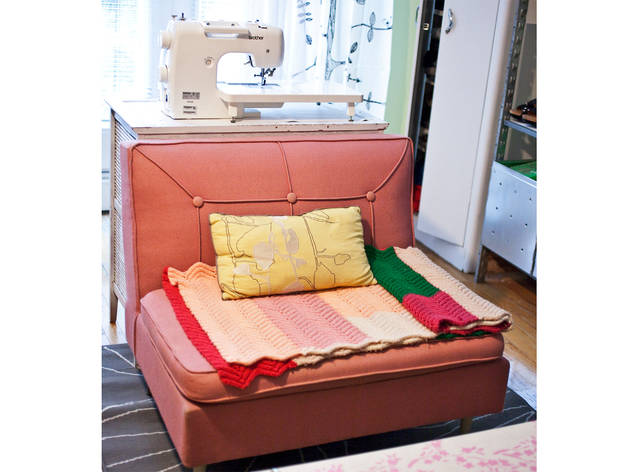 19/21
Photograph: Virginia Rollison
For her bedroom sitting area, Chatman refinished a coffee table she found on the street with the same flower stencil she used on her kitchen cabinets. The design matches perfectly with a Craigslist-procured midcentury chair, adorned with a leaf-print pillow from Bed Bath & Beyond and a color-blocked knit throw purchased at Ohio Thrift. A linear Ikea rug, which extends to the sewing workspace where Chatman reworks vintage garments, echoes the recurring nature motif.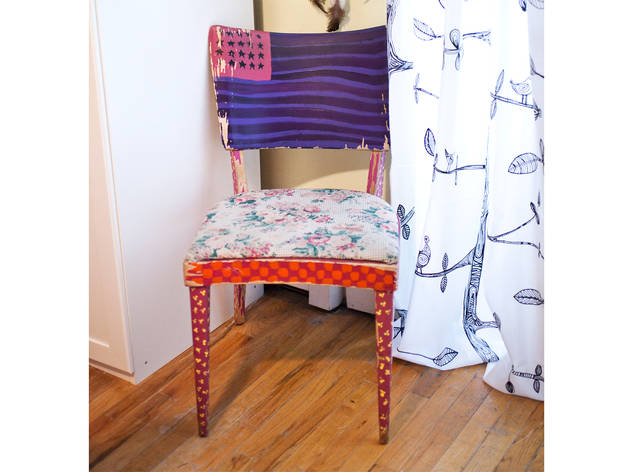 20/21
Photograph: Virginia Rollison
Although Chatman normally repaints her street finds to make them look more modern, she liked this eclectic chair—part of a set in her room—just the way she found it. "I'm pretty sure someone hand-painted these and just left them out," she says. "There was no way I was passing these up." Ikea firefly drapes and a dream catcher that Chatman, who has "a lot of Native American roots," found in an Ohio thrift store after years of searching for the right one surround the seat.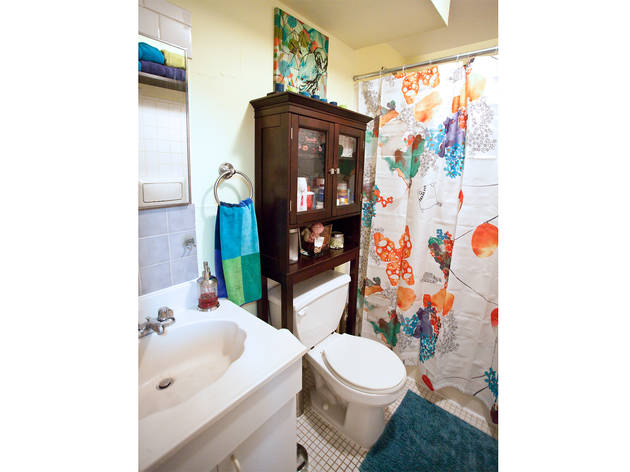 21/21
Photograph: Virginia Rollison
A butterfly-bedecked Ikea shower curtain and an Urban Outfitters owl print in Chatman's bathroom are further evidence of her self-described "vintage meets nature" style.
Love the look? Get it here!
Junk 567 Driggs Ave between North 6th and 7th Sts, Williamsburg, Brooklyn • 197 North 9th St between Bedford and Driggs Aves, Williamsburg, Brooklyn • 718-640-6299, junk11211.com
"This store is much better than it sounds," promises Chatman of the secondhand shop. "I find a lot of midcentury decor, old records, and amazing vintage artwork and photographs there."
Unique Thrift Store 408 Fulton St at Gallatin Pl, Downtown Brooklyn (718-643-1825)
"It has the best bric-a-brac pieces," says Chatman of the Brooklyn branch of this national thrift chain, where all merchandise is 25 percent off on Mondays and Thursdays. "I've found everything from a full set of vintage amber-glass dinnerware to never-used holiday decor."
Yesterday's News 428 Court St at 2nd Pl, Cobble Hill, Brooklyn (917-375-1631, brownstonetreasures.com)
Chatman hits up this budget-friendly antique store for cool vintage signage and industrial furniture. "It has everything your antique heart desires, and at very reasonable prices," she says.