The Feed interview: Seamus Mullen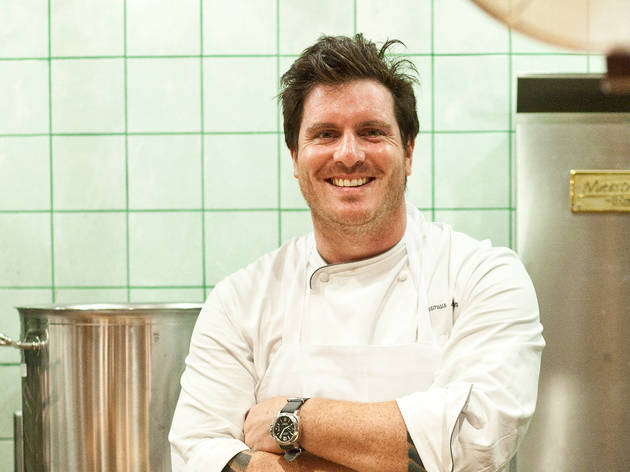 Seamus Mullen lifts the lid.
In preparation for the premiere of The NextIron Chef, we've been chatting with the show's NYC contenders. Last week we discussed star quality with Amanda Freitag. This week we have Spanish-food impresario Seamus Mullen, of Boqueria and Boqueria Soho, in the hot seat.
We see on your Twitter stream that you were excited about butchering an 80-pound lamb for a Boqueria special last night. How'd it sell?
It sold pretty well. We're serving a different part of the lamb tonight—the leg. We're doing a leg of lamb with fall beans.
What was your relationship with the other NYC chefs before the competition?
I knew some of the chefs. I knew Brad [Farmerie] in passing, and I knew Amanda Freitag pretty well from events, and just from being around. The cooking community here is pretty tight-knit.
Almost all of the competitors on Next Iron Chef have made appearances on Iron Chef America, but you haven't. How did you get involved with the show, and what made you want to join?
I'm going to be on [Iron Chef] at the end of October.... As far as what made me want to join, it's an incredible honor to compete to become one of the next Iron Chefs, and an incredible way to develop my career.
In the premiere episode, you have to work with stinky tofu. Good times?
I still smell like it. My hotel room smelled like it for days after we filmed the first episode just because it was on my hands.
Do you think that Americans are familiar enough with Spanish food for there to be an Iberian Iron Chef?
They're gonna know it pretty soon, once the show airs.... If you were to ask any chef in New York what cuisine has been the most popular over the last ten years, chances are they'd say Spanish.
Were you at all concerned that your arthritis would interfere with the show?
It's something that I deal with on a daily basis. It's aggravated by stress, and you can only imagine how stressful [the show was]. I'd like to think that I can be inspirational to others who have rheumatoid and other immunodeficiency diseases to compete and to excel at what you do.
Thoughts on the judging?
It's very difficult to be judged on your cuisine. It's really one of the most difficult things to go through. It can be incredibly rewarding, and it can be humbling.
You mention both of your grandmothers as being some of your early cooking influences. Who would win in an Iron Chef battle between the two?
Between my grandmothers, Meme and Mutti? Meme really cooks with some excellent flavors, but Grandma Mutti would take it out...she's a pretty salty, tough character.—Zachary Feldman
Sponsored listing
Mr. Crispy
This Kips Bay restaurant with a whimsical name specializes in the Polish delicacy pasztecik szczecinski: a deep-fried yeast dough stuffed with savory fillings. It comes from Szczecin, Poland, and the restaurant uses the same machines and recipes as the bakers in the old country. Try them filled with beef and onions, cabbage and mushrooms, cheese and mushrooms or spicy chicken (one for $3.99, three or more for $3.75 each). Order some hot beet soup ($3.50) to go with your pasztecik, or opt for other authentic Eastern European dishes like boiled or fried pierogis (eight for $8.99) or potato pancakes (three for $3.95). For dessert, you might want to try the sweet pasztecik filled with fresh fruit and topped with whipped cream ($3.99) or pierogis stuffed with strawberries or blueberries and served with sour cream (seven for $9.99).
Venue says: "The best Homemade Pierogi in New York City with 40 years tradition of making it! "Mention Time Out at store and receive 10% off""