We tried it: Mac-and-cheese slice from Hell's Kitchen Pizza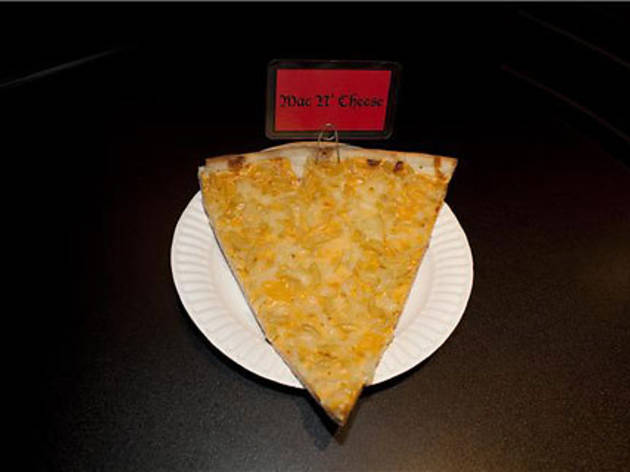 RECOMMENDED: Complete New York pizza guide

You would have thought there was an open casket in the staff kitchen yesterday—that's how quickly a crowd formed to gawk as we lifted the lid on the box containing a mac-and-cheese pie from Hell's Kitchen Pizza(691 Tenth Ave between 47th and 48th Sts; 212-765-8565), a gift to the TONY offices. And let's be honest: This Frankenstein's monster of carbs is truly a sight to behold—a huge disc of dough smothered in white cheese (a blend of mozzarella and Parmesan), fresh-out-a-cardboard-box elbow macaroni and yellow American slices. We suppose it caters to indecisive orderers, on-the-go types who don't have time for forks, and people who just don't give a fuck.

It could also suit displaced Cheeseheads—turns out the mac -and-cheese pizza has its roots in Wisconsin, where saying to hell with red sauce and just throwing on more fromage is likely considered an act of solidarity rather than gluttony. Here in NYC, it fits in perfectly well—decadence is in, after all.

So what's the verdict? Pretty tasty. The combined effect of pasta layered on dough is a bit chewy and starchy, but macaroni retains enough firmness to create a variation in texture between the two. Meanwhile, the American cheese is a pure lowbrow guilty pleasure, and given the fact that you're sort of getting two meals in one, the eight-slice large pie ($18) is enough to feed four people (if feed were synonymous with gorge on junk food).
Sponsored listing
Buenos Aires
You might think you've been transported to this restaurant's namesake city once you step inside and smell the aroma of meat sizzling on the grill. The menu full of traditional Argentine dishes—and plenty of beef—is a carnivore's dream come true. Dig into empanadas stuffed with fillings like ham and cheese or mozzarella and onions ($7.95 for two) to start the meal. Chorizo sauteed with onions and peppers ($9.95) or sweetbreads in a white wine and shallot sauce ($19.95) might tempt you, too. If you stick to the grill for your main course, you'll choose from every cut of beef you can imagine or a mixed grill of short ribs, skirt steak, sausage, blood sausage and grilled sweetbreads ($50.95). You'll probably want some papas a la provenzal, or fries with garlic and parsley (included with entrees or $5.95 for a side). Finish the night with flan ($7.50) or a crepe topped with dulce de leche and a scoop of vanilla ice cream ($11).
Venue says: "Lunch Special 20% off Monday-Friday 12-4. Enjoy the most affordable wines and best service in all of Manhattan!"
East Village
Online booking