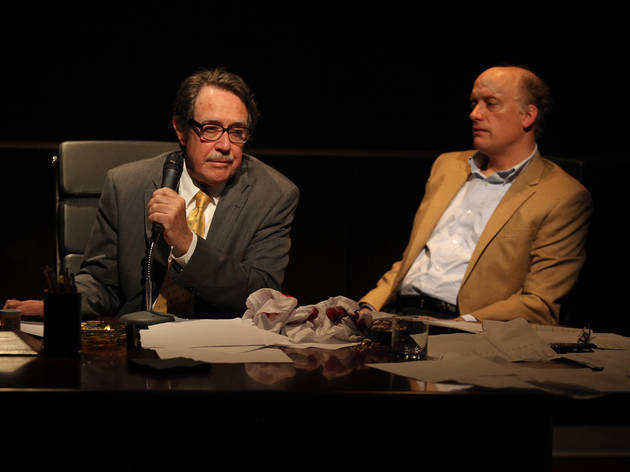 1/8
Photograph: Julieta Cervantes
A Public Reading of an Unproduced Screenplay About the Death of Walt Disney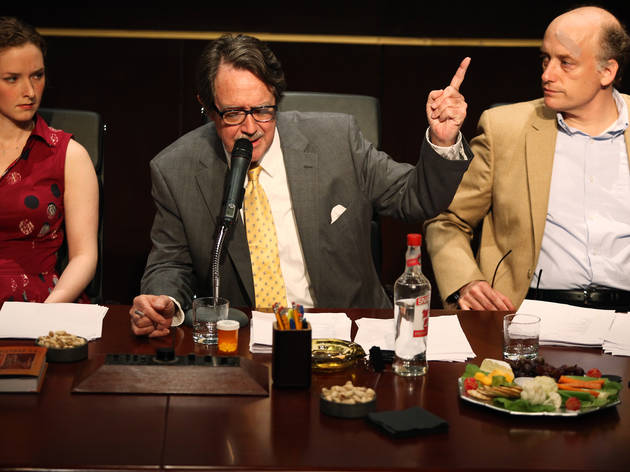 2/8
Photograph: Julieta Cervantes
A Public Reading of an Unproduced Screenplay About the Death of Walt Disney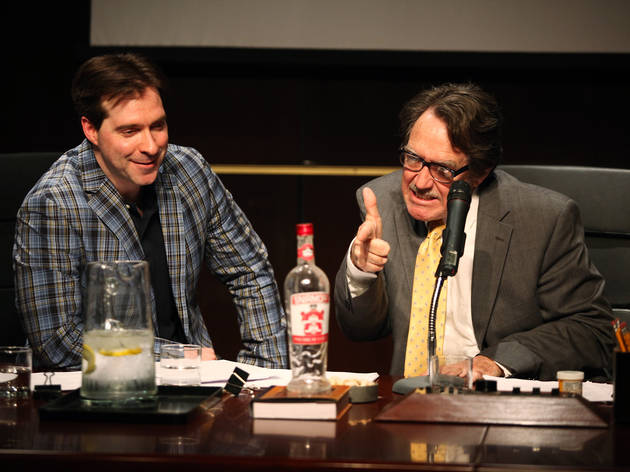 3/8
Photograph: Julieta Cervantes
A Public Reading of an Unproduced Screenplay About the Death of Walt Disney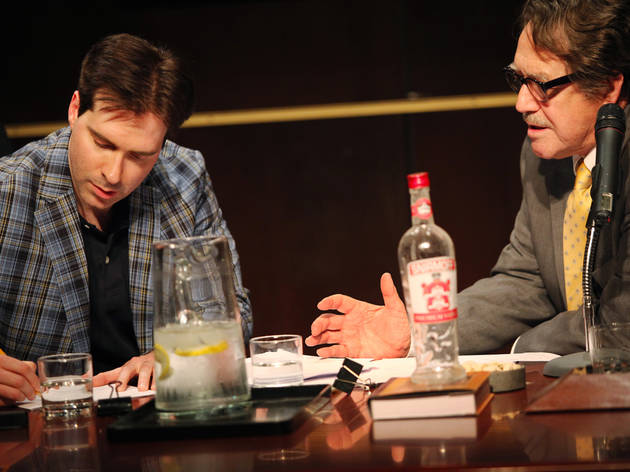 4/8
Photograph: Julieta Cervantes
A Public Reading of an Unproduced Screenplay About the Death of Walt Disney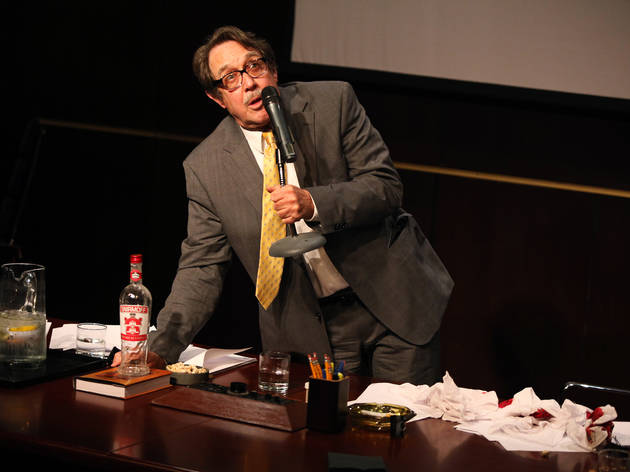 5/8
Photograph: Julieta Cervantes
A Public Reading of an Unproduced Screenplay About the Death of Walt Disney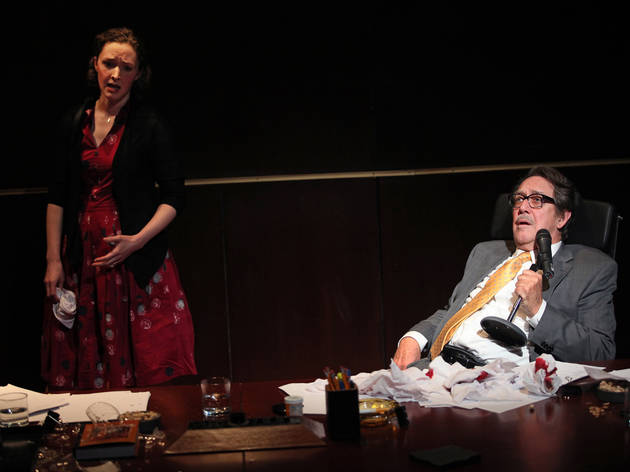 6/8
Photograph: Julieta Cervantes
A Public Reading of an Unproduced Screenplay About the Death of Walt Disney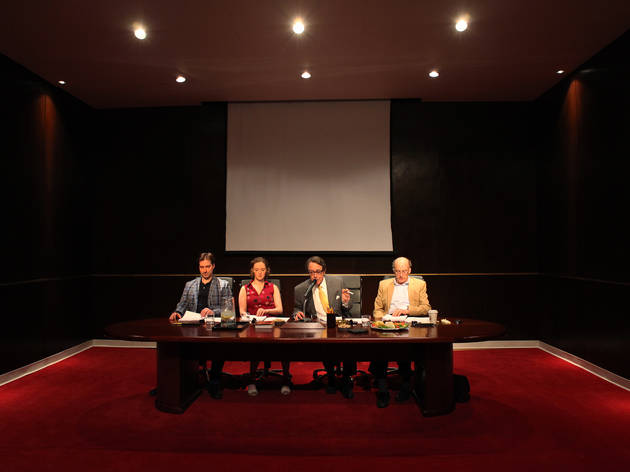 7/8
Photograph: Julieta Cervantes
A Public Reading of an Unproduced Screenplay About the Death of Walt Disney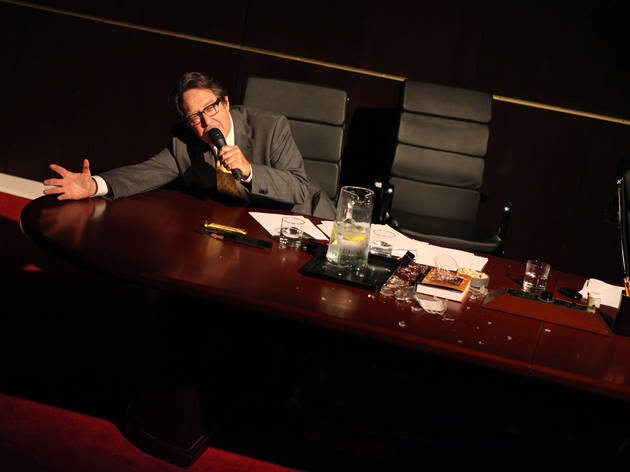 8/8
Photograph: Julieta Cervantes
A Public Reading of an Unproduced Screenplay About the Death of Walt Disney
Theater review by David Cote. Soho Rep (see Off Broadway). By Lucas Hnath. Dir. Sarah Benson. With Larry Pine, Frank Wood, Amanda Quaid, Brian Sgambati. 1hr 15mins. No intermission.
Last time Lucas Hnath travestied a public figure—science giant Sir Isaac Newton—at least he helped us tell truth from whimsy: In Isaac's Eye, a blackboard slowly filled with verifiable facts that cropped up in the blatantly fantastical play. No such guidelines protect the credulous or literal-minded in Hnath's enjoyably weird and hermetic A Public Reading of an Unproduced Screenplay About the Death of Walt Disney. I have no idea if the historic Liberty Tree in Florida's Disney World is filled with concrete and studded with vinyl leaves. Did Walt really throw an Oscar statue at his brother Roy? And a licensed Disneyologist will have to confirm if the man who personifies family values and Americana really tossed lemmings off a cliff for a documentary.
For this staged meta-reading, director Sarah Benson puts us in a generic corporate conference room, impeccably realized by Mimi Lien: red carpeting, dark mahogany, a plate of unappetizing cheese cubes and fruit. Already present are Roy (Wood), Daughter (Quaid) and Ron Miller (Sgambati), Walt's dumb-jock son-in-law. Enter the great man himself (played with immense flair and salty charm by Pine) and we're off on the self-mythologizing adventures of a cartoon tyrant who wants to set his seal upon the future.
Walt and resentful but loyal Roy purchase huge tracts of land in Florida for Disney World; Walt outlines an idealized planned community; he badgers his daughter to name her son after him; and in general, he tries to tame nature, cheat time and ensure the immortality of his vision. Yes, there will be ghoulish talk of cryogenically frozen heads.
It's all framed, per the überspecific title, as a screenplay written by Walt and read by the very people it dramatizes. As Walt recites screen directions, Pine uses his smoky tones and microphone technique to wonderful effect. Benson and her designers build an environment both exactingly literal—you can practically taste the rubbery Gouda that Wood gnaws during Roy's downtime—and dotted with surreal flourishes. Coughing up his cancer-riddled lungs, Walt pulls a ridiculous number of bloodstained handkerchiefs from his pockets. Of course, the whole point is to find humor and strangeness in the cracks between subject and representation.
That may sound dry, but this cast of actor's actors delivers the blunt, fragmented, elliptical music of Hnath's dialogue with great wit and precision. Wood's hangdog whine, Sgambati's shiny brutality, Quaid's quivering rage—they all play off the central force of Pine's silken presence perfectly. And Pine is magnificent. The character actor (who returns in Wallace Shawn's The Designated Mourner in late June) easily juggles the representational and textual layers: chain-smoking, purring screen directions and swigging vodka as he slides toward death. No matter how absurd and repetitive Walt's screenplay becomes ("Cut to" is used several dozen times), Pine misses nary a beat. Nothing that ever came out of the Magic Kingdom was ever this animated.—David Cote
Follow David Cote on Twitter: @davidcote
Rating Breakdown
5 star:

0

4 star:

2

3 star:

0

2 star:

0

1 star:

0
The lemmings part is totally true, right down to the use of a spinner to launch off the cliff.
The play starts slowly, almost annoyingly, but I think that's part of the plan. It builds in intensity and theatricality (the reviewer skips another surprising stage trick pulled off matter-of-factly) to one of my favorite theater experiences of the past couple of years.