1/7
Photograph: Brigitte Lacombe
A Raisin in the Sun
2/7
Photograph: Brigitte Lacombe
A Raisin in the Sun
3/7
Photograph: Brigitte Lacombe
A Raisin in the Sun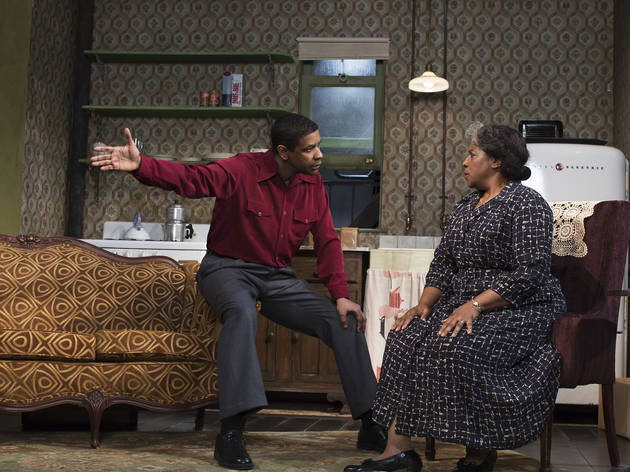 4/7
Photograph: Brigitte Lacombe
A Raisin in the Sun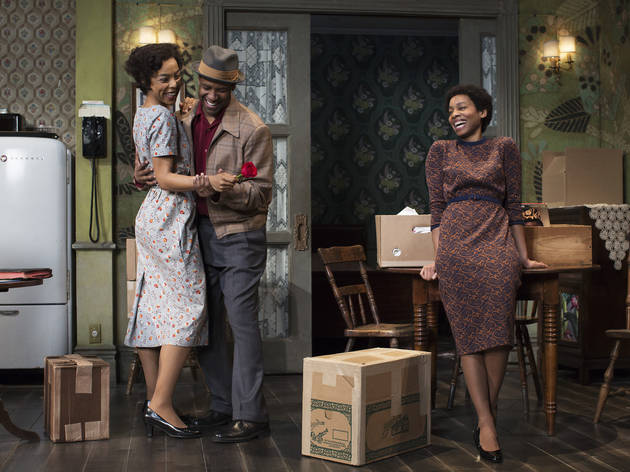 5/7
Photograph: Brigitte Lacombe
A Raisin in the Sun
6/7
Photograph: Brigitte Lacombe
A Raisin in the Sun
7/7
Photograph: Brigitte Lacombe
A Raisin in the Sun
A Raisin in the Sun. Ethel Barrymore Theatre (see Broadway). By Lorraine Hansberry. Directed by Kenny Leon. With Denzel Washington, LaTanya Richardson Jackson, Sophie Okonedo, Anika Noni Rose. Running time: 2hrs 30mins. One intermission.
A Raisin in the Sun: In Brief
Denzel Washington headlines a new production of Lorraine Hansberry's 1959 classic about hard times and big dreams in a Chicago household. Kenny Leon steers an ensemble that includes LaTanya Richardson Jackson, Sophie Okonedo and Anika Noni Rose.
A Raisin in the Sun: Theater review by Adam Feldman
What happens to a play revived? A Raisin in the Sun, Lorraine Hansberry's powerful 1959 drama, has certainly not dried up: It bursts with intense family conflict, racial politics and social consciousness. Nor, in its new incarnation, does it sag with the heavy load of an underqualified star, as the 2004 Sean Combs revival did. The pivotal role of Walter Lee Younger—a restless Chicago chauffeur and would-be/won't-be entrepreneur—is played by Denzel Washington; though 20 years older than Walter Lee, he is persuasively youthful (with an apt suggestion of seeming old before his time), and brings considerable charm and magnetism to a difficult, often unsympathetic role. Neither, however, does this production quite explode. Directed by Kenny Leon, who also helmed the 2004 version, this is a credible, realistically scaled account of a still-vital classic.
The first Broadway play by a black woman, A Raisin in the Sun is a marvel of sturdy construction, supporting multiple plots on a solid foundation of racial frustration—but it's the women who command the lion's share of dramatic interest. "We one group of men tied to a race of women with small minds," Walter complains, but the play continually proves him wrong. Sophie Okonedo gives a beautifully nuanced performance as Ruth, Walter's overworked wife; Anika Noni Rose brings her usual radiant intelligence to his free-minded sister (pointedly named Beneatha), who plans to become a doctor. And LaTanya Richardson Jackson holds her ground firmly, without resorting to cliché, as Lena, their strong-willed, God-fearing mother.
Lena hopes to use the insurance money from her husband's death to buy a house with a garden (she longs to put down roots) in a middle-class white neighborhood. In a sense, that's what this revival is doing as well. It brings welcome measures of color and shading to the Great White Way.—Theater review by Adam Feldman
THE BOTTOM LINE Hansberry's pioneering drama remains juicy.
Follow Adam Feldman on Twitter: @FeldmanAdam