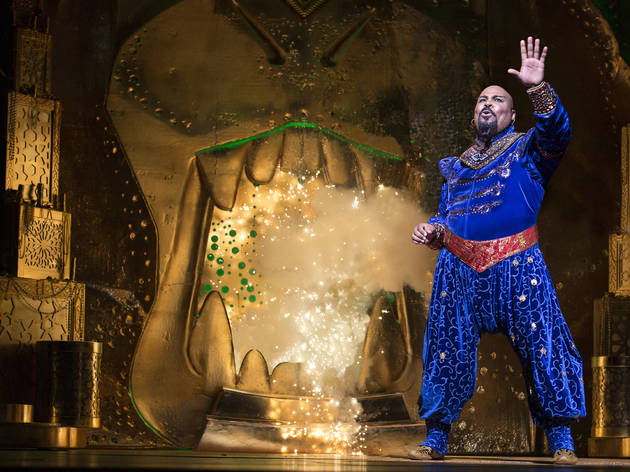 1/7
Photograph: Cylla von Tiedemann
Aladdin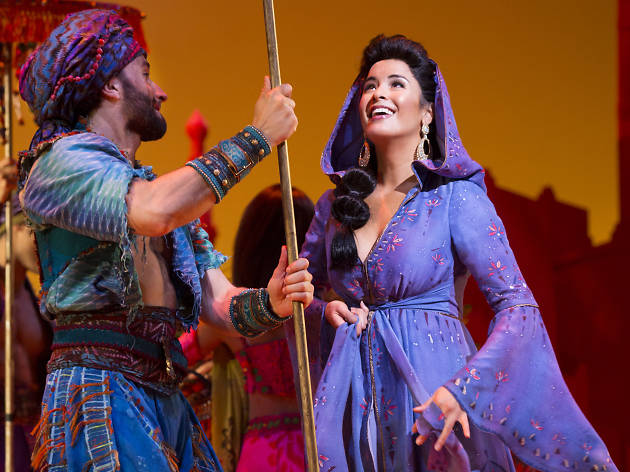 2/7
Photograph: Cylla von Tiedemann
Aladdin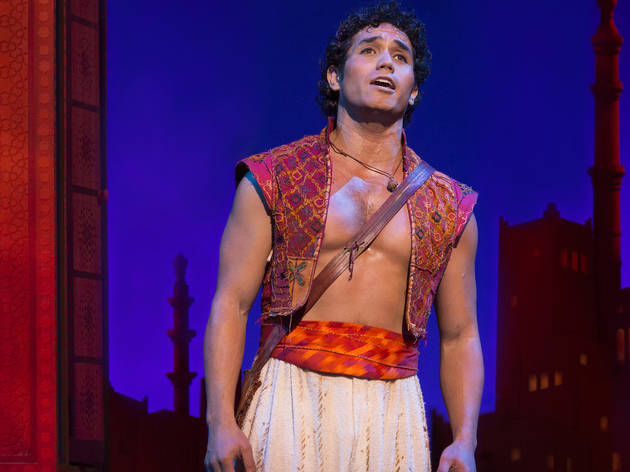 3/7
Photograph: Cylla von Tiedemann
Aladdin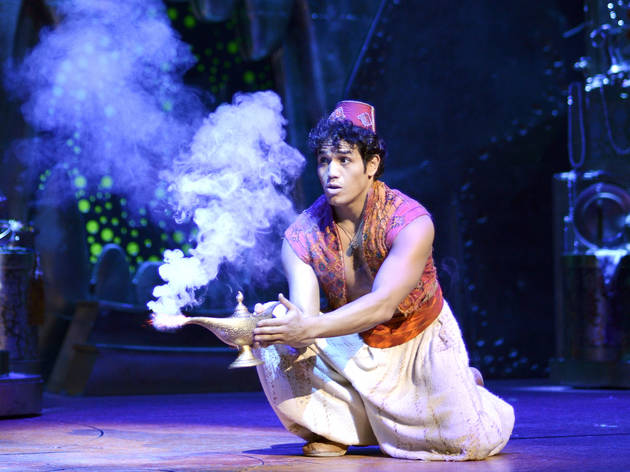 4/7
Photograph: Cylla von Tiedemann
Aladdin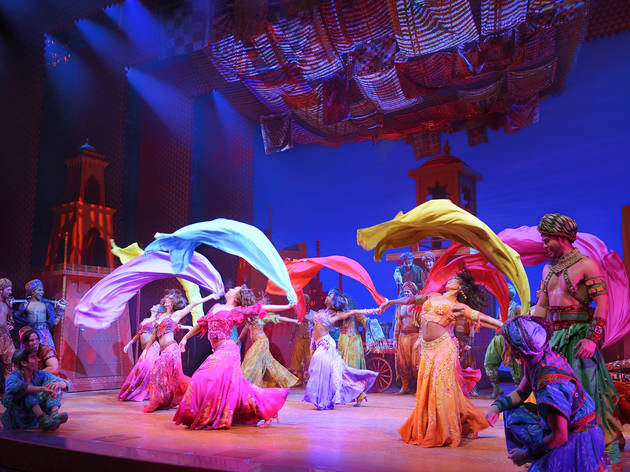 5/7
Photograph: Cylla von Tiedemann
Aladdin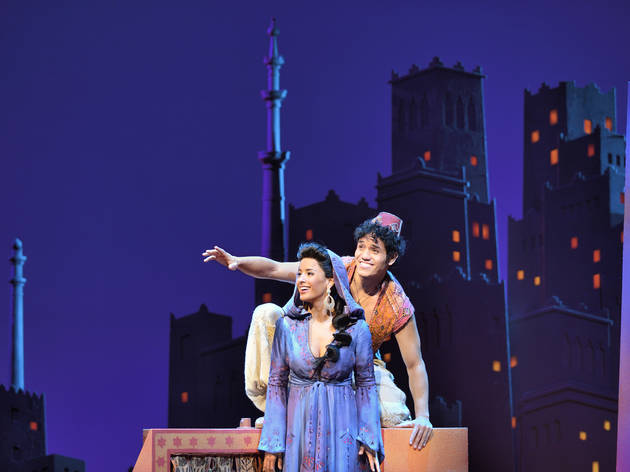 6/7
Photograph: Cylla von Tiedemann
Aladdin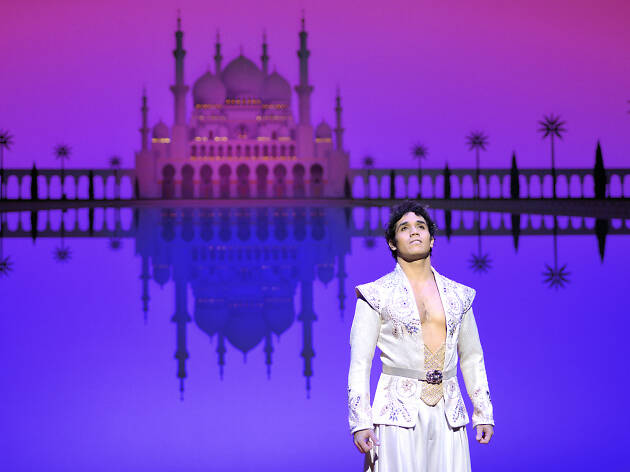 7/7
Photograph: Cylla von Tiedemann
Aladdin
Aladdin. New Amsterdam Theatre (see Broadway). Music by Alan Menken. Lyrics by Howard Ashman and Tim Rice. Book and additional lyrics by Chad Beguelin. Directed by Casey Nicholaw. With Adam Jacobs, James Monroe Iglehart, Courtney Reed. Running time: 2hrs 20mins. One intermission.
Aladdin: In brief
Disney unveils its latest cartoon-to-musical project: the tale of a boy, an uncorked spirit and an aerodynamic rug. Composer Alan Menken adds new tunes to the 1992 original soundtrack, and Chad Beguelin provides a fresh book. Reputed highlights include James Monroe Iglehart's bouncy Genie and the flying-carpet F/X.
Aladdin: Theater review by Adam Feldman
What do we wish for in a Disney musical? It is unrealistic to expect aesthetic triumph on par with The Lion King, but neither need we settle for blobs of empty action like Tarzan or The Little Mermaid. The latest in the toon-tuner line, Aladdin, falls between those poles; nearer in style (though inferior in stakes) to Disney's first effort, Beauty and the Beast, the show is a tricked-out, tourist-family-friendly theme-park attraction, decorated this time in the billowing fabrics of orientalist Arabian fantasy. "It's barbaric, but hey, it's home," sings the genial Genie (a game, charismatic Iglehart) in the opening song, and that's the tone of Aladdin as a whole: kid-Oriented.
As in the 1992 film, the Genie steals the show from its eponymous "street rat" hero (Jacobs, white teeth and tan chest agleam). The musical's high point is the hard-sell "Friend Like Me," in which the fourth-wall-breaking spirit summons wave upon wave of razzle-dazzle to demonstrate the scope of his power. (The number matches the rococo cornucopia of the New Amsterdam Theatre.) Granted three wishes for freeing the Genie from a lamp, Aladdin uses the first to become the extravagant Prince Ali, a potentate worthy of the Sultan's spunky daughter, Jasmine (Reed); later he takes her for a ride on a flying carpet that more closely resembles a flying Craftmatic adjustable bed.
Aside from the tonic of Iglehart's djinn, however, Aladdin is short on magic. Director Casey Nicholaw fills the stage with activity, and Jonathan Freeman and Don Darryl Rivera offer ripe turns as a villainous vizier and his squawking sidekick. But the plotting drifts into weightless silliness, with a surfeit of generic padding and glitz. There's the rub: The musical is called Aladdin, but seems content to be Prince Ali.
THE BOTTOM LINE A carpet with colorful patterns but little texture.
Follow Adam Feldman on Twitter: @FeldmanAdam
Venue name:
New Amsterdam Theatre
Contact:
Address:
214 W 42nd St
New York


Cross street:
between Seventh and Eighth Aves
Transport:
Subway: A, C, E to 42nd St–Port Authority; N, Q, R, 42nd St S, 1, 2, 3, 7 to 42nd St–Times Sq
Price:
$69.50–$127.50
Event website:
http://aladdinthemusical.com
Average User Rating
3.9 / 5
Rating Breakdown
5 star:

3

4 star:

8

3 star:

2

2 star:

1

1 star:

0
Aladdin is a spectacular show that lives up to every expectation. The vibrant colors of the costumes and the extravagant set design is mesmerizing. I attended the Saturday night show a few weeks ago with my sister. It was her first broadway show and it certainly did not disappoint. The original story that we all grew up with and loved is brought to life with an unforgettable cast. The Genie and Aladdin actors are spot on, even Iago kills it.
My only critic would be that the actress that plays Jasmine was certainly the weakest link in the cast. Her shaky, some what nasally, off pitch voice was difficult to get through. The other cast members surly out shined her.
All and all, If you're looking for an entertaining and exciting production for all ages, Aladdin won't let you down. It's definitely worth the cost of a ticket.
Throughout the show I could not help but flashback to when I was in elementary school seeing the movie with my brother for the first time. Aladdin comes to life on stage in a way that only Disney can achieve. James Monroe Iglehart is a force to be reckoned with! The dude straight up takes the show and sprints (ala Usain Bolt style) away with it! He is worth the price of admission alone. Sprinkle in a magic carpet (how does that thing float?!) huge production numbers and the original voice of Jafar and you have an 80's/90's Disney kids dream come true. Adults, don't be afraid. This isn't just for kids. Great night out!
The kids will love it. But as an adult the show fell flat. Wasn't impressed at all
This show is a must see! Genie will make you laugh the entire time, he definitely stole the show. You will want to sing along to the show the whole time and you will be jealous that your not on stage taking a ride on the magic carpet. The girl playing Jasmine wasn't the best, but over all was a great cast.
If I found a lamp and gave it a rub - and a genie popped out , one of my three wishes would be a a trip to Broadway. Yep, I'm a Brit and to see a show in New York is an absolute treat. I was lucky enough to visit recently and took in a couple of shows Kinky Boots and Aladdin. Truth is I loved them both.
Aladdin worked for me on several levels. The colour, the pace, the energy and pure exhuberance of the cast saw my jet-lag vanish into thin thin air. The Genie had me totally engrossed from the start. Brilliant performance.
You can probably tell from my choice of shows that I was looking for entertainment , not anything too high-brow.
I got exactly what I wanted at Aladdin. It left me on a high. I hear its coming to London, so I look forward to seeing it next in my home town.
I do not know what this show will do once James Monroe Iglehart decides to leave. As in the original animated film, take away the Genie, and you've got a bland story. Iglehart is the heart and soul of the show, stealing it from his very first rollicking number "Never Had a Friend Like Me." Just call the show over after that's done. For sheer production value, Disney coups another win, with a shimmering set. "A Whole New World," while I'm sure the vocals were beautiful, distracts away from the song with the gorgeous set design and audible "oohs" from the whole audience.
If you go into the show, expecting a disney-fied kid creation, then it will be a pretty fun time. Just don't go in expecting the next Lion King.
They do a great job at advertising the show, amazing ads everywhere so my expectations were uber high to see one of my childhood favorite movies on Broadway! The costumes and set were amazing! Very colorful and fun. The main actors had great voices. I was a little underwhelmed by the show overall, though. There was a lot of ad-libbing. You can tell they depended on having the Genie carry the show so he kept going off on tangents and throwing in modern references. It was funny at first, but after a while it was like, 'Okay can we stick to the storyline, please?" Disney fans are tough! Haha But he did an amazing job. Definitely something to see for the visuals if nothing else.