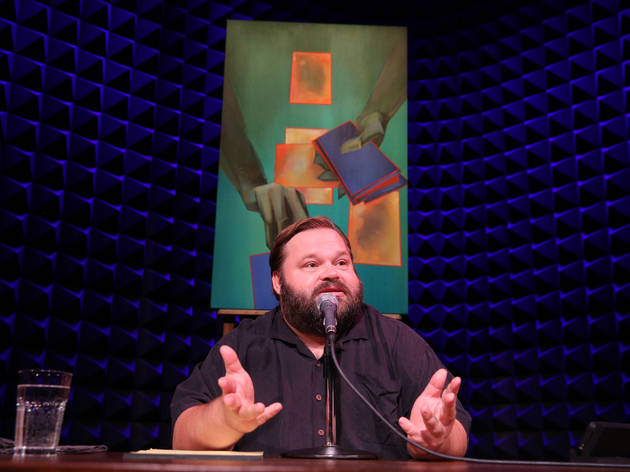 1/4
Photograph: Joan Marcus
All the Faces of the Moon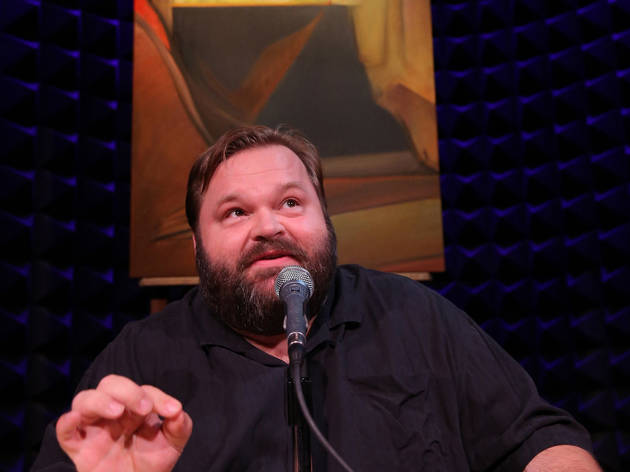 2/4
Photograph: Joan Marcus
All the Faces of the Moon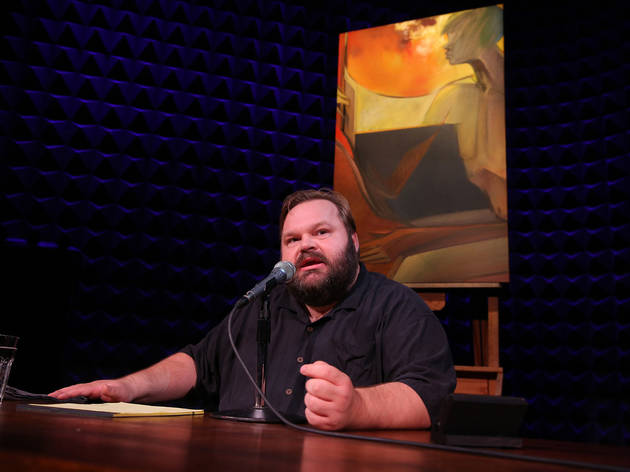 3/4
Photograph: Joan Marcus
All the Faces of the Moon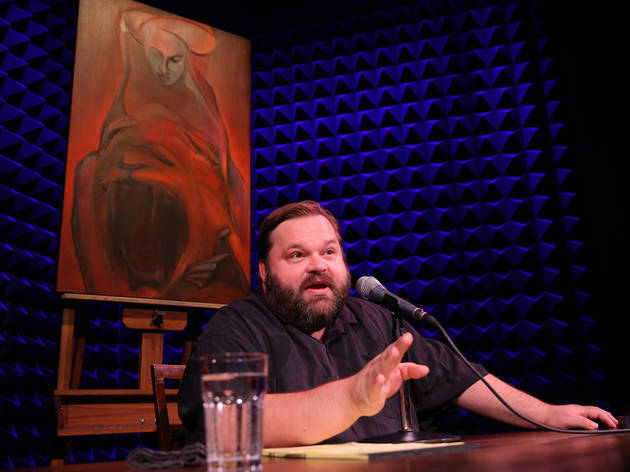 4/4
Photograph: Joan Marcus
All the Faces of the Moon
All the Faces of the Moon. Joe's Pub (see Off Broadway). By Mike Daisey. Directed by Jean-Michele Gregory. With Daisey. Running time: 60–75mins per episode. No intermission.
All the Faces of the Moon: in brief
Having ridden out the public scandal surrounding his fabrication of details in 2011's The Agony and the Ecstasy of Steve Jobs, master monologist Mike Daisey bounces back to the Public with a massive new project: a 29-chapter story about New York City, performed on 29 consecutive nights at Joe's Pub.
All the Faces of the Moon: theater review by Adam Feldman
Mike Daisey is not one to go quietly. Last year, the master monologuist became the target of a national volley of flaming arrows when he was revealed to have fabricated key sections of The Agony and the Ecstasy of Steve Jobs, his influential piece about the Chinese labor behind Apple's technological elegance. Many questioned whether Daisey, whose work had often involved elements of (supposed?) autobiography, could ever regain his audience's trust.
Those doubters, it seems, included Daisey himself. In the first episode of his huge new project, All the Faces of the Moon—a 29-chapter exercise in urban-narrative sprawl, performed over 29 consecutive nights at Joe's Pub (three of which I attended)—he revealed that he had attempted suicide in the wake of the scandal. "There was a time when I could tell stories, and now I did not believe that I could ever do that again," he said. "And I had done that to myself."
Daisey's latest spiel is not an extended apology or confession, but a strategic adjustment to the dubiousness that now looms over him. Every episode of All the Faces of the Moon, which has been loosely inspired by the cards of the tarot deck, includes long patches in his familiar style of emphatic, observational first-person humor. But at a certain point in each piece, he shifts into a radically different mode of epic allegory, replete with mythic figures: a horseman who rides on water; a man who changes sex during a multiyear sleep, then visits a never-ending bacchanal; a Red Hook bookworm who becomes a Chinese laborer in her dreams; the Gray Lady, a personification of The New York Times who coughs ink into her handkerchief.
Denounced as a fabulist, Daisey now openly deals out fables. All the Faces of the Moon does not just flirt with fictionality; it consummates the relationship and releases a sex tape of it. The entire series is being podcast, with each episode going live at noon the following day.
An audio binge of Daisey's complete, roughly 40-hour yarn may, in fact, be the best way to take it in. For although each monologue is supposed to stand alone, in practice they are chapters of a serialized novel, a tale of New York's two cities: the soulful one in decay and the numbly efficient one being erected over it by the likes of Mike Bloomberg and his "army of bureaucrats." (Daisey refers to the mayor as "the little man," and makes frequent references to his own much larger girth.)
Taken individually, the monologues are ungainly and bottom-heavy. Daisey is less adept at crafting mythology than he is at sweating the small stuff. The epic parts of the piece seem stiff and heavy-handed after the more personal and digressional sections—which, placed beside the epic ones, can in turn come off as filler or windbaggery. (A riff on Baudrillard might have been more persuasive had Daisey not called him "Baudelaire" throughout.)
There is no question that Daisey remains a massively engaging talker, and that he throws his voice in daring new directions here. But the metatheatrical question of his truthfulness, which he plays with throughout All the Faces of the Moon, has become a factor in the experience of seeing him—a distracting or fascinating one, depending on your attitude. Embracing the shadow of doubt does not banish it. For now, for better or worse, Mike Daisey is a teller of tales that are literally unbelievable.—Theater review by Adam Feldman
Follow Adam Feldman on Twitter: @FeldmanAdam
Ticket Offers from Time Out New York
Looking for tickets to a Broadway or Off Broadway show? Time Out Offers brings you terrific discounts on tickets to the latest New York theater. Want even more ideas? Check out Time Out New York's complete listings of Broadway, Off Broadway and Off-Off Broadway shows, and browse all available tickets.