Theater of War Productions has brought classical drama to some very tense and sometimes dangerous places: Rikers Island, Guantánamo Bay, Fukushima. Using texts that range from the ancient Greeks to modern writers such as Tennessee Williams and Eugene O'Neill, the New York City–based company engages audiences that are coping with trauma, such as veterans, the incarcerated and survivors of natural disasters. But artistic director Bryan Doerries hesitated when he was approached about taking his troupe to Missouri in the aftermath of Michael Brown's 2014 death, which sparked days of civil unrest. "Nothing intimidated me more than the idea of going to Ferguson," Doerries says.
The resulting production, Antigone in Ferguson, premiered there in 2016 and has since traveled nationally and globally. It's been seen by New York audiences, too, but only in brief engagements. (A one-night staging last year at a basketball court in Brooklyn drew more than a thousand people.) If you missed those performances, now may be your chance: Starting on September 13, Antigone in Ferguson will run at Harlem Stage for five weeks. All tickets are free, and Theater of War Productions is making sure the house is full every night. "We're sending transportation to pick people up, and we're providing dinner for them," says Doerries. "We're trying to reverse the flow of culture."
"We're trying to reverse the flow of culture."
Before black teenager Brown was killed by a white police officer, Doerries says, he had never done a production "that was explicitly about race." He was, however, familiar with Missouri, having performed in prisons, military bases and churches across the state. It was a staffer from the governor's office—a parishioner at the St. Louis church where Brown's funeral was held—who reached out to Doerries about coming to Ferguson. "It just felt like we had to do something," Doerries recalls. He chose Sophocles' tragedy Antigone, whose conflict revolves around "a body that is desecrated," reminiscent of the rage that swelled in the community as Brown's body lay in the street for hours.
Doerries provided his own adaptation of the text and brought in a cast that included famous faces from television: Samira Wiley (The Handmaid's Tale), Gloria Reuben (ER) and the late Reg E. Cathey (The Wire). Choir members from the area took the stage as the chorus, performing songs composed by St. Louis native Phil Woodmore. "Part of the design of the project was to bring people with oppositional views together," Doerries notes, and Woodmore's chorus did just that; its members included Brown's former teachers, social justice activists and, controversially, local police officers.
Theater of War Productions has used the same format since its inception: a handful of actors on an almost bare stage, without costumes or sets. What matters to Doerries are words—not just the ones heard onstage but also those exchanged afterward in public discussions. Feedback from the show's audiences is not an afterthought; it is the entire point. "We're not interpreting the play for them," Doerries insists. "We're asking them to be the interpreters."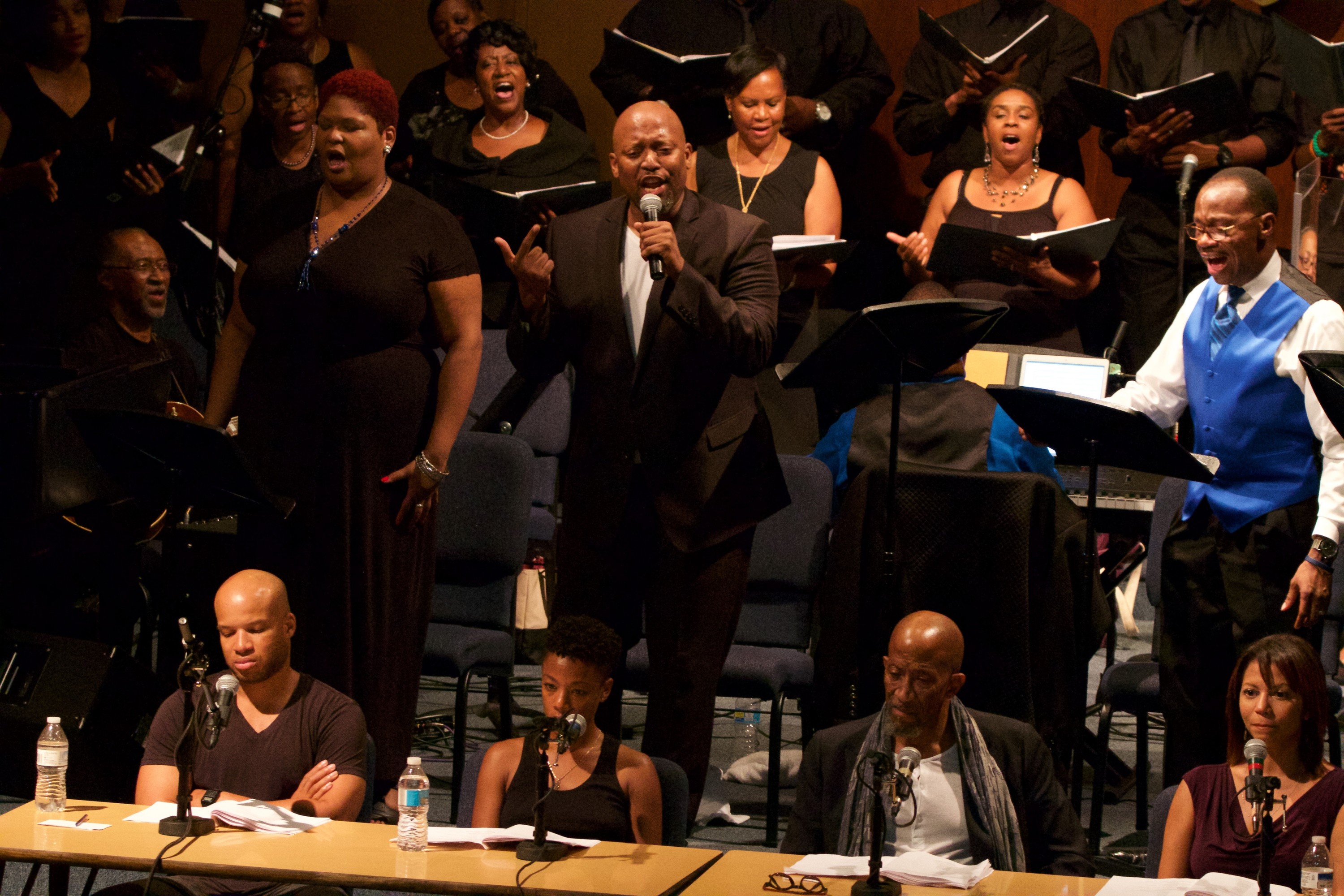 As a 29-year veteran of the St. Louis Metropolitan Police Department, Lt. Latricia Allen sees the events surrounding Brown's death from multiple perspectives. "I absolutely love my job," she says, "But when I put that down, I'm still going to be an African-American woman and a mother." Allen sang in the choir and participated in postshow panels during Antigone in Ferguson's premiere run. "I never thought that I could cry so much," she says.
Everywhere Antigone in Ferguson has traveled, it has recruited local singers to join its St. Louis choir. At Harlem Stage, Lt. Allen will be onstage alongside New Yorkers, as will returning actress Wiley; other scheduled members of the rotating cast include Paul Giamatti, Chris Noth and Tamara Tunie. But this isn't the project's last hurrah. "Antigone in Ferguson is still emerging," says Doerries. "This run in Harlem won't be a finishing school, but it will definitely take us to the next level."
Antigone in Ferguson plays at Harlem Stage Sept 13–Oct 13. Tickets are free but reservations are required. Walk-up tickets will be available 30 minutes before each show on a first come, first served basis.