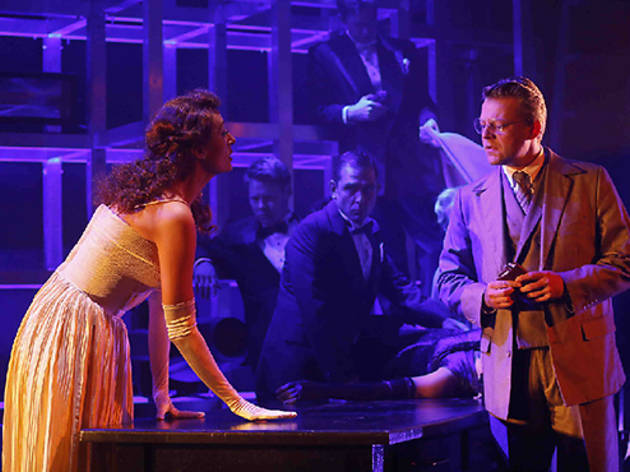 1/7
Photograph: Carol Rosegg
Atomic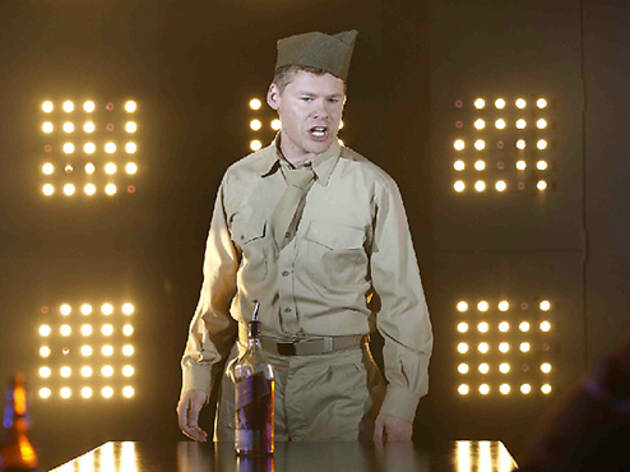 2/7
Photograph: Carol Rosegg
Atomic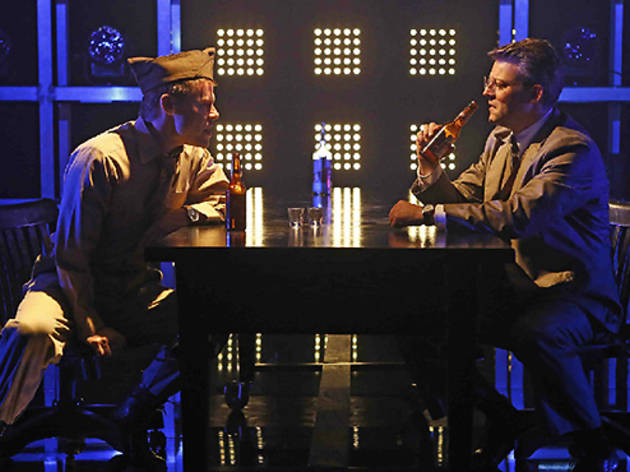 3/7
Photograph: Carol Rosegg
Atomic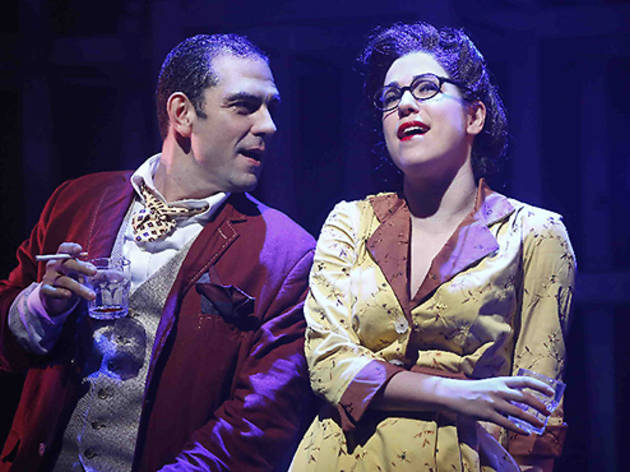 4/7
Photograph: Carol Rosegg
Atomic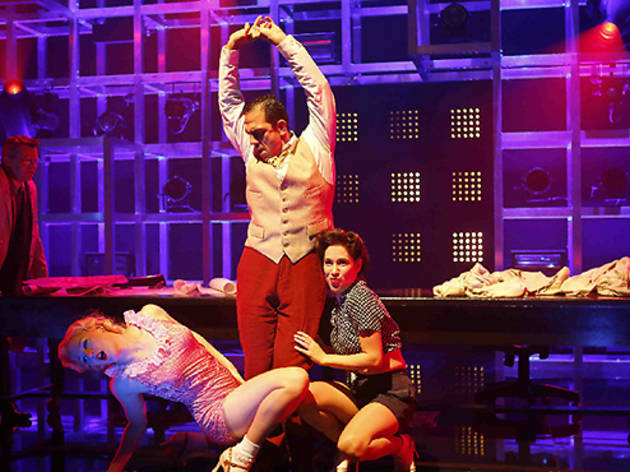 5/7
Photograph: Carol Rosegg
Atomic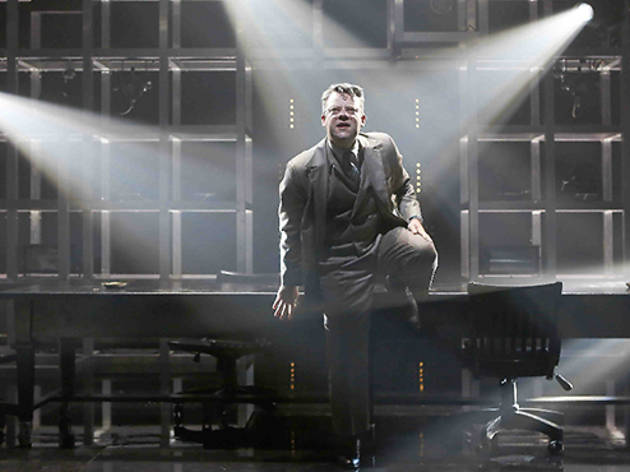 6/7
Photograph: Carol Rosegg
Atomic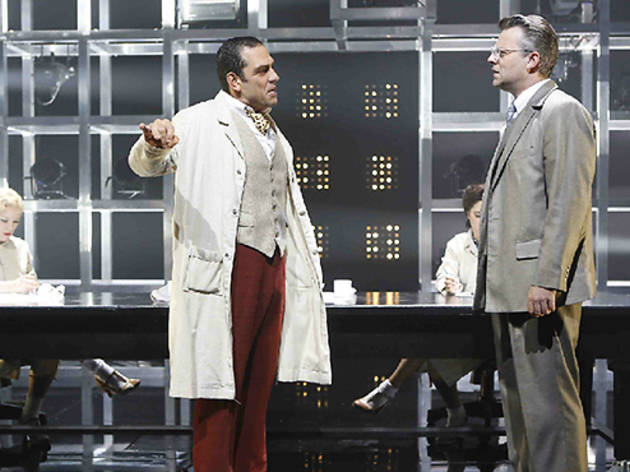 7/7
Photograph: Carol Rosegg
Atomic
Atomic. Acorn Theatre (see Off Broadway). Book and lyrics by Danny Ginges and Gregory Bonsignore. Music and lyrics by Philip Foxman. Directed by Damien Gray. With ensemble cast. Running time: 2hr 20mins. One intermission.
Atomic: In brief
Nuclear scientist and Manhattan Project linchpin Leo Szilard is the unlikely subject of a new musical by Danny Ginges, Gregory Bonsignore and Philip Foxman. The cast of nine, directed by Damien Gray, includes Jeremy Kushnier, Euan Morton, Sara Gettelfinger, Randy Harrison and Jonathan Hammond.
Atomic: Theater review by Diep Tran
Millions dead. Bombs shattering lives. A hero in a race against time to save the world. It's all the ingredients of your typical summer blockbuster. Add in some pop-rock tunes from the team of Danny Ginges, Gregory Bonsignore and Philip Foxman, and you have Atomic, a melodramatic new musical about the "prodigal son" of the atomic bomb, Leo Szilard. In real life, Szilard (played with heroic conviction by Jeremy Kushnier) pioneered the nuclear reactor while working on the Manhattan Project. There's the usual Rolodex of character types: concerned yet devoted wife Trude (a supportive Sara Gettelfinger); memorable side characters (including Jonathan Hammond hamming it up as Italian physicist Enrico Fermi); and military-brained foil Arthur Compton (an authoritative David Abeles).
Despite some solid if not particularly memorable anthems, it's the quiet moments that stand out, the ones that question whether the end (preventing another world war) really justifies the means (killing hundreds of thousands of civilians). While Atomic doesn't reach explosive levels of grandeur, it is enjoyable and more introspective than your typical summer offering.—Theater review by Diep Tran
THE BOTTOM LINE It doesn't bomb, but the detonation is relatively minor.
Rating Breakdown
5 star:

1

4 star:

0

3 star:

1

2 star:

0

1 star:

0
This is a weird show. But what is that saying about "nine people's favorite things"? I'm one of the nine people. This was one of the most interesting new musicals I've seen in a very long time. The music is still with me especially one day, and though imperfect, often rousing and thrilling. The story and the scenes are very good -- and I personally loved the Japanese scene, I was so tense the entire time and then, in the context of these characters guilt I thought it made perfect sense, and I loved that last song so much. I cried. And I laughed at Fermi, who is rather broad -- but I didn't expect to laugh at an atom bomb musical. This was just terrific. And my husband loved it... and he hates musicals, so...
Atomic is an intriguing play which treats an epoch changing project which is fast being forgotten. Some songs were elegant and enjoyable while others were more difficult to comprehend. Also notable is the effective use of lights and minimalist set design.

By focusing on the character of Leo Szilard, the play follows the simplifying convention of seeing the panorama of history through one man's eye. While understandable, it obscures the fact that the Manhattan project and modern physics are fundamentally a collaborative effort. Theorists depends on experimentalists to confirm ideas or to challenge their theories. No one person could have completed the Manhattan project on his/her own. Nonetheless, the key characters and sequences of events were largely correct.

More problematic is the characterization of Enrico Fermi. Fermi was portrayed as a womanizing fame monger, but this has little support in his biographies. It is an ethnic stereotype that almost rises to the level of a slur. While I understand the desire to have a comic counterpoint to the passions of Leo Sziland, this is a cheap device not worthy of the subject matter.

Also rather jarring was the use of the symbolic 'beat down' of a Japanese couples in strobed slow motion. Perhaps it was trying to reflect Szilard's own emotional responses, but I think some other approach using symbols or images from Hiroshima might be more fitting.

Other minor errors abound probably due to a lack of understanding of the process of physics and engineering. The physicists were shown wearing lab coats and looking at blueprints. In reality, these theoretical physicists would rarely be wearing lab coats and would wear business suits and hats according to the fashion of that time. Also, they would be much more likely manipulating mathematical formulae and doing calculations rather than staring at blueprints which would be more of an engineer's focus.

A much more serious problem occurs toward the end of the play where the context for the hearing on Oppenheimer's security clearance were conflated with the moral ambivalence of the scientists for having created the atomic bomb. While there were widespread controversy over the effects of the atomic bomb on humans, there have always been substantial support for their use in Japan by Americans. The scientists would be besieged not by the populace, but their own consciences. More importantly, the hearing on Oppenheimer and most post-war atomic policies were driven by the 'red scare' and fear of the Soviet Union. Humanitarian concerns made hardly a ripple as the US went on to build the fusion bomb almost immediately.

While sprinkled with flaws, this musical is a worthy investment of your time and imagination if it provokes new thoughts or reinvigorates your interest in the many questions it raises; many of these question should be ask again and again today.