Heads up! We're working hard to be accurate – but these are unusual times, so please always check before heading out.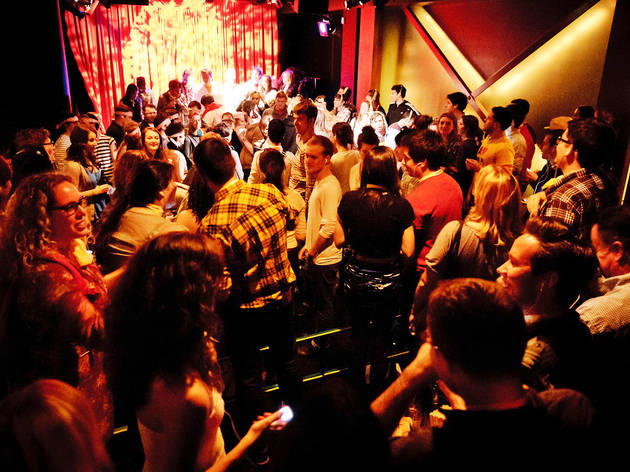 1/8
Photograph: Ben Arons
Ars Nova Any venue so dedicated to its productions that it provides theme-appropriate snacks must have its socks pulled up right. Artistic director Jason Eagan runs shipshape, tiny Ars Nova as if there were an award available for busiest venue—every night sees a different comedian, musician or playwright making work in front of welcoming audiences. But life isn't just a cabaret, old chum: The writers group boasts a who's who of important dramatists; the commissioning program offers a level of luxury otherwise unheard-of in the Off Broadway world; and while the venue mounts only a few full productions each year, they're often like Natasha, Pierre & the Great Comet of 1812—radically supported, utterly immersive and absolutely sui generis.—Helen Shaw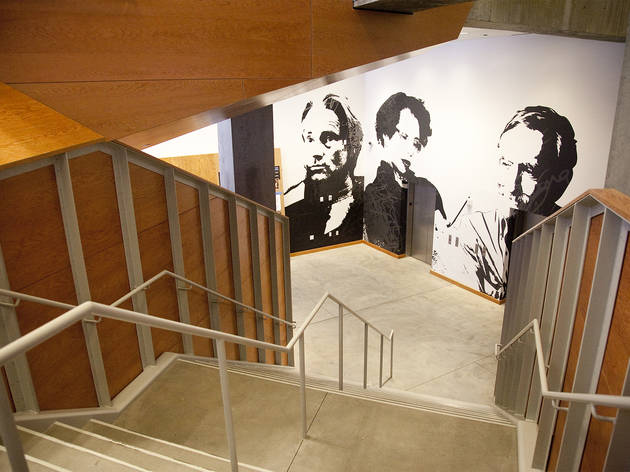 2/8
Photograph: Melissa Sinclair
Playwright portraits at the Signature Center The walls have ears—and eyes and mouths—at Signature Theatre Company's multistage new home. Scattered throughout the complex are black-and-white portraits of every playwright to whom the company has devoted a season in the past. Edward Albee and Arthur Miller loom near the stairs; Romulus Linney watches over the theater that bears his name; Tony Kushner peeks out of the hall to the men's bathroom. Theater fans can test their cred by seeing how many writers' faces they recognize in the Signature's halls of fame. And just trying to find all of them—Paula Vogel is a tricky one!—provides a neat excuse to explore the Frank Gehry–designed space.—Adam Feldman Click here to see our slide show of playwright portraits at the Signature Center.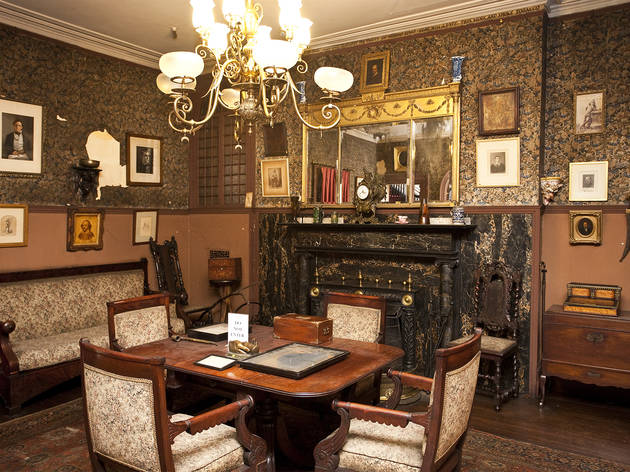 3/8
Photograph: Camille A Fernandez
Edwin Booth's bedroom at the Players Club It's a shame that Edwin Booth, arguably the 19th century's greatest actor, ended up living in the shadow of his little brother John Wilkes, the 19th century's most notorious assassin. But his legacy endures in a very real way at the Players Club, the storied social center he founded in 1844. The Stanford White–designed building across from Gramercy Park oozes history from its every mahogany pore, its walls lined with old handbills and portraits of its most prominent members. But the most jaw-dropping space there, for theater and history buffs alike, is the bedroom Booth lived in above the club, which has remained almost untouched since the actor died there of heart failure in 1893. Everything is as it was, from the Cervantes inscription painted in gold over the entrance to the night chamber ("Now blessings light on him that first invented this same sleep") to the dictionary Booth kept on a pedestal by the window. Other artifacts on display include the actual human skull that both Booth and his father, Junius Brutus, used onstage when playing Hamlet (in life, it was attached to the body of a theater-loving horse thief); Booth's collection of pipes (he was a heavy smoker) and his makeup kit; and, even though Edwin was a Unionist and renounced John Wilkes after the latter shot President Lincoln, a photograph of his infamous brother along with his other loved ones. Though viewings of the room are available only upon request, Players executive director John Martello hopes to start offering public tours later this year.—Jenna Scherer Click here to see more photos of Edwin Booth's bedroom at the Players Club.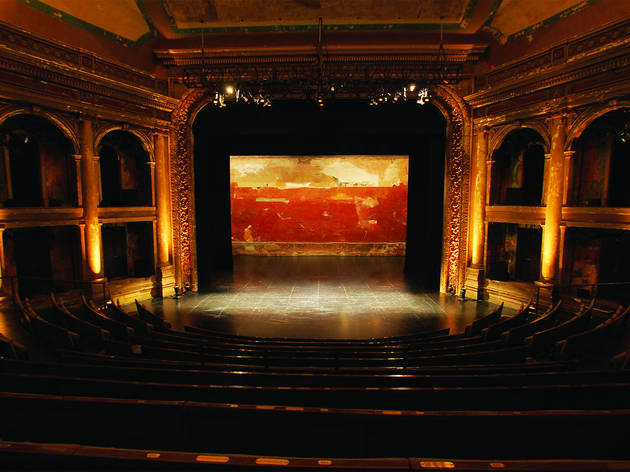 4/8
Photograph: Andrew Nicholas
Outer-borough venues Oh, the places we'll go when we're looking for excellence—we'll even get on the G if it means reaching superb outer-borough spots such as the crucial Bushwick Starr or sci-fi hive the Secret Theatre. In fact, it's getting hard to find great, intimate spaces without moving into "affordable" precincts. Luckily, we're perfectly happy at Magic Futurebox; scruffy old Collapsable Hole; Alec Duffy's brand-new Brooklyn venture, Jack; the ravishing Invisible Dog; Dumbo cynosure St. Ann's Warehouse; Fort Greene mainstay BAM; inventive programmer Astoria Performing Arts Center; Long Island City's dance-and-performance cornerstone the Chocolate Factory; and the small-but-mighty garage-turned-theater the Brick. Hard as it may be to believe, we might not even need Manhattan anymore.—Helen Shaw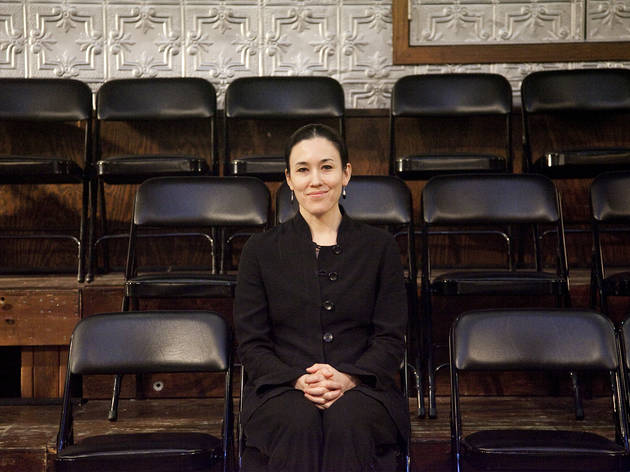 5/8
Photograph:Melissa Sinclair
La MaMa reborn Since 1961, when Ellen Stewart opened a small theater in the basement of an East Village tenement, La MaMa E.T.C. has been both an incubator and a nerve center of New York's Off-Off Broadway scene. Stewart stewarded the theater for most of its half century of existence, during which it helped launch the careers of Sam Shepard, Philip Glass and Lanford Wilson, to name just a few. When Stewart died in early 2011, La MaMa was left without its titular matriarch. But her home is now in the steady hands of her co–artistic director and protégé, Mia Yoo. A more practical, if less flamboyant, presence than Stewart, Yoo has maintained the founder's mission of producing a wide variety of new work. At the same time, she's upping the ante on supporting new programs and paying tribute to La MaMa's legacy. The 80-odd shows that will be produced this year include a martial-arts end-of-days musical, new plays about hot-button issues including the U.S.-Mexican drug trade (penned by Matthew Paul Olmos, whose work was chosen for production by Shepard) and fracking, and the Third Annual American Human Beatbox Festival. In the famously repeated words of Stewart, we'd say that La MaMa is still firmly "dedicated to the playwright and to all aspects of theater."—Jenna Scherer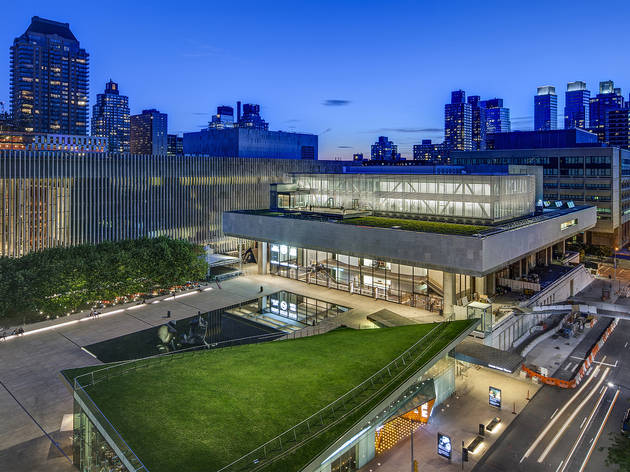 6/8
Photograph: Francis Dzikowski
The Claire Tow Theater terrace Intermissions can be awkward affairs. Stay in your seat? Walk around the block? Wander aimlessly to the bathroom? At Lincoln Center Theater's new 131-seat venue on the roof, it's an easy call. If the weather's nice, we love to hang out on the wooden rooftop terrace and enjoy the view of the Lincoln Center campus. Lights twinkling at night, the famous fountain at low ebb, the sloping elevated greensward to the left.… What calming urban grandeur. Just don't forget to return for the second act.—David Cote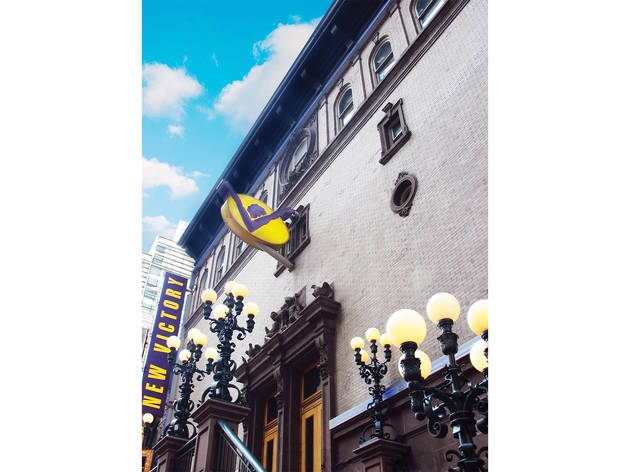 7/8
New Victory Theater If you don't have offspring—or even if you do—there's nothing to chill the blood quite like the phrase children's theater. Horrid images of Day-Glo singing panda bears and insipid, overacting adults crowd the mind's eye. But if you drop in at the New Victory Theater on 42nd Street, you will discover a world of artful and exotic global entertainment for younger audiences. The New Victory imports a dazzling range of work from around the world: circus acts from Australia, literary lampoons (Tim Crouch's I, Malvolio), puppetry from France (Fragile) and even the U.S. premiere of a recent opera (The Firework Maker's Daughter in May). There's more sheer inventiveness and wonder in a single New Victory season than in most venues combined. Take your kid! Or a niece and nephew. Or simply treat your inner child.—David Cote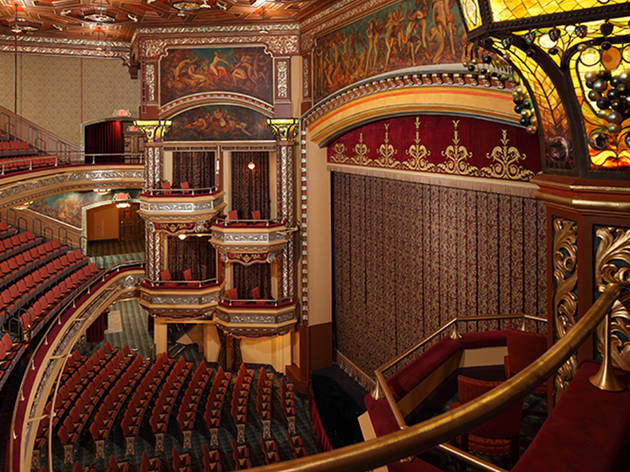 8/8
Photograph: Whitney Cox/The Shubert Archive
The Belasco Theatre Of the 40 official Broadway houses, the Belasco may well be the loveliest. Built in 1907—only the New Amsterdam and the Lyceum are older—it doesn't look like much from the staid, neo-Georgian facade. But walk inside and you'll find yourself in an Edwardian fantasy of theatrical magic, with decorative marvels wherever you look. The eccentric stage impresario David Belasco was friends with Louis Comfort Tiffany, and his theater bears the fruit of that friendship: Bunches of purple grapes burst from the room's exquisite stained-glass column capitals. Octagonal panels of Tiffany glass, 22 in all, are set in the coffered ceiling; carved dark wood and elegant murals add to the theater's cozy, quasigothic splendor (magnificently restored by the Shubert Organization in a $14.5 million renovation, unveiled in 2010). David Belasco has long been rumored to haunt the building, and who could blame him if he did? It's the kind of place you never want to leave.­—Adam Feldman Click here to see more photos of the Belasco Theatre.
Best New York theater spots and venues (slide show)
From the fanciest Broadway houses to quirky micro-emporiums, New York theater has all the places you want to be.
For sheer diversity of performance spaces, it's hard to beat New York theater. At the top of the food chain, architecturally speaking, you've got the 40 Broadway houses, which get the most traffic and attention. But even within that segment, there's a huge difference between turn-of-the-century jewel boxes and the more impersonal, corporate barns built in the 1970s. Then you have scores of Off Broadway venues and a couple hundred Off-Off spaces. Our favorite spots are not just where you can see, but where you can be seen. At theaters such as the Pershing Square Signature Center, you can celebrate the writer, while at La MaMa you can see the next generation of avant-garde artists. The great vibe at many of these locations reminds us that theater is live and present.

Tell us what you think on Twitter at @TimeOutTheater.

RECOMMENDED: 50 reasons to love theater in New York