Heads up! We're working hard to be accurate – but these are unusual times, so please always check before heading out.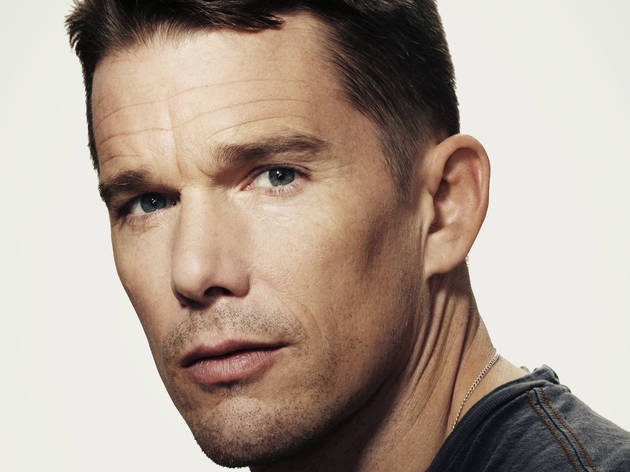 Ethan Hawke gets his Russian on at Classic Stage Company's Ivanov
The risk-taking actor explores a tricky character in this lesser-known play by Anton Chekhov.
Nothing brings out the cultural commissars quite like a Chekhov production. From the endless debate about the proper ratio of comedy to tragedy in his plays to the corollary argument between the droll English approach and the brooding American style, everyone has a prescription for the good doctor's work. Audiences and critics invariably measure each new Seagull or Cherry Orchard against some idealized previous version.

These expectations aren't a problem for Ivanov, Chekhov's first full-length play, which he turned out in a few furious weeks at the age of 27, long before writing the canonical quartet (which also includes Three Sisters and Uncle Vanya) that constitutes his theatrical reputation. Ivanov makes such infrequent appearances—its last major New York staging, starring Kevin Kline, was on Broadway in 1997—that there are fewer points of comparison.

More important, though, the play resists labels as surely as its title character, a thirtyish landowner deep in debt and still deeper in depression, eludes diagnosis. "There's something punk rock about the play," says Ethan Hawke, who will assay the title role in a starry new production at Classic Stage Company directed by Austin Pendleton. "Chekhov doesn't even give you a reason why the guy's depressed; his life just sucks. Chekhov finessed his philosophy as time went on, but you feel that this is him at his most angry and most outraged at the world."

Indeed, if the master's later works are known for nuance, Ivanov is comparatively blunt and raw. "It holds the audience close to a person in the grip of a howling depression," says Pendleton, who previously directed Vanya and Three Sisters for CSC. "The play is never not about that; it's either Ivanov coping with other people or other people talking about him. The four later plays are so polyphonic, with variations on a central theme. Here, there really are no variations."

For Hawke, the relentless opacity of his role makes it uniquely difficult. "Playing the part feels a bit like going inside a cave," he admits. "You can't see anything else. It's a black hole. It's terrifying."

The terrain is not literally so lonely, 
of course: There's a large supporting cast on hand, which includes the likes of Joely Richardson, Louis Zorich, Juliet Rylance, George Morfogen and Hawke's old Malaparte Theater mate Jonathan Marc Sherman. These other characters, says Pendleton, "keep trying to get Ivanov to get over it. With a depressive, that's like saying to a stroke victim, 'Get up and walk.' "

Lest Ivanov sound like a relentless downer, it also showcases what Hawke calls "Chekhov's kind of reality-show sense of humor: He shows people as they are, and they reveal how funny they can be without intending to." Hawke says that this production is "a date Austin and I have had for 20 years." He recalls that the director was raving about the piece when they first met working together in a tiny Pirandello production in 1992; the elder actor had recently appeared opposite William Hurt's Ivanov at Yale Repertory Theatre. The relationship continued over the years, with Pendleton serving as Hawke's acting coach on Michael Almereyda's 2000 film adaptation of Hamlet and as an informal mentor when Hawke toured the world with the Bridge Project in 2009, performing Chekhov and Shakespeare in repertory.

The Hamlet connection is as significant as the Chekhov link, since Ivanov is sometimes called the "Russian Hamlet," and the character himself mockingly invokes Shakespeare's melancholy Dane. Accordingly, Hawke is the latest in a long line of Hamlets—Kline, Hurt, Ralph Fiennes, Kenneth Branagh—to tackle his Russian heir. While the actor resists the comparison ("This is totally different 
than Hamlet," he maintains), Pendleton embraces it.

"A lot of people romanticize Hamlet, and mean it as a kind of compliment to call someone 'a Hamlet,' " Pendleton says. "Ivanov is saying: If you really are that person, it's hell. It's a very ugly experience. It feels like shit, and it's very destructive." Dropping another ultra-moody reference, Hawke concludes, "This play is a little like Springsteen's Darkness on the Edge of Town; Chekhov is not interested in smoothing out any rough edges."

Ivanov is at Classic Stage Company through November 25.