Fela!
African king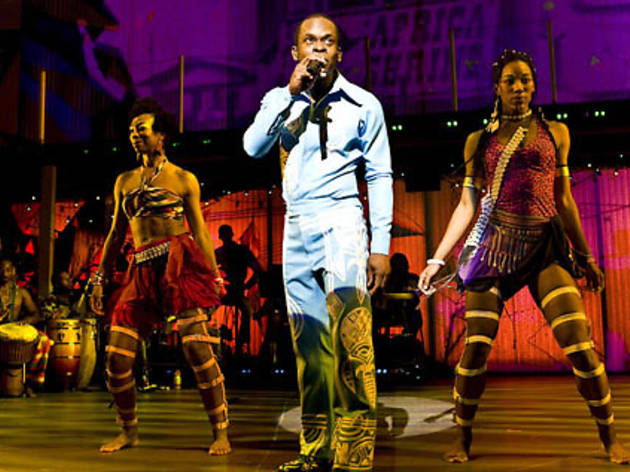 1/4
YOU CAN'T STOP THE AFROBEAT Ngaujah, center, invents a new form; Photographs:...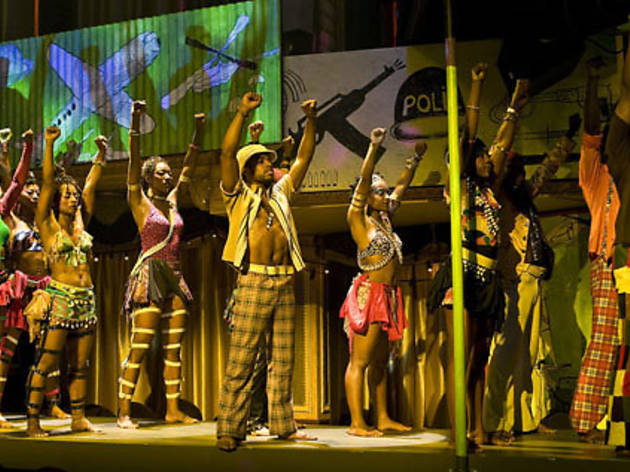 2/4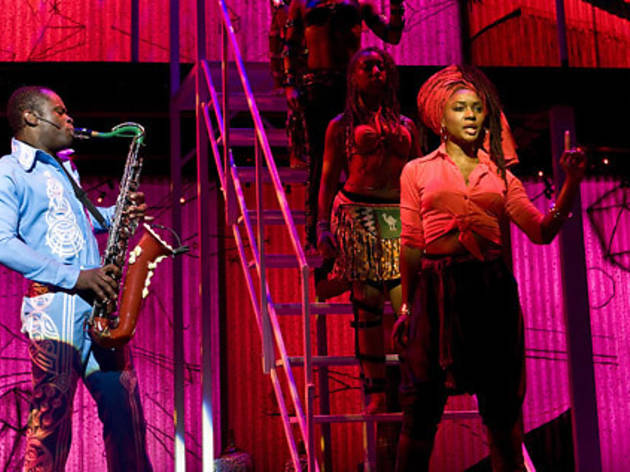 3/4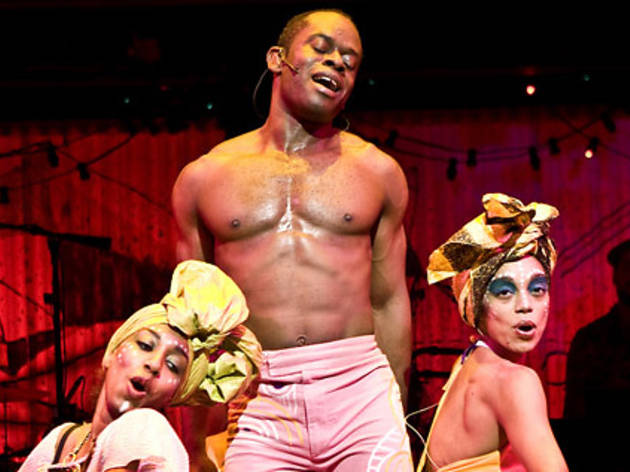 4/4
I don't recall smoking a fat joint during the intermission of Fela!, but in the second act, the show got very, very freaky. Our swaggering, sax-blasting bandleader, Fela Anikulapo-Kuti (Ngaujah), smears ivory paint on his face to commune with his dead mother (White) through the intercession of Yoruban gods. The onstage band, Antibalas, kicks off a wall-of-sound jam as a chorus of deities whirls on, their white fringe skirts and fluorescent makeup blazing under black light. They execute a high-energy, shake-and-jump number, blazingly directed and choreographed by Bill T. Jones. In a musical that has already had about a dozen climaxes, this 11th-hour extravaganza will truly blow what's left of your mind.
Although Jones proved in 2006's Spring Awakening that he could play the Broadway game, adapting his modern-dance aesthetic to musical storytelling (and garnering a Tony), who knew he was this much of a showman? Working with book cowriter Jim Lewis, a fierce dancing corps and the sexy, commanding Ngaujah, Jones has orchestrated a soul-scorching mash-up of pounding African dance, political protest and intoxicating Afrobeat—the style Kuti pioneered, which mixes funk, jazz and drumming. Fela! is more than a musical; it's an ecstatic phenomenon.
The piece is also more than the sum of its overlapping genres: dance party, musical bioplay, agitprop rally, tribute concert. Between rabble-rousing anthems savaging the oppressive 1970s Nigerian government, we learn of Fela's musical education, his "marriage" to 27 women (his dancing, singing "queens") and his complex relationship with his mother, a feminist agitator who was brutalized by police goons. This last element could have been explored more, but Fela! is too energetic to settle down for traditional dramatic narrative. And that's perfectly fine, since the beat—at once enthralling and liberating—demands your full attention.—David Cote
Eugene O'Neill Theatre. Book by Jim Lewis and Bill T. Jones. Music and lyrics by Fela Anikulapo-Kuti. Choreographed and directed by Jones. With Sahr Ngaujah, Lillias White. 2hrs 30mins. One intermission. Buy Tickets