Laughter rings out from a three-way phone call as Josh Gad and Andrew Rannells talk about their new Broadway show, Gutenberg! The Musical! This limited-run production, which begins performances on September 15 at the James Earl Jones Theatre, reunites the actors on a Broadway stage for the first time since their Tony-nominated star turns as Elder Cunningham and Elder Price in the original cast of 2011's The Book of Mormon. And their conversation, peppered with comic banter, could be a tease for what audiences can expect onstage.
"It is that rare thing where every time I'm on stage with Rannells, I get giddy like going to school on the first day," says Gad. "I'm full of excitement and anxiety about what's going to come out of his mouth."
Written by the Beetlejuice team of Scott Brown and Anthony King and directed by Alex Timbers (Moulin Rouge!), Gutenberg! takes a comedic look at two guys struggling to write a not-quite-historically-accurate Broadway musical about Johannes Gutenberg, the 15th-century German inventor of the printing press.
Time Out New York spoke with Gad and Rannells all about their Broadway comeback and places Gutenberg might have visited in New York City if he was alive today.
Are you both in the same place right now or two separate locations?
Andrew Rannells: We are in different locations. We're just getting ready to head to the theater in a little bit. We are only blocks away but we did not organize ourselves to actually be in the same place.
Josh Gad: We're spiritually in the same place, and emotionally, but physically not.
What's in the theater today?
Rannells: We're in our final push of tech rehearsals. We did our first run-through with all the technical aspects of the show, and then we had a couple of days off, which was very nice. Today we head back in and continue to work through the show with all of the technical stuff because Friday is our first audience. So it's gonna be a big week.
When was the last time the two of you performed together live?
Gad: The last time we performed together was the Bobby and Kristen Lopez concert at Carnegie Hall, right, Andrew?
Rannells: That's right. Yeah, so it was a good one. It was Carnegie Hall. That's pretty fancy. But this is our first time on Broadway together since The Book of Mormon.
Are you both the same people or are you completely different from where you were in 2011?
Rannells: It seems like we're up to our same shenanigans.
Gad: I'd like to say on the record that Andrew has changed a lot.
Rannells: Let's hear it.
Gad: He's definitely got a bigger head than he used to from the success. He's a little bit more pushy with me. He'll sometimes try to throw me downstairs to hog the spotlight. But otherwise, he's the same lovable cat I remember.
Rannells: That was so sweet of you to say, Josh. Thank you.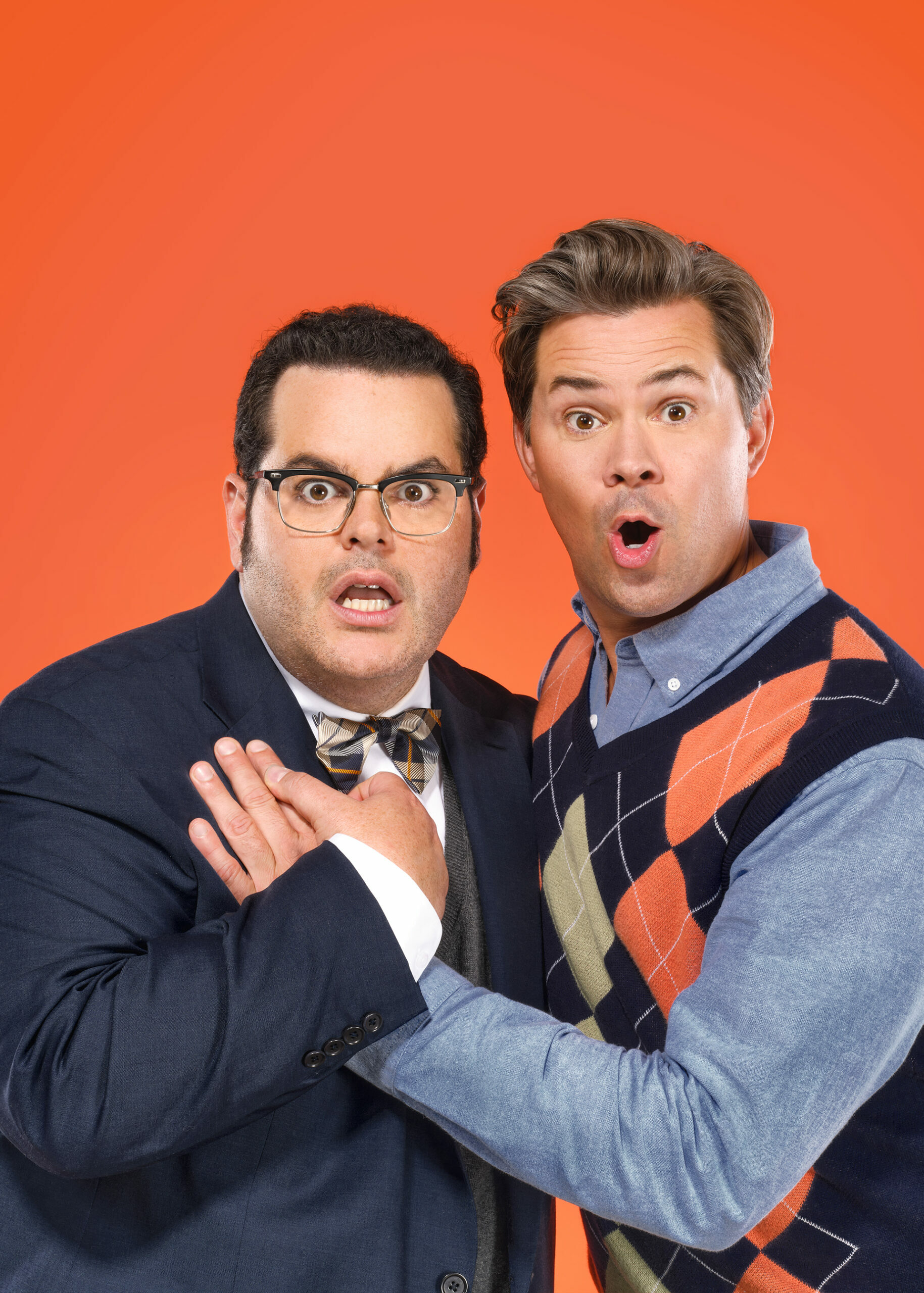 Andrew, what do you think? Do you have the same lovely sentiments?
Rannells: I feel like we're basically the same. I mean, you know, obviously,
Gad: I feel like you could transport back to 2011 and we'd be the same idiots we are now.
Rannells: Josh and I have had to remind ourselves on multiple occasions during this rehearsal process that we are indeed men in our 40s. We are not children. Sometimes I look around the room and we're acting like we're in high school. Everyone has been very patient with us. Most of all, our director Alex Timbers has been incredibly patient. It's a pretty wild work environment and a real fun one: You go to work for eight hours a day and you get to mess around with your friends.
What about Gutenberg! drew you back to Broadway?
Gad: The thing about the show—the reason that Rannells and I both fell in love with it—is that it is laugh-out-loud funny. Every minute. But the secret sauce of it is actually this really beautiful love letter to musical theater. Coming off of COVID, it feels like we're at this inflection point where people are finally coming back and celebrating what it means to sit in a theater and enjoy the collective experience that is this unique thing called Broadway. Gutenberg! is the perfect reflection of what that is, and of the joy of dreaming that is at the forefront of it.
Out of all the shows though, why did you want to do this one?
Gad: We wanted to do [inaudible] but it was caught up in rights disputes so we sort of settled—
I hate to cut you off, but can you say that again? I missed it, because there's a kind of rattling—
Gad: Andrew likes to do all of his interviews in a dishwasher.
Rannells: I am in a bounce house right now.
Gad: We originally wanted to do Phantom and then those bastards had to go and close it and we had to settle for Gutenberg. Rannells, do you want to tell the story?
Rannells: Josh and I have talked for years about trying to find a show that we could come back to Broadway with together. Alex Timbers directed the original production Off Broadway in 2006. He very suddenly and very slyly flipped us both the script and said, "What do you guys think about this show?" We were not that familiar with it. I remember when it was Off Broadway, but I did not get to see it. Josh, I don't think you saw it either. But we did a reading of it in Los Angeles and both completely fell in love with it—and with Scott Brown and Anthony King, who wrote it. We thought it seemed like the perfect fit. It's two people. We have difficulties working with other actors…
I was gonna ask why it was just the two of you.
Rannells: That's probably a question for other people. I think we're great to work with, but at the end of the day, it seemed like a better idea just to just keep it just the two of us. We thought this was the perfect combination. It's very funny. The music is great. It's the two of us. It's also a show within a show, and the characters that we play, Bud and Doug, kind of reflect who Josh and I are together. Unfortunately, when we did that reading, it was March 2020. We were all geared up to get the ball rolling, but then we had to take a little pause. Strangely—and Josh and I have talked about this a lot—this new timing in 2023 feels like an even better fit for right now. It's a really fun show. It's a show that's about joy and, at the end of the day, it's not cynical. There's no snark to it. We both were looking for something that audiences could come to and just have a good time.
Gad: It is that rare thing where every time I'm on stage with Rannells, my partner, I get giddy like going to school on the first day. I'm full of excitement and anxiety about what's going to come out of his mouth. It's such a joy to come back and do this with somebody that I had such a monumental experience with. I did probably the biggest show I'll ever do with Rannells. It's such a joy to be slipping back into our old clothes and getting back to the place we feel, collectively, at our strongest: on a stage with nobody watching. That could all fall apart when we invite an audience, but for now, we're really enjoying ourselves.
I feel like the two of you onstage have a kind of Nathan Lane and Matthew Broderick quality.
Gad: Oh, that's very kind of you. I like to think of us as more Lucille Ball and Ricky Ricardo.
Rannells: I was gonna say Gwen Verdon and Chita Rivera. If it's not clear from this interview, I'm the gay one.
Have you gone back to see The Book of Mormon recently?
Gad: I saw it a couple of years ago when our friend Brian Sears was doing it in London. It was very surreal to be that many years removed and sit through it.
Rannells: We saw it together in Los Angeles when the tour started and then I saw it again. Josh and I both started our careers on Broadway as replacements, so we know that under the best circumstances, a show continues after you leave it. Did either one of us expect that the show would still be running 12 years later? I don't know. That's pretty wild. There are a lot of Prices and Cunninghams out there who have actually done the show much longer than we ever did, which is kind of crazy.
Gad: For me, it was the equivalent of Tom Sawyer watching his own funeral. All of it felt so familiar and something I used to do a lot, yet I'm not up there.
Rannells: I had sort of forgotten certain parts of the show. I don't know about you, Josh. There were certain times when I was like, "I don't remember this."
Gad: I had a nightmare where I had to go back on and do the show. And I forgot everything. Which by the way, is very similar to how I actually did the show.
Gutenberg is, of course, a historical figure. What advice, if any, did Lin-Manuel Miranda have on how to do a musical about a historical figure?
Rannells: The show actually predates Hamilton. This was written in 2004 I think.
Gad: If anything, Lin took the idea from Gutenberg! I think that's what Rannells is suggesting: that Lin actually stole Hamilton from Gutenberg! We just want to set the record straight now because it feels like too often he gets credit for being the first historical show—even though our show is not accurate at all. We just feel like it's good to set the record straight that Lin was like, "If they can do a show about Gutenberg, I can do a show about Hamilton."
Are there any spots in New York City that Johannes Gutenberg would especially enjoy visiting if he were around today?
Gad: I think he would love to see the Statue of Liberty because everybody should see it at some point. It doesn't really give me Gutenberg vibes, but if you're time-traveling and visiting New York, you should probably visit the Statue of Liberty.
Rannells: I think he'd probably like the M&M store too.
Gad: He probably stayed up late at night working on the printing press and was like, "I gotta nosh on something. I wish someone would invent little crunchy sweets called M&Ms."
Rannells: You know what? As long as he's by the M&M store, he could swing by Olive Garden in Times Square.
Gad: He's really doing all the tourist-trap stuff, isn't he? You know what? I can guarantee you that the one place I know he'd go is the James Earl Jones Theatre. He would have the experience that I had watching Book of Mormon: watching his life play out before his very eyes.
You know how you can get custom M&Ms? Maybe he could put the printing press on the M&M as a souvenir.

Gad: That would be a great opening night gift. That branding wouldn't exist without Gutenberg. So technically it all comes back to Gutenberg. He'd actually be able to celebrate his legacy of the printing press with how it brands little candies.
Please send them to me for opening night. One more question: How are your lives going to change now that you'll be doing eight shows a week?
Gad: I think the key word is Ice. Ice is gonna go a long way in this run. Also Advil. It's always such a joy doing the show; the real problem is after I leave the theater and get in bed and everything hurts. I'm definitely not as young as I used to be.
Anything else you want to mention?
Gad: Come see Gutenberg! from now until January 29. You won't be disappointed. And if you are, Andrew will pay you back.
Gutenberg! The Musical! begins previews at the James Earl Jones Theatre on September 15, and officially opens on October 12. You can buy tickets here.