Hamlet
Jude Law as the melancholy Dane.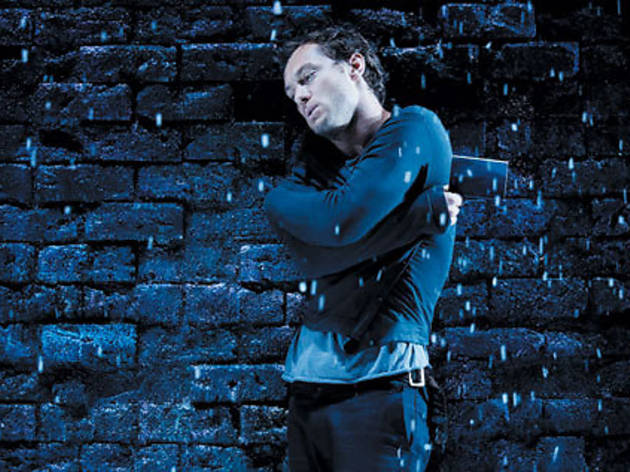 1/4
FLAKY GUY Law ponders mortality in a snowfall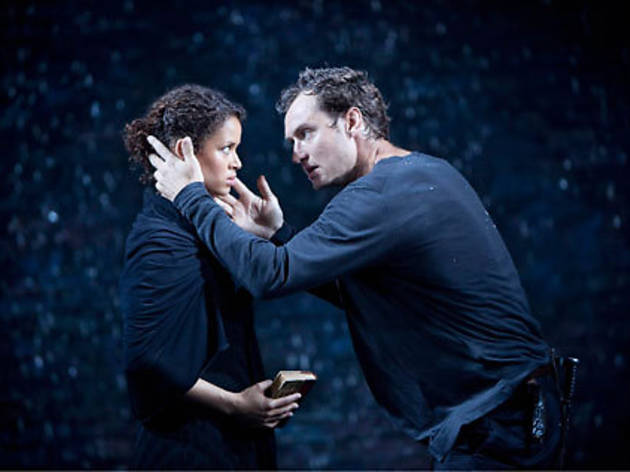 2/4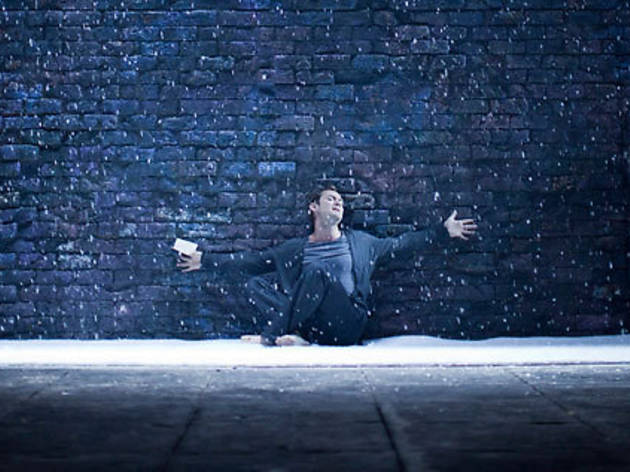 3/4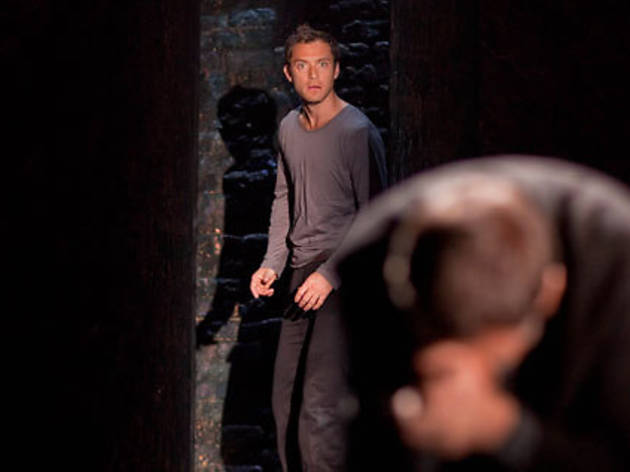 4/4
When will you know that you've seen a truly great Hamlet? For one thing, you won't be glad when Ophelia drowns in the brook. You will shed a tear for the fratricidal Claudius as he vainly prays for forgiveness. You will not check your watch during the Act V funeral, impatient for the duel. You will find yourself alternately loving and loathing the title character, as magnificent a portrait of human cogitation and self-revelation as ever put on paper.
Still, despite the long-standing problems of staging the classic, which director Michael Grandage does not solve, his stylish, monumental production has plenty to thrill and hold your attention. Wags in the audience could nickname Jude Law's rendition "Yoga Hamlet," seeing as how the lean movie star pads about the stage barefoot in stretchy pants and a clingy T-shirt, often squatting and lunging with the sinewy ease of a Bikram vet (downward-facing Dane, perhaps?). But for all the surface glamour of Law's portrayal, his vocal delivery is solidly plugged into Hamlet's rage and anguish. If anything, Law starts out too overwrought, moaning and gnawing through the great soliloquies as if they were causing him intestinal distress. Yet we listen closely to him, and he holds court at the center of his scenes with an intensity, intelligence and awestruck wonder that puts most Hamlets I've seen to shame.
Luckily, Grandage doesn't entirely surround his star with mediocrity, the better to make him shine. Ron Cook crafts a Polonius who's no fool or dotard, a savvy, fireplug bureaucrat who looks like he might bitch slap Hamlet as much as humor him. Gugu Mbatha-Raw finds nothing new, alas, in Ophelia, and Geraldine James and Ian Drysdale (Gertrude and Claudius) take the phrase banality of evil a bit too far. I'm still waiting for my generation's Hamlet; but until it comes, Law's will hold a seat in this distracted globe.—David Cote
See more Theater reviews