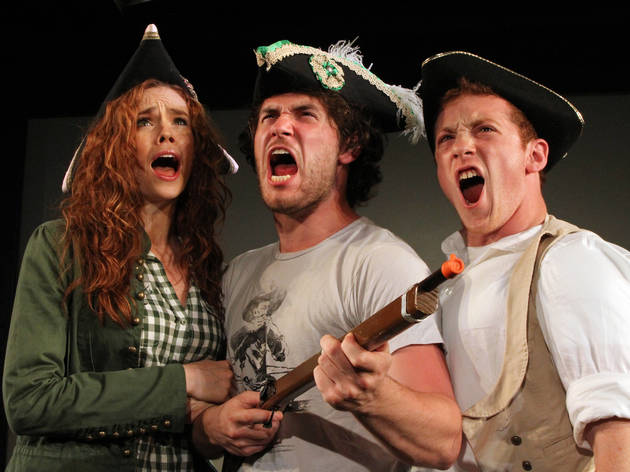 Time Out says
There's a sense of drift to this wistful new musical, which follows a group of affable stoners aboard an 18th-century schooner trying to get their historical-re-creation act together. The source of this gentle rocking motion is, obviously, the vessel itself, moored south of Boston.
The Lady Grey
serves as a bobbing, beer-can-strewn commune for our hard-partying bohemians, led by the puppyish Liam (Jacob Roa). But the boat isn't the only thing adrift; our young heroes are all treading water in a limbo between childhood and the rest of their lives. The creators of this piece adroitly capture that aching nostalgia of youth sounding the deep waters of adulthood. The piece is full of exuberant, foul-mouthed slackers: ringleader Liam, his discontented girlfriend (Summer Broyhill), sweetly spastic Jaimy (Kevin Hoffman) and rueful Grace (Lilli Cooper), who pines away for absent bad boy Chris (Christopher Burke). Stephen Feigenbaum's ebullient tunes tack smoothly between sea chantey and indie folk-rock, and the book and lyrics by Mark Sonnenblick and Marina Keegan are broadly comic but also soulful and surprisingly pithy.
Independents
has patchy, shaggy stretches, and it doesn't quite earn its second-act plot twists, but there's a warm, honest aura about the endeavor (as well as hauntingly beautiful singing). This pleasure cruise, though, has a tragic ending: Lyricist and book writer Keegan died earlier this year at age 22.
Independents
makes for a lovely maiden voyage. (Visit the
FringeNYC Encore Series website
for more information.)
—David Cote
Details
Users say