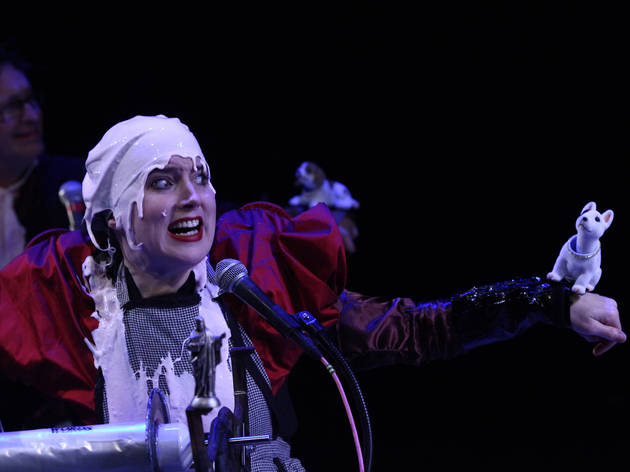 1/5
Photograph: Paula Court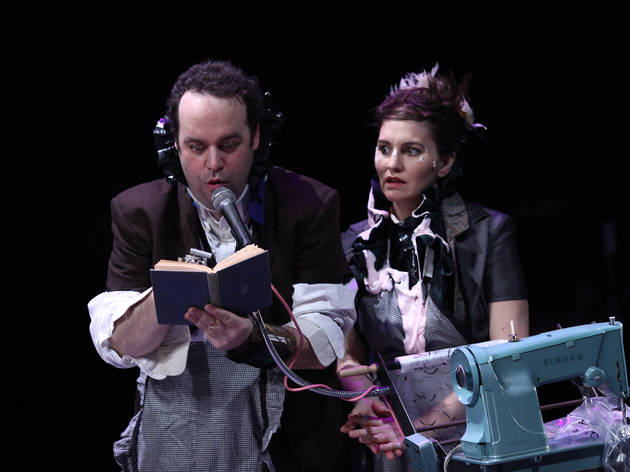 2/5
Photograph: Paula Court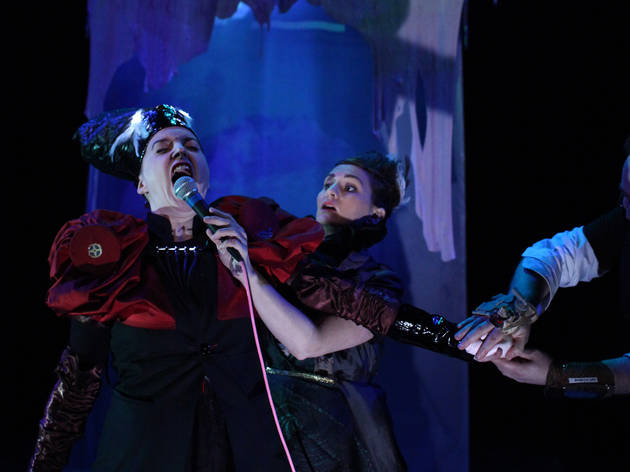 3/5
Photograph: Paula Court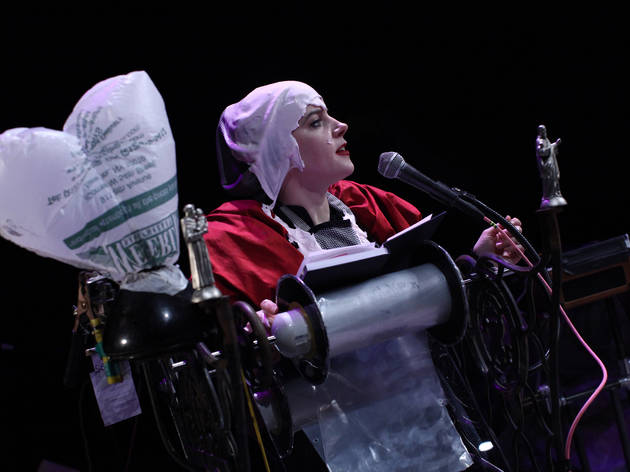 4/5
Photograph: Paula Court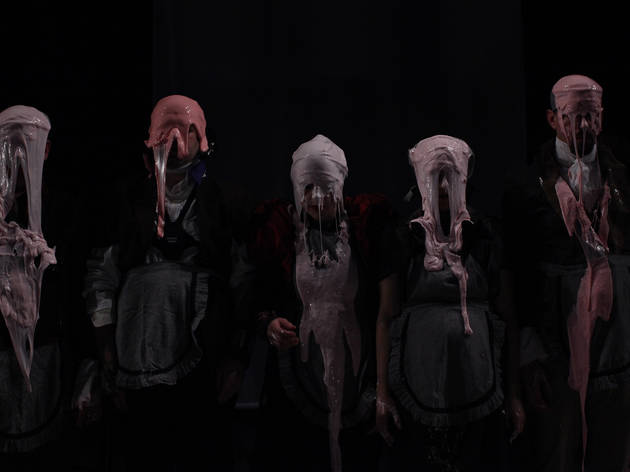 5/5
Photograph: Paula Court
Theater review by David Cote. The Kitchen. By Radiohole. With ensemble cast. 1hr 10mins. No intermission.
When has a Radiohole show not been a Frankenstein's monster? For 15 years, the avant-garde outfit has been slicing and splicing the DNA of myths and narratives, sawing off twitching limbs and stitching them backward onto foreign, decomposed trunks, then throwing the switch with a mad cackle. The Radioholers grafted Scientology and samurai onto Teutonic myth for Wurst; they dumped French Situationists in the Wild West for Radiohole Is Still My Name; and three years ago in Whatever, Heaven Allows, they made a human centipede out of poet John Milton and 1950s film director Douglas Sirk. Grotesque hybrids are the troupe's stock-in-trade. And if the abomination dies on the slab, that fits in nicely with the rigorously choreographed, high-tech buffoonery.
What is surprising about Inflatable Frankenstein is how unsurprising it is. Radiohole sticks to its collage-and-chaos playbook, sampling high and low sources around the 1818 Mary Shelley classic, with the odd quote from Apocalypse Now or the title of a 1990 Reza Abdoh play (Father Was a Peculiar Man). The ensemble—including goony Ryan Holsopple and Joe Silovsky and poised, winking Radiohole founders Maggie Hoffman and Erin Douglass—zestfully segues from psuedo-pretentious preshow panels to mock-Victorian literary gossip. Radiohole core member Eric Dyer spends most of the first half prone, being cranked down from the ceiling on an operating table. Try not to be too distracted by the sheets of thick, pink goo dripping from his platform.
For all Inflatable's visual flair (including pinpoint-precise video projection on the backs of heads), the long-ago-initiated might like to see the Brooklyn-based company grow less glib and hermetic, stop wallowing in the poetics of failure and aim for material more dangerous or personal. Until that happens, we can admire the ingenious effects: the slow-spreading "flubber," the incredibly layered soundscape and a spectacular finale. True to its title, the piece ends with a giant plastic sculpture inflated before our eyes, resembling disembodied vital organs. The sight is weird, beautiful, menacing and fragile all at once. In other words, it's alive.—David Cote
Follow David Cote on Twitter: @davidcote