Heads up! We're working hard to be accurate – but these are unusual times, so please always check before heading out.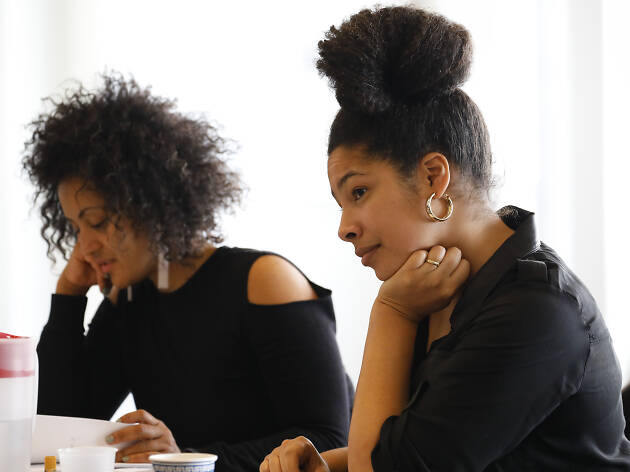 Jackie Sibblies Drury looks at West Indian caregivers in Marys Seacole
Fairview playwright Jackie Sibblies Drury looks at West Indian nurses and nannies in an inventive, provocative new work
The rehearsal room is giggling. For reasons known only to himself, a booted and jacketed fireman has stomped loudly through a room of women in hoopskirts practicing a scene from Marys Seacole, Jackie Sibblies Drury's latest brain-bending tragicomedy. This interruption turns out not to be part of Drury's impressionist portrait of Mary Seacole, a real-life Jamaican nurse-hotelier-businesswoman who tended soldiers during the Crimean War. But with a Drury play, you need to check; just because the fireman is clearly not from the 1850s doesn't necessarily mean he doesn't belong. The plural "Marys" (all played by Quincy Tyler Bernstine) are multiple Afro-Caribbean caregivers tending to many white patients: sometimes a nurse during a 19th-century cholera epidemic, sometimes a West Indian nanny watching a child in modern-day Manhattan, sometimes a health aide in an old-age home. Time slips and interweaves. Florence Nightingale (Lucy Taylor) snipes at nanny Mary from a Central Park swingset, jamming her unwieldy skirt into a swing. Then the skirt knocks over a lantern. Are they sure they don't need a fireman?
Anyone who has seen a Drury play knows that she is more in the business of setting fires than putting them out. Her work is often funny but always dangerous, with a lightning-fast wit cracking over dry, parched earth. In her breakthrough show, 2012's We Are Proud to Present a Presentation About the Herero of Namibia, Formerly Known as Southwest Africa, From the German Südwestafrika, Between the Years 1884–1915, a well-meaning theater troupe spirals into violence and self-recrimination as it grapples with racist history; in 2016's Really, a photographer tries to move forward with her work in the wake of her white "genius" husband's death. Last year, in Fairview (which will return for an encore run this June at Theater for a New Audience), Drury asked white audience members to actually physically make space for people of color. This, to put it mildly, freaked some people out.
"This one isn't so traumatic!" swears Drury, talking outside of Lincoln Center's Claire Tow Theater, where technicians are loading in the show. Yet there's deep trauma in the women she puts onstage. Mary was called "Mother Seacole" by the soldiers; they loved her and raised funds for her; she called them her sons. But as we see in the many iterations of Mary, outsourcing care and maternal love to immigrant workers has significant costs.
Drury started thinking about the historical nurse five years ago. "I don't remember how I learned about her," she says with a laugh. "But if you're in elementary school in Britain or Jamaica, you learn about her in third grade. The picture books we have about Florence Nightingale? They have those about Mary Seacole." There turned out to be a wealth of material to work with, since Seacole wrote her own wonderfully swaggering autobiography—the first by an Afro-Caribbean woman. She has often been a controversial figure: Nightingale accused her of operating a brothel, and it's difficult to separate the truth of her nursing contributions from self-promotion.
Drury's interest in Seacole soon led to thoughts about the other ways that women have needed to leave their families to support them. Seacole was caretaker to an old white "patroness" when she was still a young girl; modern-day Jamaican nannies watch videos of their own children while at the playground with the white ones they work for. "That's been happening in West Indian communities for centuries," Drury says. "There's a cycle of sending your child away to give them a better life or sending yourself away to give them a better life, which leads to a relationship that's damaged."
Mothers and daughters in Marys Seacole are often close when they are far apart and most distant when they're together. There are seeds of Drury's own life buried deep in the show's soil. While she was born in the U.S., her family is Jamaican. "The mother-daughter issues aren't necessarily personal to me, but I feel like I can closely imagine them, if that makes sense," she says. "I have a really good relationship with my mom, but I have no relationship at all with my father, so I'm able to imagine that kind of parental abandonment."
To get a bead on the dynamics at play in Marys Seacole, she also spent a good bit of time eavesdropping in parks. "The thing I found most interesting was the lack of interaction between nannies and mothers," Drury notes. "It feels like you're watching parallel worlds." For all the pyrotechnics and formal experimentation in her plays, a desire to make lines of experience intersect is the unifying quality of her work. "I'm not thinking that much about things I want to express or writing so my voice will be heard," she says. "This will sound a little hippie-dippy, but in general, I'm excited about having people practice empathy."
Marys Seacole plays at Lincoln Center's Claire Tow Theater February 9–March 24. $30.
Get tickets to Marys Seacole
Jackie Sibblies Drury follows her 2018 triumph, Fairview, with a time-spanning portrait of the real-life Mary Seacole, an adventurous 19th-century Jamaican woman who became a celebrated nurse during the Crimean War, and modern-day Afro-Caribbean caregivers. The always compelling Quincy Tyler Bernstine (Neva) plays the title role(s).