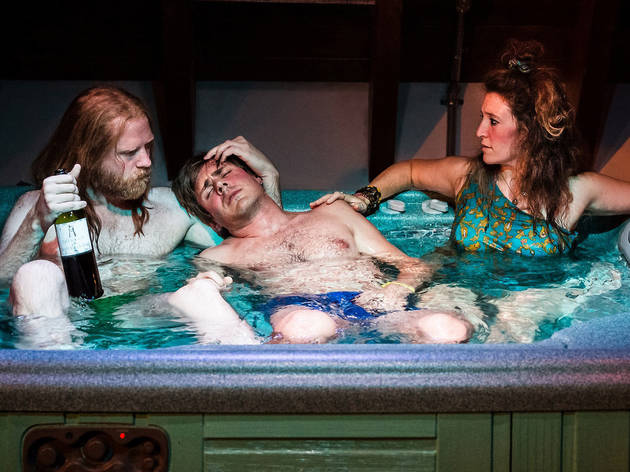 Time Out says
Jacuzzi. Ars Nova (Off Broadway). By Hannah Bos and Paul Thureen. Directed by Oliver Butler. With Bos, Thureen, Chris Lowell, Peter Friedman. Running time: 1hr 40mins. No intermission.
Jacuzzi: In brief
Family tensions rise to the surface when a pair of slackers crash the hot tub at a Colorado chalet in a new play by Ars Nova company-in-residence the Debate Society (Buddy Cop 2), one of New York's smartest and funniest troupes. Oliver Butler directs; playwrights Hannah Bos and Paul Thureen costar with Peter Friedman and Chris Lowell.
Jacuzzi: Theater review by Adam Feldman
They say that a frog will jump out of hot water, but that if you put it in cool water and turn the heat up slowly, the frog will stay and get boiled. That's the basic strategy of the Debate Society's exquisitely rendered Jacuzzi, a deadpan thriller set in a 1980s Colorado chalet. Playwrights Hannah Bos and Paul Thureen begin the show in a fully functioning hot tub, chatting about the weather and the book they both are reading. Who they are and why they're there remain unclear for most of the next 100 minutes. But even when their peace is interrupted—first by the jittery and self-loathing Bo (a golden-looking Lowell), then by his jerky father, Robert (Friedman), who won the place in a bitter divorce—they retain an eerie sense of relaxation. And the audience, soaked in the fullness of the strange world they create, barely registers the trouble bubbling up.
Not since Adam Bock's The Thugs, in 2006, have I seen a play that so expertly couples the drolly mundane and the ominous. Jessica Ford's costumes and Laura Jellinek's wide, shallow set—every tchotchke, family photo and VHS tape seems exactly true to its place—keep you giggling at the verisimilitude of the period details. (Bos's hair teases you into distraction.) This quaintness is set against the real pain of Bo's estrangement from his father, who, years earlier, used him as the subject of a humiliating child-psychiatry book. And meanwhile, something else is happening.
There is little conventional plot in Jacuzzi, but it holds you rapt. Under Oliver Butler's masterful direction, the acting is note-perfect—with Bos commanding particular fascination with the amplitude of her blankness, even when the mystery starts to lift and the boom begins to get lowered. As the priviliged, oblivious Robert and Bo work through their issues, the other two are beside or behind them, eager to help, lurking and looming, with nothing, including their souls, to lose.—Theater review by Adam Feldman
THE BOTTOM LINE Come on in—the water's fine.
Follow Adam Feldman on Twitter: @FeldmanAdam
Details
Best selling Time Out Offers