James Corden
The English comic dynamo takes the fall in One Man, Two Guvnors.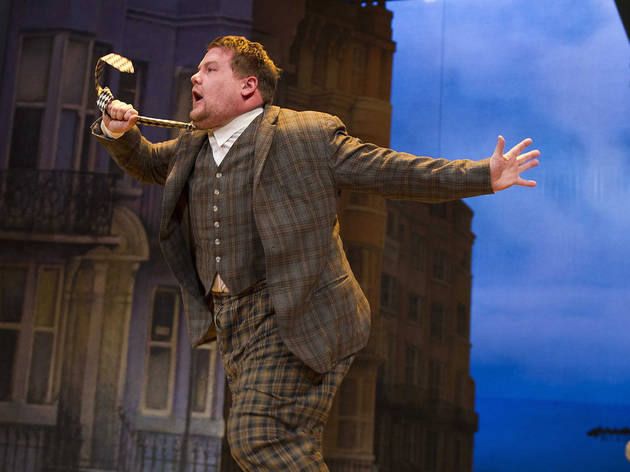 This season, James Corden is one of the lesser-known above-the-title names on Broadway. But that could change faster than a finely executed sight gag if the Broadway transfer of One Man, Two Guvnors provokes as much gut-busting laughter here as it has in London. In Richard Bean's 1960s-set update of Carlo Goldoni's 18th-century commedia dell'arte classic The Servant of Two Masters, Corden flits, scurries and gets knocked about—a winning combination of spunk and bewilderment—as unemployed skiffle-band musician Francis Henshall. Desperate for a bite to eat, he takes jobs with two different employers (who are lovers separated by circumstance), then tries to keep them from finding out about his double-dipping. Not so easy when you are, as one of Francis's guvs puts it, "not exactly a Swiss watch."

When it premiered at London's National Theatre last year, the play received glowing notices from broadsheet and tabloid newspapers alike. "It was the same reviews basically, just some with longer words," points out Corden. Even Her Majesty the Queen, not an avid theatergoer, caught a performance. "I was told she loved it," says Bean. "She laughed at all the Australia jokes, particularly."
While the show continues to reel in West End audiences—and evoke memories of the farcical insanity in Michael Frayn's Noises Off—the original cast has landed on Broadway, where Corden first appeared in Alan Bennett's The History Boys six years ago. Like One Man, Two Guvnors, it was a National Theatre production directed by Tony and Olivier Award winner Nicholas Hytner. Corden, now an established TV star in England, thanks to the popular comedy series Gavin & Stacey, had such fond memories of the experience that when Hytner suggested doing another play together, he agreed—without even inquiring what the project was.
"People don't believe me, but that was absolutely how it went," says Corden, 33. "I think all of the eight boys who were involved in History Boys have a romantic attachment to the National and to Nick, so I was thrilled to be asked back. And no one could have dreamt that it would be this successful."
Bean, however, did have an inkling of the grand things to come after witnessing the reaction of teenage school groups that attended a late rehearsal. "They absolutely loved it," says the playwright, who, like Corden, received one of the show's five Olivier nominations. "And we all looked at each other and thought, God, this is gonna be good."
Asked by Hytner to pen a play for Corden, Bean, 55, wrote One Man, Two Guvnors from a literal translation of the Goldoni, deftly balancing the smart-silly quotient of the comedy while updating the humor and the pace. The result has an abundance of verbal and physical wit—not to mention an onstage band playing original period-style songs between scenes. Bean, known in England for topical satires about issues like immigration, initially considered setting it in London during World War II, when food rationing would give a man's quest for a good meal added heft. "But Nick wasn't having any of that," he says. "He wanted it to be much lighter, a proper kind of low comedy." Still, Bean insisted it have humanity: "The stupidity of the clown onstage must reflect everyone's own stupidity."
Staging the elaborate physical-comedy routines, known as lazzi in commedia dell'arte, was a trial-and-error process solved with improv and audience interaction. Corden does get banged up, but despite injuries like torn knee cartilage, a small hip-muscle tear and a scratched eyeball, he's yet to miss a performance from injury. "Physically, it's the toughest thing I've ever done," he admits. "You can't really throw yourself backwards over a chair eight times a week and not injure yourself at some point." It's such a workout that he's dropped 70 pounds. "I went to see him after a Saturday matinee, and every bit of clothing was soaking wet from perspiration," remembers Bean. "He used to be a big fat lad, but he's a bit of a Brad Pitt now."
As for the script, the only tweaks for Broadway have been some word changes and joke replacements. Neither Bean nor Corden seems concerned that the humor might not hit with Americans. "If it's good, it travels," reasons Corden. "And someone falling down the stairs is funny anywhere."
One Man, Two Guvnorsis at the Music Box Theatre.