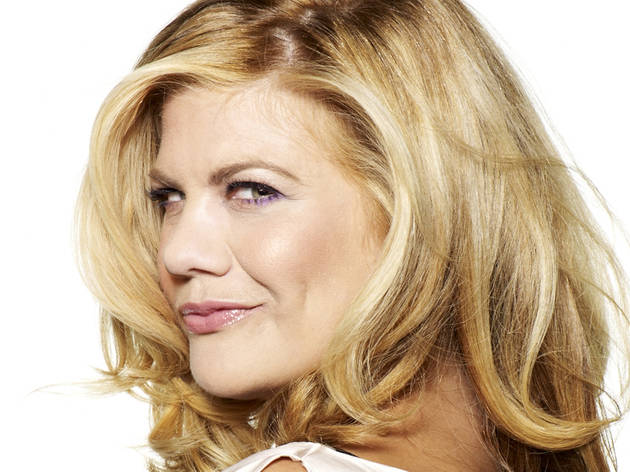 Kristen Johnston: Diva Alert!
Kristen Johnston, a diva in the most fabulous yet grounded way, stars in a revival of the 1929 comedy So Help Me God!
Kristen Johnston—a diva in the most fabulous yet grounded way—is playing Miss Lily Darnley, a Broadway diva in the absolute worst sense. Acting stretch...or not? Darnley is past-her-prime pure evil wrapped in ermine, and Johnston relishes filling her stiletto-heeled shoes in the Mint Theater Company's production of Maurine Dallas Watkins's backstage comedy So Help Me God!, which starts previews this week.
This 1929 work—whose Broadway opening was derailed by the stock market crash—was recently discovered in the attic of a descendant of the author. Watkins was a journalist-playwright whose 1926 play, Chicago, ran for 172 performances on Broadway (and later became the source for the Kander and Ebb musical). Her impressive debut on the Great White Way was all the inspiration she needed for So Help Me God!'s spot-on stage caricatures, which remain shockingly recognizable today. As in Manhattan Theatre Club's beloved revival of The Royal Family, Watkins's comedy captures all the period's gin-sipping glamour. "It's the perfect era, the kind of daaarling-ness of it all," Johnston says. "There are certain roles that come along once every five or six years, and I'm like, It's mine. This is one of those. I know her—even though I'm not her, thank God. Yes, she's funny. But she's so unhappy."
For her part, the performer looks perfectly content in her spacious new Greenwich Village pad, her lanky, six-foot frame curled near her pit bull, Pinky, as she dangles an elegantly held cigarette. Of course, here's an actor not afraid to get messy for a laugh. She chortles over one sight gag: "I come in with lipstick everywhere, wig askew, in a negligee and the blazer of this guy who I boinked. As if I didn't have enough of the gays. I'm going to need some gay bodyguards."
You could almost imagine the line coming from Sally Solomon, her best-known, Emmy-winning role on the former NBC series 3rd Rock from the Sun. Since the sitcom went off the air in 2001, Johnston, 42, has continued trouping on the New York stage; she's played characters ranging from Beatrice in Much Ado About Nothing in Central Park to an eccentric extremist in Wallace Shawn's Aunt Dan and Lemon and a working-class mother in Lucy Thurber's Scarcity.
The "luvie" sensibility that she mines with her latest role can be traced back to actor David Pittu, when they were undergraduates in the acting program at NYU. "David taught me everything about playing these kinds of people—glamorous, stylized, but how to do it real," Johnston recalls. "There's a skill to it. You have to speak, and a lot of people talk like they have marbles in their mouth." Johnston herself now teaches at NYU's Atlantic Acting School.
"Doing it real" also involves letting Lily's vicious side show. And Johnston does, especially in a scene in which her character rips the press agent a new one, when the author's photo ends up in the papers instead of her own. "Kristen has a capacity to get humor out of outrageous star behavior without alienating the audience," notes director Jonathan Bank (head of the Mint). "That's part of what makes her perfect for the role."
According to the actor, she's just playing herself. "When I was doing Aunt Dan and Lemon, it hit me: What if Dan's me, but with these right-wing beliefs? It was sort of dumb and simple, but no one tells you that's okay. They always talk about 'getting into character.' When you let the character come to you, you don't have to fake it." So how terrifying is it to become Lily, a star on the verge of becoming inconsequential? "I certainly relate to this woman, who has given up everything for her career," Johnston muses. "I've lived an unconventional life; I don't have a husband or children."
She also doesn't have a second hit TV show, but that doesn't seem to bother her. "The way I don't relate is Lily's desperation," Johnston says. "I'd just like to have money, and I like acting, so however that happens, great. And it matters to Lily that her public loves her. I don't give a shit. They're going to write I'm a fat-ass or that I'm anorexic; I can't control that. But she cares, so it's fun discovering why."
Johnston may be an old hand with outrageous comedy, but she still likes a sense of risk "We're putting our dicks out," she says with characteristic decorum. "If you don't do it right, a backstage farce?" She doesn't need to finish the thought; it's a tricky genre. "But fuck 'em. You have to honor it and respect it, but make it yours."
So Help Me God! is at the Lucille Lortel Theatre.
Best selling Time Out Offers