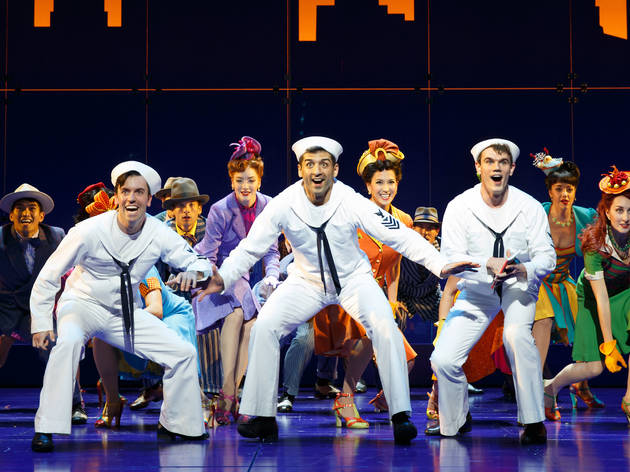 1/8
Photograph: Joan Marcus
On the Town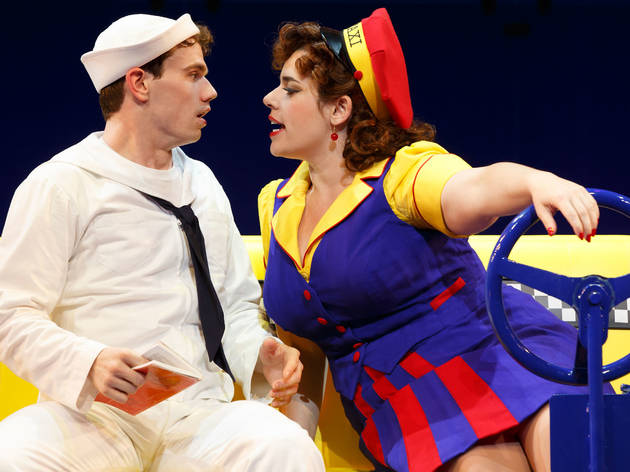 2/8
Photograph: Joan Marcus
On the Town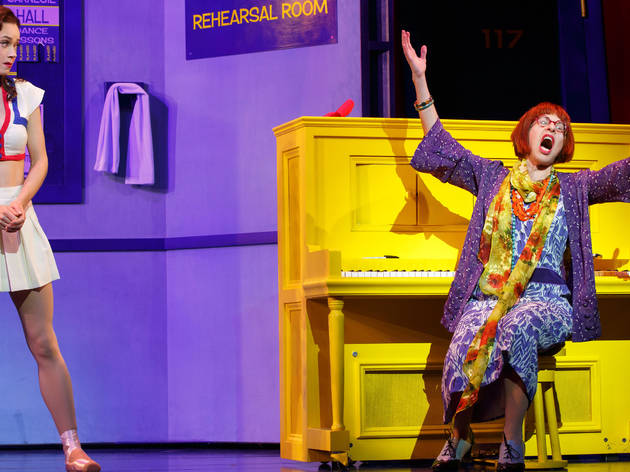 3/8
Photograph: Joan Marcus
On the Town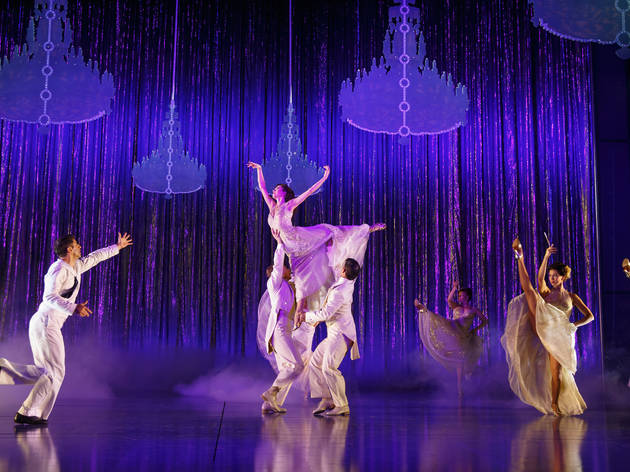 4/8
Photograph: Joan Marcus
On the Town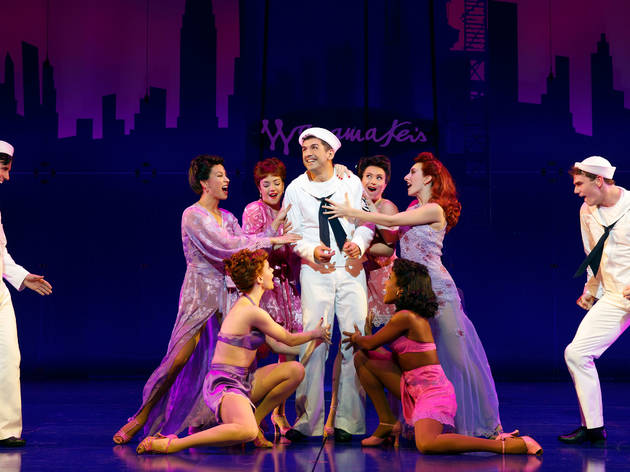 5/8
Photograph: Joan Marcus
On the Town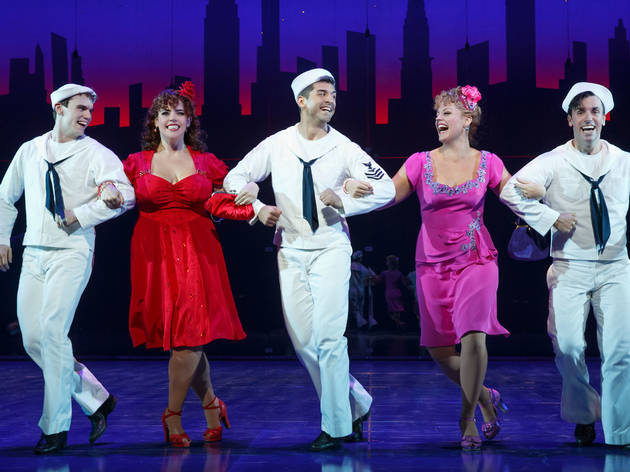 6/8
Photograph: Joan Marcus
On the Town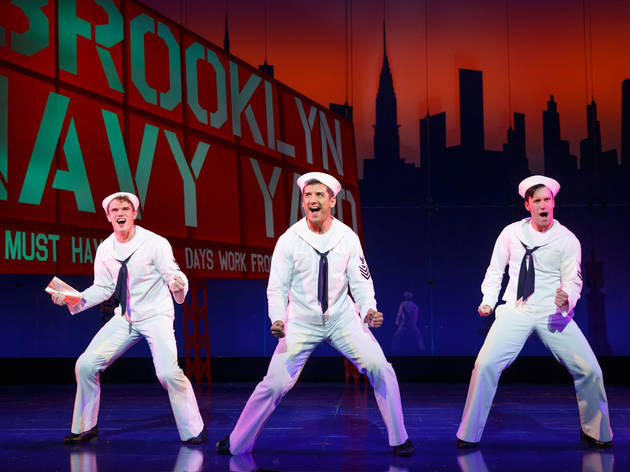 7/8
Photograph: Joan Marcus
On the Town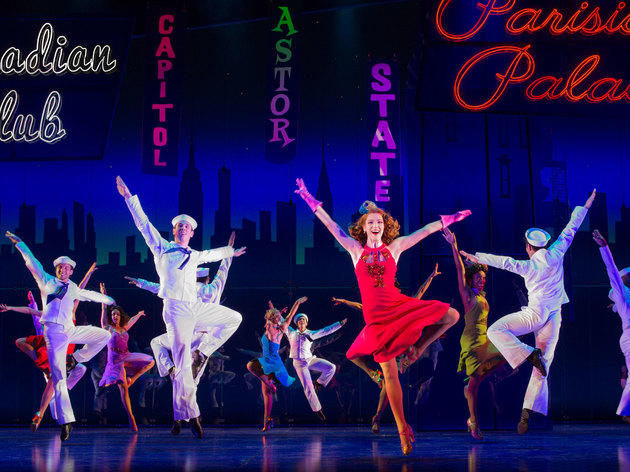 8/8
Photograph: Joan Marcus
On the Town
Time Out says
On the Town. Lyric Theatre (see Broadway). Music by Leonard Bernstein. Book and lyrics by Betty Comden and Adolph Green. Directed by John Rando. With ensemble cast. Running time: 2hrs 40mins. One intermission.
On the Town: In brief
The 1944 Broadway classic about sailors on shore leave in New York returns to remind us that it's a "helluva town." The Leonard Bernstein score and Comden and Green lyrics are handled by a charming cast directed by John Rando. For lovers of the score, music to your ears: the orchestra will number 28.
On the Town: Theater review by Adam Feldman
The new revival of the madcap 1944 musical On the Town begins with a massive American flag on the curtain, as the orchestra launches into its first number of the night: not an overture of Leonard Bernstein's brassy, herky-jerky symphonic-jazz score but "The Star-Spangled Banner." The audience rises to sing, as though practicing for a standing ovation two and a half hours later. What is going on here?
True, the plot revolves around three randy sailors—hangdog Tony Yazbeck, puppydog Jay Armstrong Johnson and horndog Clyde Alves—as they pack as much adventure as they can into their 24-hour leave in New York. But the national anthem feels like more than just a nod to the period or a gesture of support for the troops. The Broadway musical, after all, has been lauded as America's signature native art form, and this is an elaborate revival of a milestone of the genre, with a cast and orchestra of 28 players apiece, doing their best to deliver a night of re-creationist recreation. To attend it is to stand up for an embattled part of our theatrical heritage: support for the troupes.
The problem with this tacitly civic-dutiful approach is that On the Town itself, though frisky and enjoyable, does not have the strongest legs as a monument. The musical was thrown together fast—by Bernstein, director-choreographer Jerome Robbins and librettists Betty Comden and Adolph Green, all in their twenties at the time—as an extension of Robbins's dances. Gems in the score, such as the wistful quartet "Some Other Time," are set amid a fair amount of filler; the toss-off comic lyrics sometimes peter out midsong. And Robbins's raison d'être dances, ironically, are absent; their stretches of stage time are now devoted to energetic but busy ballets by Joshua Bergasse.
As Ivy, the object of one sailor's infatuation, the splendid Megan Fairchild dances throughout with an elegant lightness unmatched elsewhere in the piece. But although it occasionally pushes too hard, John Rando's production inspires considerable affection. The three able-bodied seamen each get moments to show off their abilities (and their bodies), and their other two main squeezes (Alysha Umphress and Elizabeth Stanley) sing well; the supporting cast of zanies (including Allison Gunn, Stephen DeRosa, Philip Boykin and the always ripe Jackie Hoffman) give the streets of New York a suitable complement of muggers. I suspect there will be people who love the torch-carrying spirit of this On the Town, and I wish them, and it, the best. To me, however, it seems a bit like a well-mounted exhibit at some Natural History Museum of Broadway: a stuffed lark.

THE BOTTOM LINE A major production of a fairly minor work.
Follow Adam Feldman on Twitter: @FeldmanAdam
Details
Rating Breakdown
5 star:

0

4 star:

2

3 star:

0

2 star:

0

1 star:

0
Loved it! The music, singing, and dancing were fantastic! The magic began as soon as you entered the theater...it was set up for the time period. Would happily see it again.
NEW YORK! NEW YORK! IT'S A HELLUVA TOWN!
Won tickets from Today Tix for $20, going in with absolutely no expectations except for the feel of a classic musical. I ended up viewing one of the funnest musicals I have seen in awhile. The cast seemed like they had a blast performing, translating over to the audience feel. Tony Yazbeck is absolutely charming as the sweet Gabey, but the supporting cast pulls their weight with jazzy vocals and knee slapping humor. In a year of dance-heavy productions, On the Town serves up some truly beautiful dance numbers, with Megan Fairchild's numbers taking my breath away.
Great for the whole family, with the younger ones seeming surprised with how much they laugh.