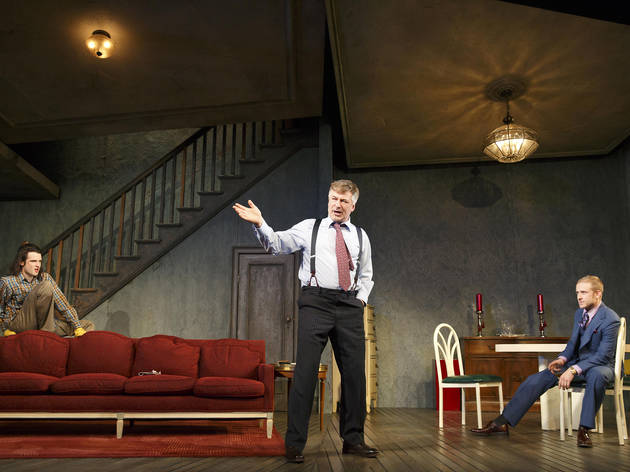 1/3
Photograph: Joan Marcus
Orphans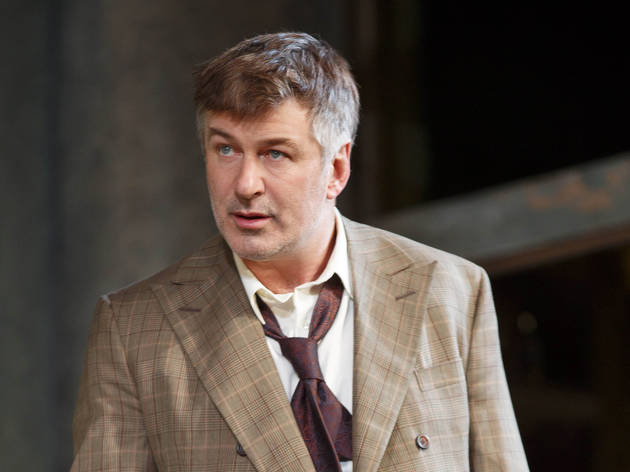 2/3
Photograph: Joan Marcus
Orphans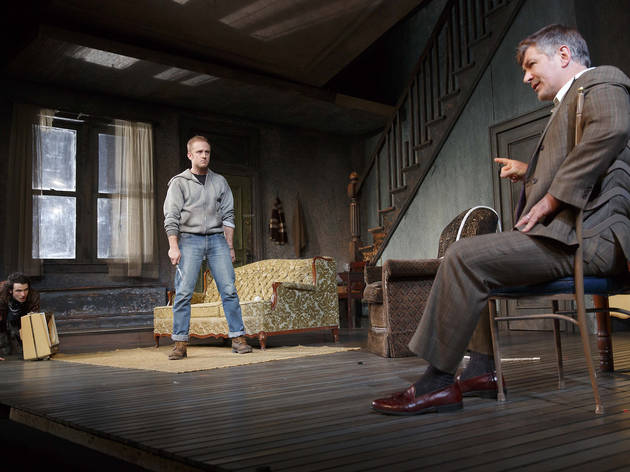 3/3
Photograph: Joan Marcus
Orphans
Theater review by David Cote. Gerald Schoenfeld Theatre (see Broadway). By Lyle Kessler. Dir. Daniel Sullivan. With Alec Baldwin, Ben Foster, Tom Sturridge. 1hr 45mins. One intermission.
Playwright Lyle Kessler would be a one-hit wonder if his one hit were truly wonderful, but Orphans is a derivative excercise—mock-Shepard crossed with sub-sub-Pinter, leached of poetry, menace and mystery. At most, it could be a visceral workout for three hungry actors in a claustrophobic space. And so it was, apparently, when Gary Sinise transferred his Steppenwolf staging to New York in 1985 with then-unknowns Kevin Anderson, Terry Kinney and John Mahoney. Orphans has been done in regional theaters worldwide and was filmed in 1987 with Albert Finney. Now Alec Baldwin heads a Broadway premiere that is too tidy to raise the pulse or bulk up the material's thinness.
Phillip (Sturridge) and Treat (Foster) are parentless young men squatting in an abandoned North Philadelphia row house. Treat mugs strangers for cash; Phillip stays in, watching the world through the window and eating StarKist tuna. When Treat brings home the drunken Harold (Baldwin), intending to roll the well-heeled businessman, our scruffy hermit brothers find their solitude breached.
Orphans is essentially a ham-fisted fable about fathers and sons, with key pieces of information withheld, supposedly to enhance the drama. If Harold deals in stocks and bonds, why does he carry a gun? What happened to the boys' parents? Why does Harold turn the boys into his henchmen? This is 90 minutes of show; why is there an intermission?
Director Daniel Sullivan makes the fatal mistake of trusting a play that is just an excuse for actors to fling themselves around a squalid set and out-emote each other. The airy, far-too-clean space only shows up Orphans' contrivances. Foster and Sturridge are both commendable—physically robust, emotionally raw yet assured—but in the service of what? Baldwin coasts on his natural charisma and comic timing, assuming a weirdly stilted delivery, a mix of Edward G. Robinson and Clark Gable. It's a dull, mechanical night. As you probably know, the production made news in February when Shia LaBeouf was fired a week into rehearsals. Sullivan and his producers probably made the right call, but still one wonders what could have been: LaBeouf, at least, might have been awful in an interesting way.—David Cote
Follow David Cote on Twitter: @davidcote
2013 Tony Award nominee. See our guide to the 2013 Tony Awards
Rating Breakdown
5 star:

1

4 star:

0

3 star:

0

2 star:

0

1 star:

0
Tom Sturridge stole the show! His portrayal of Phillip is amazing and to watch him remarkable. The only time he breaks character is when asked, during the show, to portray a bus rider and the transformation is immediate and extraordinary! Ben Foster doesn't disappoint as always and Alec Baldwin is fantastic. GO SEE THIS SHOW! How often do you see a show that will make you laugh, truly laugh, and as well, move an entire audience to silence? It was brilliant!