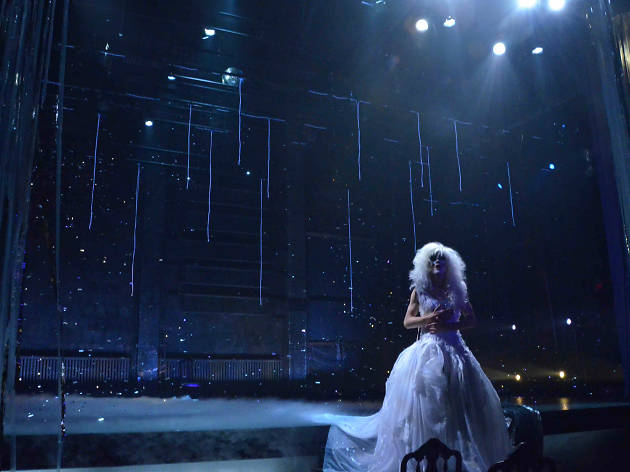 Last year, when director George C. Wolfe explained his approach to the revival of Larry Kramer's shattering AIDS drama,
The Normal Heart,
he talked in terms of horror movies. According to Wolfe, the 1985 play has a classic thriller premise: There's a monster out there, and it's killing your friends. Another rough beast slouches through James Fluhr's brave, expansive and bracing
Our Lady,
but it's not a virus. It's a more pervasive killer: the toxic homophobia in households and schools that leads to gay teens committing suicide every year. Manifested by a scary, distorted voiceover and gruesome red lighting, this monster periodically assaults solo writer-performer Fluhr through the course of his show, until he finally decides to fight back. Told in lyrical fragments that range from memoir to multimedia docudrama,
Our Lady
charts its hero's growing awareness of the suicide epidemic and his own mission to build a life of psychic safety. Silkily charismatic, lanky and square-jawed, Fluhr charms the audience in direct-address sequences, either playing his mother or raiding her makeup case. But just when you think the piece will remain within the safe confines of an inspirational and elegiac survivor's tale, it blasts off into cosmic camp weirdness for its final 20 minutes. Not to spoil too much, but the title entity, a mystical protector and avenging angel for bullied gay boys and girls, makes a jaw-dropping 11th-hour appearance. The vision conjured by the extravagantly costumed Fluhr calls to mind Tim Curry in
Legend
crossed with Lady Gaga (and lip-synching to the same).
Our Lady
is a classic example of the Fringe done right: It's passionate, inventive and deeply personal, with just the right amount of crazy. (Visit
our Fringe Festival page
for more reviews, and
fringenyc.org
for more information.)
—David Cote