Heads up! We're working hard to be accurate – but these are unusual times, so please always check before heading out.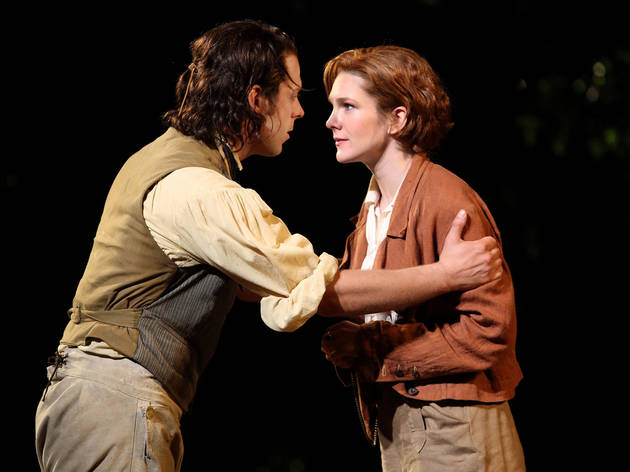 Profile: Lily Rabe
Now starring in As You Like It in Central Park, the gorgeous and talented Lily Rabe is sheer poetry in motion
Alfresco summer theater in New York may not offer the most idyllic working conditions for a performer, but try telling that to Lily Rabe. The still young but exceedingly accomplished leading lady has returned for her second Shakespeare in the Park tour of duty in three years—this time venturing into a Forest of Arden set in the 1840s South as lovelorn Rosalind in As You Like It. Public Theater chief Oskar Eustis and director Daniel Sullivan were so taken with Rabe's Portia in The Merchant of Venice two summers ago, they offered her the role during the closing-night party.
RECOMMENDED: Complete guide to Shakespeare in the Park

Rabe is a bundle of composed energy about playing Shakespeare's ultra-witty heroine, who drives his dark comedy concerning the transformative power of love. "I've talked to people who've done productions of this play, and they all say, 'It was one of the most joyful experiences of my life,' " she observes at a Gramercy Park coffeehouse one Sunday afternoon. "There's a lot of darkness in the play, and then there's tremendous, tremendous joy. Deep, deep, deep romantic love and heartbreak always exist simultaneously. And when you are madly, madly, madly, deeply in love—you're heartbroken at the very same moment."

Just shy of 30, Rabe has spent much of the past decade garnering acclaim for her stage work, most memorably opposite Al Pacino in Merchant, the Broadway transfer of which earned her a Tony nomination. As You Like It is her third play in the past 12 months, following a Broadway run as one of Alan Rickman's disgruntled students in Seminar and a turn as Ibsen's restless Nora in A Doll's House at the Williamstown Theatre Festival. (She tried to squeeze in another, father David Rabe's An Early History of Fire, but schedules conflicted.)

Given her lineage as the daughter of a Tony-winning playwright (whose own career was launched at the Public) and the late Jill Clayburgh, plus the ease with which she's illuminated so many complex characters, it's surprising that in childhood Rabe claimed she didn't want to be an actor—or so she said at the time. "I didn't want it to be like I wasn't forging my own path," she reflects now. "My parents were very determined to never allow the business to become part of my childhood. Meanwhile, I was holding houseguests hostage to put on plays for them. And I would invite people over for playdates, but really it was so I could cast them in whatever play we were putting on that afternoon when I was seven."

Today Rabe doesn't have to commandeer people to get their attention (and tends to deflect praise of herself onto costars and colleagues). Besides being strikingly beautiful, she's blessed with a rich, expressive voice and can be both intelligent and emotionally alive in a wide range of roles. "Somebody who can have that verbal dexterity and wit, but also that emotional depth and truth, that's a potent combination," observes the always emphatic Eustis, who also admires her career choices. "Lily is establishing herself as a genuine theater star before she makes [the move to film and television]. That's what Meryl Streep did, and it's a really smart way of approaching an actor's life. By the time she launches with that other phase of her career, she's gonna have a kind of solidity and artistic security."

That phase has already begun. After As You Like It, Rabe goes to L.A. for the second season of FX's American Horror Story. And next year she's slated to star in a biopic about silent-film great Mary Pickford. Still, Rabe considers her early emphasis on theater a chance course rather than one she charted: "None of it has been very conscious, actually, in one direction or the other. I always think about the part, whether that part is on a TV show or in a film or in a play."

Regardless of where her career leads, Rabe does hope she'll be able to spend more summers in Central Park, warts and all. "I would do it every summer of my life if I could," she proclaims. "I've met a few people who've said, 'I did it one summer and that was enough. I didn't like the bugs or the rain or the heat,' but if it hits your sweet spot, there's nothing better."