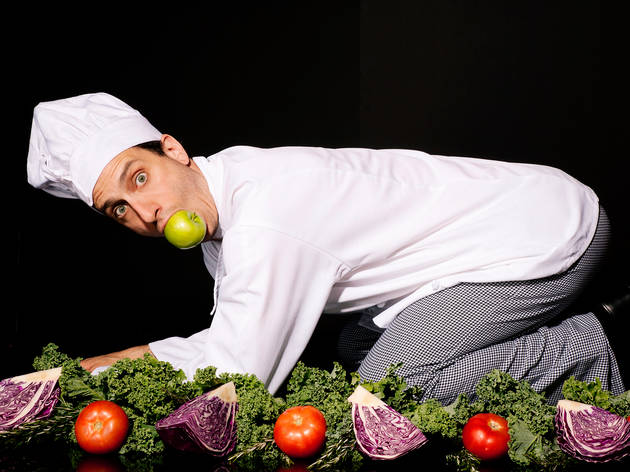 The moment Chef Michael Denardi (former Colbert Report writer Peter Grosz) fake-karate kicks his way onto the stage, promising that you are going to become "the version of yourself that you always wanted to be," we immediately know two things: He is a hot, bubbly mess, and before the show is over, we are going to watch him fall apart like an undercooked Bundt cake. Sporting a crustache and a Rambo-style bandanna, the aggressively vigorous Denardi wants to be a celebrity chef the way a methhead wants crank. We're nominally in for a live cooking demonstration, but Denardi burns time dishing out life lessons ("Don't adapt!" "Take everything personally!"), sharing tales of all the enemies he's made, and inventing cronut-like recipes based on questionable portmanteaus (guaclava, muffnuts). And watch out, y'all—that's a real knife he's holding. The self-help guru who can't help himself is a musty trope, but Grosz breathes new life into it through sheer manic will.—Jenna Scherer
Click here for full TONY coverage of the 2013 New York International Fringe Festival.
Discounted tickets are availble through Time Out Offers until September 27, 2013.