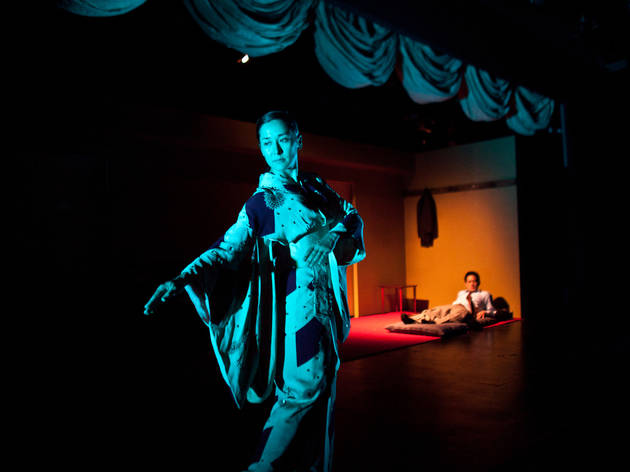 Review: Takarazuka!!!
A new play goes backstage at a Japanese cultural phenomen.
HERE. By Susan Soon He Stanton. Dir. Lear deBessonet. With ensemble cast. 1hr 30mins. No intermission.
Tales of backstage backbiting have been catnip to theater lovers ever since Eve Harrington wormed her way into Margo Channing's dressing room. But for all the dust this genre has accumulated over the years, there's something truly fresh about Takarazuka!!!, Susan Soon He Stanton's new play that's a weird, compelling mix of gender-studies lesson, Japanese cultural deconstruction, absurdist comedy and, er, Black Swan.

For Westerners unfamiliar with the phenom, the Takarazuka Revue is a real-life all-ladies theater company that's been a cultural institution in Japan since 1914; the troupe performs ridiculously opulent Broadway-style numbers drawn from the Western musical theater canon. As Stanton would have it, Takarazuka is more like a cult—one that indoctrinates and trains its members to a tee, raises them high, then tosses them unceremoniously back into society when their runs are up.

Set in the 1970s, Stanton's play follows Yuko (Jennifer Ikeda, of NBC's Smash), a "top star" of the troupe who's worshipped by fans for her uncanny, elegant portrayals of male roles. When she's forced to retire, Yuko trades the the spotlight and her glittery tux for an unbearably quiet life in the country. A visiting BBC documentarist (Paul Juhn) becomes fascinated by her, even as Yuko finds herself falling under the thrall of a ghost of Takarazukas past (Angela Lin).

There's a lot to chew on in Stanton's snappy, strange little play, being presented as part of Clubbed Thumb's adventurous Summerworks 2012 festival. Not all of it works, but a lot of it does—whether we're watching jittering fangirls wax rhapsodic, a dead woman recall her gruesome suicide or an old man on a train revealing the dark underbelly of Japanese politeness. Director Lear deBessonet's production latches onto the heightened, stylized tone of Stanton's script and runs with it.

But the main draw is Ikeda, who's magnetic and unabashedly theatrical as the conflicted protagonist. She sells the campier aspects of Stanton's story as well as Yuko's very human anguish, and sings her heart out in a surprisingly chilling rendition of Tom Jones throwback "Delilah." Though it ends on an off-note anticlimax, Takarazuka!!! is compelling not only as a viscerally satisfying behind-the-curtain melodrama, but also as a haunting parable on fractured cultural identity.