Heads up! We're working hard to be accurate – but these are unusual times, so please always check before heading out.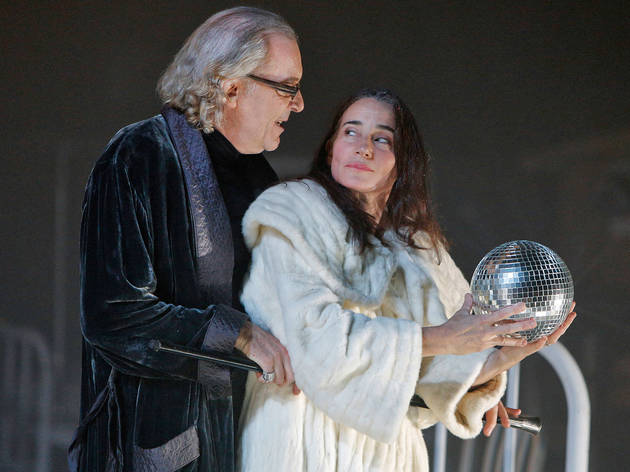 Review: The Master and Margarita at the Fisher Center
Gideon Lester and János Szász present a radically reimagined stage version of the Bulgakov classic.
Richard B. Fisher Center for the Performing Arts at Bard College. By Mikhail Bulgakov. Adapted by Gideon Lester and János Szász. Directed by Szász. With ensemble cast. Running time: 2hrs 40mins. One intermission.

Going to János Szász's uneven but inspiring production of The Master and Margarita at Bard College was, for me, like going home. Full disclosure: A dozen years ago, I was a dramaturg-in-training at Cambridge's American Repertory Theater. In those old, golden days at A.R.T., Gideon Lester (now Bard's head of theater and Master and Margarita's co-adapter) was my professor, and I dramaturged for Szász—then a new name, a hot young Hungarian director. But it's more than knowing the faces in the lobby that makes Margarita eerily familiar. Now that Lester has taken the reins at Bard, this first major production under his watch conjures the A.R.T. of the late '90s, when then–artistic director Robert Brustein was making the world safe for director-driven, pomo, Euro-aware spectacles—aggressive bits of gorgeousness with highbrow credentials.

Margarita could be one of those Brustein-era works: Maruti Evans's set looks like a million bucks and revels in tumbledown Iron Curtain chic, and the adaptation is an unabashedly intellectual creation, making few concessions as it turns Mikhail Bulgakov's complex novel into something stageable. As in the old days, the cast is a regional mix of accomplished pros, young actors still getting seasoned and just-graduated youngsters tossed in for a bit o' sex. (My suspicion: Only when there is a theater training program nearby do you ever get so much female nudity.)
This time, as it sometimes did at A.R.T., the mise en scène has to varnish over the bumps of an unpredictable company. We are never sure if we will be swooning for silver-haired Woland (Ronald Guttman as the seductive Devil) or wincing at his shouty, wanna-be–punk retinue. But there's a certain perfume here that I haven't encountered in a long time: namely, an image-driven cerebral lusciousness. It's that, more even than the clever second act, that won my heart.

Szász has staged Bulgakov's book two other times—once in Russia, once in Hungary—and the experience serves him well. The best work lies in the deft weighting of the narrative's three intertwining strands: Woland's visit to Soviet Moscow, where he puts on a chilling variety act and uses his black arts to get a decent apartment; the titular Master (Arliss Howard) and his lover, Margarita (Stephanie Roth Haberle), who make Faustian bargains with varying results; and the Master's tale-within-a-tale, a play about Pontius Pilate (Michael Medeiros) and his philosophic foil, the misunderstood savior Yeshua. Even Simon McBurney's great company Complicite was overwhelmed by the task; their Master and Margarita binged on the source, crammed too much into the adaptation, and went to its knees like a mastodon in tar. But Szász and Lester keep things skimming along, and the resulting show feels meant for the stage.

The beginning, in which one of Woland's terrorized victims (Ean Sheehy) vaults over a barrier into the audience and is dragged off to the insane asylum (a massive, white room with peeling paint), does not bode well. Sheehy has the unenviable task of starting from—rather than building to—crazy, and he hasn't yet found his froth. When the Master, a fellow inmate, pops in to chat, our hopes sink further. Howard dashes around, keening or screaming or murmuring—whatever strategy he can come up with to keep his lines inaudible.
Keep faith, though; these men are only precursors. What we're really here to see is the showdown between silken Woland and ragged Margarita, as the wild-eyed Roth Haberle bends herself, shuddering, to Satan's will. There are other striking moments, such as a chilling vaudeville led by Jeffrey Binder, and a Walpurgisnacht scene that makes the audience into a terrifying presence. Yet it's in the strange waltz between Margarita and the Devil that we finally feel the dark electricity that emanates from the classic itself, the tingle of being an innocent reader trapped between two magnetic poles.
The Master and Margarita runs through July 21. Click here for tickets.