1/6
Photograph: Cory Weaver
Send for the Million Men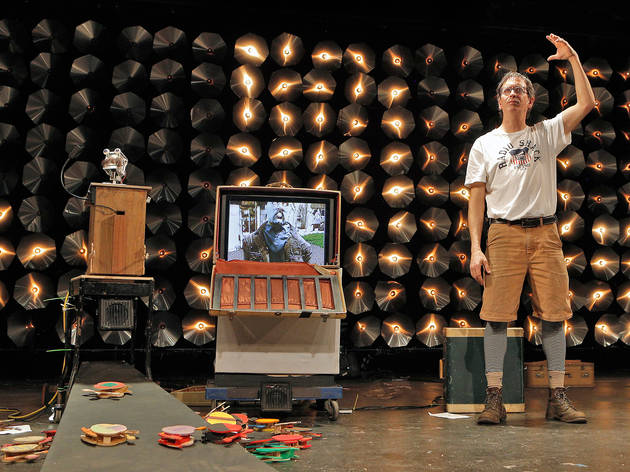 2/6
Photograph: Cory Weaver
Send for the Million Men
3/6
Photograph: Cory Weaver
Send for the Million Men
4/6
Photograph: Cory Weaver
Send for the Million Men
5/6
Photograph: Cory Weaver
Send for the Million Men
6/6
Photograph: Cory Weaver
Send for the Million Men
Send for the Million Men. HERE (see Off-Off Broadway). Created and directed by Joseph Silovsky. With Silovsky and Victor Morales. Running time: 1hr 30mins. No intermission.
Send for the Million Men: In brief
Joseph Silovsky revisits the nation-dividing Sacco and Vanzetti murder trial of the 1920s in a machine-theater production employing animatronics, robotics, puppetry and projections.
Send for the Million Men: Theater review by Helen Shaw
Recall, if you can, Sacco and Vanzetti. If your grasp on 1920s history is like mine, you'll manage an unconfident jumble: "Anarchists? Injustice? One had a luxuriant mustache?" And yet, don't seek clarity in the shambolic, outstanding Send for the Million Men, Joseph Silovsky's hilarious object-theater piece about the 95-year-old trial. Silovsky is mainly interested in the elusive quality of multiplying details—one lovely image is a fish slipping out of view—and even the work's obvious synergy with current events remains diffident and sly.
Abetted by talented composer-musician Catherine McRae and droll video designer Victor Morales, Silovsky re-creates crime scenes with found materials, deploys a robot avatar, displays a Vanzettian mustache made of his own hair and bitches about his stolen bike. The scrappy-magical, shaggy-dog chaos builds to an ending in which Silovsky cedes the stage to Vanzetti's lyrical prison letters, some of the greatest, angriest works written on American justice. If the show loses momentum (it feels strangely long), it does flicker with genius, both from poor, lost Vanzetti and the impish Silovsky, whose eyes glimmer with reflected anarchist rage.—Theater review by Helen Shaw
THE BOTTOM LINE The History Channel goes postmodern in Joseph Silovksy's ingenious multimedia retrial.