Heads up! We're working hard to be accurate – but these are unusual times, so please always check before heading out.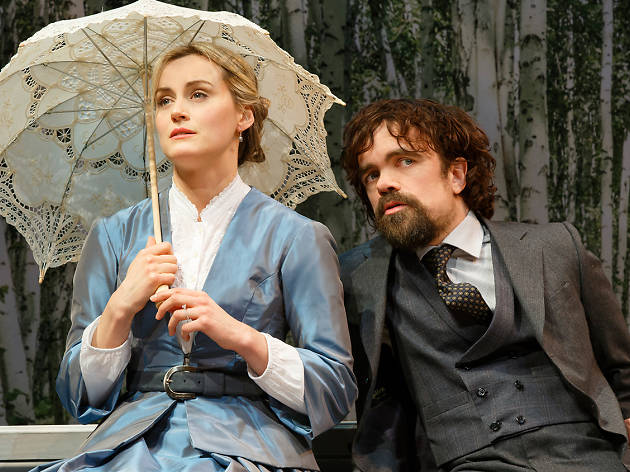 Taylor Schilling on Peter Dinklage and her new play A Month in the Country
The seriocomic star of Orange Is the New Black gets back to her stage roots in a Russian classic
After two seasons on the insanely addictive Netflix series Orange Is the New Black, Taylor Schilling is all too familiar with fighting back lust and loneliness while being trapped in a remote, bucolic setting. So her latest gig in Ivan Turgenev's A Month in the Country might not be such a stretch. Schilling plays Natalya Petrovna, an unfulfilled housewife drawn to a young tutor hired to teach her son. Peter Dinklage, also on break from TV duties on Game of Thrones, costars as Rakitin, a friend who pines after Natalya. The revival is directed by Erica Schmidt, who also directed her husband Dinklage and Schilling in the latter's first professional stage gig, a 2008 production of Uncle Vanya. The wryly humorous and thoughtful Schilling phoned us one morning to talk about Russian drama and acting with Dinklage.

This is a play I've heard about, but never seen. I guess the last time it was here was 1995 with Helen Mirren at the Roundabout.
It's not done very much. You know, Stanislavski wanted to do more of Chekhov's plays at the Moscow Art Theatre, and Chekhov was the one saying, "Do A Month in the Country! Do A Month in the Country!" And once they'd exhausted all the Chekhov plays they finally did it, and it was one of their biggest hits. But yeah, it's not produced as much as Chekhov.

You read the synopsis of the play and you think: This must be influenced by Chekhov, but Turgenev wrote it 40 years earlier.
I think Turgenev speaks to a lot of the same themes. To me, it feels a little bit bolder and I feel like the emotional lives of the characters are more on their sleeves. In Chekhov, the inner landscape is just as full, but it's masked in a different way that's incredibly intrigued. So they have similar themes, but Chekhov polishes it in a different way.

Speaking of Chekhov, I saw you in that 2008 production of Uncle Vanya at Bard College, also costarring Pete Dinklage, also directed by Erica Schmidt.
You did?!? You're like one of the few people in New York who saw that!

I went up there mainly to see Pete but you were amazing. You found the mixed glamour and sadness of Yelena perfectly.
That actually makes me more excited about performing tonight, to hear you say that. This is initially what I imagined my life was going to be: living in some apartment in New York like kind of a Woody Allen movie, but going to do plays every evening. But that's not what my life has become. I love doing film and television and it's deeply fulfilling, but this feels like it's getting back to something very essential about why I'm doing this. So many people don't even know it's a part of what I do.

This is your New York City stage debut—I assume you're doing it because it's a Pete and Erica project?
Both of them are very important to me, and they're good, dear friends as well as creative collaborators. I met Erica when she directed a student production of Top Girls when I was at NYU. We just sparked, working together. Then all three of us did the Vanya at Bard and we'd been looking for a project ever since.

And it's another play in which Pete's character is pining after your character.
[Laughs] Right.

What's the working relationship like with him?
Well, Pete is the most talented actor I've ever worked with: the presence the depth, the levity. The way he can explore pain without self-seriousness allows me to feel really full and safe, able to take big risks. The relationship is evolving as we evolve. A lot of what I love about working with the Pete is the moment-to-moment work is so fresh and alive and honest. That immediacy that he's able to bring makes the experience very vibrant. It's always moving, you know?

I find you both bring a lot of pathos and humor to your TV characters, too. On Orange and Game of Thrones, viewers are connecting to really rich presences.
Yeah, and it such an amazing thing to work with someone who can comfortably touch deep parts of their own interior landscapes. It makes it easier to go there in my own work. It becomes a dance. And Pete is so present and full, it makes it much easier to bring everything in myself there, to the table. We can kind of explore deeper with each other. We can go more deeply with each other. But I really appreciate that: the humor that is braided in so closely to the pain.

The Vanya at Bard was really modern, anything but a museum piece. Will we get a similar treatment of A Month in the Country?
The translation by John Christopher Jones is fresh and moves at a clip that feels very modern. The sparseness and specificity of his language keeps it very present. As soon as you pare down any embroidery, what is exciting about great writing is that the themes are universal. Natalya and Rakitin are dealing with are problems that could happen right now. What Erica does so brilliantly is pare down any extraneous fluff, so what presents itself most clearly are scenes of love and loss, loneliness and longing. So they're timeless, and articulated beautifully by Turgenev. Erica really diligently and rigorously looks for the truth of those themes. That lends an air of modernity to it. It becomes very current and relatable. And aesthetically, she's not making it some staid, living-room drama.

Are you getting lots of Orange Is the New Black fans during previews?
Yeah, there seems to be a bunch of fans, and people seem excited to be there. People hang out afterward with their Piper prison shot that I'm signing.

So Orange season three drops in June. Is it worth asking for details?
There's not much I can say at all, except that the new season is lighter, funnier…a little wilder.

For theater geeks who are also OITNB fans, it's so cool that the show is full of theater stars: Kate Mulgrew, Maria Dizzia, Michael Chernus, Tracee Chimo. Is there ever talk on set about doing a stage project together?
Always, always, always. I'm dying to do a play with Uzo [Aduba] and Yael [Stone]. And we will, one day. We'll get onstage together.

Dream stage projects, or stage work actually in the pipeline?
There are some really classic roles that anybody would want to play. I mean, I'd love at some point to do my Nora and my Hedda. [Laughs] I mean, who would not want to do that?

More conflicted housewives.
More conflicted housewives. And throw in Blanche, why not? But give me a few more years before I play my Blanche.