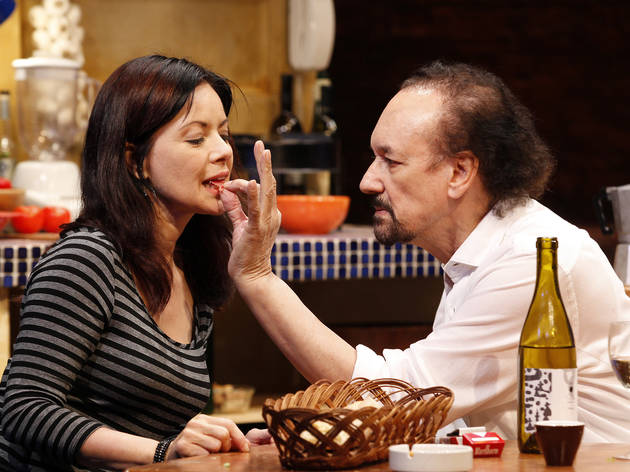 Seldom has a playwright combined so many big ideas so inexpertly as Begonya Plaza has in Teresa's Ecstasy. Religion, art, sexual identity, politics, divorce, nationalism, Cat Stevens's recording career—it all gets dumped into the blender; which would be fine, if Plaza were equipped to handle all of that. But she's working with a set of dull blades.
Magazine journo Carlotta (Plaza) has come to Barcelona to research Saint Teresa of Ávila, a 16th-century nun who practiced a particularly sexy type of communion with God. Whether Teresa was channeling the divine or simply looking for a socially acceptable way to talk about her orgasms is just one of many topics of debate. While in España, Carlotta stays with her not-quite-ex-husband Andrés (Elliott). He wants her back; she wants him to sign the divorce papers already. Also along for the trip is her editor, Becky (Larkin), who seems at first like your garden-variety ugly American abroad. Later, her character changes completely in order to accommodate Plaza's soapy plot machinations, the kind that hit you like bird droppings out of a clear blue sky.
The script is clunky enough on its own—packed with faux-heady discussions, uneasy transitions and false epiphanies—but deeply artificial performances from Plaza and Larkin drive Will Pomerantz's production into the ground. Only Elliott manages to infuse naturalism into the proceedings; but in the melodramatic second act, he also goes off the rails. Posters for the show promise "Passion. Art. Sex. Gazpacho." I'll give them one thing: There is gazpacho.—Jenna Scherer
Rating Breakdown
5 star:

0

4 star:

1

3 star:

0

2 star:

0

1 star:

0
As footwear industry produces a wide variety of footwear and These footwear are popular, there's a wide range of some other boot styles as well. Made to become long-lasting capable to withstand a good deal, the Ugg boot usually are a while without having deteriorating. Lots of men as well as girls just like these boots on that basis. These boots can also be low in selling price for this reason it really is affordable to extended variety of buyer as well as consumers also http://www.bootsmo.com/brown-classic-argyle-knit-ugg-boots-p-13.html.