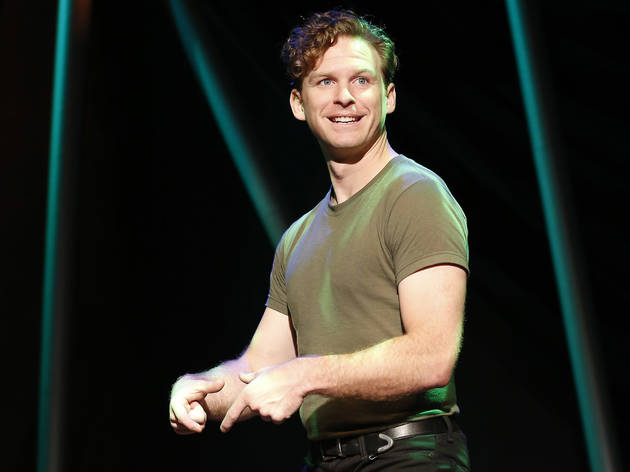 1/3
Photograph: Mary Cimino
The Banana Monologues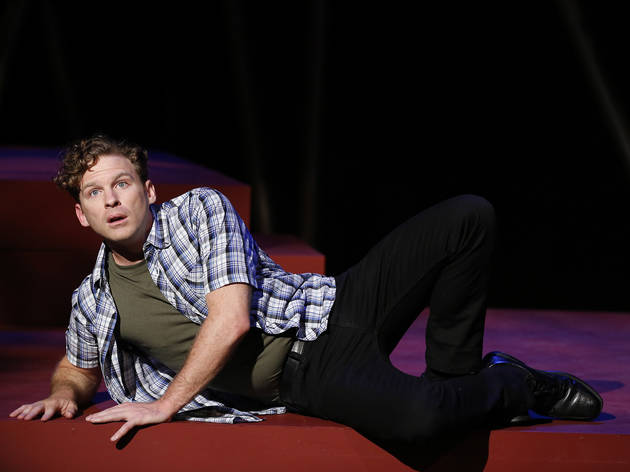 2/3
Photograph: Mary Cimino
The Banana Monologues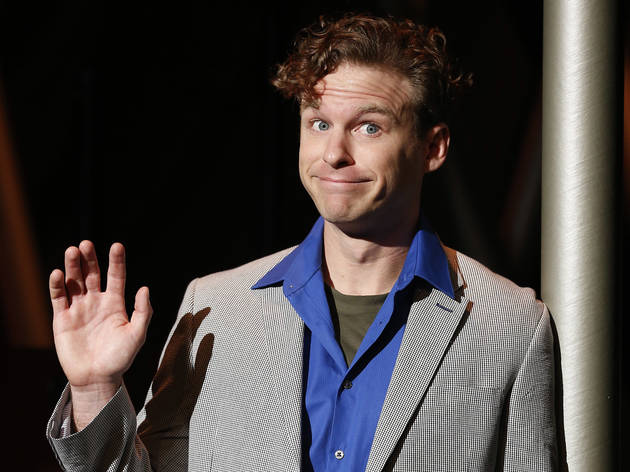 3/3
Photograph: Mary Cimino
The Banana Monologues
The Banana Monologues. Acorn Theatre (see Off Broadway). By John R. Brennan, Jason C. Cooper and Mary Cimino. Directed by Debra Whitfield. With Brennan. Running time: 1hr 30mins. No intermission.
The Banana Monologues: in brief
John R. Brennan stars in a comic solo show about a man whose junk calls the shots. Debra Whitfield directs.
The Banana Monologues: theater review by David Cote
The Banana Monologues is about a guy, his girlfriend and his cock. Please don't cry spoiler, kids: This ain't my first time at the rodeo. I squirmed through Puppetry of the Penis and a Fringe Festival hit called My Penis—In and Out of Trouble. I raved about Richard Greenberg's Take Me Out, a sausagefest if ever there was one. I've seen miles of man-pole in my years as a critic. It's not my favorite part of the job, but it comes with the territory. So this show's innuendo seems retrograde. Not that writer-actor John R. Brennan disrobes at any point; instead, he plays a gruff personification of his junk named Sergeant Johnson, armed and always ready for action.
Our narrator protagonist, Gus, is a South Carolina–based pharmacist who enters into a steamy affair with sultry Alexis. Their bond is primarily coital. As Gus exults, "She fucked my brains out!" (a brief operation, no doubt). When she gets a job in another town, their long-distance relationship reveals strain, and a guy friend from her past forces Gus to either get serious or get out. Brennan plays Alexis as a two-dimensional Southern tease and the beta-male rival as a sniveling Gollum. Sergeant Johnson gets the best lines as he bosses Gus around and shames him into getting as much sex as possible.
Tucked discreetly between the script's extremes of vulgarity and attempted hilarity, there's a modest tale of sexual maturation and a critique of modern heterosexual relations as mediated by commerce and technology. But enough misplaced undergrad theory: Is this goofy solo comedy worth your $70? Brennan is boyishly appealing and works hard to fill a too-broad stage. Debra Whitfield's breezy direction keeps things bouncing along with frequent pop-music interludes, and there are one or two smutty chuckles. But undeniably, this strip-mall-level attraction is low-hanging fruit.—Theater review by David Cote
Follow David Cote on Twitter: @davidcote
Discounted tickets are available through Time Out Offers until July 28, 2013.
Ticket Offers from Time Out New York
Looking for tickets to a Broadway or Off Broadway show? Time Out Offers brings you terrific discounts on tickets to the latest New York theater. Want even more ideas? Check out Time Out New York's complete listings of Broadway, Off Broadway and Off-Off Broadway shows, and browse all available tickets.
Rating Breakdown
5 star:

3

4 star:

0

3 star:

0

2 star:

0

1 star:

0
The play is raunchily funny with some honest, comedic wit. A man's point of view of a relationship, with occasional insight and maturity. John Brennan is a sympathetic character and does a great job in this one-man show (with no intermission). Debra Whitfield's direction is clever and inventive.
My husband and I saw the show on Friday night and I thought I was gonna bust a gut. Some really funny stuff here. It's a little sexy and provocative--especially the Sergeant Johnson character. We loved it.
I loved this show. It's a really funny take on sex and relationships. Well-acted and directed. If you're in a relationship, been in one or want to be in one, go see it.